Easy tricks for wow-factor interiors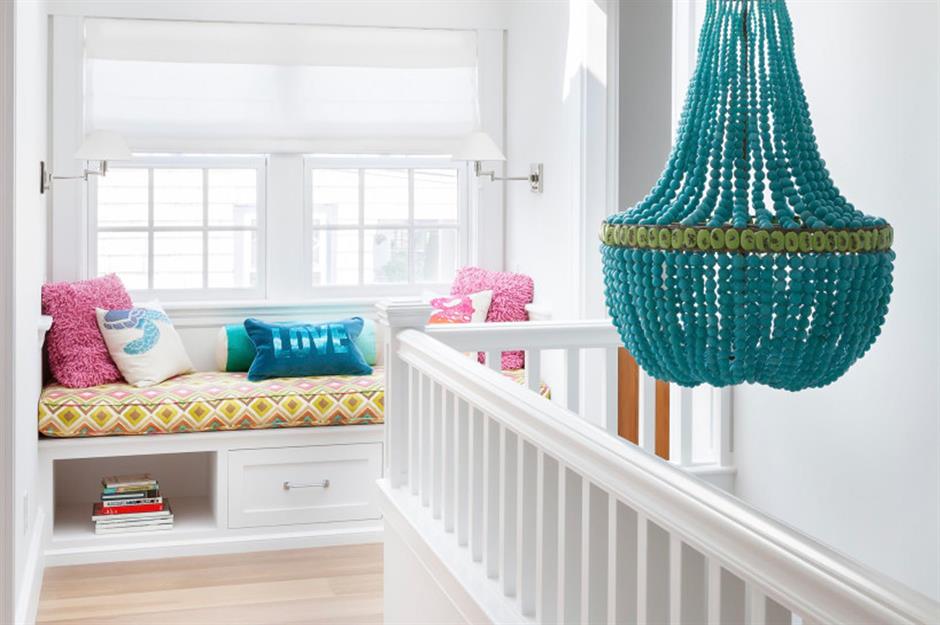 Original Article- https://www.loveproperty.com/gallerylist/73195/35-decorating-tips-that-are-borderline-genius
Reiko DesignWhether you want to introduce new colours, perk up with pattern, cheat a look or maximise space, these smart decorating and styling ideas will have you looking at your home afresh. Discover how to work the latest trends, accessorise for maximum impact and customise what you have instead of buying new…
Paint the ceiling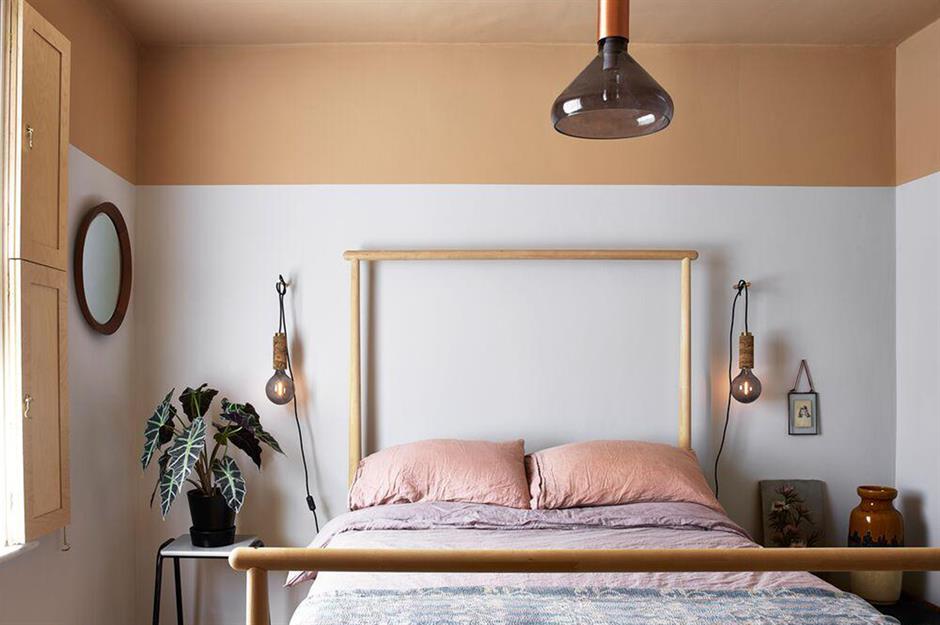 Dulux
If you think you've only got four walls to work with, then it's time to think again. The ceiling offers the perfect blank canvas for you to experiment with and is an easy way to inject some colour into an otherwise plain room. Try the two-tone trend to elongate any room and add depth to a small space.
Focus on the hardware
Victorian Plumbing
To give your home a bespoke edge replace your standard hardware with newer modern fixtures for a fresh look. For the bathroom try matt black taps for a modern and unique look.
Take colour up a wall
Carpetright
Create a visually interesting space by bleeding a vibrant floor colour up onto walls, skirting boards, architraves and doors. You don't need a painted floor for this to work but this one has matched the wall paint colour to vinyl flooring. Keep it well below dado height to open up the space. In this smart kitchen-diner the cerulean blue foregrounds dining furniture and the fireplace.
Add a layer of sheepskin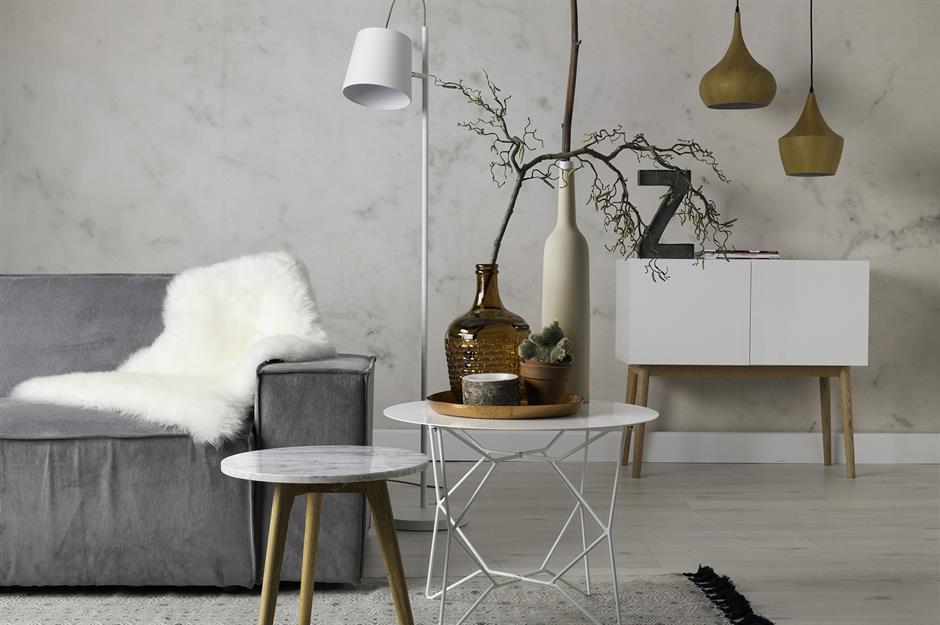 Cuckooland
If you've gone a bit overboard with minimalist décor and some of your rooms have been left feeling a little empty and austere, faux sheepskin throws and rugs are an easy solution. Super affordable and a quick fix, they'll add some texture and warmth to a plain room.
Clash with pink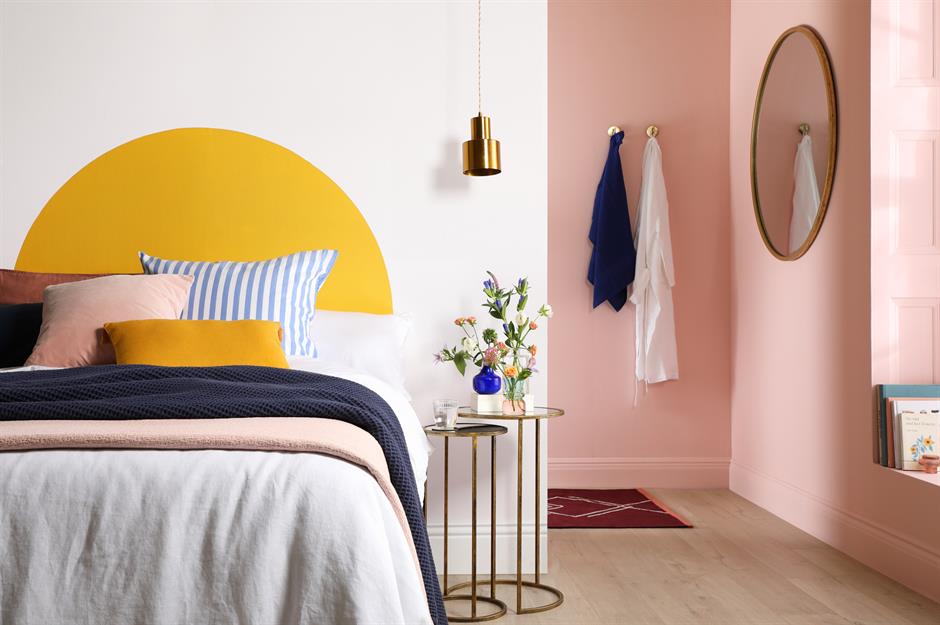 Furniture And Choice
Breathe warmth into a pale contemporary bedroom with bubblegum pink walls. What seems like a bold and drastic move is, in fact, versatile and practical. Choose an accent colour that conventionally conflicts in tone such as this ochre yellow and paint a feature for added character.
Paint those legs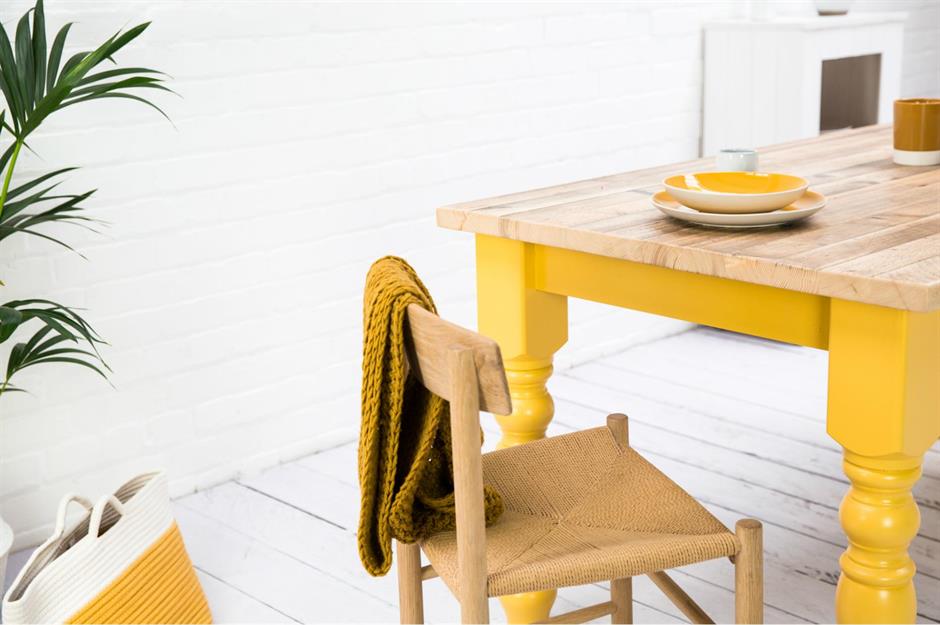 Farmhouse Table Co
You don't have to buy new to upgrade. Work with what you have and spruce up a favourite piece with paint. Pick a shade that works in your scheme and don't feel obliged to paint a whole piece of furniture – very often less is more. Custard yellow brings a sunny touch to this farmhouse table. Looking for inspiration? These upcycling ideas are hard to resist.
Mismatch chairs for casual dining
Carpetright
Let rustic meet industrial with a mix of traditional chair styles painted in a range of colours. This combination of a long trestle table, painted cladding and a signature patterned carpet makes for a truly individual feel. Just keep all the colours within the same tonal range to stop it looking too busy.
Play with scale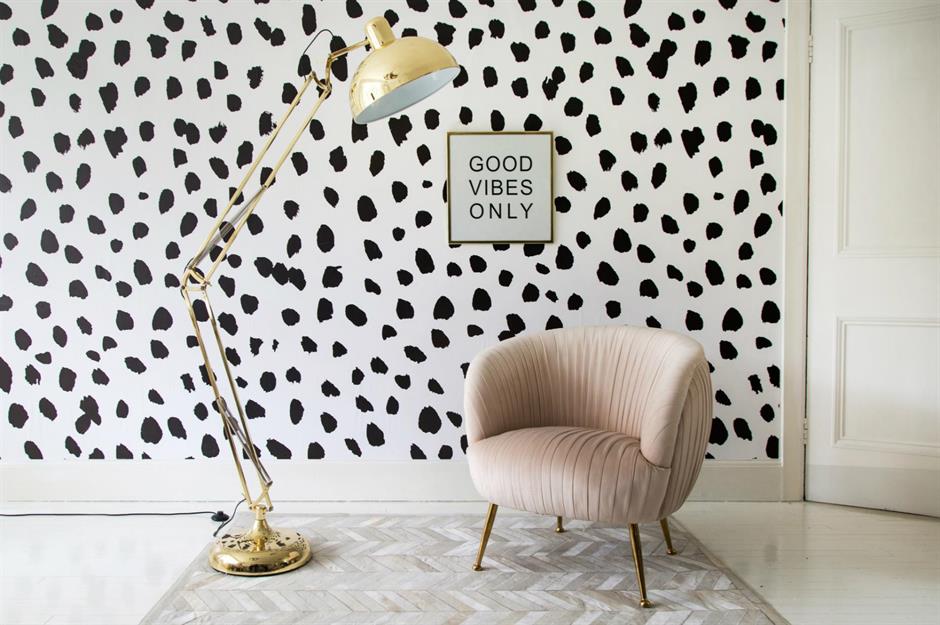 The French Bedroom Company
Have fun in the bedroom with an anglepoise-style desk light on a bumper oversized scale. Go for glamour with oyster satin upholstery, gold finishes and animal-look prints for a space full of Instagram-style and character.
Let blinds add pattern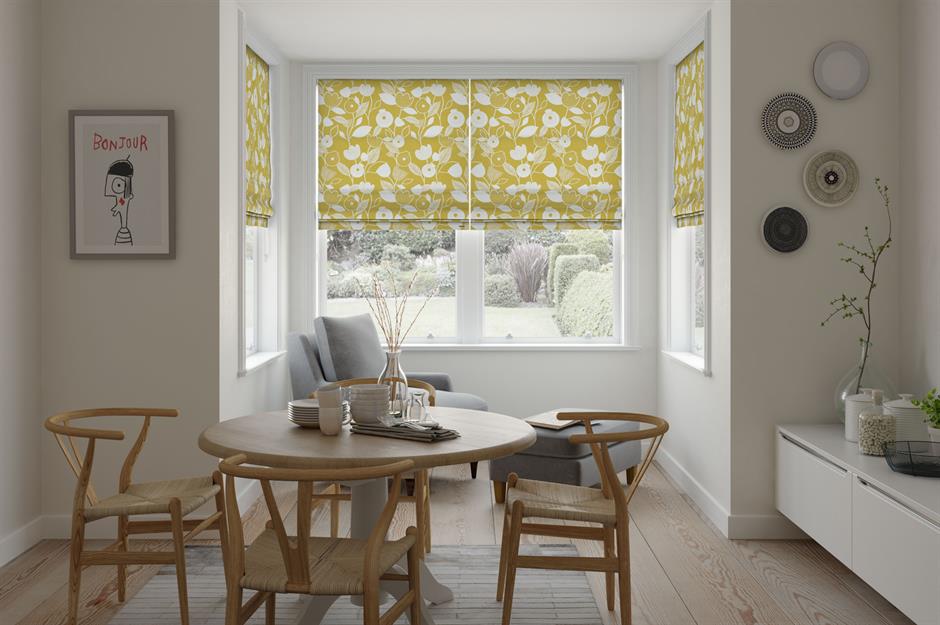 247 Blinds
Bi-fold doors and the sash window revival have increased the amount of glass we have in our living spaces. Embrace the design possibilities of this and let blinds function as a patterned feature wall. This Nordic floral design in vibrant chartreuse green picks up on the Scandi trend and works well with pale-toned wood furnishings.
Feature a mural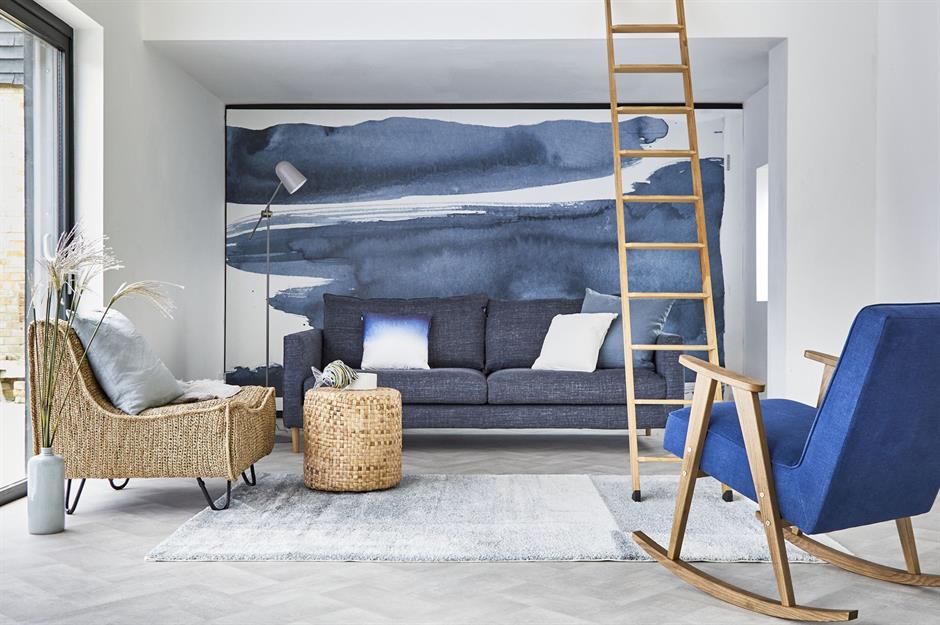 Carpetright
Take a feature wall to the next level with a full-scale wall mural. Go for a watercolour design for a toning, restful scheme that you can then accessorise in your chosen shades.
Lay a kitchen runner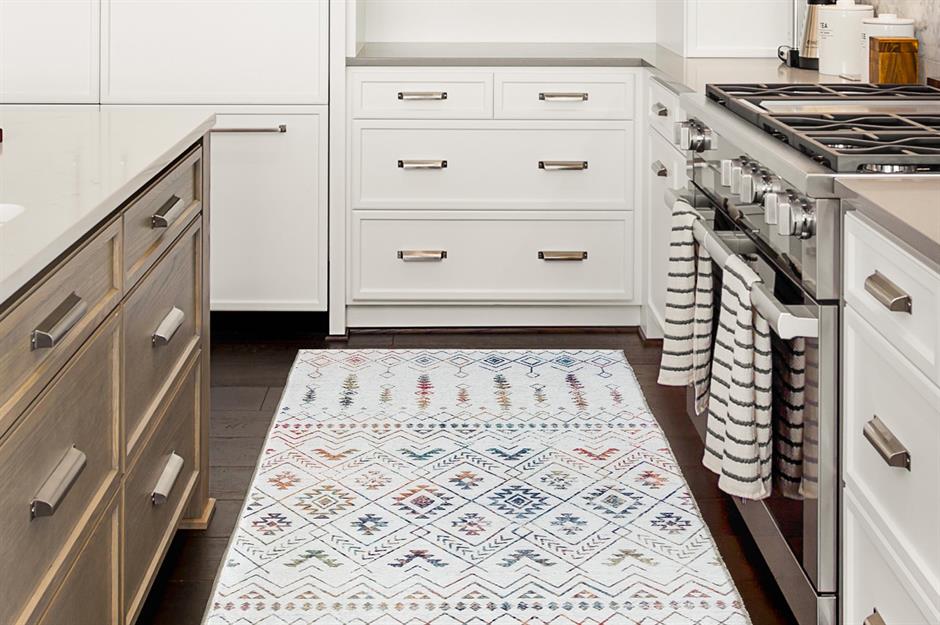 Walmart
Strike a colourful note in the kitchen with a patterned runner. This geometric design brings a boho touch while enhancing the room's symmetry. Be sure to add an underlay grip underneath each rug to minimise slippage around hot appliances.
Stick up delightful details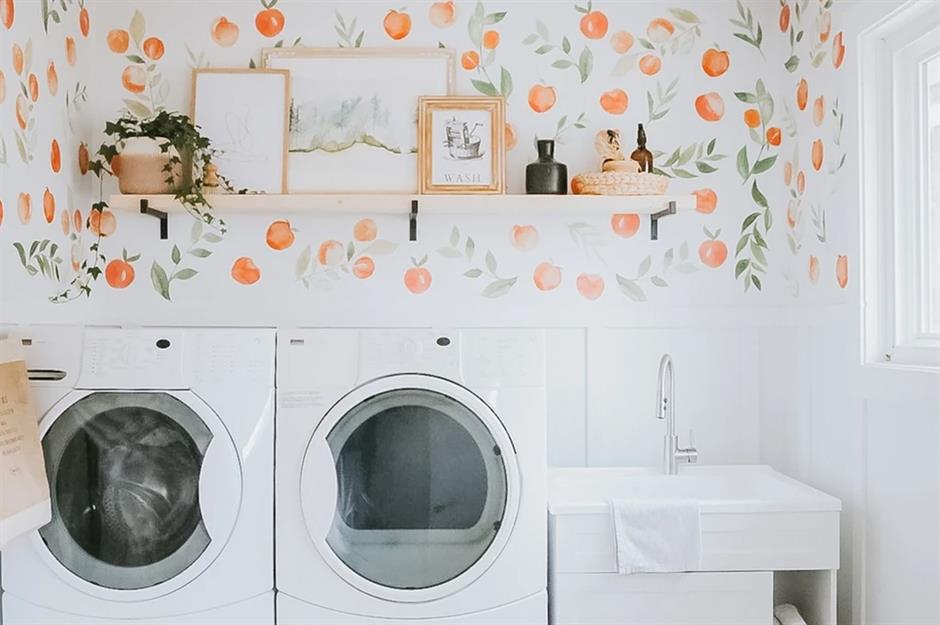 Urban Walls
Looking for a quick and easy cover-up? Instead of hanging a decorative wallpaper or getting out the paint pots, cheat by using self-adhesive wall stickers to create pattern and fun in a utility room. There are lots of lovely modern designs available; use on just three-quarters of the wall and balance with shiplap to tone down the busy pattern.
Hone in on a mantel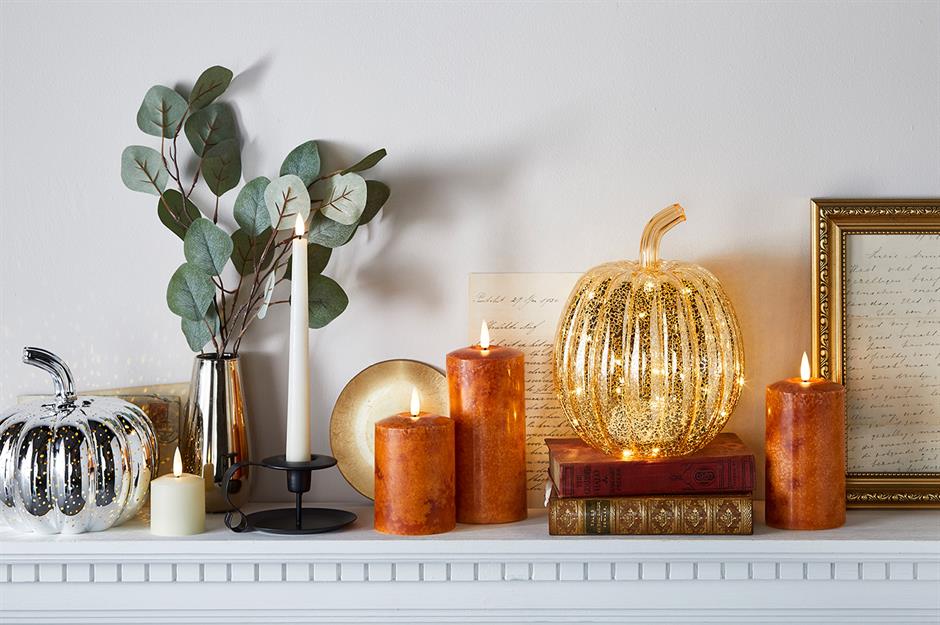 Lights4fun
Continue styling your mantelpiece after the Christmas decorations have been packed away. The central focal point makes an ideal surface to create stylish themed displays for every season.
Go for a garden rug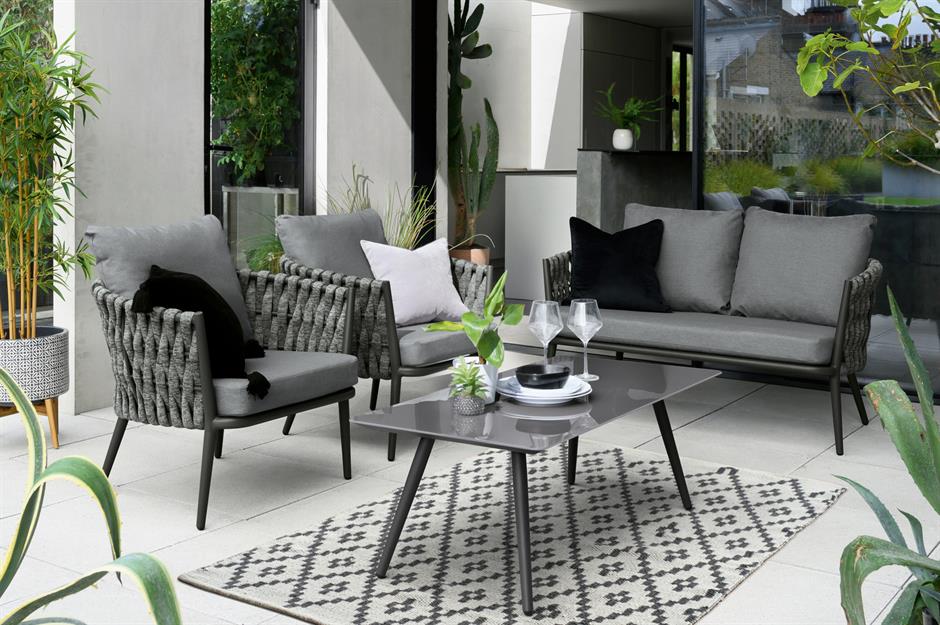 Next
Bring summer to a terrace or balcony by adding rugs or runners underfoot. Coordinate designs and colours for a patchwork effect. Use floor cushions for lounging and soaking up the sun or a smart table and chairs for entertaining.
Use stripes to maximise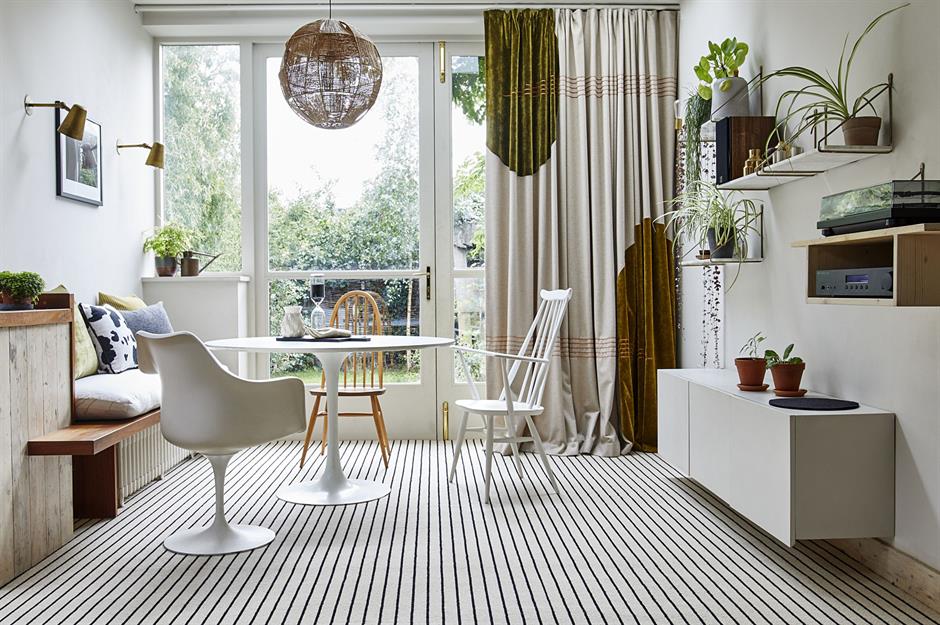 Carpetright
Use stripes to visually expand a room. Go for rich neutrals on the walls to make a space feel extra-special. This contemporary dining room features a smart striped loop-pile carpet that picks up the blue-grey tones of the upholstered bench.
Wallpaper small rooms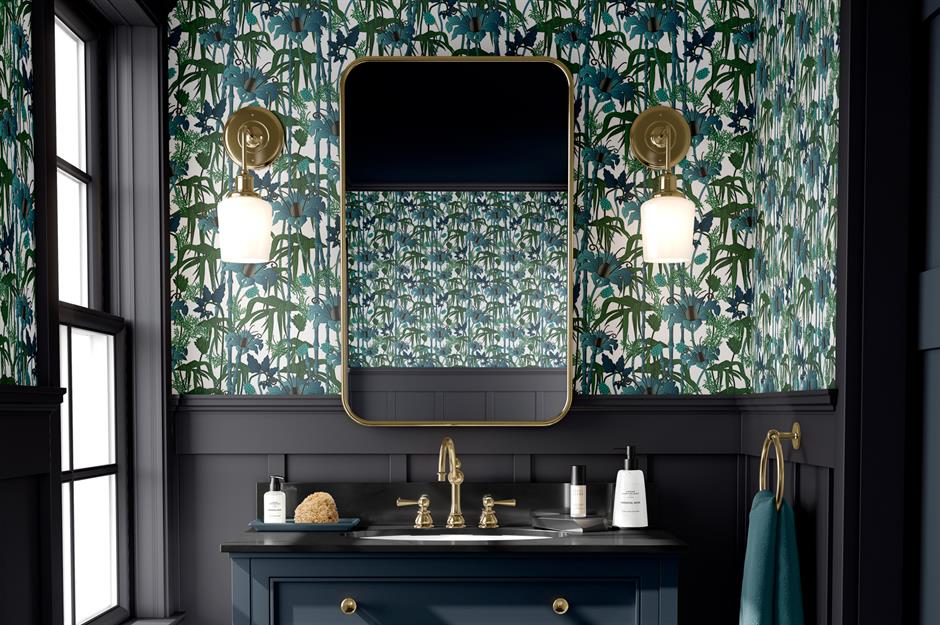 The Curious Department
Hang a colourful retro-print wallpaper to draw the eye in a small room or unusually-shaped wall. Some awkward spaces can be turned into characterful features with the right treatment. An invigorating yet traditional design suits this cloakroom and makes a feature out of what could have been a poky and awkward space.
Highlight woodwork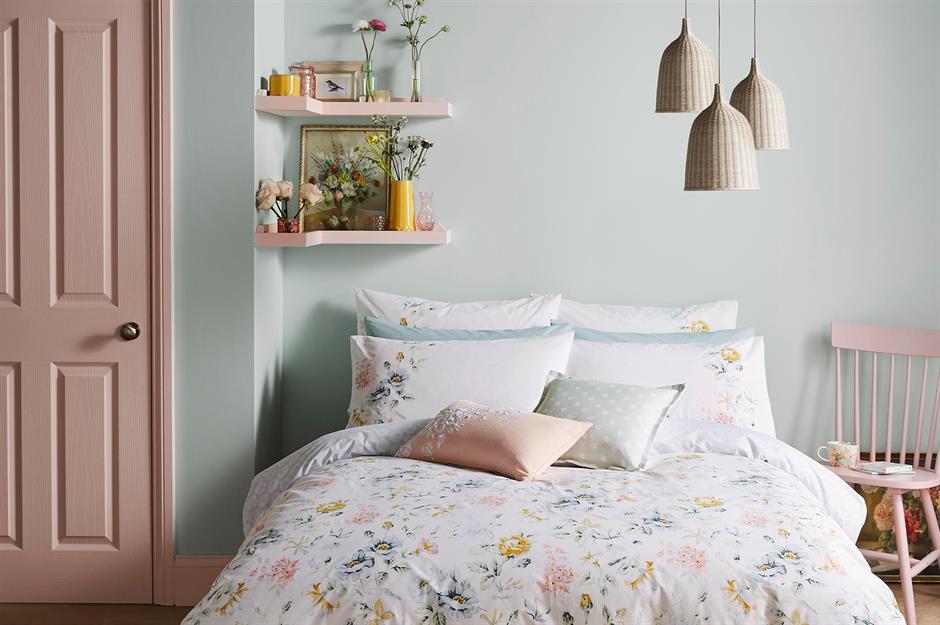 The French Bedroom Company
Whether it's a bold shade or soothing neutral, painting woodwork a colour rather than the usual white makes a refreshing twist. Shell pink painted doors and skirting against mint walls in this spring-themed bedroom creates a soft definition that calms.
Make ripples with kitchen tiles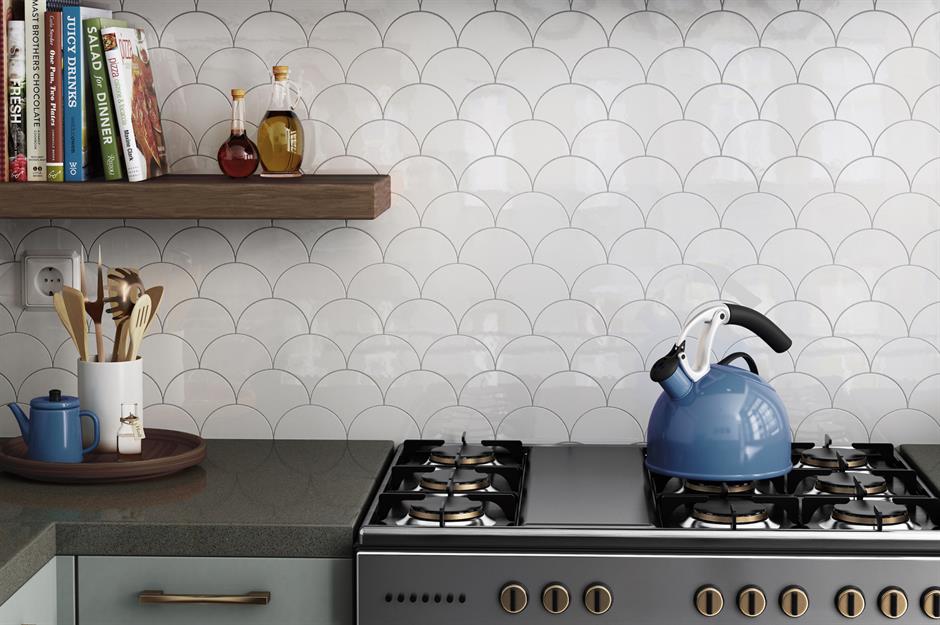 Porcelain Superstore
Create an eye-catching design with a signature pattern that becomes the motif for the room scheme. Here scallop-shaped, fish-scale kitchen tiles appear in a pearlescent finish create a shimmering splashback that's lustrous, current and refined.
Utilise walls with paint effects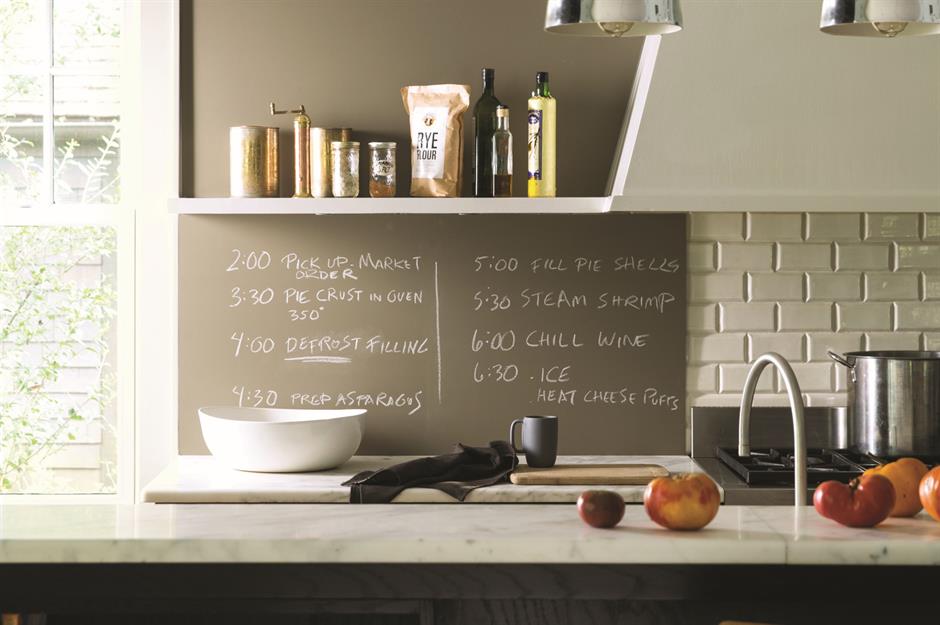 Benjamin Moore
Blackboard walls can make a useful backdrop in any room. Use specialist blackboard paint for a dedicated spot for scribbling recipes and lists in the kitchen. If you don't fancy painting the whole wall in black, you can get chalkboard paint in a range of colours like this warm taupe which is more subtle.
Bounce light with mirrors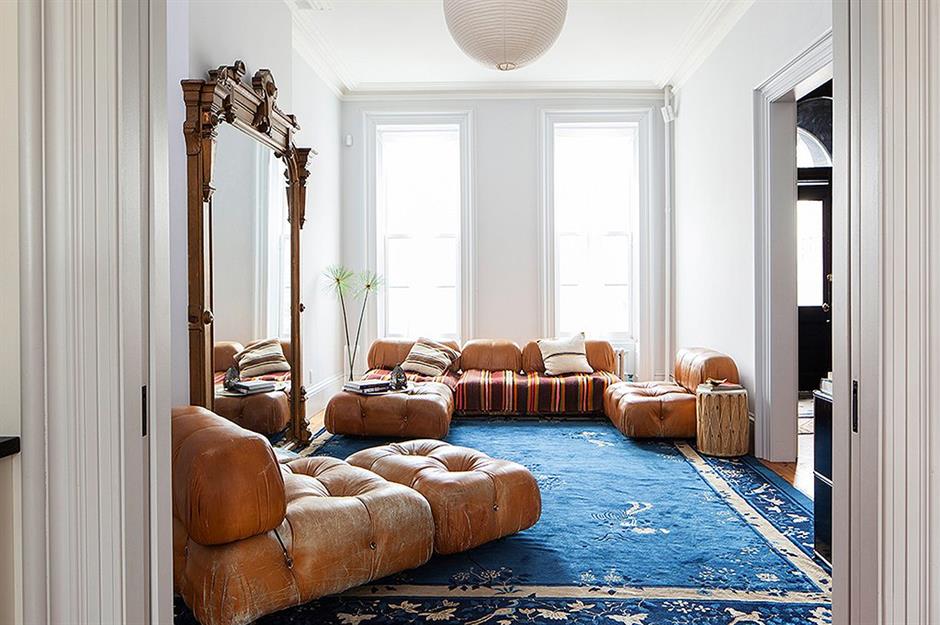 One Kings Lane / Lesley Unruh
Use reflections to visually enlarge a space, create the impression of extra windows and duplicate accent shades. This antique leaning mirror manages all three in this stylish and inviting living room.
Brighten a room with shutters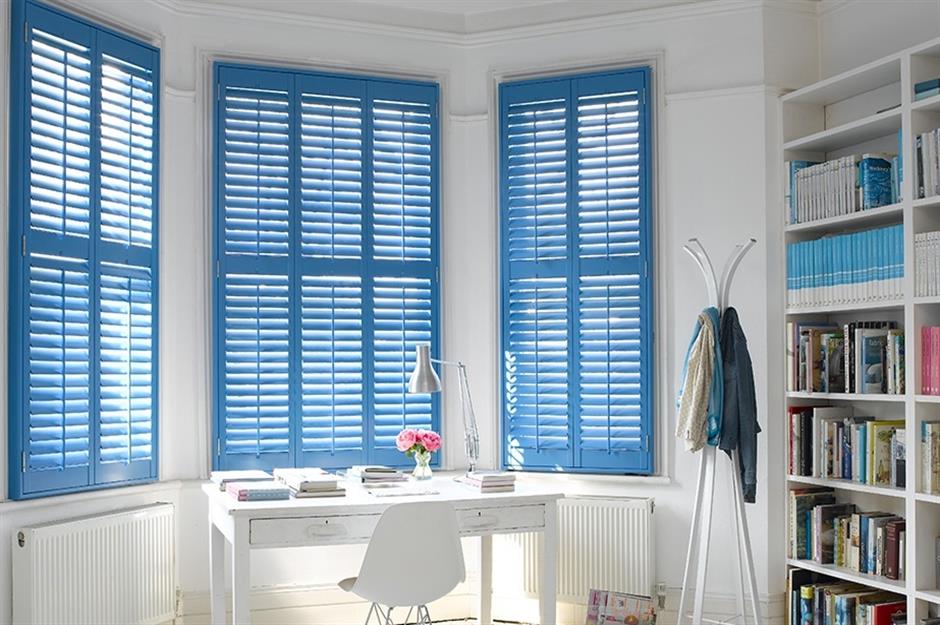 California Shutters
Add character to your windows with colourful shutters; it's the latest trend in window dressings. Use full-size versions for the best effect. These sky blue shutters filter light and anchor the expansive white space with their strong horizontals. If bright blue is too brave, try muted colours like lemon, grey or duck egg blue to make a subtle change.
Accent with black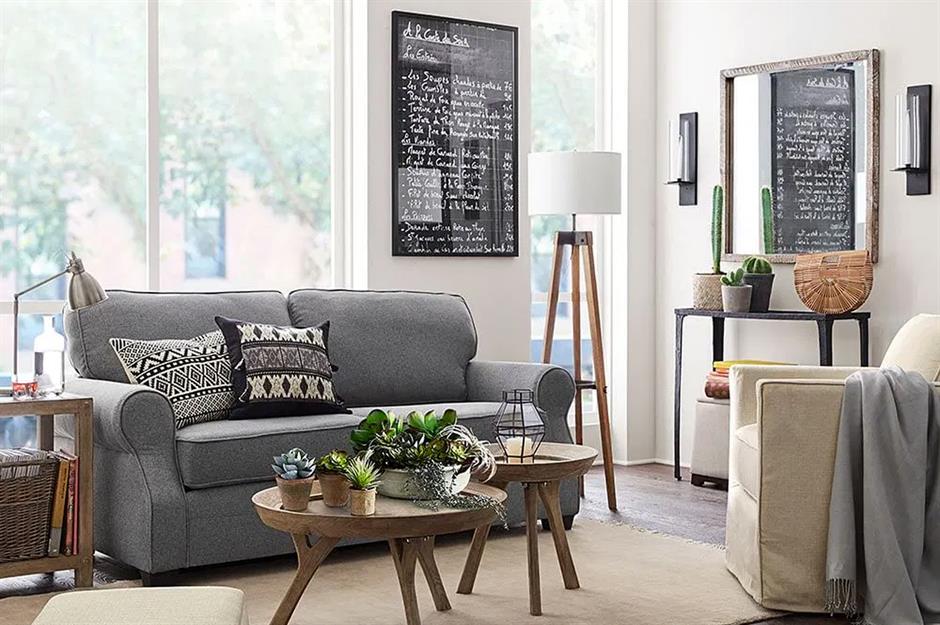 Pottery Barn
Love pale, unpatterned interiors but worry your room's a little dull? Lift the scheme from potential blandness with a concentrated hit of contrast. This compact living room looks smart and contemporary with pieces of black furniture, wall art and sofa cushions. The bold shade anchors the room allowing the rest of the space to bask in contrasting coolness.
Monochrome a look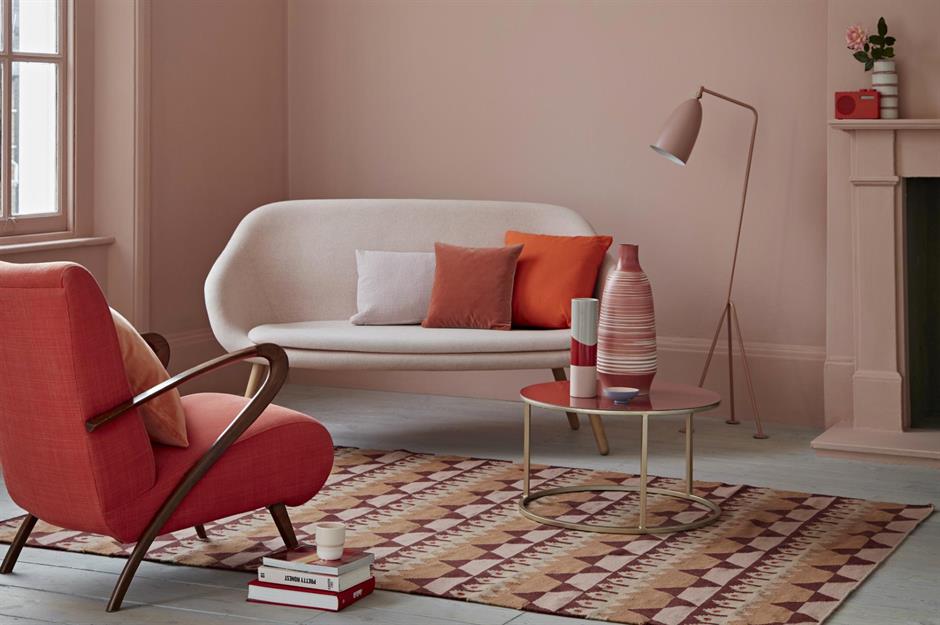 Crown Paints
Pick a shade you love – and run with it. There's nothing like a soothing shade to bring out the best in an interior so choose your favourite and apply it to walls, panelling, fireplace, windows and coving. Then match up the colour to furniture and accessories – this is a new take on minimalism that's so much warmer.
Divide the room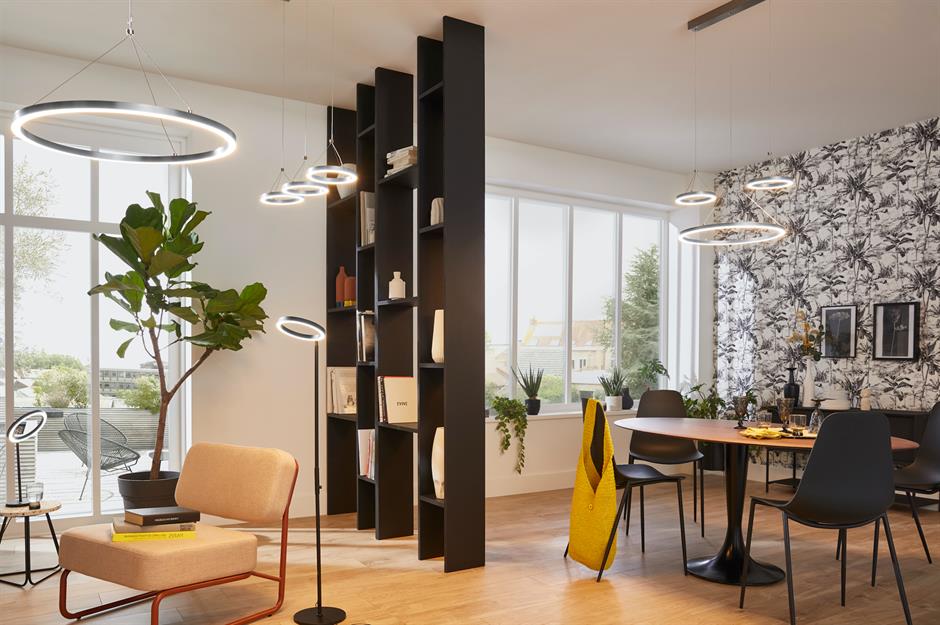 B&Q
If your open-plan room lacks zones position a set of shelves centrally so it can be used on both sides while also functioning as a clever partition for two living areas. Go with matching statement lights on either side for continuity.
Add a statement headboard
Puji
Rework your bedroom by fitting a new headboard. It will create the look and feel of a brand new bed for a fraction of the price. A leather version adds a warming texture as well as cushioning for sitting up and reading. Top tip: it may be easier to fit it to the wall than to an existing bed.
Style with florals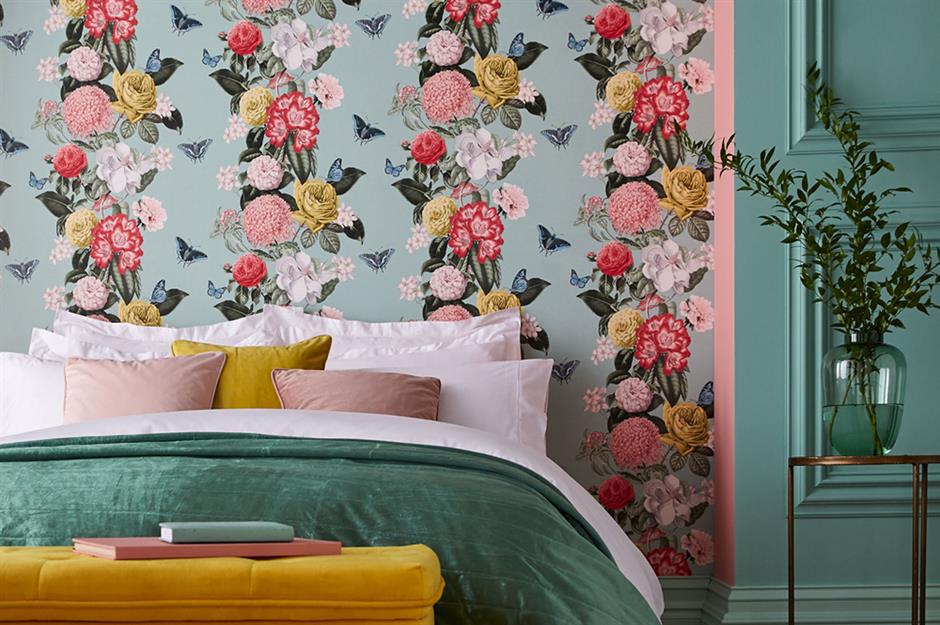 Graham & Brown
Don't be afraid of flower and leaf designs on a grand scale. Use them big and blowsy on walls for a modern take on chintzy classics and match to a white ground elsewhere in a room. In this grand scheme, the white, pink and jade bed linen (teamed with an ochre ottoman) pick out the bright tones of this floral feature wallpaper perfectly.
Round off with curves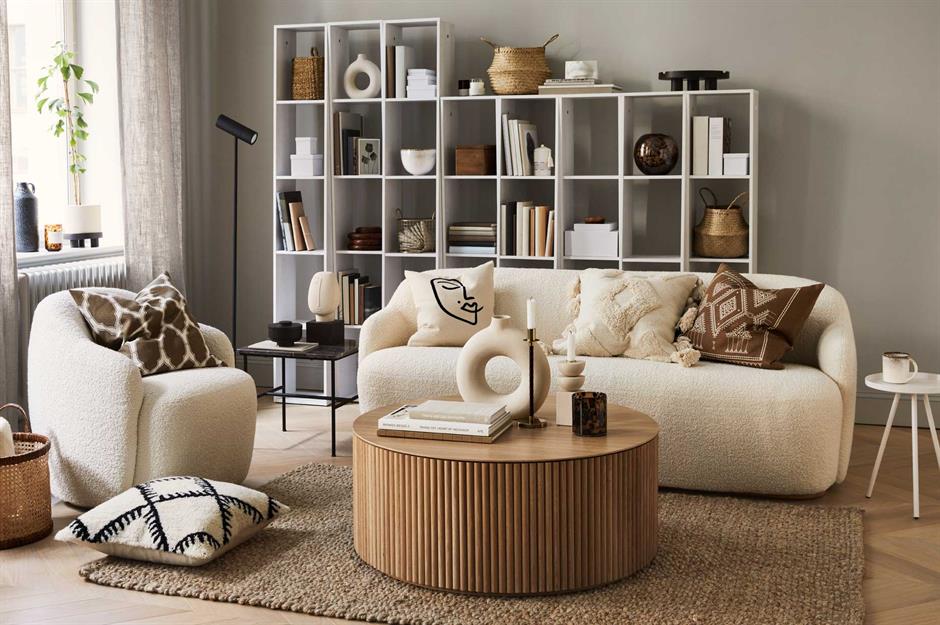 H&M
Rounded shapes feel more naturally restful and comfortable than linear designs that look harder by contrast. Start with a round or oval coffee table in a living room and see where it takes you. This seating area features a contemporary yet laid-back version of a three-piece suite with its inviting curved design and textured boucle fabric.
Experiment with tiling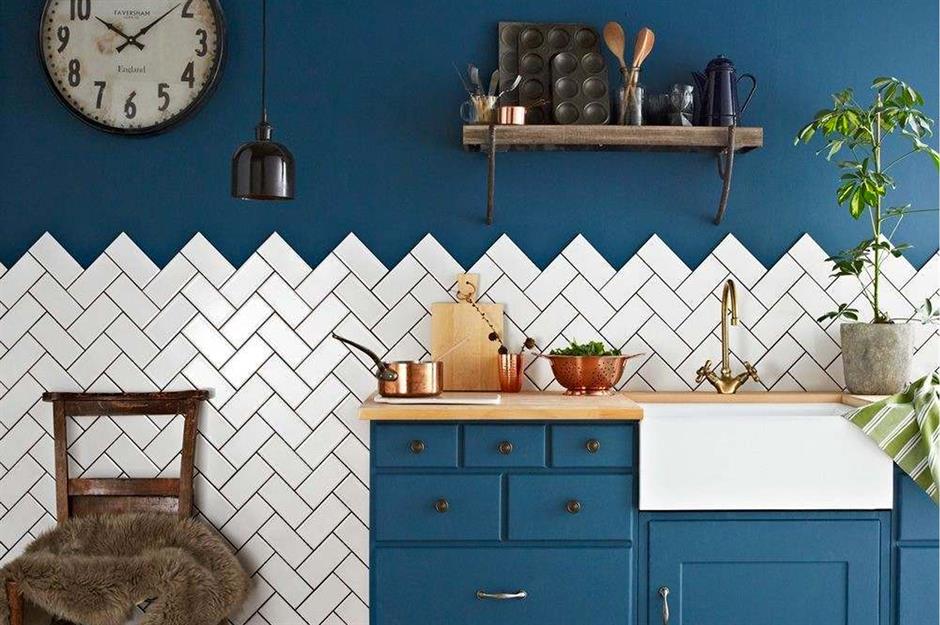 Walls and Floors
Let the beauty of tiles shine by fitting them more unusually. These white metro tiles are laid herringbone style and instead of being squared off horizontally, they rise to a run of startling peaks. The tiles still provide all the functions of a splashback, but in a way that turns the ordinary into the extraordinary. Black grout highlights the effect.
Throw light on deep, dark tones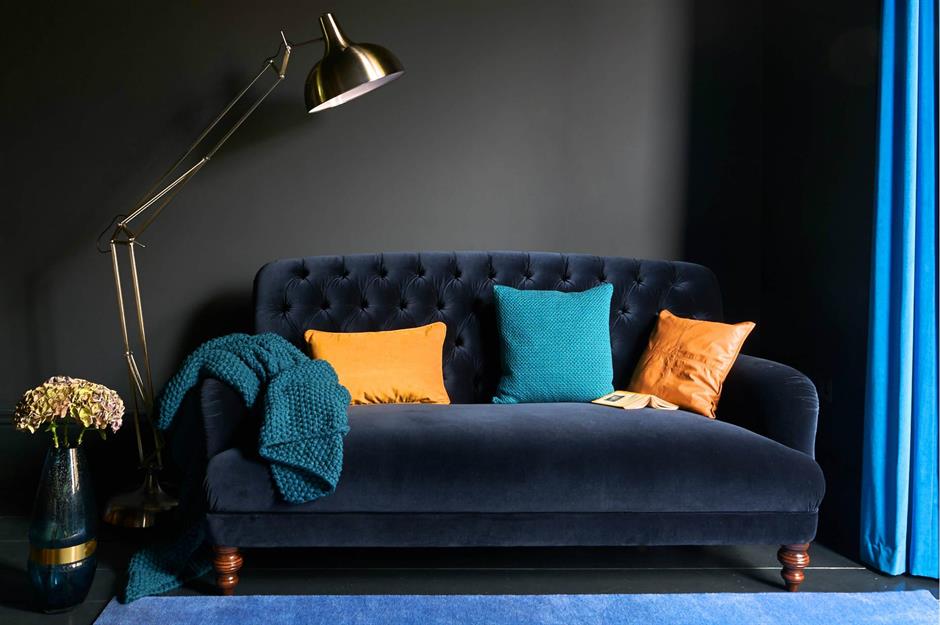 DFS
Charcoal painted walls and navy furnishings are everywhere and they are gloriously luxurious. Go for a flat matt paint finish and velvet buttoned upholstery and show them off with contrasting accessories in rich gold, turquoise and burnt orange – and a spot of task lighting. If you're naturally a bold decorator, you will always make a statement with slightly off-kilter colour combinations like navy and electric blue, orange and pink and dark red and aubergine.
Exhibit a gallery wall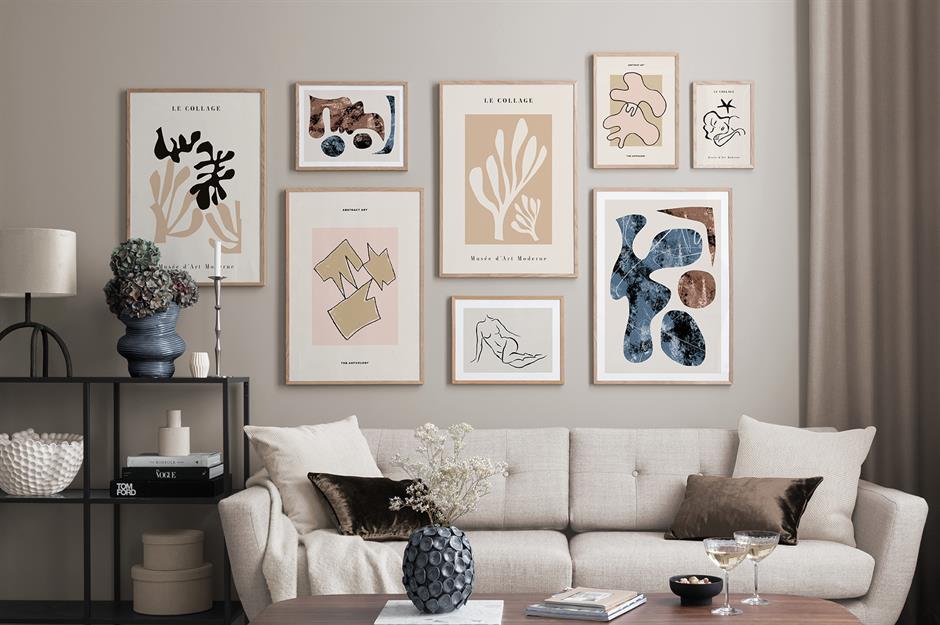 Desenio
Don't overlook the decorative potential of coordinating art. For a streamlined gallery wall go for matching frames, colourways and a series of prints. Alternatively mix and match sizes, styles and artwork for an eclectic feel. It's a good idea to map your gallery out on the floor before mounting it to the wall.
Go tile-tastic in the bathroom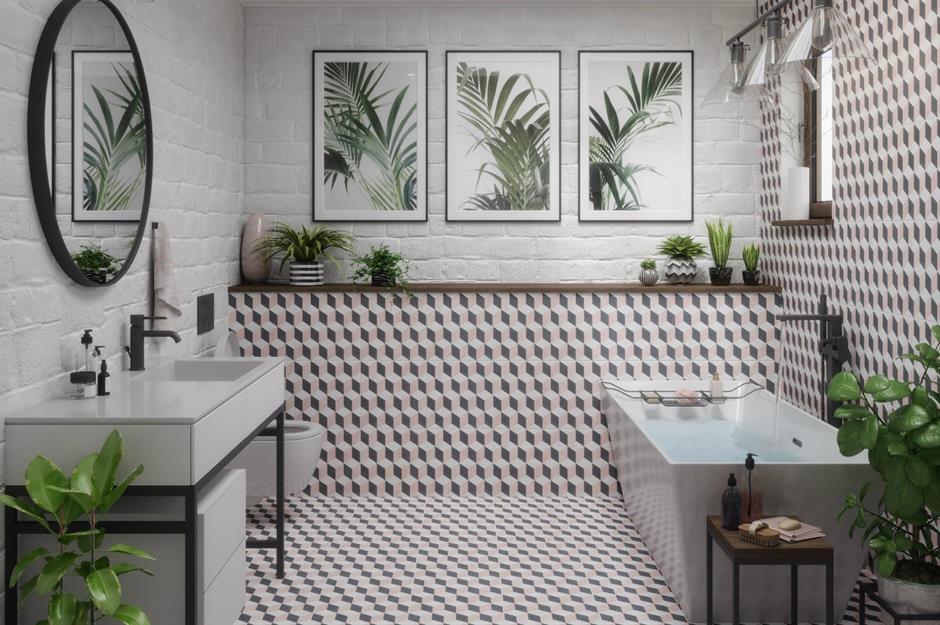 British Ceramic Tile
Looking for a way to jazz up a white bathroom suite? Take tiles across floors and up walls to ceilings. Use a striking pattern on the floor and two-thirds of the walls to keep a balance. This fun space is a riot of 3D pattern, but it's tempered with a white bathroom suite.
Reinvent your floors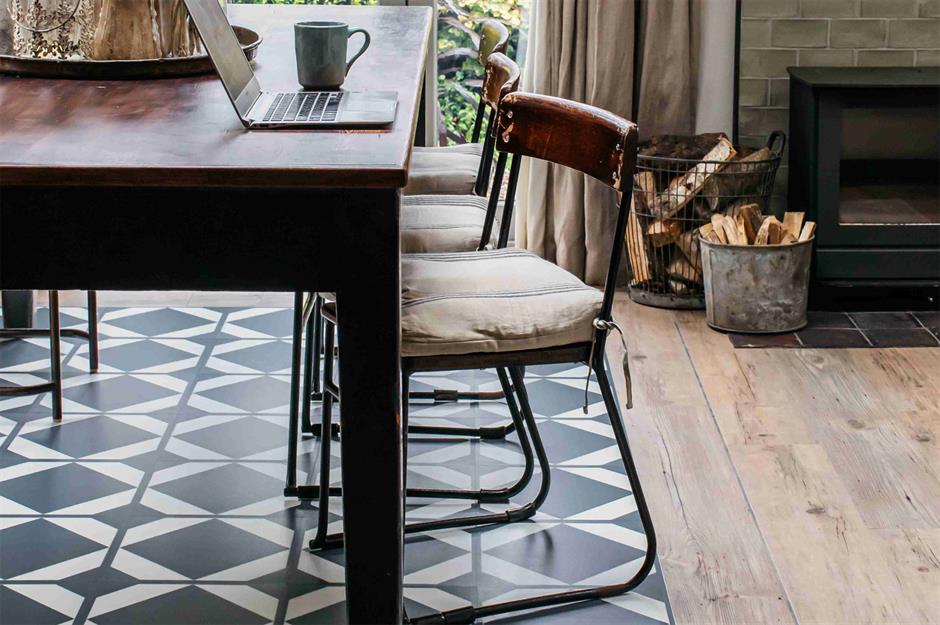 Harvey Maria
Debating what to do with the flooring in your home? Add contrast to floors with a broken floor plan and use it to zone space. Here, the traditional monochrome floor tiles mark out the dining area and create a rug effect around a dining table and chairs.
Go for wire-framed furniture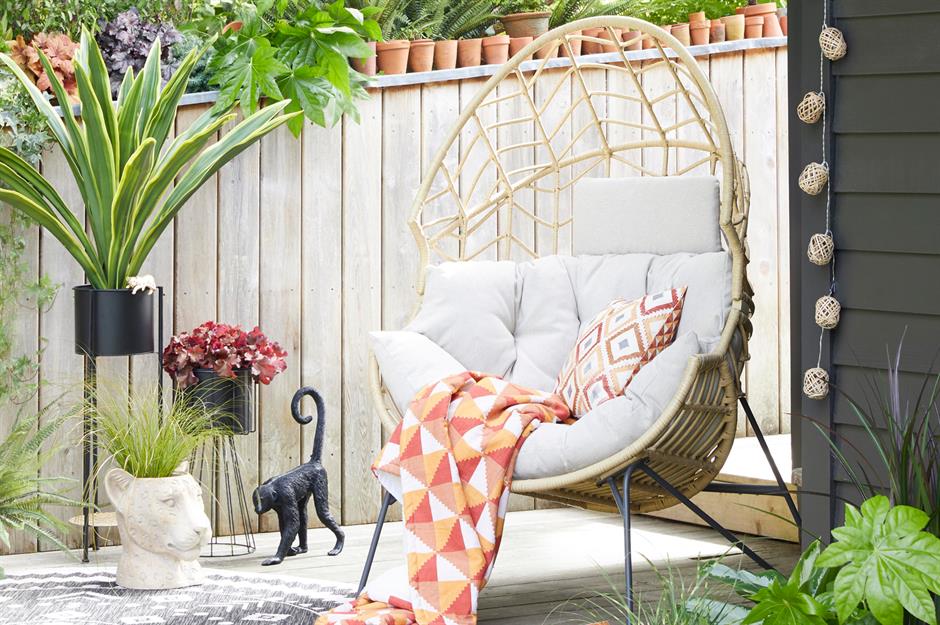 Dunelm
Let metal furniture bring an on-trend look to a patio space. Choose black for impact against a neutral backdrop and enjoy the pleasing silhouettes. Or, go for a boho vibe with a natural-toned powder-coated finish and cool curves. If it's all a little too sparse for your tastes, introduce potted plants, such as palms or bamboo and anchor with an outdoor rug.
Paint a wall navy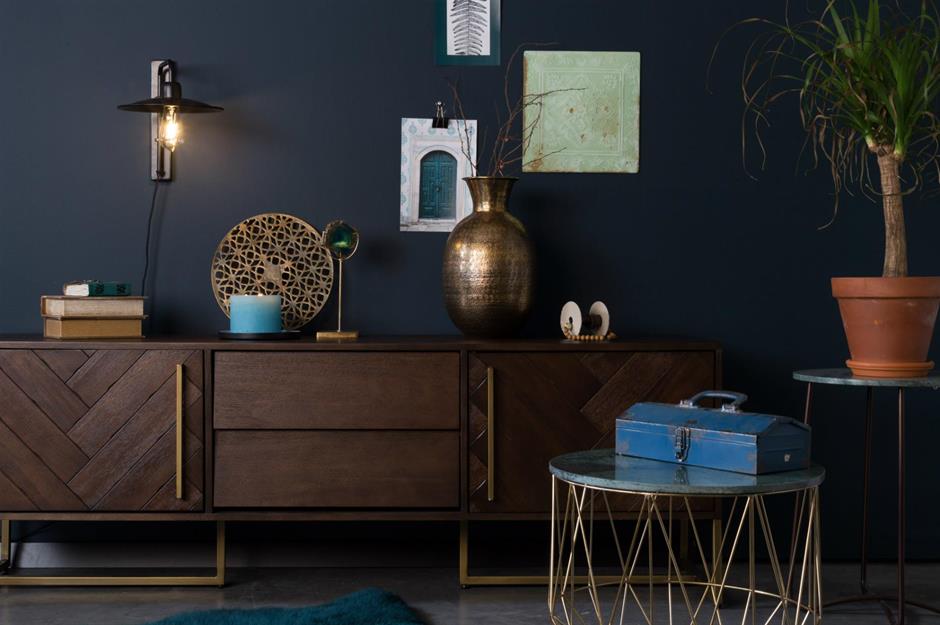 Cuckooland
Create an intimate mood in a dining room or hallway with colour-of-the-moment navy blue. It's a rich, warm and cosy shade that works wonders with dark wood furniture and metallic finishes. Keep it simple by painting a single wall rather than a whole room.
Utilise a landing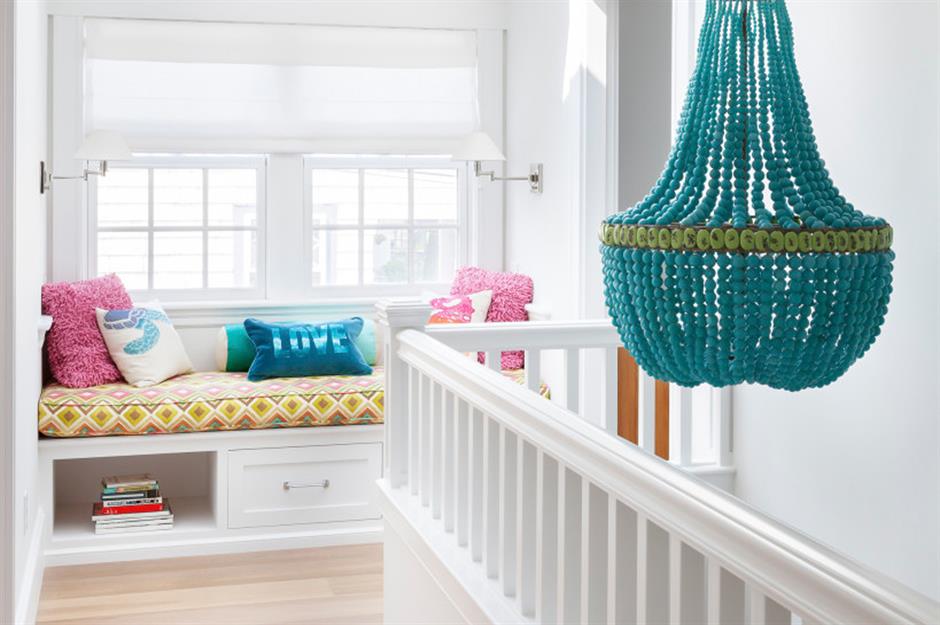 Reiko Design
Bring colour to a transitional space such as a landing or snug by treating it as a room. If you have space, add a comfortable armchair or window bench, place uplifting cushions and pull the area together with a cheery feature chandelier. It will bring joy to your heart every time you take a seat or just pass through.