Original Article – First look at new affordable housing planned at 1333 7th Street in Santa Monica
The project, which is being developed by the Foundation for Affordable Housing, would rise from a single parcel located just east of the Santa Monica Public Library, replacing a former dentist's office. Plans call for the construction of an eight-story building which would feature 38 residential units atop a 1,000-square-foot community room on the ground floor, but no on-site parking. The apartments would include a mix of one- and two-bedroom floor plans, ranging from approximately 568 to 962 square feet in size.
Patrick Tighe Architecture is designing 1333 7th Street, which is shown in plans with an exterior of smooth stucco, concrete, and metal panels.
Aerial view looking southeast at 1333 7th StreetPatrick Tighe Architecture
"The contemporary design is highlighted by a series of angled planes along the front façade that provide movement and visual interest, while the building form and setbacks have been strategically configured to provide natural light and ventilation throughout the structure," reads a staff report to the Architectural Review Board.
Renderings also show a rooftop amenity deck overlooking 7th Street to the west.
1333 7th StreetPatrick Tighe Architecture
Plans for affordable housing at 1333 7th Street were first revealed in 2019, when developer Mass Equities acquired the site to facilitate the off-site affordable housing requirements of two of its market-rate projects the planned nearby.
Original Article – https://smdp.com/2022/09/19/stuttering-institute-opens-location-in-santa-monica/

The American Institute for Stuttering (AIS) is opening the doors of a new location in Santa Monica this week. The non-profit, which has been around for 25 years, offers therapy and other support services to people of all ages who struggle with stuttering. The Santa Monica office will be the organization's first location on the West coast.
"We knew we wanted to come to LA and Santa Monica just made so much sense," said Gregory Scott, the clinic director and certified speech-language pathologist.
The new office is situated at the corner of 6th Street and Arizona Avenue.
"Part of the therapy that we do is we'll actually take our clients out into the world and into the streets and shops and coach them through these very real-life speaking scenarios," he said. "So we wanted to be somewhere in LA that was highly walkable and Santa Monica is really known for its warm, friendly welcome to outsiders – so it's kind of the perfect place to bring these people who are working on their speech and some of their fears."
According to the National Institutes of Health (NIH), there are over three million people in the US who stutter. However, there are only about 150 speech therapists who are certified specialists in stuttering.
"This means that most people who stutter are being treated by non-specialists," said AIS Executive Director and Board-Certified Specialist in Fluency Disorders Heather Grossman.
She said this is harmful because there is a lack of education on how to best help and support people who stutter and that trying to stop someone from stuttering by specifically focusing on it actually makes it worse.
"Stuttering is very, very paradoxical in nature, meaning that the more you try to not do it, the more of a problem and a struggle it is," she said. "That's really the basis of our philosophy."
Grossman said there is significant public misunderstanding about stuttering despite the availability of information.
"We know that stuttering is neurological, meaning that there are differences in the way areas of the brain communicate, not that there's a disorder, but just a difference in how the areas communicate" she said. "We also know that it's genetic."
Scott said this is important information because people who stutter often feel like they are doing something wrong and that it's something they should be able to control.
"For most of the people who stutter, it's something that they were born with," Scott said. "It's genetic, it's how their brain is wired and it isn't their fault. It's not a mistake, it's not a lack of practice, and it's not a failure."
He said that this is an important part of AIS's approach and that they focus on helping people who stutter feel understood and supported and building their confidence.
"The success is not eliminating the stutter," said Scott. "The success is showing up to say what you want to say, when you want to say it, with poise and confidence whether you stutter or not,"
In addition to therapy services, AIS also partners with teachers and schools to train speech language pathologists in best practices for working with children who stutter and provides advice and guidance to family.
Financial assistance to access their services is available and Scott said that over half of their current clients are receiving some discount on the rate they pay.
The Santa Monica location is currently accepting clients and there will be an open house at the new location on Sept. 20.
Additional information is available on their website https://www.stutteringtreatment.org.
Original Article – https://smdp.com/2022/09/09/candle-store-finds-a-warm-reception-on-main-street/
What started as a hobby quickly became a viable business for Angel Vu, who got into candle-making for fun at the onset of the pandemic and began selling her creations online. At first she said she was just getting orders from family and friends but then strangers started buying her products as well.
"Over time I started not recognizing the names on orders," she said. "That's when it felt real."
Vu's business, Blow Me Candle Co., opened a new storefront on Main Street in May.
She moved to Santa Monica in 2020 from New Orleans with her daughter and partner. She said they had been wanting to move to the West Coast and Santa Monica "just felt right." She loved the proximity to the beach, community feel, downtown area and near-constant sunshine.
"I always tell my friend – the sun just shines different in Santa Monica,'' she said.
When they first moved into their new place, Vu said that the living room and dining table were covered with boxes, the result of her increasingly successful on-line candle venture. In July 2021 she opened her first store in a small space in Ocean Park.
"It was like a closet," she said, adding that it didn't even have a toilet. "We had to ask our neighbors to use the bathroom or just go to the beach."
Vu said making the decision to transition to the larger Main Street location was scary, but thinks it has paid off. Since opening, she said a mix of tourists and local residents have been coming in.
"We've gotten a lot of positive feedback," she said.
All of her candles use soy wax and wood wicks and are made by hand, on-site. Vu, who has a background in graphic design, does all of the company's branding herself and also comes up with the store's unique array of playfully named scents including 'living my zest life,' 'vitamin sea' and 'I wanna be a melon-aire.'
"I love picking scents that trigger memories," she said. "I want people to be like 'that reminds me of my dad or that reminds me of my favorite cereal.'"
As for the business name, Vu said she just thought of it one day when she first started making candles, and it made her chuckle. She told her partner about it and he got it trademarked which she thought was "extra" at the time, but is now very glad he did. She hopes it makes other people laugh too and also catches their attention. She said not everyone has gotten it, but it has brought people in.
She said people have come in multiple times ordering lattes, thinking that the candle-making equipment was a coffee maker. One woman asked to set up an appointment to get her hair blown out, thinking it was a salon.
"We've gotten all kinds of crazy questions," Vu said.
Candles are the focal point of the store, but Vu says she tries to "have a little bit of something for everyone." The store also sells soap, pet toys, apparel and other products which Vu sources from other small businesses. She also hosts monthly workshop events for those interested in getting into candle-making themselves.
Going into the future, Vu hopes to expand to other locations, but wants Santa Monica to remain her flagship store.
"We love this community," she said. "Everyone has been so kind and welcoming."
smdp.com/2022/08/31/santa-monica-public-library-enhancements-to-service/
The Santa Monica City Council has approved funding to enhance operating hours at the Santa Monica Public Library, including new Saturday service at the Montana Avenue and Pico Branch libraries. Operating hours will increase from 84 hours per week across four locations to 116 hours per week across all five locations. Expanded library hours are scheduled to begin in the Fall.
Erica Cuyugan, Director of Library Services, said, "The enhancement marks a milestone in library restoration. For the first time since April 2020, the library will be able to provide service at every neighborhood branch location through a combination of self-service and in-person models. The Main and branch locations will offer evening hours and two branch locations will be open every Saturday."
A focus on neighborhood and branch services will include additional programming for youth and families, alignment, and coordination of Main Library services, such as the Literacy Education for Adults and Families (LEAF) program through which adults can reach their reading and writing goals with the assistance of our one-on-one literacy tutoring, workforce development services, and an increase in branch staffing support.
Most residents will be able to walk to their neighborhood branch to browse the adult and youth collections, pick-up holds, check out materials, interact with staff, and use a computer, meeting or study room. The library continues to rebuild services and hours as funding is restored. Staff is committed to exploring opportunities to increase hours of operation, programs, and services.
Join the library in celebrating National Literacy Month and Library Card Sign-up Month during September by signing up for your no-cost and fine free library card!
Libraries play a crucial role in the education, literacy, and development of children, offering a variety of programs to spark imagination and stimulate an interest in reading and learning. Through access to technology, media resources and educational programs, a library card gives students the tools to succeed in the classroom and provides people of all ages opportunities to pursue their dreams, explore new passions and interests, and find their voice.
For more information on programs and services offered at each Santa Monica Public Library location, visit our program page.
Please reach out if you have questions. Friendly Library staff are available to assist you Monday, Tuesday, Friday, 10 a.m. – 5 p.m. and Wednesday, Thursday 12 p.m. – 7 p.m. Call (310) 458-8600 or email [email protected].
Original Article – https://www.loveproperty.com/gallerylist/69698/living-room-ideas-for-every-style-and-budget
Transform your living space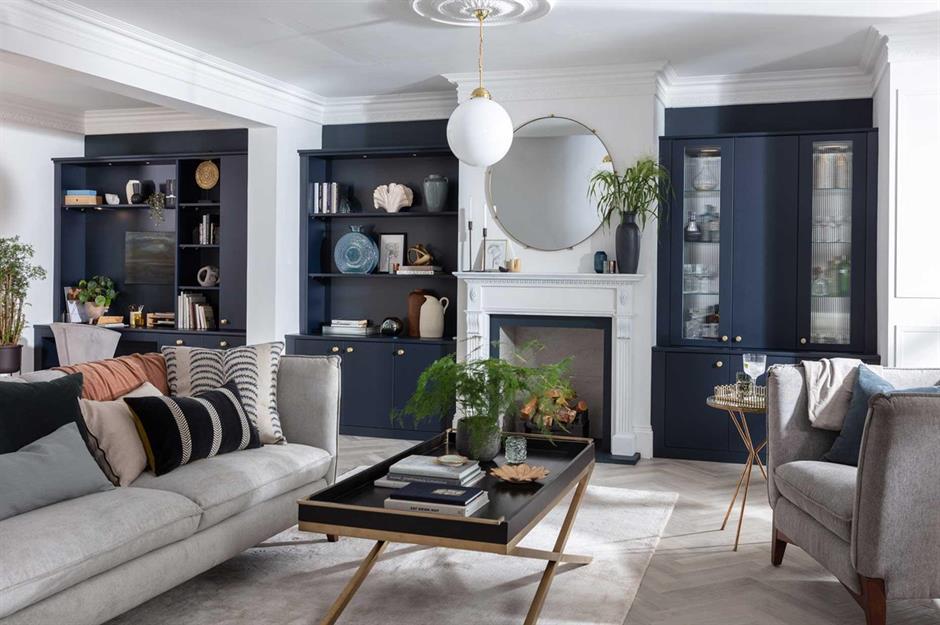 Sharps
Looking for ideas to makeover your living room? Whether you prefer modern Scandi, daring dark schemes or traditional florals we've got the best interior design tips and decorating trends to help you choose your next style update. Check out these living room ideas that are sure to inspire you whatever your budget…
Mix and match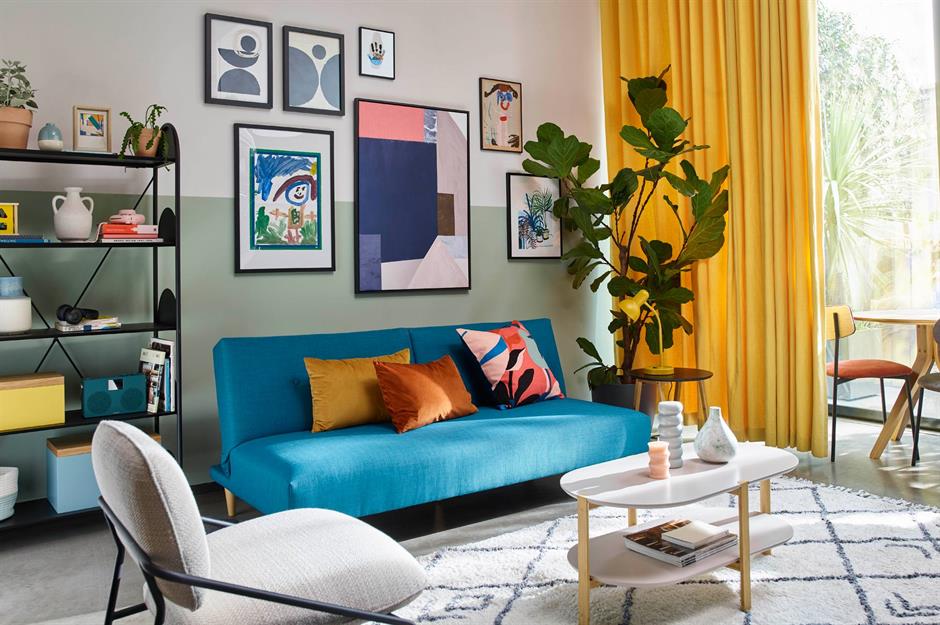 Create a relaxing living room space that's easy to live with. Start with a modern two-tone backdrop to enlarge the sense of space, then add colour with a bright yet simple sofa and warming floor skimming-curtains. Complete the chilled-out character with a quirky gallery wall.
Set up a loft-style living room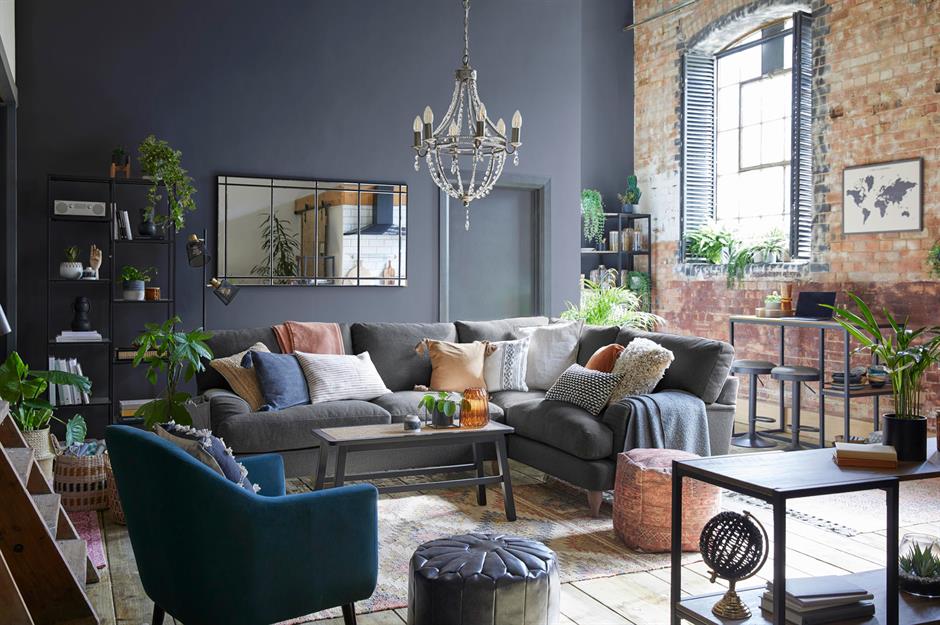 Dunelm
If you're lucky enough to have beautiful bricks behind your plastered walls, expose them to make a dramatic industrial-style feature. Soften the look for the living room by only exposing one wall and add plenty of comfort with cushions.
Be bold with wallpaper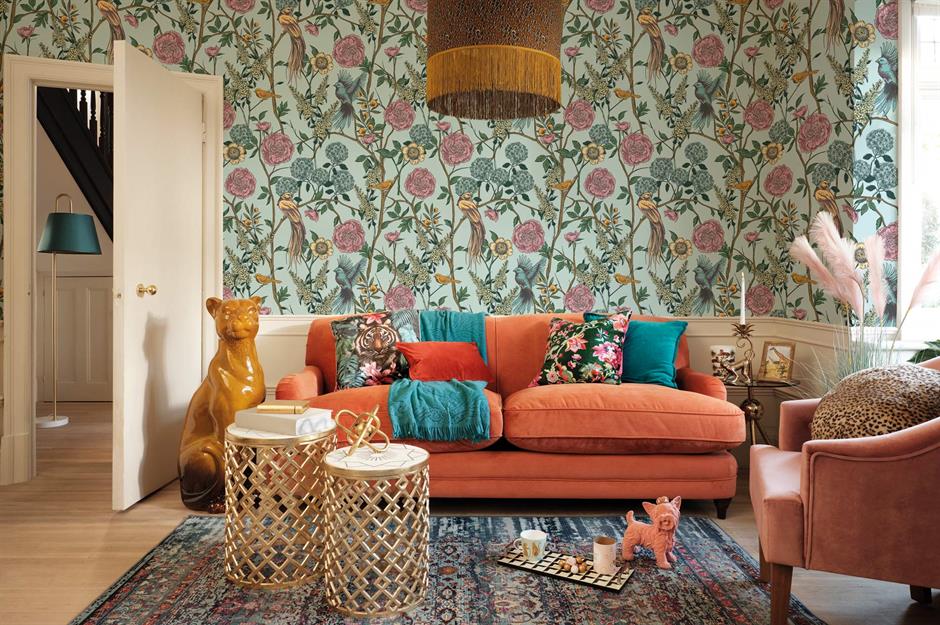 HomeSense
Turn up the retro feel to the max with a 1970s inspired look that's all about bold pattern, luxe finishes, golden tones and out-there shapes. Fringed accessories add a touch of kitsch and animal ceramics complete the look.
Nail the biophilic trend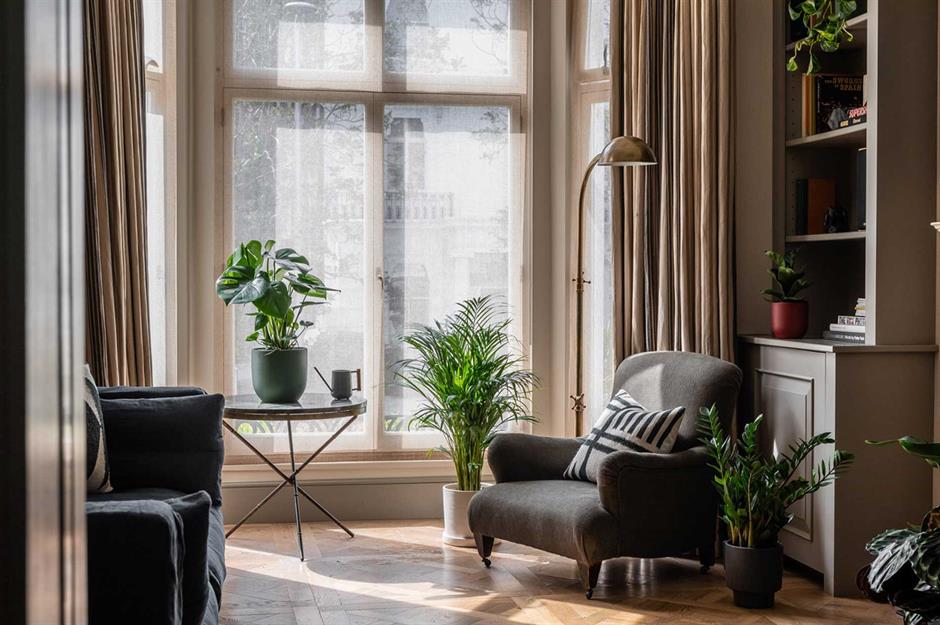 Leaf Envy
Bring the outside in and give your period room a natural look using earthy neutral and botanical elements that add warmth to the space. Combined with a charcoal sofa and windows framed with full-length curtains, this space looks ultra-chic and refined. Finish the look with layers of plush cushions as well as houseplants aplenty.
Think au naturel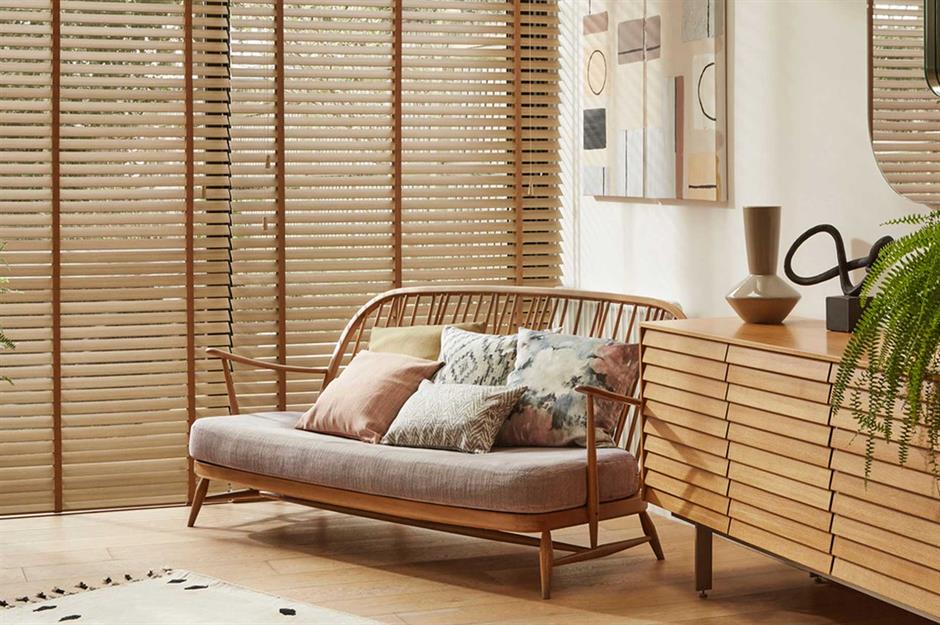 Hillarys
Mix organic textures and wood materials to create a refreshing natural space that's modern and grounded. Stone, wood wicker and rattan will warm up neutral walls and connect with our love of nature. Continue the look of life with potted plants and cushions with leaf prints.
Perfect the positioning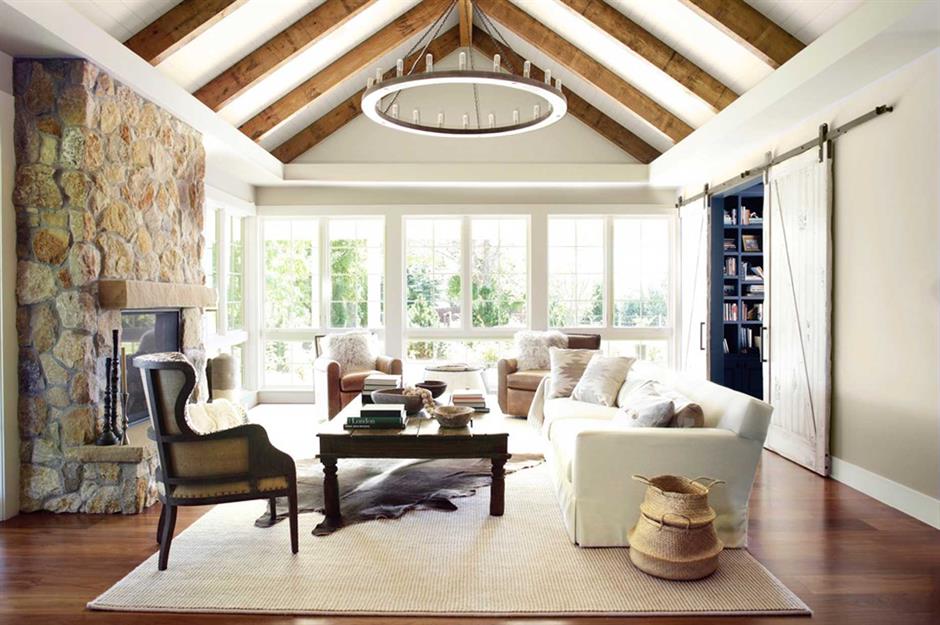 Benjamin Moore
Once you've chosen the right backdrop, and chosen your furniture take some time to consider and experiment with where to position everything. If formal is your thing arrange seating towards each other and away from walls. Or, for a more relaxed family setting place comfortable seating in a cosy living room layout set towards the TV.
Step up the storage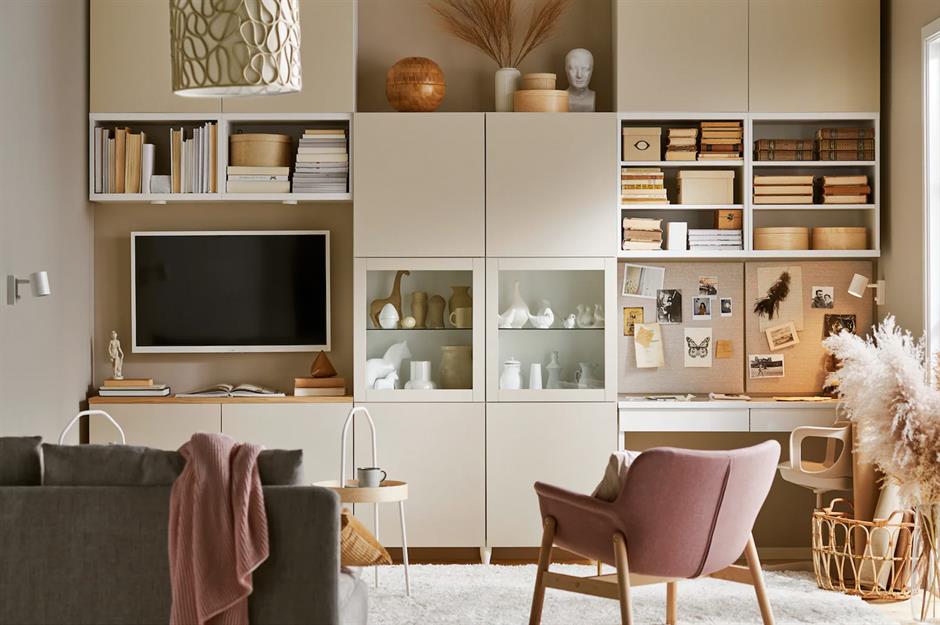 IKEA
Organise and showcase your favourite belongs with wall-to-floor storage. Furniture stores famous for flatpack systems like IKEA are a perfect place to start. Opt for combinations that allow you to mix options and closed fronts to balance the function and style that suits the living room size.
Layer one colour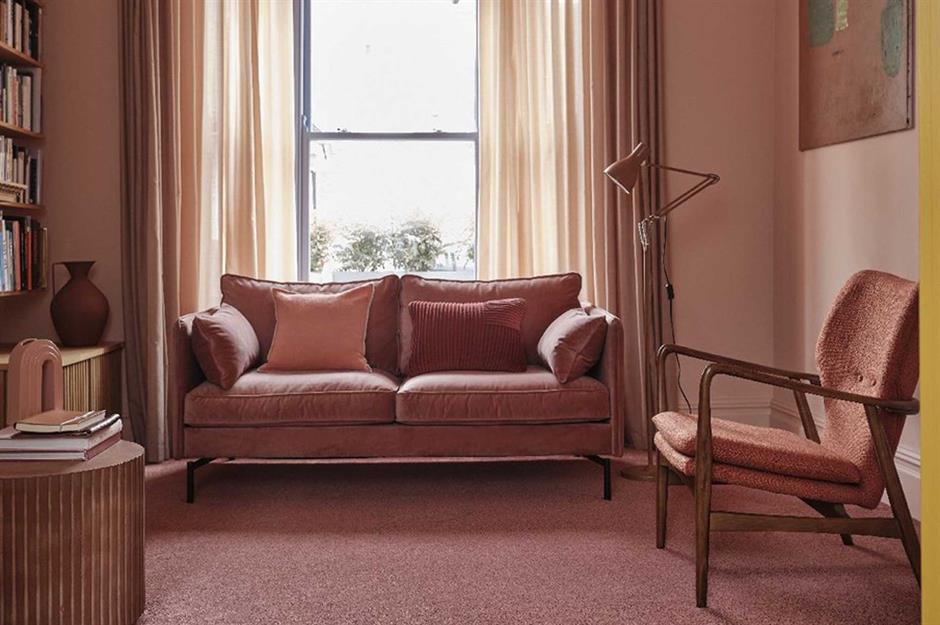 Carpetright
A monochromatic scheme means decorating your space with just one colour in varying shades and hues. It's most commonly created with a neutral tone but we love this take on pink that transformed a small box room into a warm rose-toned living space full of romantic character.
Make the most of alcoves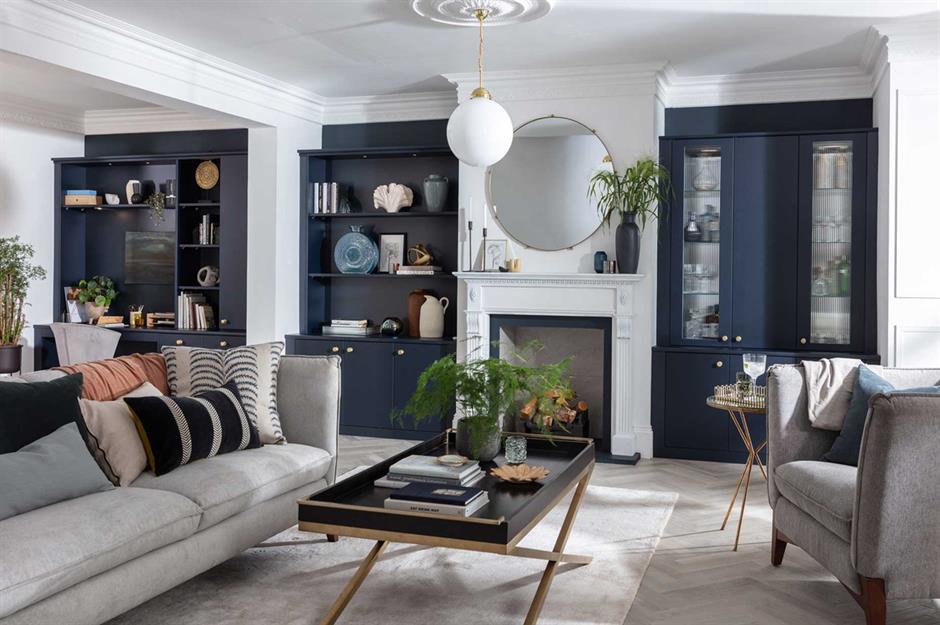 Sharps
Period properties with living room fireplaces mean there are alcoves to be utilised. There are plenty of ways to streamline or highlight the recess spaces to provide storage space and character. These built-in in shelves and bookcases look timeless and striking painted smart navy blue.
Enhance the TV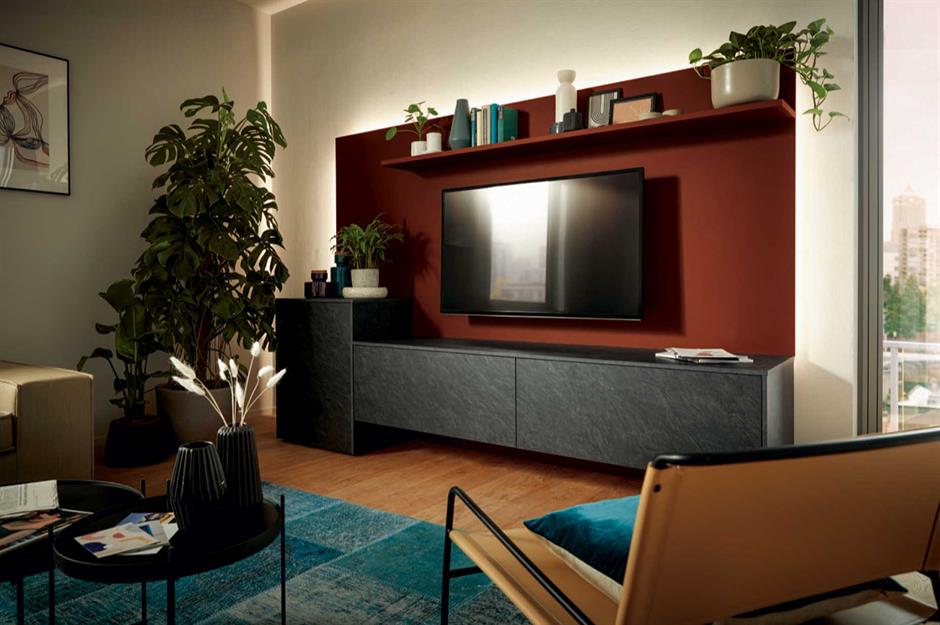 InHouse
Instead of hiding the TV why not make it a main focal point? Almost every living room includes one so bring your television into the forefront of the room in style. We love this back-lit panel that not only hides wires from the mounted TV but brings with it a rich colour and creative character. The matching shelf with well-positioned accessories completes the innovative look.
Nod to Nordic life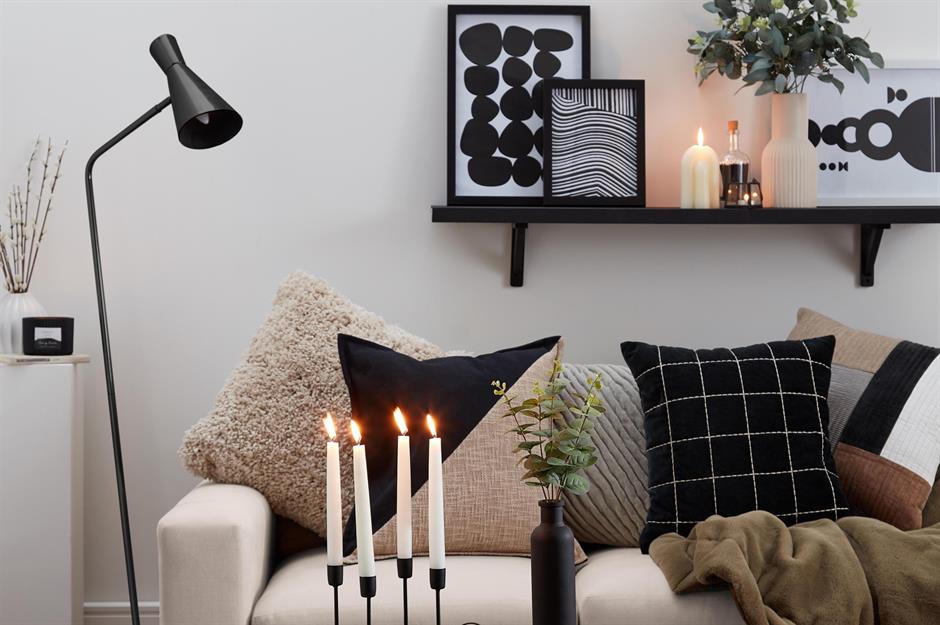 B&M Stores
Keep your small living room grounded in the Scandi way with a simple colour palette that suits modern living. Start with a neutral backdrop and sofa and then layer up a clean yet warm accent colour combination of taupe and black. The great thing about this look is that it can be easily updated with fresh accents later.
Look for affordable icons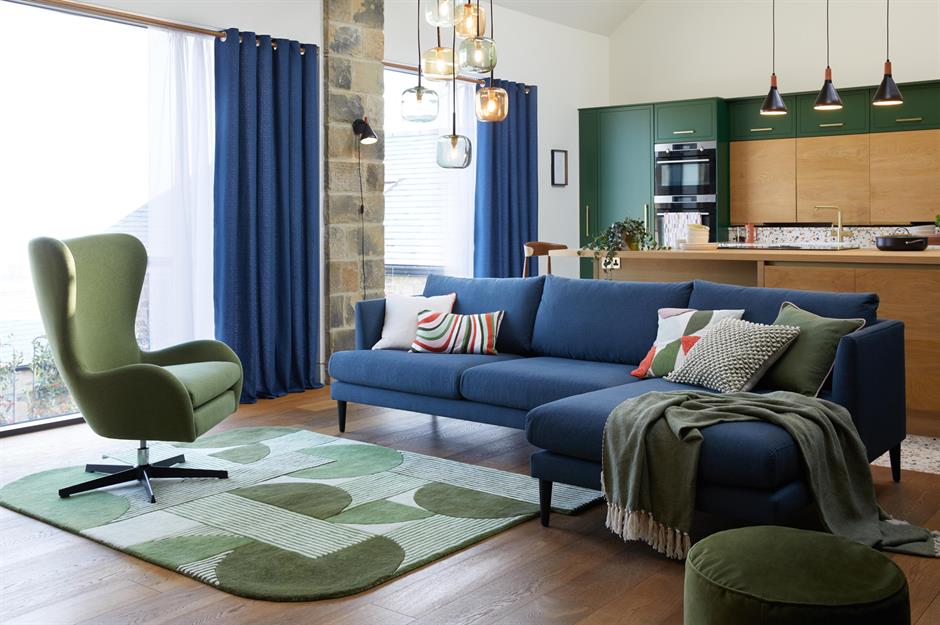 Dunelm
Inject contemporary style within an affordable price bracket by choosing modern furniture that's practical for everyone. This corner chaise with slim arms is perfect for compact open-plan living. Quick and easy personality can be added with playful and colourful cushions. The green arm-chair makes a budget-friendly statement echoing a famous Fritz Hansen design.
Add in Americano vibes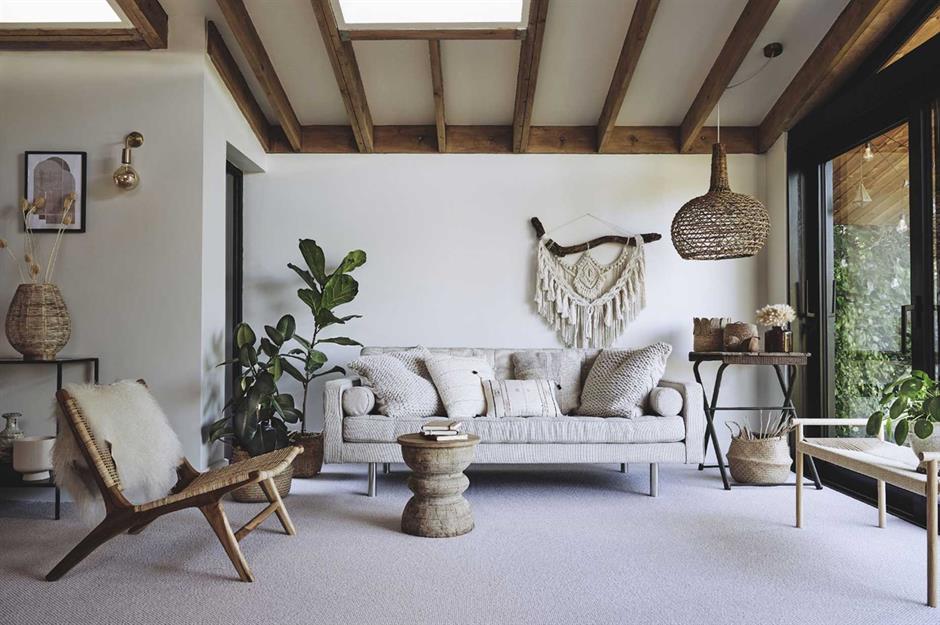 Carpetright
Make moves in the living room with a spectrum of pale neutrals, earthy browns and coffee accents. Natural wood and leather fabrics mixed with Kilim print cushions, macrame wall hangings and oversized plants will conjure up a laid-back and eclectic look that's filled with All-American character.
Dream up a blue scheme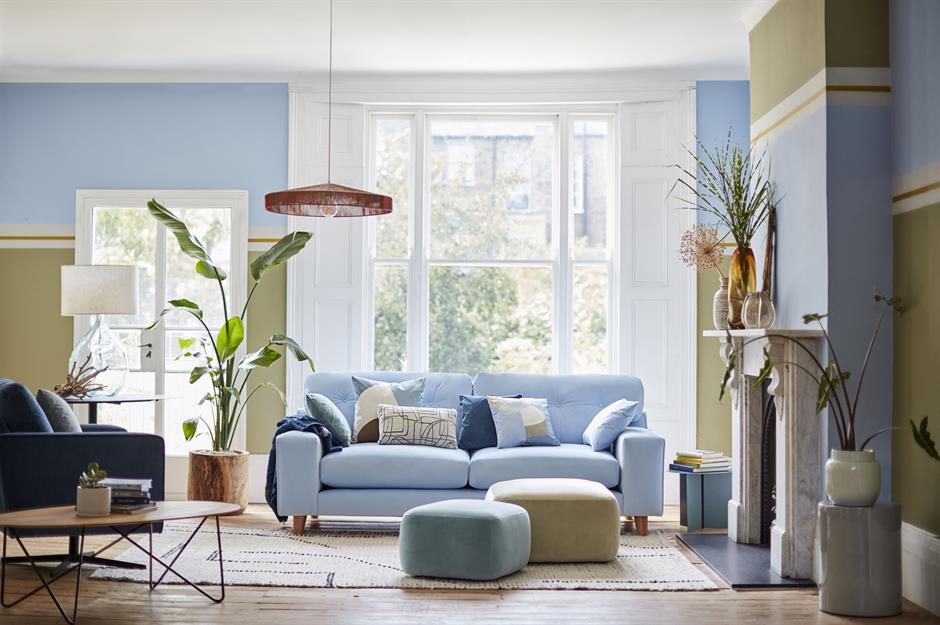 DFS
Dulux Colour of the Year 2022 is named 'Bright Skies' and is intended to breath a breathe of fresh air into schemes. Start with a pale blue sofa and pair the positive paint tone with a versatile green to add an energetic and organic twist to your living room.
Keep it casual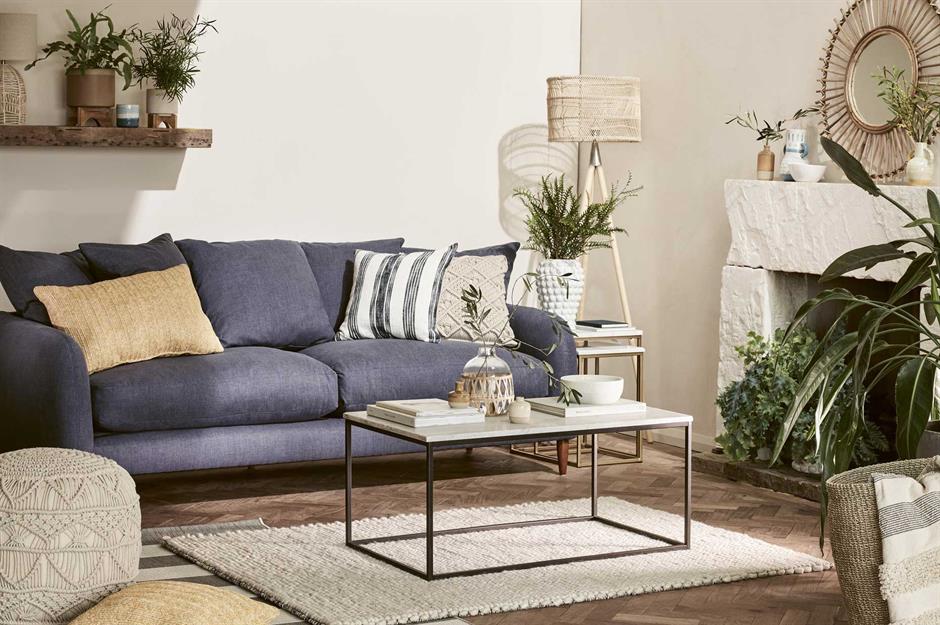 M&S
Give your living room a Savannah sky vibe with embroidered textures and fun motifs like colourful pom-poms and macrame. A monochrome palette will keep the scheme contemporary and sharp. Bring in warming elements with rattan accessories and lush green plants in clay pots. This look works well in bright living rooms, so could also suit a stylish conservatory.
Stay with grey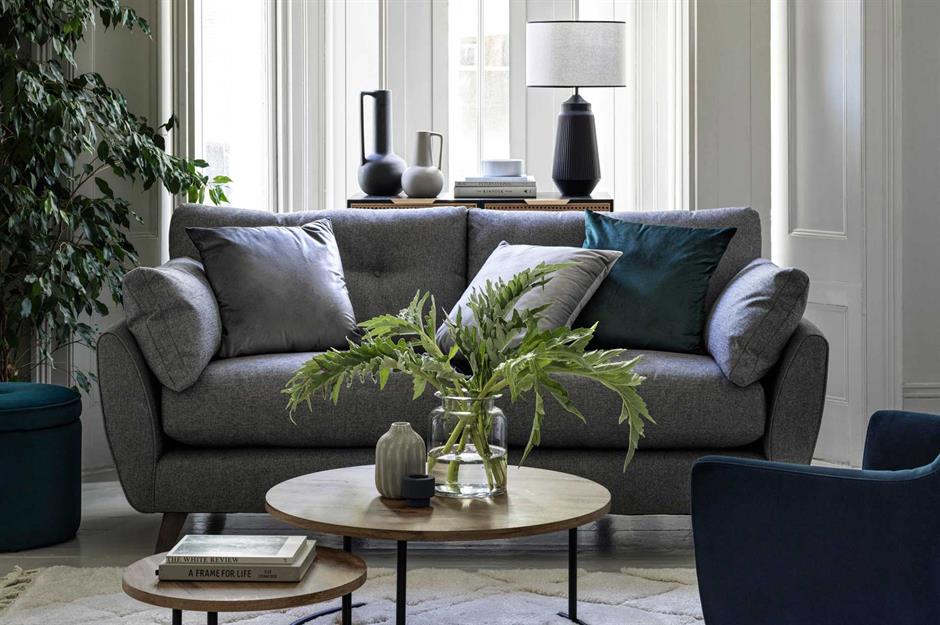 M&S
Still the favourite neutral, grey is a modern and versatile colour scheme for laid-back living rooms. Layering different shades will give off a calm and sophisticated look that is not only easy on the eye but just as simple to update for every season with new accent colours.
Play with pinks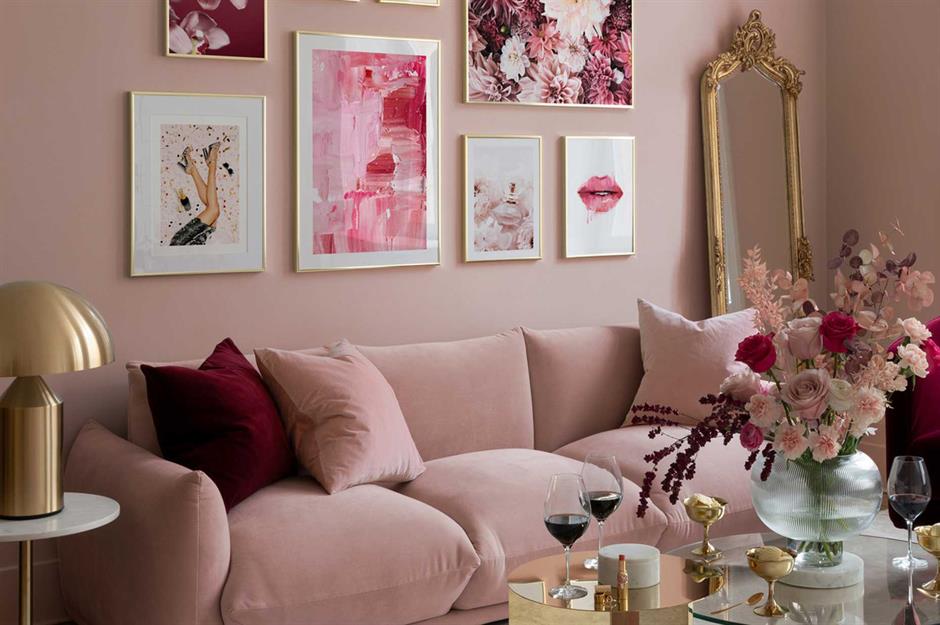 The Poster Store
Combine the colour of the moment, blush pink with gold furniture for a living room that's on trend and luxe. The soft rose tone looks grown-up and sophisticated, especially when set against ornate features.
Lengthen the curtains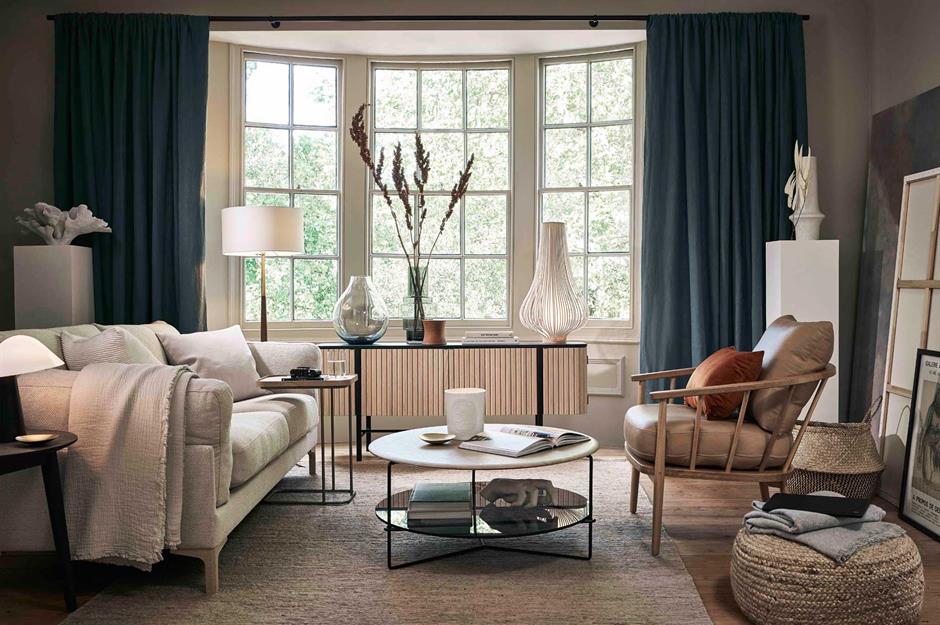 If you're choosing new curtains opt for floor-skimming ones, even if your window stops halfway down the wall. Just as a long evening dress looks much more luxurious than a knee-length number, floor-length window treatments will make your whole room look and feel much more special. On a practical level, they will be very effective at keeping out draughts, which will make the room warmer and reduce your winter heating bills too.
Take on terracotta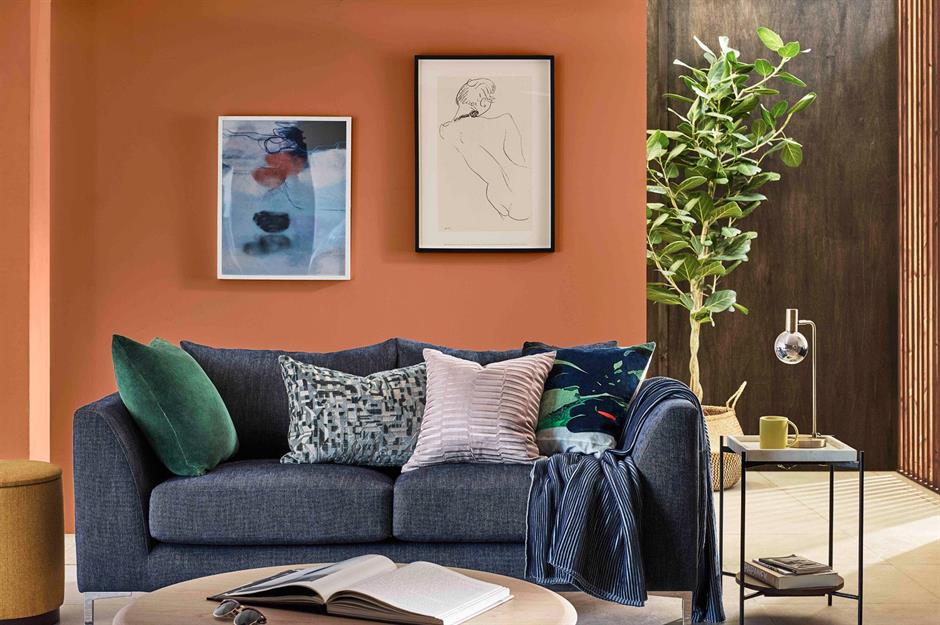 Earthy tones such as terracotta, sand or beige are a key colour trend, allowing us to create living room schemes we want to settle into after a busy day. Team with natural wood, greenery and layered textures.
Take on retro vibes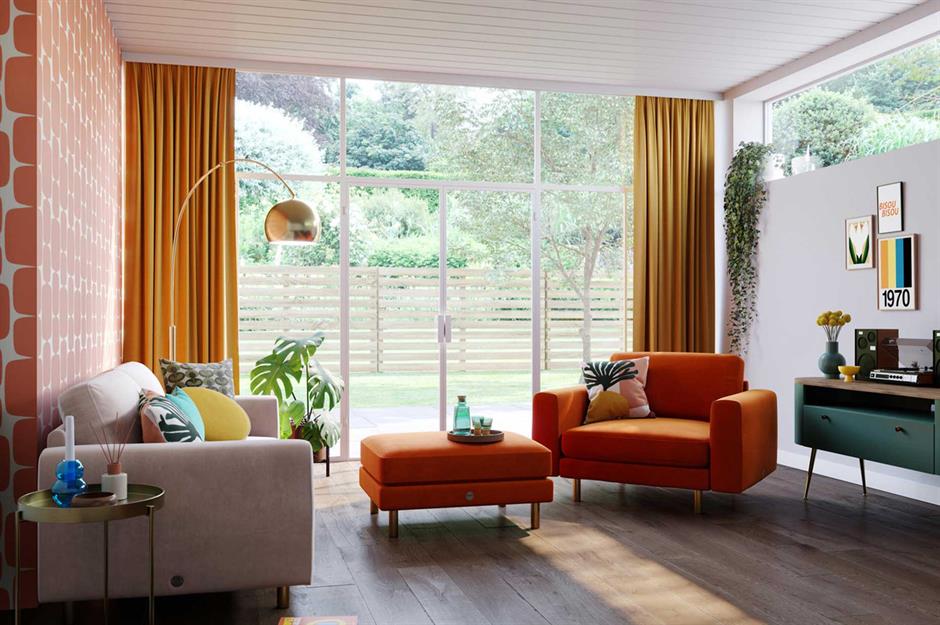 Snug Sofa
Get a retro movie set feel with 70s inspired colours, patterns and furnishings. Think clashing shades – like this knockout ochre and teal and tangerine colour combination. Furniture should have distinctive mid-century looks and the more pattern the better, especially on walls or floors, through framed prints, rugs and soft furnishings.
Mix up maximalist style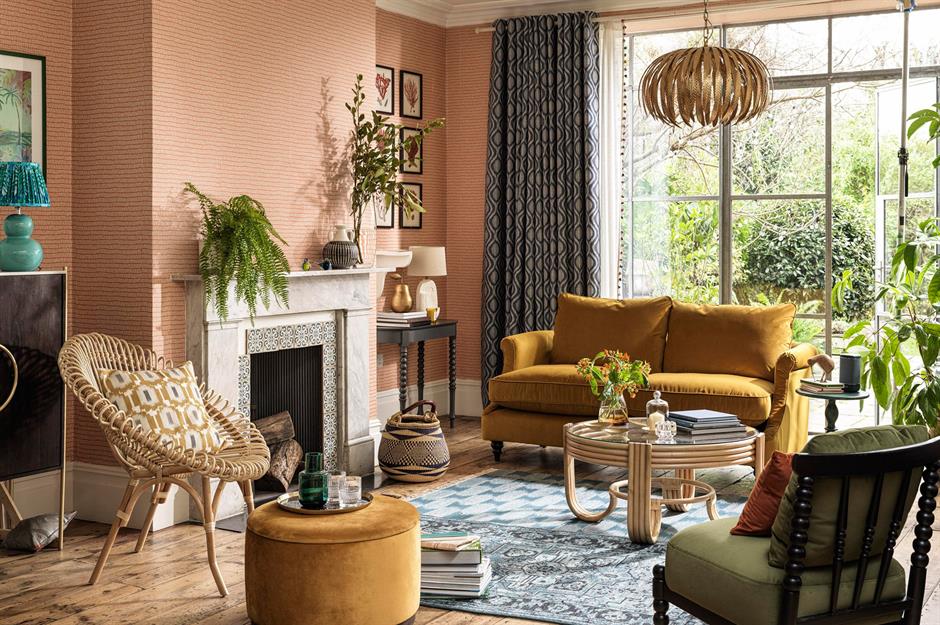 Take a tip from the maximalists (inspired originally by the Victorians!) and layer up opulent colour and pattern on furniture, fabrics and wallpaper. Not for the faint-hearted decorator, it's a simple technique for creating an unforgettable look that's rich, fashion-forward and very bold.
Layer up texture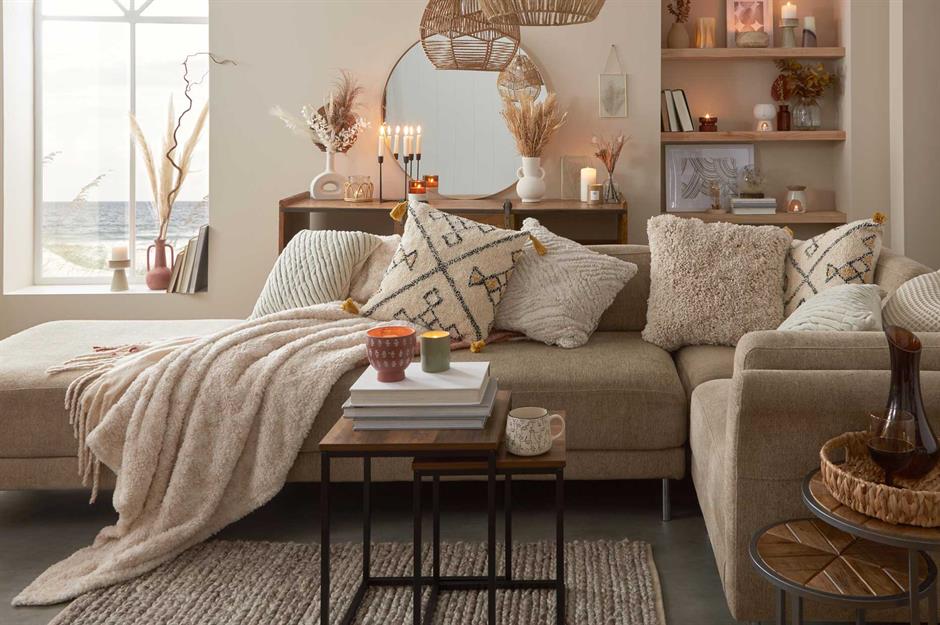 B&M Stores
Go for the boho look with a mix of materials including rattan, wool and decorative metals. This budget friendly modular sofa is layered to the max with cushions and textiles to create a cosy and inviting atmosphere.
Choose glamorous furniture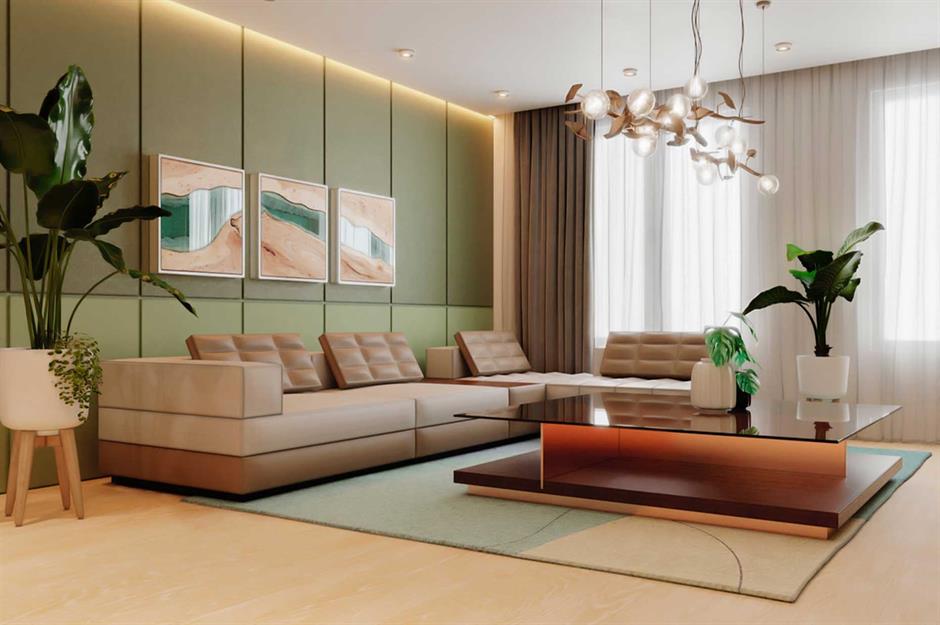 Cafe Latte
Inject the energy and style of a cool LA condo with a refreshing green and taupe palette teamed with a contemporary modular sofa. Accessorise your up Santa Monica-style retreat with Art Deco-style lighting and accessories in a gold metallic finish to take the glamour through the roof.
Display a mural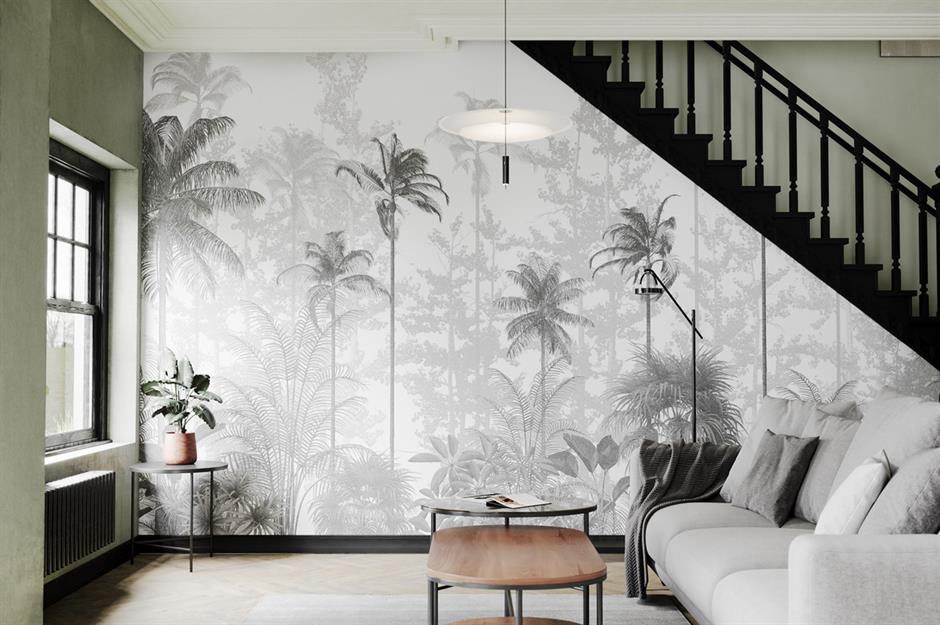 Bobbi Beck
Dramatic wallpaper can look stunning, especially when a feature wall becomes a full pictorial mural. Perfect for both modern and period settings, it has that high-end feel. This muted and whimsical design transports you to exotic jungles and envelopes the living room in luxury and serenity.
Jump into Janpandi-style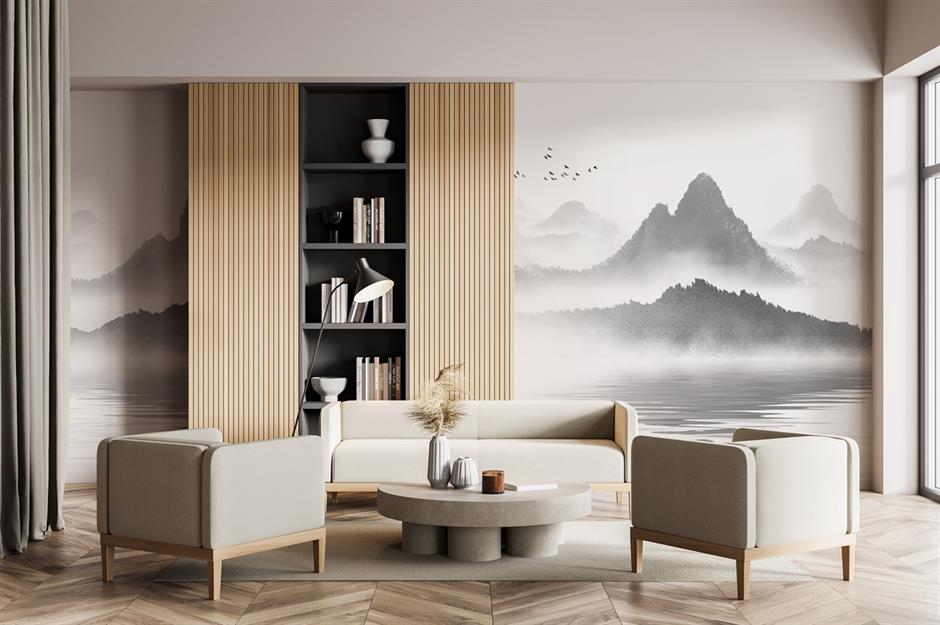 Bobbi Beck
Japandi is a hot trend that blends Oriental zen with Scandi minimalism and is taking the interiors world by storm. To get the look in your living room choose soft tones like ivory, sand and buff and team with strong lines and natural textures for a Japanese-style living room that's pale and interesting.
Work in wallpaper
Wallsauce
You can add pattern and interest with a wow-factor wallpaper, without overwhelming a room as this lovely Full Bloom Chinoiserie scene wallpaper proves only too well. This mural-style repeat pattern looks serene and harmonious on just one wall as shown here; its subtle colour tones are picked out perfectly with the soothing blue furniture and accessories.
Curate an art gallery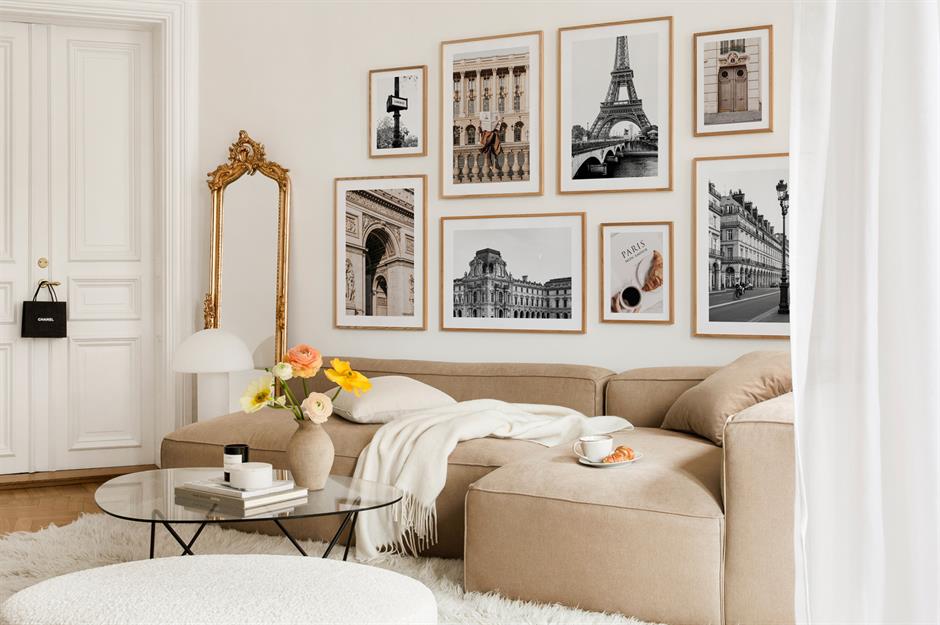 Desenio
Thoughtfully displayed artwork will instantly inject an air of understated opulence into your living room. A lot of thought does need to be put into how the art is arranged, however. A mix of sizes and types of artworks and frames is fine, just make sure that they are all equally spaced and look balanced on the wall. Arrange the pieces on the floor first, then use a spirit level and measuring tape to ensure that they are perfectly positioned. This small living room looks chic with Parisian-apartment style.
Focus on ditsy florals
Next
If you prefer a pretty floral look, why not bring the pattern in with a twist? Floor-length curtains such as these with lavender and dusky pinks set on a black fabric will inject a Roma-style that's striking and pretty. Pale furniture will balance the look and is in keeping with the classic country house scheme.
Bring in a hero pattern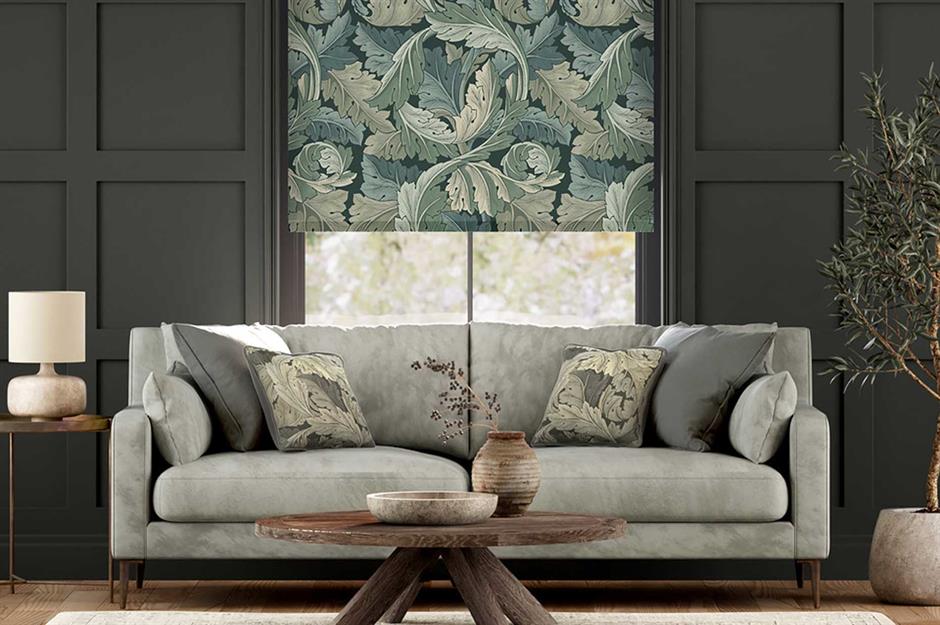 Blinds 2go
Add pattern, colour and a put-together feel with a statement blind in complementary colours. This classic leaf design from William Morris adds instant cool points to a dark backdrop and ties the grey sofa, green cushions and dramatic seaweed green walls into a scheme that's traditional yet comfortable.
Double up on function
HomeSense
Nowadays living rooms serve more than one purpose. Blur the boundaries between work and play by adding a chic home office to your living area that's seamless. A soothing colour palette and open storage maximise the sense of space and keep the look coherent.
Style it dark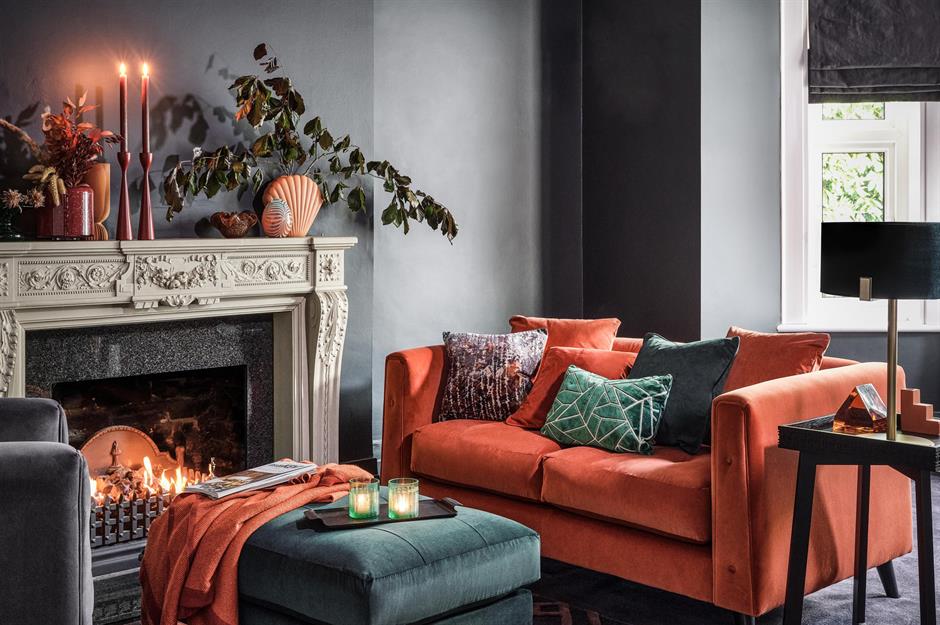 DFS
You have to be brave to paint walls black but it works so well when teamed with colourful furniture. Burnt orange and autumnal shades will tone the darkness down, while metallic finishes add to the luxe style of this striking living room look. Go on, we dare you…
Add panelling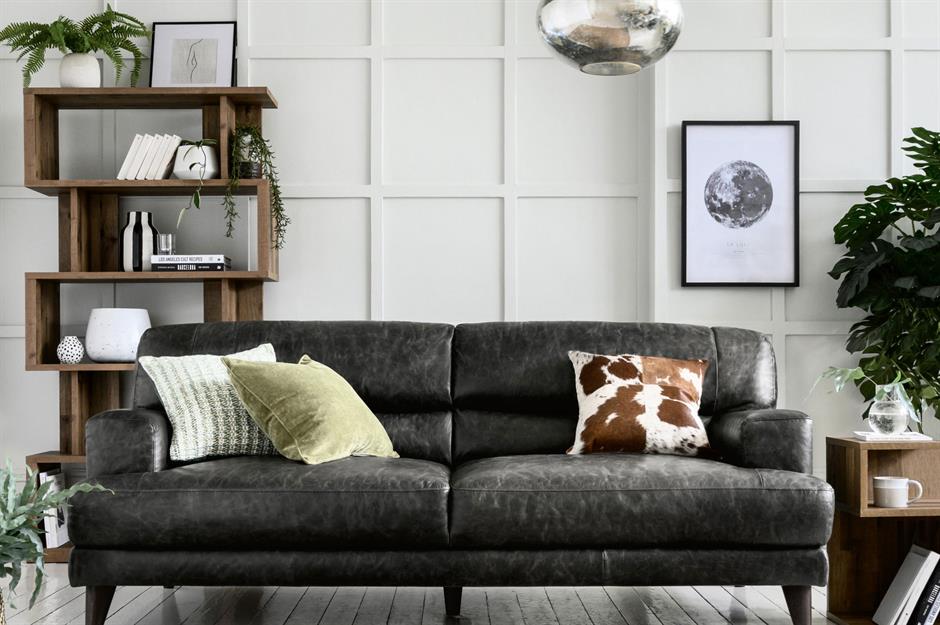 Next
Wood panelling mounted on walls gives a shortcut to elegance – it's no surprise DIY versions are all over our Instagram feeds! Modernise its stately reputation by painting it an uplifting and refreshing colour. We love the idea of teaming refined panelling with modern metallics and cowhide prints for a punchy space cowboy vibe.
Bring in rattan
Ella James
Wicker and rattan furniture is naturally chic and everywhere right now! Making its way in from the garden into our living rooms the natural cane material is hot, not just in seating but mirrors, light shades, coffee tables and planters. Use to add artistic texture to a stark background or team with an earthy palette and plenty of plants for a homely scheme.
Colour block the walls
B&Q
Get creative by painting your living room with interesting shapes and patterns. This type of paint effect takes the popular two-tone trend to another striking level. Mask out different shapes and angles and paint in the blocks with contrasting and vivid colours for a fun and updated look. Finish the feature with a contemporary gallery wall of funky prints.
Lust after linen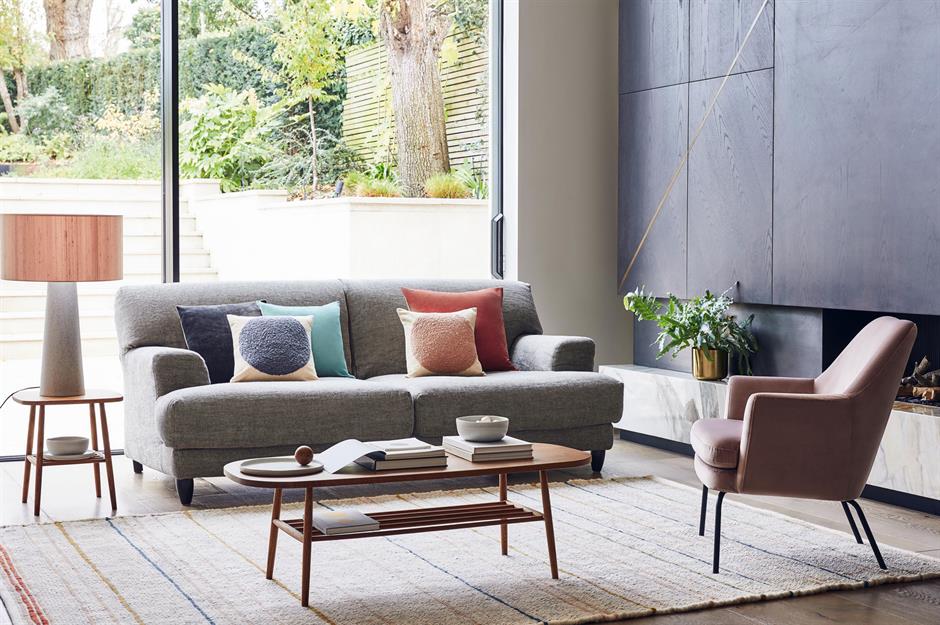 Habitat
The vibrant velvet trend is giving way to more relaxed and informal colours and textures such as calming linen in modern living rooms. Continue the cocooning yet stylish look with oversized furniture and soothing colours.
Immerse yourself in wood
IKEA
As natural elements consume interior trends right now, of course, wood is a timeless favourite for living room schemes that never fails to warm a space. This small living room has been injected with stylish 'cabin fever' by layering wooden walls, flooring and storage furniture. The look is perfectly balanced with muted but cosy soft furnishings
Hang a rug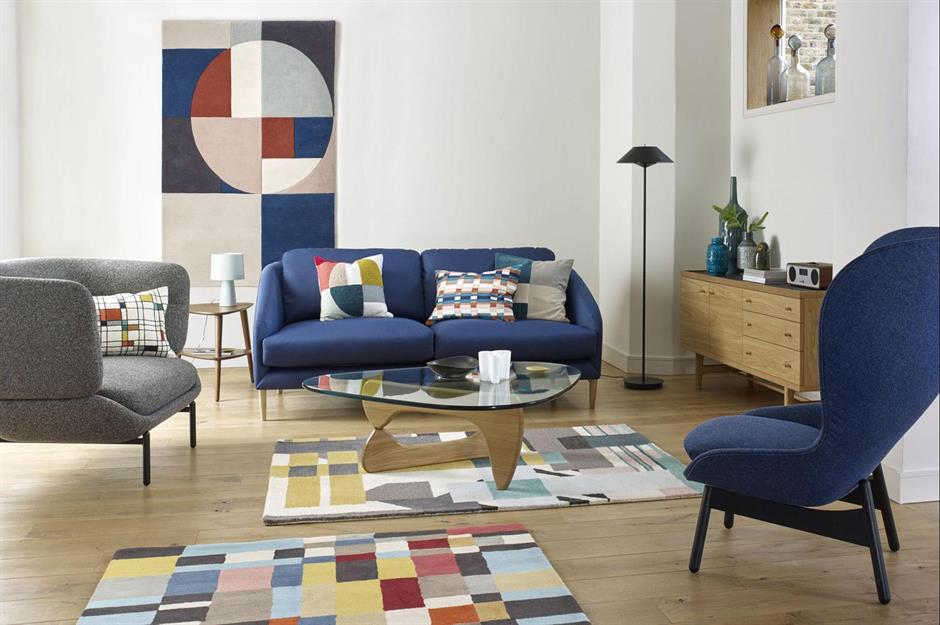 Rugs in bold colours teamed with mid-century style furniture give this living room a retro elegance. Take inspiration from the primary colours and simple forms of Bauhaus patterns on soft furnishings and bring the look bang up to date by mounting floor coverings on the wall to create a striking feature.
Swing around in style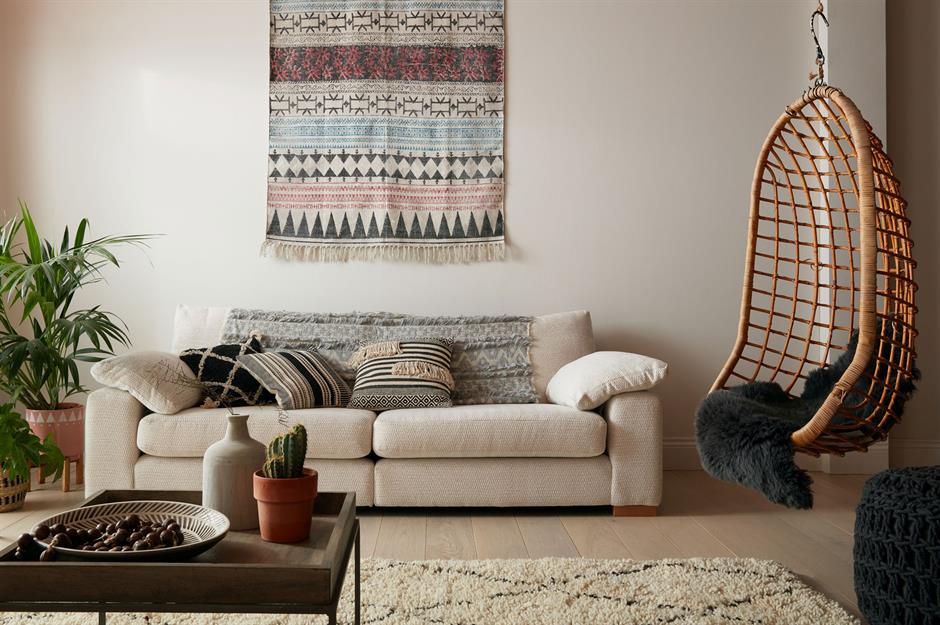 Sofology
Create a social space for lounging that's as stylish as it is practical with a statement chair to turn heads. Here, a wicker egg chair swings perfectly in this casual living room full of layered texture and boho vibes.
Delight in Danish style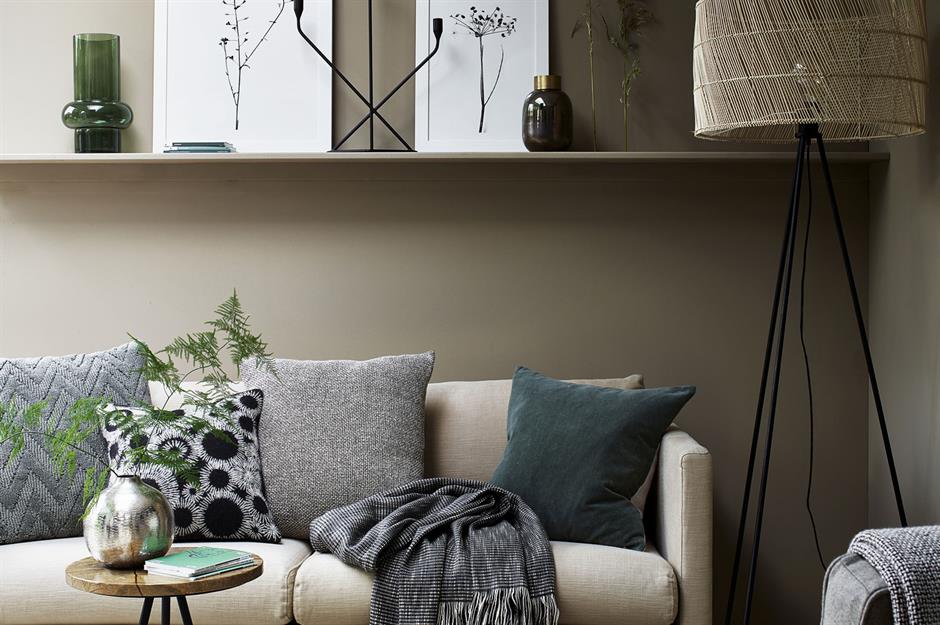 Debenhams
Warm up a beige living room hygge style with muted colours and natural materials. Add visual interest, by placing a low shelf above the sofa to display stylish prints and accessories that enhance the cosy and relaxing space.
Go for a global vibe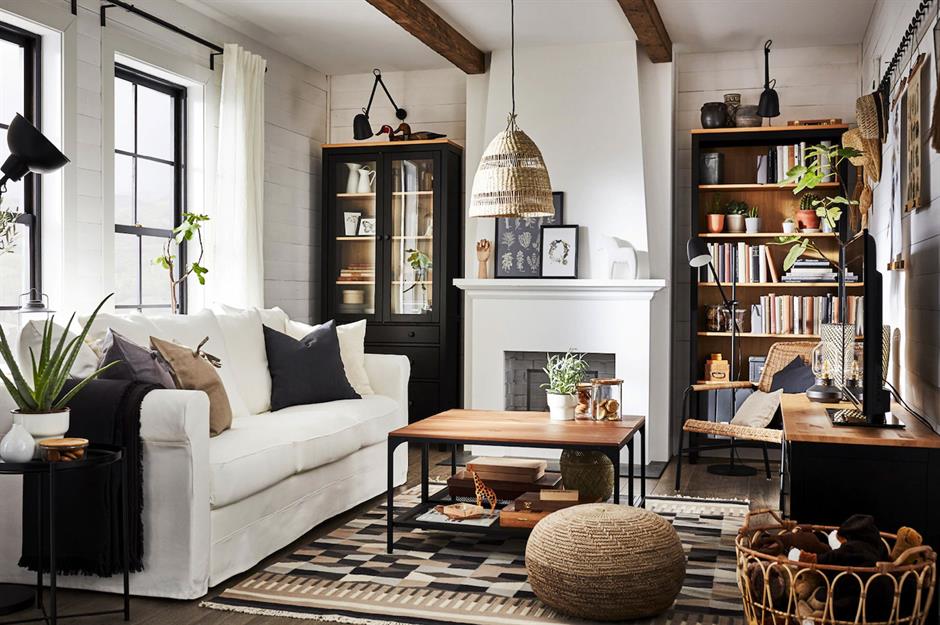 IKEA
Add something personal and unique to a space to make it your own or even use it as a starting point to a decorating scheme. Whether that's an old wall clock that's been handed down through the family or an upcycled brass lamp that you found on your travels, these treasures can transform a plain living room with their decorative charm.
Fall into velvet
Oliver Bonas
Velvet sofas do have their place as a living room luxury – and we can see why. The plush fabric brings sophistication no matter what shade you choose. If you can, layer up with two or three bright shades of the plush fabric for a grown-up and vibrant seating area.
Change up the colour hues
Matalan
Contrasting soft furnishings are an easy way to inject character into a living room without touching the walls. The perfect solution for renters, soften and balance the space with classic furniture in warm wood. And, if you can't leave those walls, why not try your hand at a muted paint effect? This cool concrete look pulls abstract pattern together.
Inject modern florals
DFS
If you like flowers but not the traditional, ditsy styles then this is the floral scheme for you. Combine large abstract blooms with zingy shades for a contemporary look that is still elegant. Floral upholstered furniture will add an unusual focal point with uplifting results.
Feature leather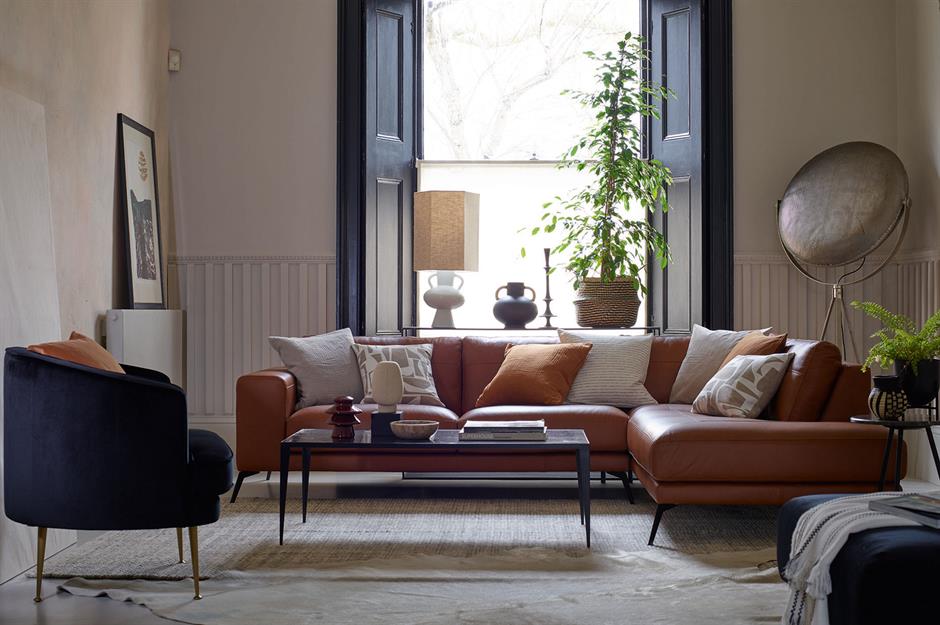 DFS
Leather has the rare advantage of only looking better with age, so a leather sofa is a wise investment if you aren't planning on updating your look for a long time. From pale tan to rich chocolate tones, the material sits perfectly within modern neutral schemes. For a worldly twist; think Berber-style rugs, basketweave accessories and lush greenery.
Follow the seasons
Matalan
Be influenced by the seasons by giving a neutral living room summery warmth. Accent colours of sunshine yellow and coastal blue instantly warm up this pared-back canvas and work beautifully with the natural touches in the coffee table and storage.
Go big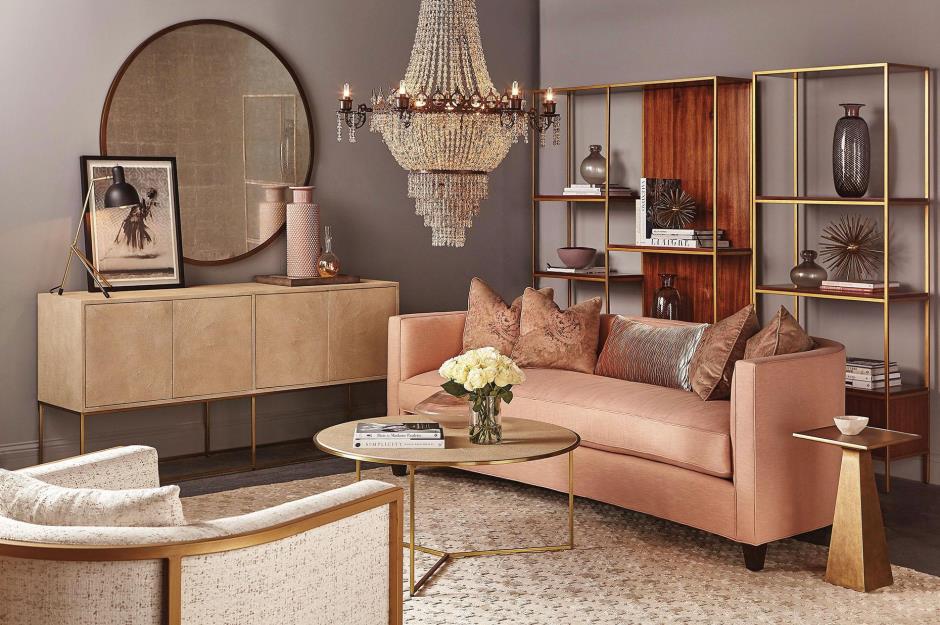 Houseology
…or go home! An oversized anything makes an instant impact, pulling the room's décor together and providing an interesting focal point. Here, a large shell chandelier is hung off-centre and purposefully low to become the focus of attention in an opulent rose-toned living room. Talk about statement lighting!
Add original art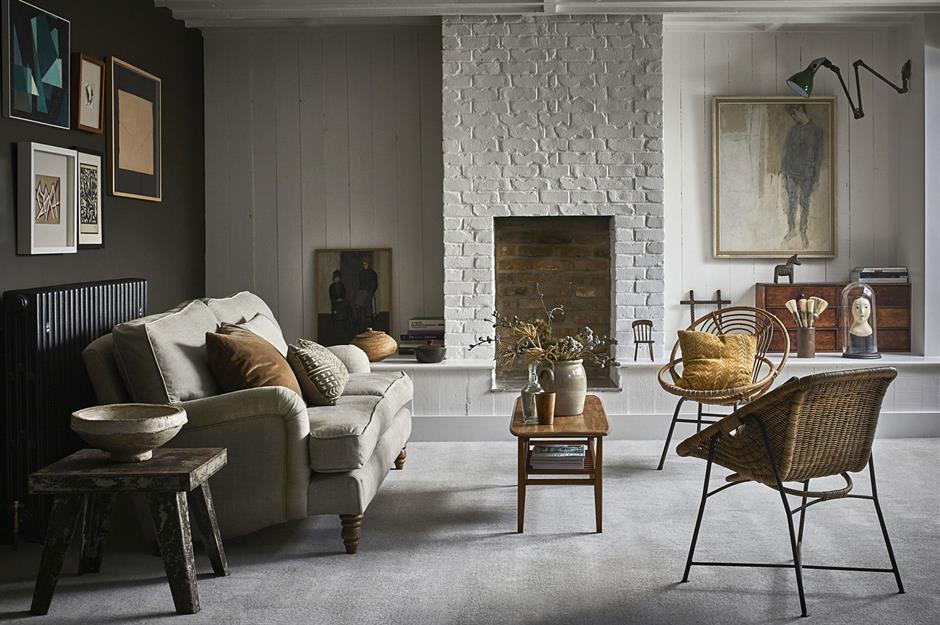 Carpetright
Spending money on a piece of artwork that you genuinely love is an investment of the very best kind. Even if you never sell it, it will bring you happiness for years to come. When it comes to choosing artwork, there really are no rules. Don't try to match it to a room – just choose something that speaks to you – and frame and hang it properly.
Enhance the light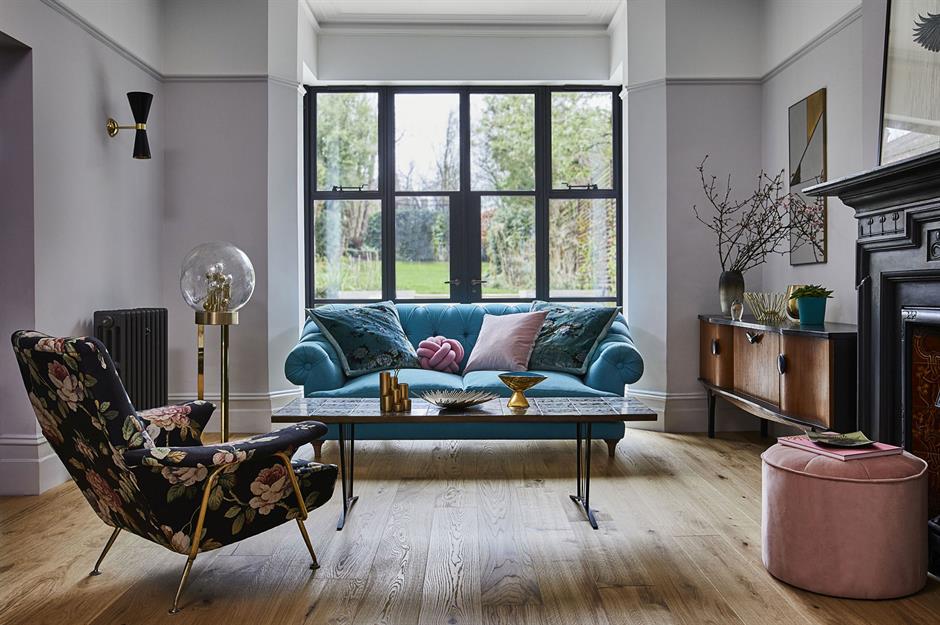 Carpetright
Make the most of what natural light you have by keeping walls light and floors pale. This stylish and airy living room takes on a minimalist elegance which is perfect for small spaces. The blank canvas is enhanced with seating that is pulled away from the walls to maximise the sense of space.
Pep up pastels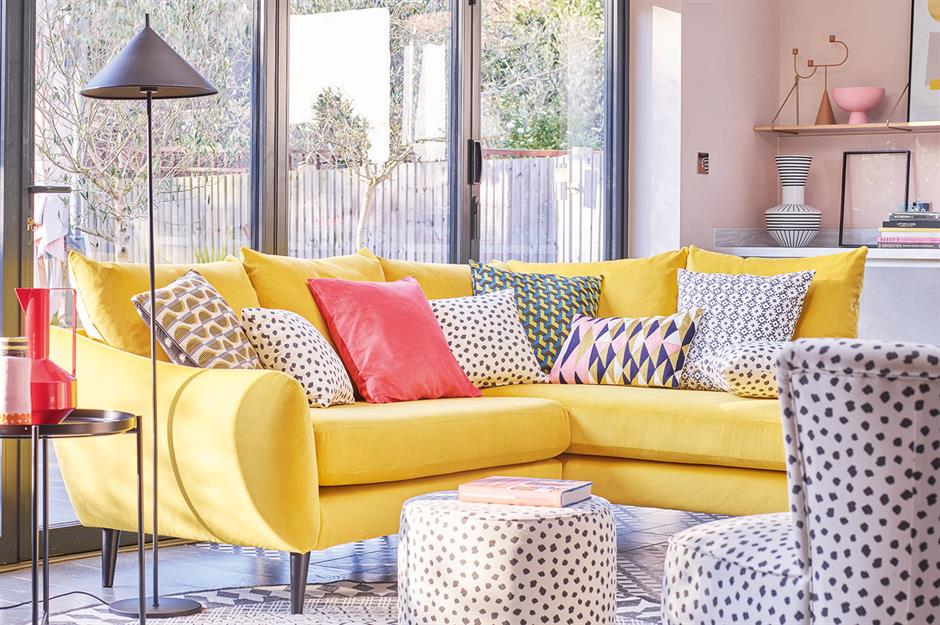 DFS
Muted pastels have been popular for a few years, but now these delicate shades have been taken up a notch to make them more vibrant. Shake up a pale backdrop with neon furniture and accessories in peach, zesty lemon and calming soft taupes for a modern update to these fresh flavours. Team the fun tones with a perky pattern: this monochrome dalmatian print is a perfect balance.
Go nude
Nest
Fresh and warm nude is a neutral shade that's having a fashion moment, yet it will always remain timeless. If fully undressed is too bland for you, opt for a barely-there backdrop and lift with stronger furniture and accessories. You can also choose one statement piece in a pink skin tone for a pared-back focal point, such as this sumptuous sofa.
Opt for accent chairs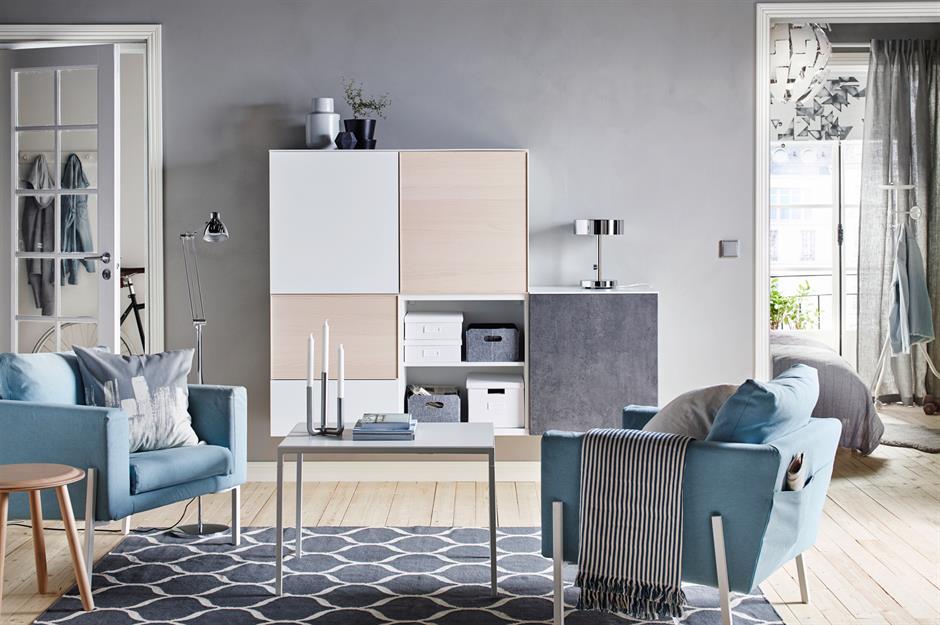 IKEA
If space is tight why not remove the sofa altogether and maximise space with stylish matching or clashing accent armchairs instead? Arrange a sociable layout and choose lighter shades for an open and laid-back feel such as soft blues and greys.
Sail into the blue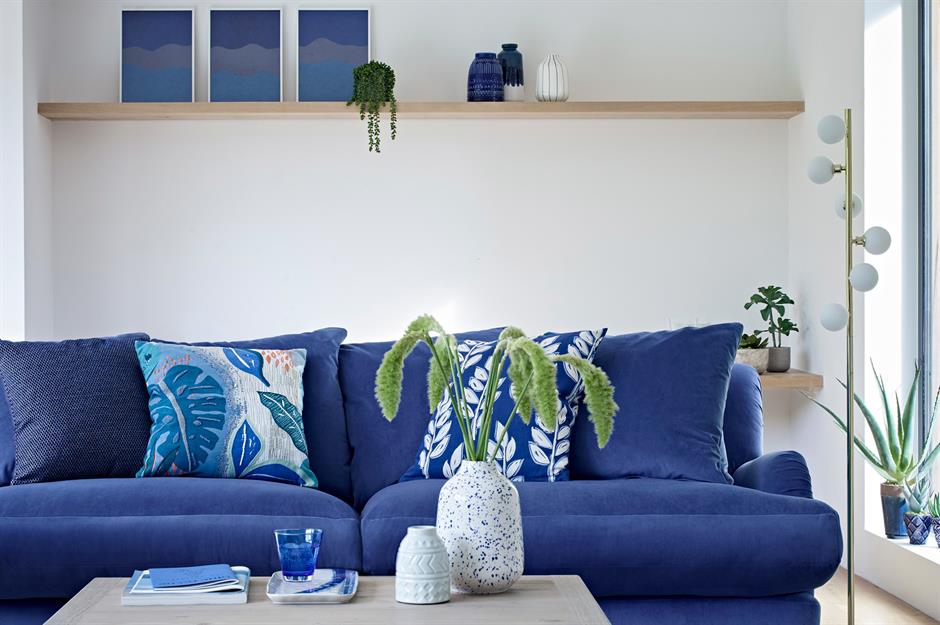 M&S
Get a fabulously fresh and modern living room with cobalt blue. You don't need much to make this colour scheme sing. Keep the look classic with white or neutral walls and create a holiday feel with a bright blue sofa, palm patterned cushions and seascape pictures set high on a pale wood picture shelf.
Dress grey with greenery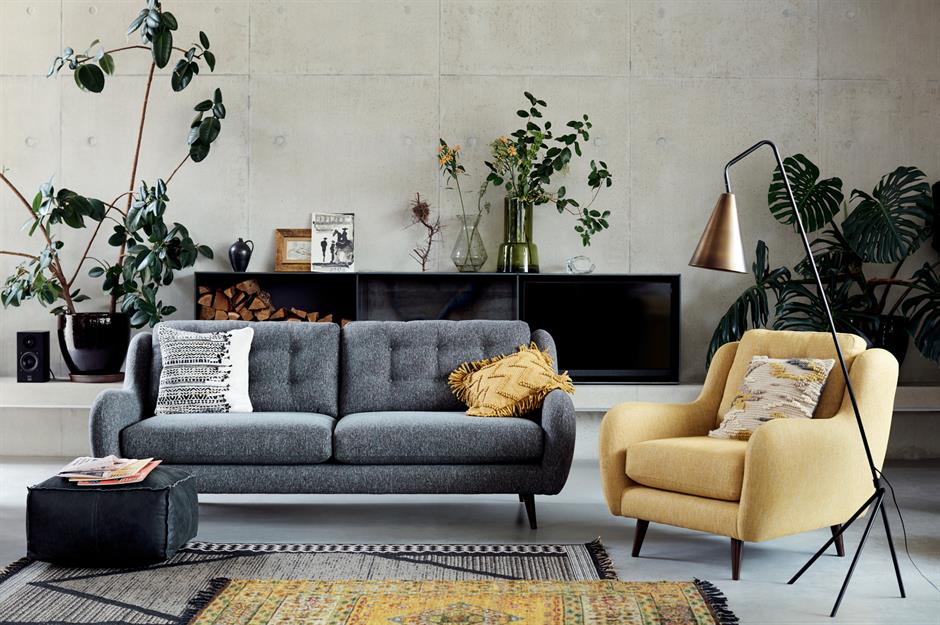 DFS
Decorating living rooms with houseplants was fashionable in the 1980s and the trend has returned full force! Paint walls a neutral tone to let the lush greenery pop out and choose structural plants that add visual interest such as spider plants, tropical palms and tall, rich fig leaves. If you don't have green fingers fake it with good quality faux versions.
Two-tone the walls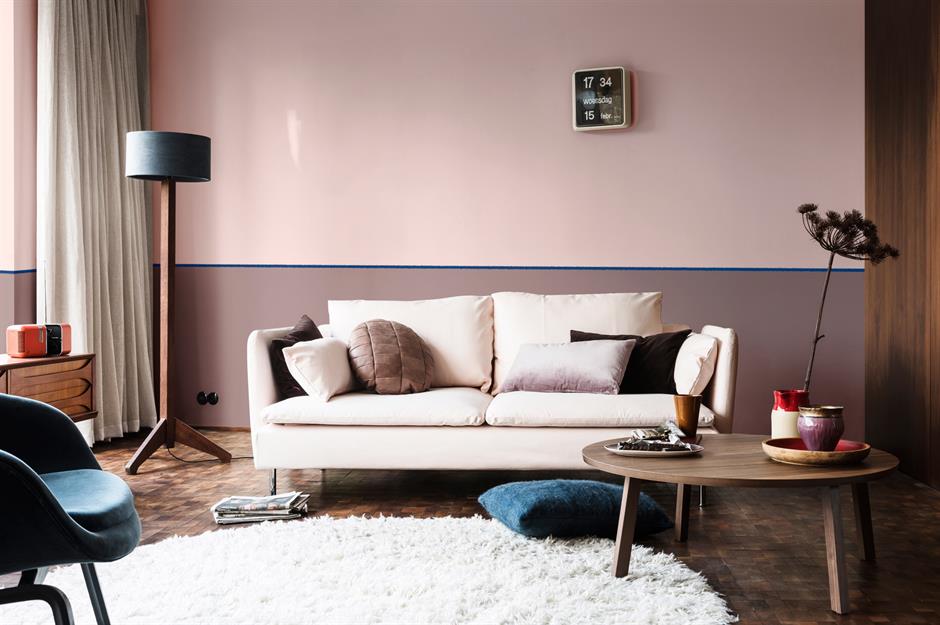 Dulux
Get that period living room feel by dividing walls horizontally and paint the sections two shades of the same or different colours. Complementary tones will make the room soothing and calm while more diverse colours will be striking and vibrant. Separate the two shades with a dado rail or a band of contrasting colour for impact.
Open it up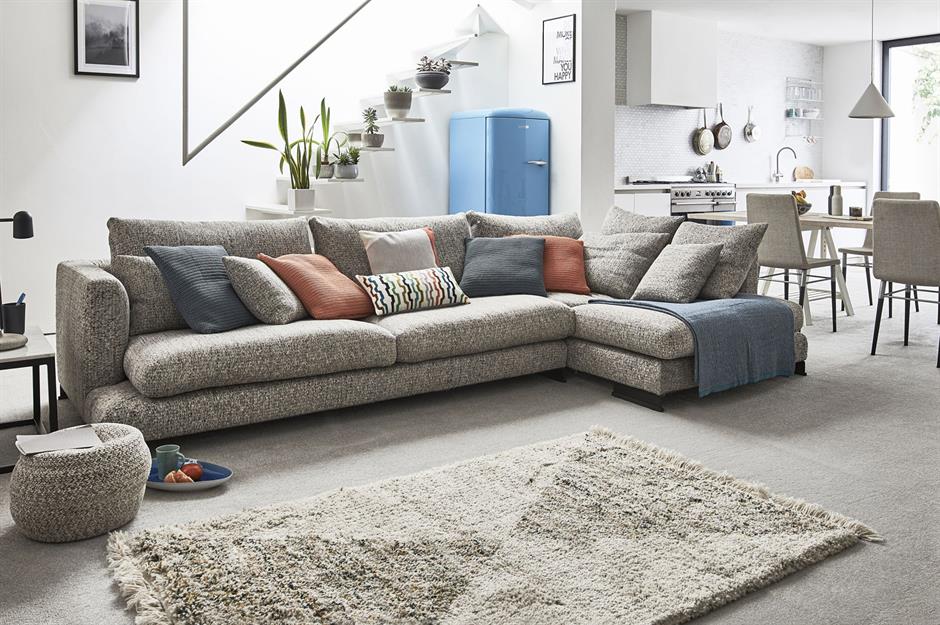 Carpetright
A white, bright and airy room, especially open-plan, creates a distinctly Scandinavian feel. Add a large, modern corner sofa, preferably in soft grey, and you've nailed the look. Textural accessories such as a neutral shaggy rug and lots of soft cushions will make the space comfortable rather than cold.
Hang pendant lighting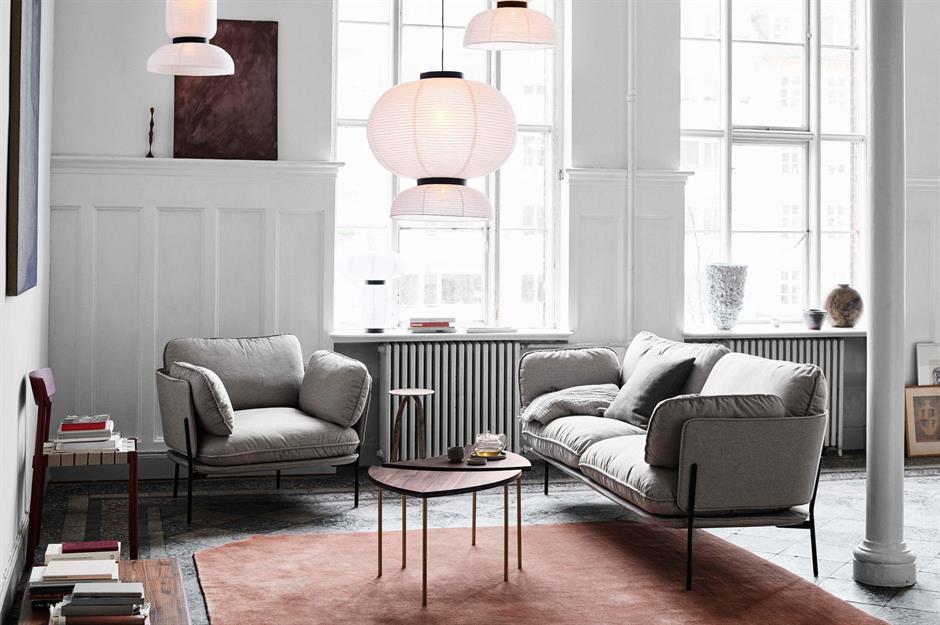 Nest
The latest smart home technology allows you to change the brightness, hue and even colour of your lighting from your phone or tablet. Employ it so that during the day the living room can be filled with bright daylight, even in deepest winter, but come dusk it can be changed to throw a more cosy intimate light over the whole scene with focal pendant lighting. All that is required is a switch to wireless-enabled light bulbs.
Pretty up pastels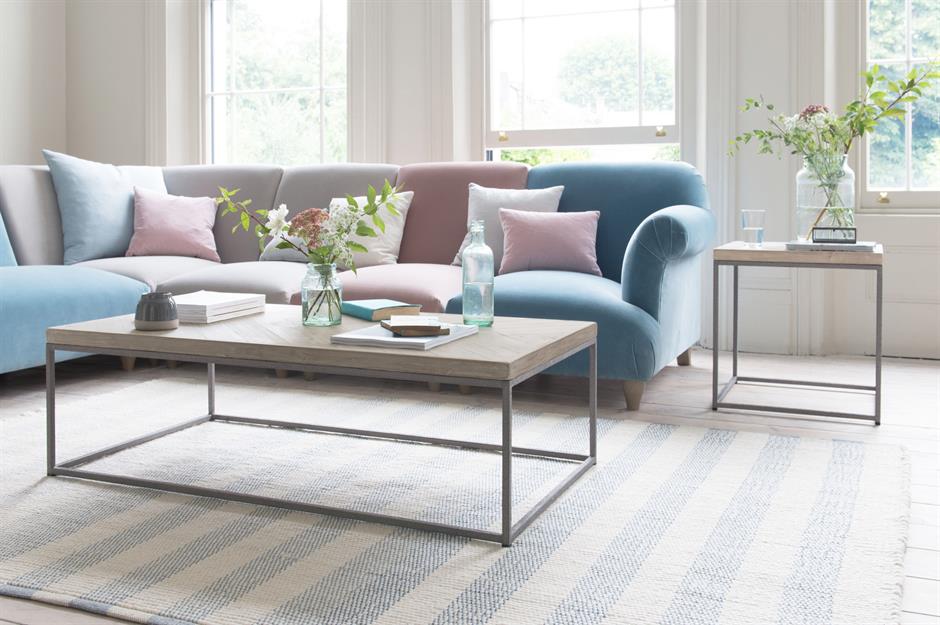 Loaf
Gentle pastel shades are perfect for patchwork schemes as the complementary tones will not overpower each other or look brash. A large sofa makes the perfect focal point to mix and match ice-cream colours – if possible use them on the same sofa like this delightful concoction of powder blue and baby pink from Loaf.
Work around a wood burner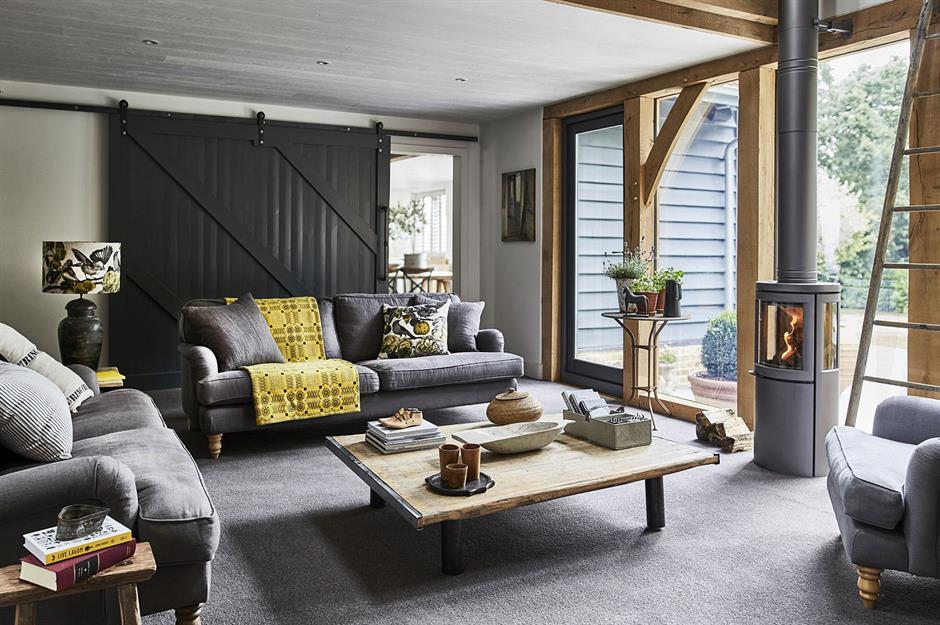 Carpetright
You don't necessarily need a working fireplace to add the warmth of real fire to your living room. A stylish wood burner can be installed anywhere with the right output for the smoke. This country barn-style living room looks modern and cosy thanks to the contemporary wood burner positioned in front of the beamed window. The matching reclaimed barn door defines the look and is also a great space-saving choice.
Make it family friendly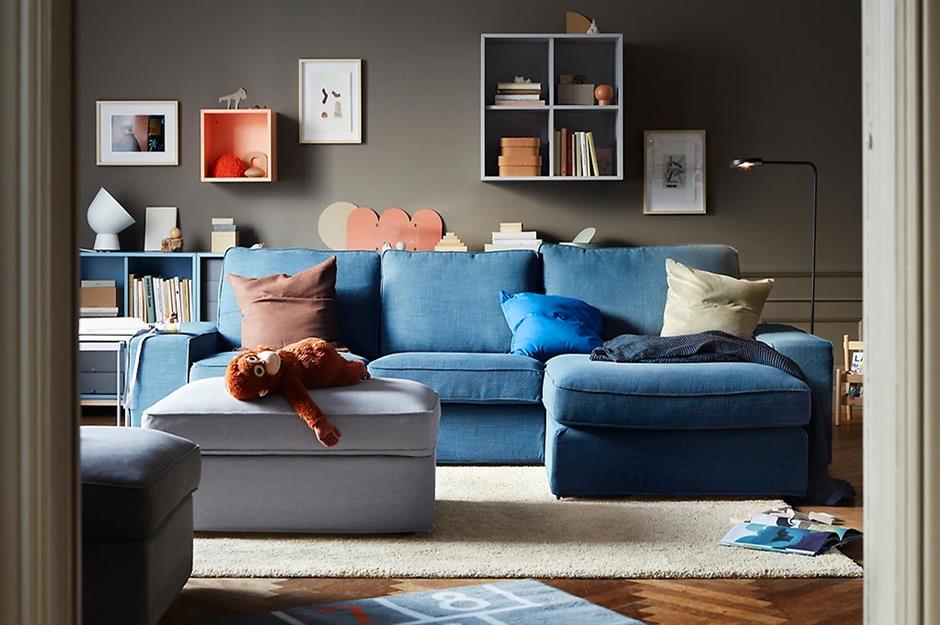 IKEA
Family living rooms need a little more thought to make them stylish as well as practical. A large comfy sofa with room for everyone is perhaps best upholstered in a forgiving fabric and colour that can disguise stains. Factor in plenty of storage to hide away toys at the end of the day and a restful palette will help parents recharge and relax.
Zone areas well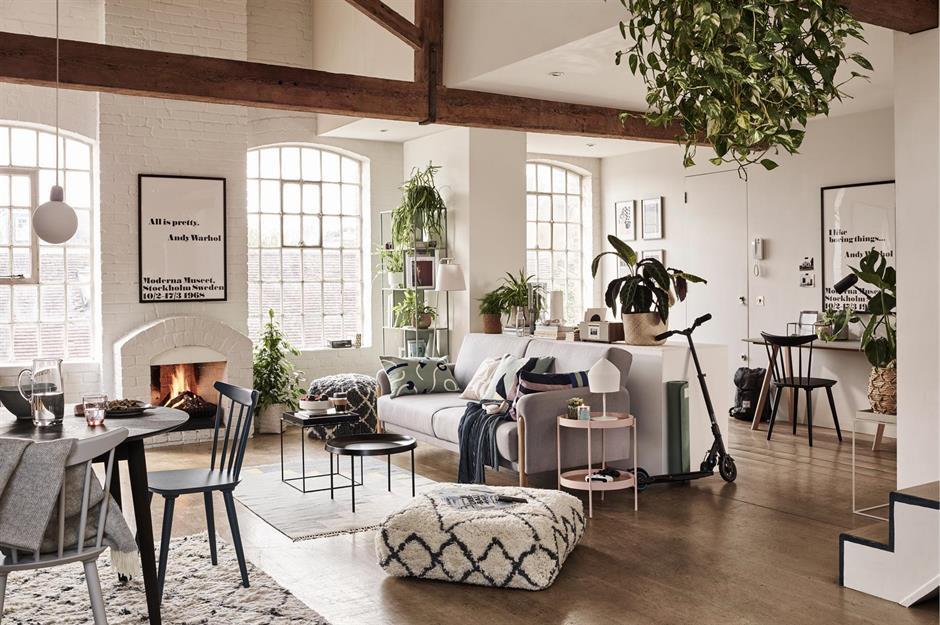 Zone your open-plan living room to create a warm and relaxing family area for spending time together. Make sure you have enough seats for everyone. Here, textured rugs subtly anchor each area. Go for graphic cushions to add interest to the scheme.
Freshen up with spring tones
If you have a neutral scheme that feels a little bit lacklustre, natural touches will invigorate the space without overpowering it. Give your living room a spring clean with shades of green, chalky whites and add natural wooden accessories to create a calm and relaxing garden-retreat look.
Spice up the walls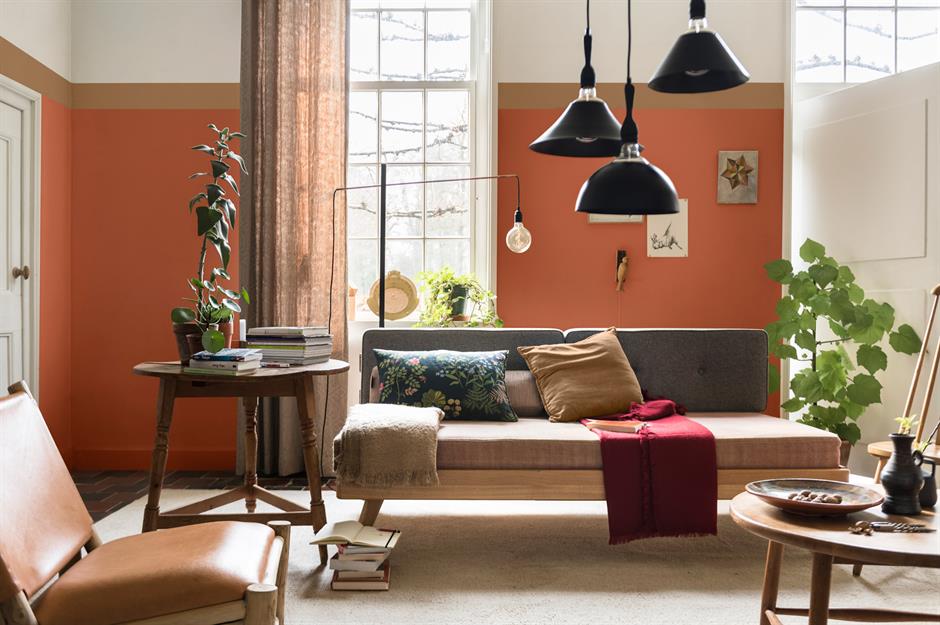 Dulux
Create a warm and positive mood with easy-to-live-with earthy tones on your living room walls. This is Dulux's Spiced Honey, a rich amber tone, it is said to be inspired by the beauty and versatility of honey itself. Amplify the sense of comfort by adding furniture in earthy tones of brown and black.
Warm up Scandi white
Furniture Village
This upmarket Scandinavian scheme looks effortlessly chic without compromising on comfort thanks to the simple and timeless corner sofa, dressed with pebble-toned textured cushions and throws. An olive tree might be a unique addition, but its hardy silver leaves fit in perfectly and provide a glamorous take on indoor greenery.
Carve in concrete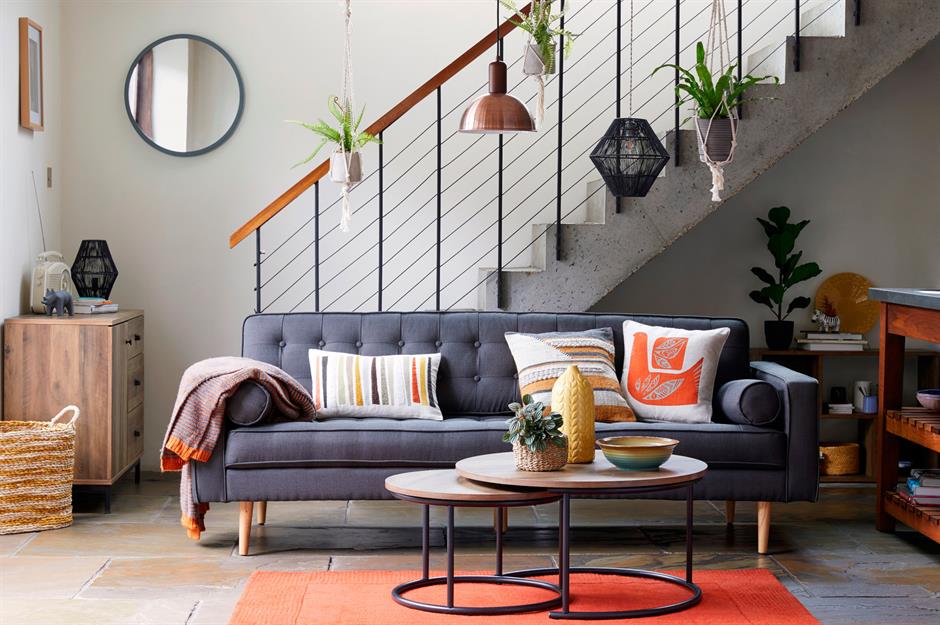 Dunelm
Stand out with concrete in your living room to get that urban industrial look. Whether it's full architectural features like a bespoke staircase and a poured concrete floor or perhaps just simple additions like light fittings and one or two vases displayed on the sideboard, concrete creates a look that is industrial, modern and cool.
Move to the country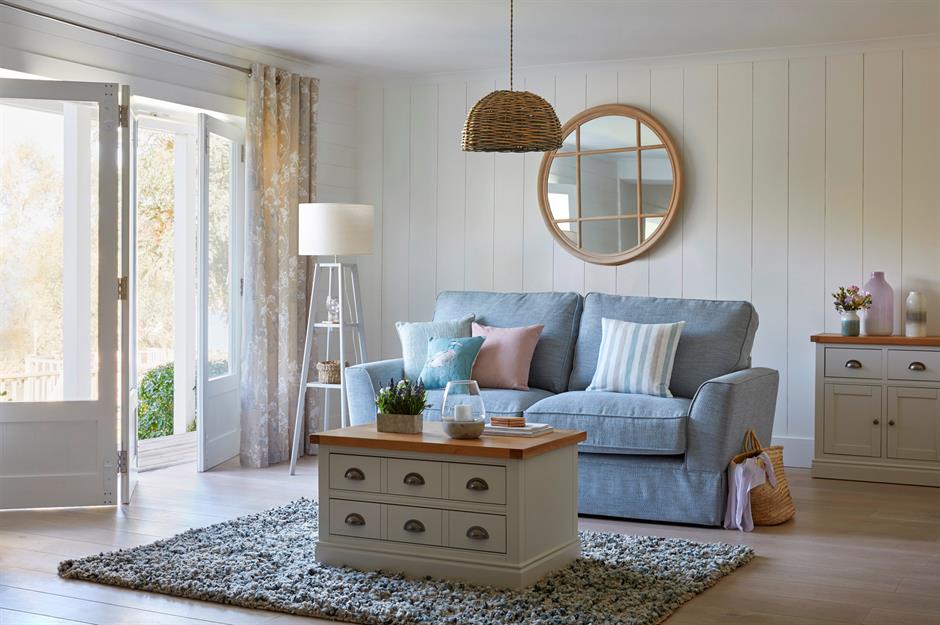 Dunelm
Tongue-and-groove panelling and white painted furniture create a country feel fit for a stylish farmhouse. A subtle palette of soft blue and pink is comforting and pretty. Surround the room in natural texture with soft rugs and wicker basket storage to complete the ultimate cosy and rustic room.
Create a cocktail lounge
DFS
Dark colours teamed with cool statement neon lighting will set the mood for gin o'clock; just make sure you stock up the drinks trolley to set the scene. Keep the lighting low, for a lounge perfect for cocktail hour.
Think about flooring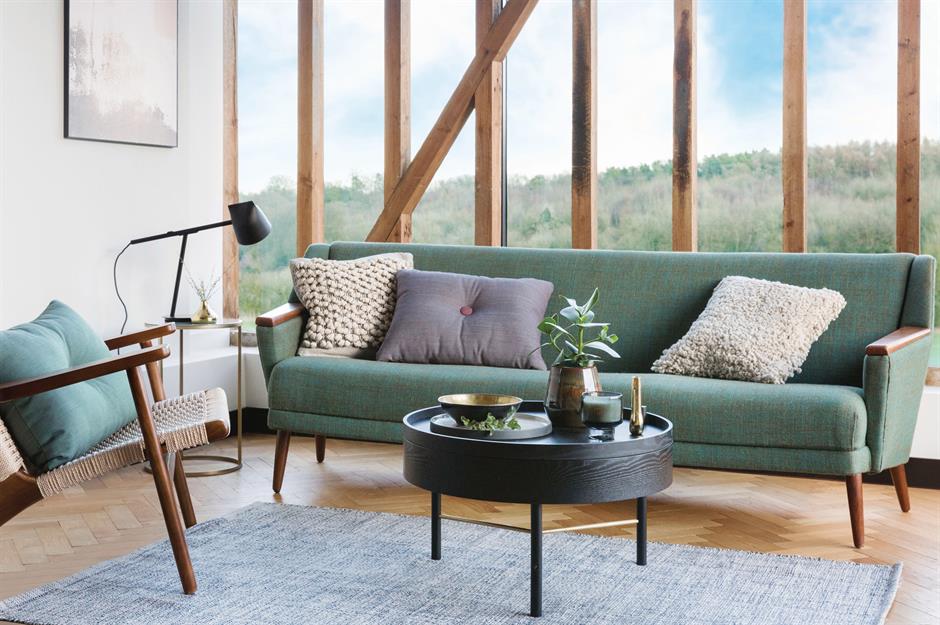 Amara
Fabulous flooring can really make a room. Not everyone is lucky enough to move into a home complete with original parquet flooring. Authentic parquet is pricey because the wood is expensive and each little block has to be laid individually by hand, but the latest digital technology means that parquet-effect vinyl flooring looks as good as the real thing. What's more, it costs about half as much, it's less susceptible to staining than wood and is much easier to clean and maintain.
Clear the clutter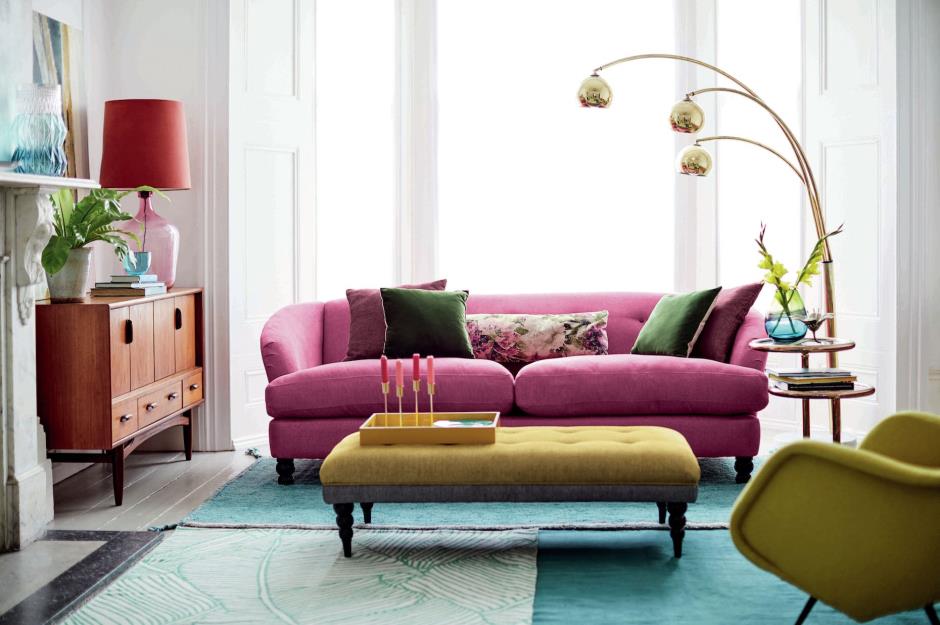 DFS
No one wants to walk into a messy room and relaxation and clutter don't mix. This doesn't mean that your living room should permanently look like something out of a show home, but simply that you should have a place for everything. A sideboard, bookcase and pouffe with storage space can all be used to keep paperwork, toys, games and tablets hidden away when not in use.
Go for a theme
DFS
Create a look that's unified and design-led with a theme. Coastal style is one of the easiest trends to try and looks fresh and clean in smaller spaces. Use a palette of blue and white with nautical accessories and natural finishes for a laid-back beach vibe.
Grounded art gallery
Covet House
Looking for a way to add a feature without ruining your walls and upsetting your landlord? Stacking framed pictures on the floor against a wall does away with all the fuss of nails and screws and creates a cool loft-living vibe too.
Display your books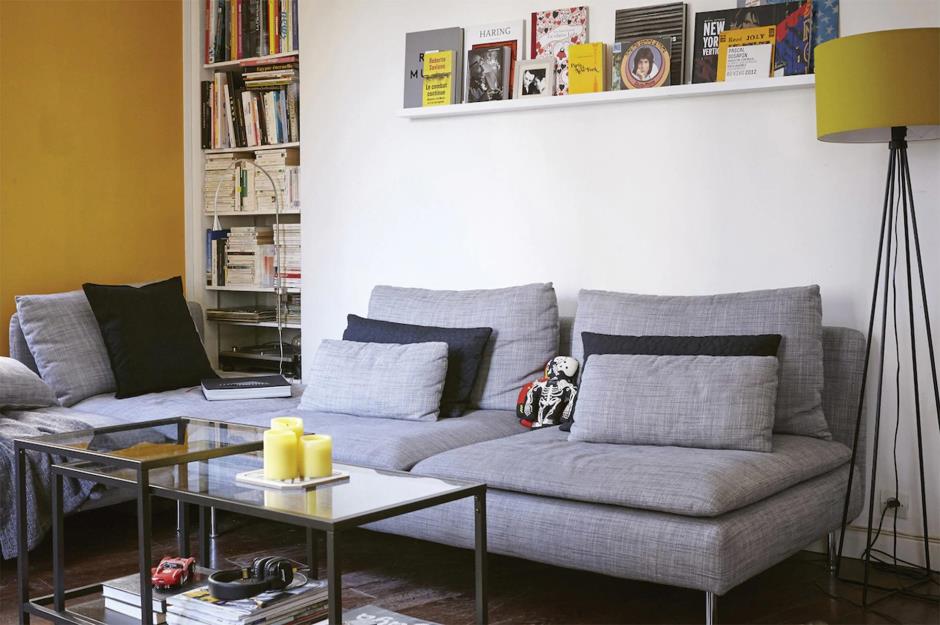 IKEA
Create a feature from your favourite reads with a display of books, records, photos and pictures on picture ledges. Try to vary the height of the objects you choose and stick to a three-colour palette to create a stylish shelfie.
Get a luxury feel on a budget
Willow & Hall
If your taste is bigger than your budget, don't despair. With some cleverly chosen cost-cutting lookalikes and the deployment of a few simple hacks, your living room can look top of the range for a fraction of the price you'd expect. Stick to grey, taupes and a soft neutral palette for an expensive look. Use fabrics with a soft sheen and keep the style simple and elegant. Fresh flowers will also up the luxe look for next to nothing.
Conceal that TV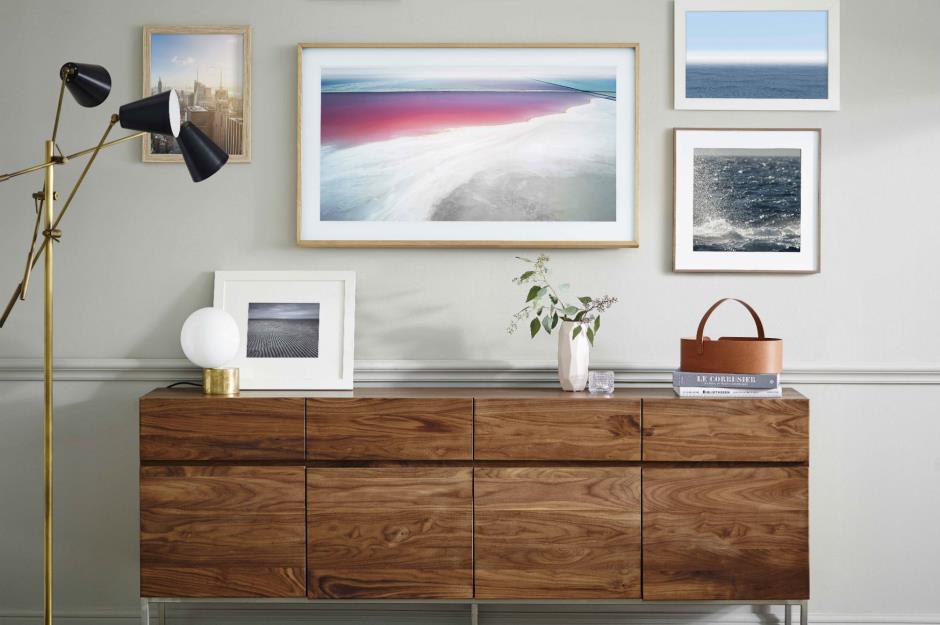 Samsung
If you can hide or disguise your television do, it will give your room a much more serene feel. You can now get TVs that look like pieces of artwork when not in use – like The Frame (pictured) by Samsung – or turn into mirrors when switched off. Alternatively, there are media units that will allow a TV to pop in and out of the top of a sideboard, or you could conceal the screen behind cabinet doors when not in use.
Make the ordinary extraordinary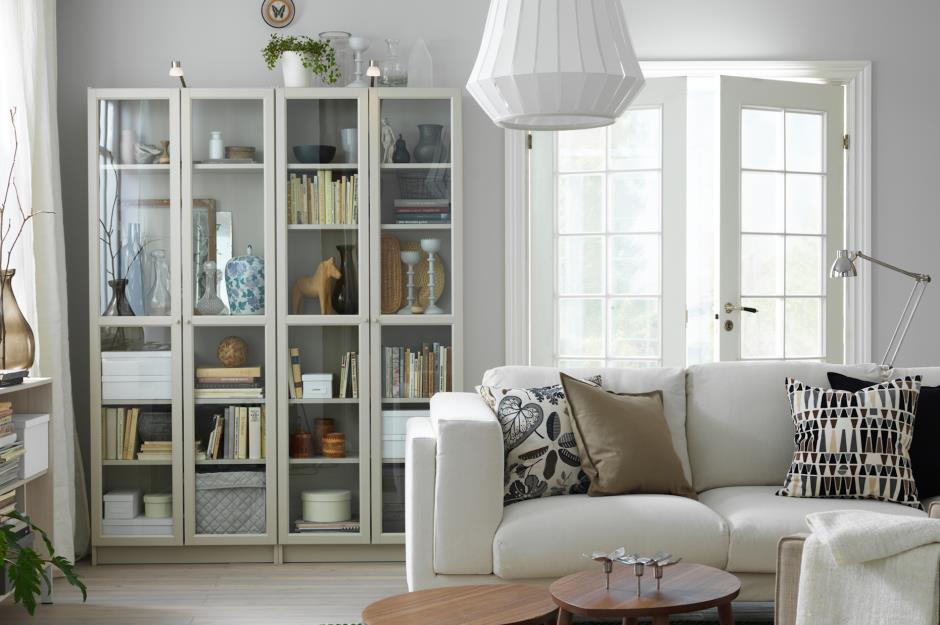 IKEA
You may not be able to afford ultra high-end furniture, but a few simple hacks can transform your flatpack pieces into wonderful one-offs. Paint them in an on-trend dark inky hue; use a metallic spray paint to turn them rose gold; or, for a more vintage feel, cover them in a white chalk paint. Finally switch the door handles for something new and you have uniquely beautiful pieces.
Go for gold
Covet House
Gold has always been associated with luxury and opulence, but when you're using gold in an interior scheme the rule is always less is more. Overuse it and you'll turn your living room into something akin to a kitsch fairytale palace. Opt for one or two simple pieces of furniture or a lamp, however, and you should get the balance just right. As long as it's not real, it won't cost the earth either!
Match that paint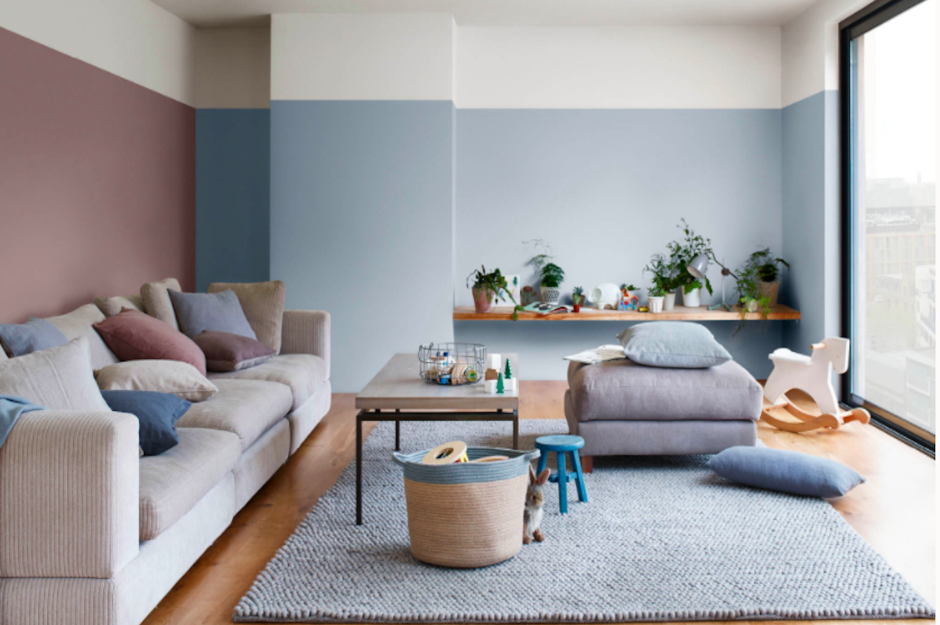 DuluxA quick cruise down the aisles of your local hardware store will reveal not only a fantastic arrange of paint colours, but also a huge difference in paint price. If you fall in love with one of the 'haute couture' hues of the paint world but balk at the price, there's a fix for that. Simply show the desired colour on the fancy paint colour chart to an in-store paint-mixing service and have them mix up an imitation so good you'll find it hard to spot the difference.
Style your surfaces
Debenhams
A luxurious yet inviting setting features interesting pieces that capture the eye at every turn. Place a few neat piles of coffee table books on the coffee table, group small ornaments or frames of photos in pleasing groups of three on the top of the console table or atop a nest of tables. Any large surface should have something placed on it, but don't cover the whole top, the room should feel lived in, but not crowded.
Add period features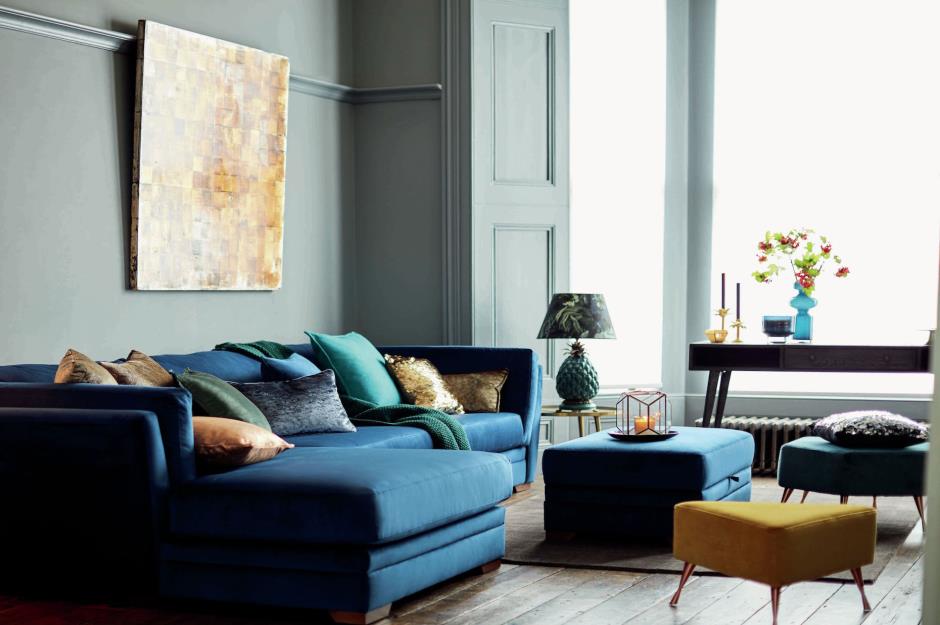 DFS
It's all in the details when it comes to that luxury look and you will find that particularly beautiful rooms have additional thought paid to the skirting boards, ceiling rose, picture rail, dado rail and architraves. Commissioning a carpenter or plasterer to create these for you will be pricey, but you can find a selection of inexpensive period- and contemporary-style ready-made mouldings online or at the hardware store.
Stack up the books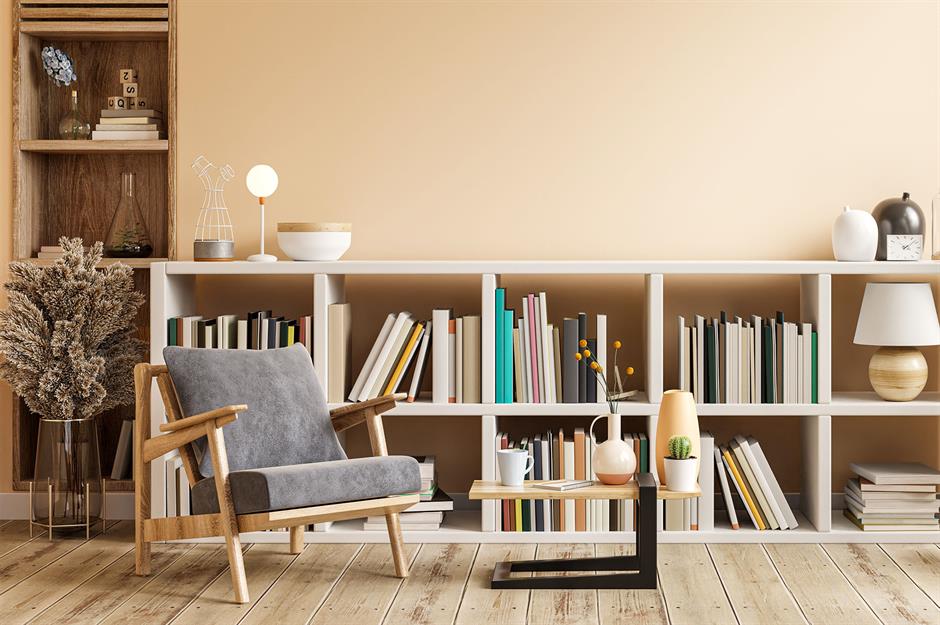 vanitjan / Shutterstock
Good old traditional books of the hardback and paperback variety don't just look lovely, they say so much about the owners of the room and provide that intellectual element that is so often associated with luxury. You don't need to buy an expensive bookcase to store your well thumbed tomes in either, a few smart shelves are all that is required to create a library. Place the books on neatly and leave some spaces to allow them to breathe.
Tone down coastal colour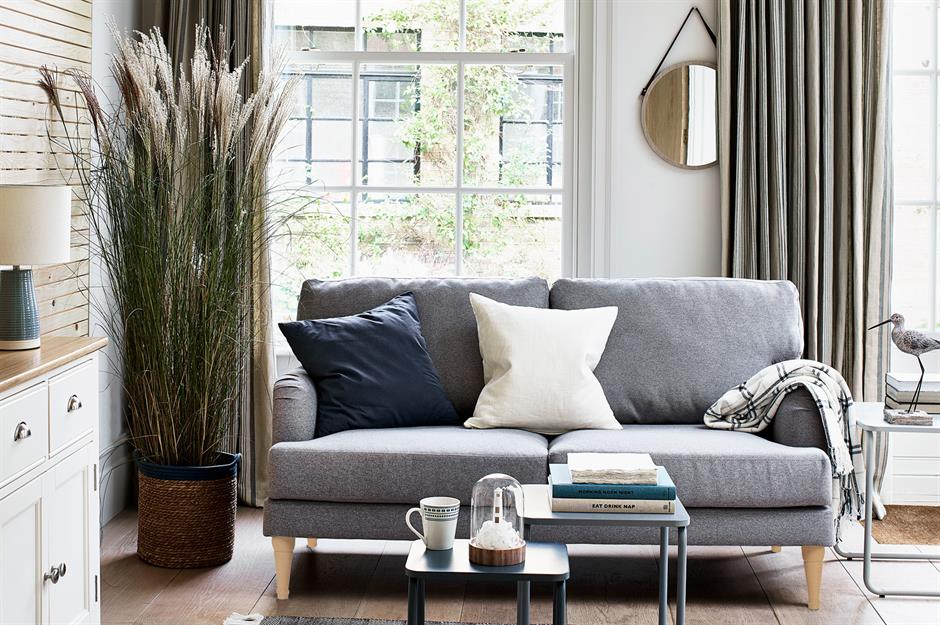 Argos
Coastal decorating is a scheme that will never go out of fashion and is easy to live with. Give your beach haven living room an original twist by using a more atmospheric palette of stormy greys and sandy neutrals. The rugged tones and textures make the look a little smarter and sophisticated, especially with industrial additions like metal side tables and sand dune-style grasses.
Loved this? Check out 58 beautiful bedroom ideas
Original Article – https://www.smdp.com/smc-barrett-art-gallery-to-showcase-acclaimed-native-american-artist/220382
The Pete and Susan Barrett Art Gallery at Santa Monica College (SMC) is excited to present "Project 562: Changing the Way We See Native America", by widely acclaimed photographer, writer, podcaster, and public speaker Matika Wilbur from the Tulalip and Swinomish Tribes. The exhibition opens Friday, August 25 and will be on view through May 15, 2023. Wilbur is also SMC's artist-in-residence over the 2022-2023 academic year, and an opening reception plus keynote speech by Wilbur are slated for October 11, with details forthcoming.
Wilbur's consciousness-shifting exhibition counteracts the relentlessly insipid, demeaning, clichéd representation of Indigenous peoples in mainstream media with an unprecedented repository of imagery and oral histories that accurately portrays the diversity and richness of contemporary Native America. The show is made possible with generous support from Mark and Freya Ivener, as well as from SMC Associated Students; SMC's Division of Equity, Pathways and Inclusion; SMC Associates; SMC Global Council; SMC Public Policy Institute; and SMC Foundation.
Matika Wilbur founded Project 562 ten years ago as a teacher at the Tribal school in her community. After experiencing the visceral and violent effects that one-dimensional racist Native imagery had on her students, she sold everything in her Seattle apartment and packed her life into her RV, the "Big Girl." Wilbur then set out to make pictures of folks from more than 562 federally recognized Tribes. Over the last decade, that goal has expanded as she's trekked across Turtle Island and beyond, documenting and amplifying contemporary Indigeneity. Wilbur has now visited over 750 communities and talked story with countless relatives.
The Project 562 book will be published in spring 2023 by Ten Speed Press and Penguin Random House. Project 562 is Wilbur's fourth major creative project elevating Native American identity and culture. Her first project captured portraits of Coast Salish elders for We Are One People (2004, Seattle Art Museum). Her next project, We Emerge, featured Native people in contemporary urban and traditional settings (2008, Burke Museum of Natural History and Culture), and was followed by Save the Indian and Kill the Man, which addressed the forced cultural assimilation of Native peoples (2012, Tacoma Art Museum).
Since 2015, Wilbur has delivered more than 300 keynote speeches at institutions such as Harvard University, Stanford University, Google, the National Education Association, and TED. She is a National Geographic Explorer and recipient of the distinguished Leica Photo Award. She co-hosts the popular Native issues podcast All My Relations, which invites guests to explore the connections between land, creatural relatives, and one another.
As Santa Monica College's artist-in-residence for 2022-2023, Wilbur collaborated with Barrett Gallery Director Emily Silver and SMC students to build her exhibition from the ground up. Students were involved in building walls, printing and framing imagery, conducting deep dive research, and art handling. Together, Wilbur and the students curated images centered around authentic, poignant narratives, and crafted this groundbreaking show.
Matika Wilbur will deliver a keynote speech Oct. 11, 2022 at 3 p.m. in the Student Services Orientation Hall on SMC's main campus. All are invited to meet the artist and celebrate her work with SMC's students at a reception in the Barrett Art Gallery following the keynote, from 6 p.m.-8 p.m.
And on Nov. 18-19, SMC students will work with Wilbur and the All My Relations Podcast team to produce live episodes, recorded in front of an audience. Following the All My Relations podcast event, Wilbur and the students will host an Indigenous Film Festival featuring some of the most exciting Native filmmakers of today and tomorrow.
"Equity, diversity, and inclusion are an intrinsic part of Santa Monica College's culture, and drives everything we do," said Barrett Art Gallery director Emily Silver. "Matika Wilbur's work ties in seamlessly with that focus, and we are beyond thrilled to be showcasing her thought-provoking, urgent work, especially as it will speak powerfully to SMC's diverse students about the transformative power of art and representation."
Dispatches from Project 562 can be found @project_562, and on matikawilbur.com, project562.com, and allmyrelationspodcast.com. For more information on the Santa Monica College exhibition and all the upcoming events, contact [email protected] or visit smcbarrettgallery.com (the gallery is also on Instagram as @smcbarrettgallery). Guests should visit smc.edu/coronavirus before heading to the gallery for up-to-date details on vaccine and mask requirements, as the requirements are subject to change.
Original Article – https://la.eater.com/2022/8/8/23297112/crudo-e-nudo-santa-monica-sustainable-restaurant-business
Crudo e Nudo shouldn't work. With only 32 outdoor seats and nobody to hand out menus, diners have to order at the pay station inside from a list of dishes posted on the wall. Its prices are pretty high for this stretch of Santa Monica's Main Street, where burritos or onigiri run under $20 a meal. There are a few much more expensive restaurants on the block — Pasjoli, Chinois on Main, and Via Veneto — but they offer tablecloths, stemware, and full table service. Instead, Crudo e Nudo serves sustainable fish and seafood on compostable plates, and pours wine into canning jars. And yet, on August 2, it hit $1.2 million in gross sales for the first seven months of this year.
Even before the summer tourist season began, Crudo e Nudo was doing well financially. The restaurant had a 15 percent profit margin in May 2022, 50 percent higher than the industry's standard goal of 10 percent, higher still than a four percent profit for a competitor in neighboring Venice that adopts a similar upscale casual menu.
Crudo e Nudo co-owners Brian Bornemann and Leena Culhane came up with a theory about how to rethink the restaurant model during the first year of the pandemic, and their revision, which invests more than usual in the food and scales for the rest, has succeeded — for the bottom line, employee culture, diner satisfaction, and, as far as they're concerned, the very future of the restaurant business. The pandemic continues to challenge restaurants to be light on their feet; redefining success in a more modest way was the insurance policy Crudo e Nudo needed.
In March 2020, Bornemann and Culhane — partners in their personal life as well as in business — faced the vast unknown along with every other restaurant worker. Bornemann was furloughed from his job as executive chef at Santa Monica's fine dining restaurant Michael's, and Culhane lost a bartending gig when Ocean Park's the Galley closed. After 10 months of scrambling at one pop-up location after another, they opened Crudo e Nudo in the spring of 2021, based on a strategy that sounds like Mies van der Rohe on minimalist architecture and design: Less is more.
It may turn out to be the mantra of the next generation of restaurant owners, who've endured enough stress to last a lifetime and have to decide how they want the future to look. The 32-year-old Bornemann, for one, is done with the old investor-driven model, what he calls the "go for gold" restaurant that involves a big room, big staff, and a big potential payoff. That's only if it works, because if it doesn't, it ends up an equally high-profile failure.
Like many ambitious young chefs, he was on track for that kind of future, until enforced time off made him reconsider. "I've driven a couple of yachts," he says, referring to high-profile places like the Tasting Kitchen, in Venice, and Michael's. "I wanted to own my own dinghy instead." He's since become something of a proselytizer for a different way of doing things — high-quality food first, and everything else, from the size of the staff to the compostable plates, defined in deference to that.
The partners budgeted an above-average 40 percent of sales on food costs, substantially higher than the industry average of about 30 percent, and reverse engineers from there to calculate for the rest of the operation. Bornemann created a small, niche menu of local, sustainable fish and seafood, most of it served raw, with a few composed plates and an array of vegan dishes to round out the list; he pours a selection of low-intervention wines at the "high-acid, mineral-driven" end of the scale to complement the food.
It's food people don't usually make at home — because they don't have the same access to high-quality fish and seafood, because they don't have the technique to make it look as appetizing as Crudo e Nudo's Instagram-magnet dishes, and because they'd miss out on the parklet-dining scene, where people crane their necks and start conversations about the dishes that just landed at the next table. By necessity, there's none of the high intensity of a serious dining room, which is part of the fun. Nobody seems to mind the compostable plates and wine in jars; the food comes out on Instagrammable serving dishes — ceramics, some of them made by Culhane herself — so that everyone can get the requisite photographs before they dig in.
The rest of the budget compensates for the food costs. Rent can hamstring a restaurant before the doors open, forcing a chef to scrimp on food and staff. The Crudo e Nudo lease is for $5,300 a month, two years plus a two-year extension, which is hardly ideal when the goal is to lock up a place and a favorable rent long-term. But the overhead is cheap enough to keep the focus on the food. "It was affordable," says Bornemann, "if everything went to shit."
​​In June, business was so good that the rent came to only 3.9 percent of sales, compared to over 10 percent, which is what restaurants of this size usually end up spending on it.
He and Culhane tried to do everything themselves at first, which meant a brutal couple of months. It also gave them time to rethink a labor model that had always frustrated Bornemann. Crudo's 13 employees work four days a week in 10-hour shifts. They get 70 percent of their health insurance costs paid for, and make an hourly $25 on training shifts, including pooled tips, moving up to between $35 and $45 per hour once they become full-fledged employees."Because our labor model and occupancy costs are small, we can afford to put money into more expensive products."
There used to be a sustainability surcharge added to each check, but the couple eliminated it after three months, concerned it might discourage decent tips. Additionally, employees can purchase the food and wine at cost. Workers get a bargain and in the process learn more about what they're serving.
Everything is designed to ensure that the partners can sustain their commitment to the menu because Bornemann says he's seen too many places whose menus shrink after the first six months because the operation can't reduce rent or labor costs and something has to give. In comparison, Crudo's menu has gotten longer. "Because our labor model and occupancy costs are small, we can afford to put money into more expensive products," says Bornemann. "The rest of the operation supports the food we want to provide, and the enthusiasm from our staff when they sell our products leads to tips that are sustainable for employees." Despite attempts to eliminate the tip model by restaurants large and small, including Danny Meyer's Union Square Hospitality Group, Bornemann intends to keep that element intact.
Their formula leaves one thing out: Investors. Crudo e Nudo has none, which was always the plan. The owners got started on $20,000 from Bornemann and his family, $30,000 from Culhane, and $10,000 in pop-up earnings. They may be responsible to the larger community — customers, employees, neighbors — but they're obligated to no one except a couple of Bornemann's relatives when it comes to deciding how the business should look.
Bornemann recalls sprinting to the bank in the early days to deposit $8 in the restaurant's account so they wouldn't be penalized for falling below a $2,000 balance. By the end of 2021, they had $160,000 in that account, an amount that will be slimmed down once they pay taxes and see how much their next Los Angeles spot, which they hope to open in October, will cost. Their $40,000 salaries in the first year don't feel like much for business owners, but they plan to take home a percentage of the net profits from that year as well.
Bornemann admires chefs who can make the big restaurant model work. He marvels at Evan Funke's Hollywood restaurant, Mother Wolf, which has people clamoring for its more than 200 seats, and at the pressure that has to come with celebrity clients and with powerful, moneyed partners who might have their own ideas on how to run a business. It's been the path to success for a long time, in many creative fields: "Artists have had patrons throughout history," he says, "and maybe you decide you just want to focus on cooking and have partners to deal with the rest of the stuff, but that's not for me."
Bornemann thinks there's a price to pay unless you're one of the few chefs who are in demand from day one. "It messes with your head," he says of having a business of that size. "You have big salaries from the get-go, and between that and big rent, if you start to struggle the only thing you can reduce is food costs, and then the quality goes down."
And working with big-budget investors can make employees, even the chef in charge, second-guess themselves rather than disagree with the people who pay the way. "I think it makes other people in my position afraid to do something on their own because they're used to being in the power dynamic of working for someone else," he says. "You imagine what owners know that you don't, which seems like a barrier to entry."
In a still-uncertain restaurant economy, a smaller model that's likely to survive, and the autonomy that comes with it, feels like plenty of success. Bornemann's dream is to build around 60 to 80 seats. He and Culhane are scouring the Westside for a second space, determined to stay small because he knows of too many 100-seat places that are "paying to keep the wheels spinning" on the nights they aren't full; he's convinced it's better to run out of tables than to risk empty ones. They've kept to that approach in what Culhane calls a "roommate" arrangement with Breakfast by Salt's Cure owner Chris Phelps: Culhane and Bornemann operate the restaurant Bella Dea at night in a small space in New York City's West Village, while Phelps runs Breakfast by Salt's Cure in the same space from eight to three.
The partners prefer moderation in all things, including ambition. Bornemann and Culhane have a profitable small restaurant and enough money to start another without having to alter the model. They and their employees have some time for themselves — knowing the place is in good hands if he isn't there on a Friday night, and having that fifth day of the week to hit the beach or go fishing, may not seem like a big deal to some, but it makes everything else more manageable. And the operation is healthy enough to think about improvements, though their dreams on that front are proportional to everything else about the restaurant.
Culhane knows exactly what she'd like to add to Crudo e Nudo. "A second bathroom," she says.
Original Article – https://lookout.co/santacruz/guides/story/2022-07-29/california-drought-tolerant-plants-salvias-sages-and-succulents-santa-cruz-gardeners-guide-to-dealing-with-drought
Don't hose down those sidewalks. Or water the lawn too soon after a rain. And plug any leaky faucet or hose. As California enters a third year of drought, the state has banned wasteful water practices and threatened to do more the thinner our water supplies become.
But can we still garden? Santa Cruz County lies in planting zone 9b, an area that allows for growing almost anything. Though we've experienced the driest winter months in 100 years, we can still grow appropriate greenery.
"I would say there are more people indicating concern with drought-resistant plants this year than usual," Christa Jennings, manager at Dig Gardens' Aptos nursery told Lookout this week.
Though Santa Cruzans get good overall marks on water consciousness — being "water wise" and on reducing outdoor water usage over time — more people are transforming their environments, some quickly, some slowly, to more drought-tolerant landscapes. They are continuing to tear out water-guzzling lawns for water-wise plants.
Drought-tolerant or water-wise plants refers to plants that have adapted to survive and, in many cases, produce beautiful flowers, on a limited amount of water.
For folks who are new to maintaining a drought-tolerant yard, and for those who would like more resources and tips, Lookout talked with UC Santa Cruz Arboretum Executive Director Martin Quigley and with Jennings about some helpful drought-tolerant yard/landscaping tips, popular plants and trends they've seen.
"If you have a combination of herbaceous perennials and shrubs, that's the best way to have a drought-loving garden," Quigley said.
Herbaceous perennials include plants that don't have wood, such as salvias, sages (which need to be cut back to be maintained each year) and succulents. Shrubs are multistemmed plants that can be pruned and shaped and are long-lasting. If you're looking for a tall garden of drought-tolerant plants, you're out of luck.
While Lookout can't list all the drought-tolerant plants that can thrive in Santa Cruz County, there is much out there beyond the popular succulent plants. And there is an overwhelming amount of locally specific information available from online resources, a master gardener hotline, and your local nursery or UCSC Arboretum staff.
We'll talk about several tips for anyone just getting started.
If you're trying to get rid of a lawn …
While the number of lawns in the county continues to decrease, some folks might be starting this journey from this first step.
"Lawns in America in almost all cases are not suitable to the local climate," said Quigley.
He wants you to know that making that leap from a green lawn to a drought-tolerant yard can be a much easier process than you might think.
"If you want to change from a lawn to a succulent garden, or a dry-land garden, or even just a shrub garden, you don't have to rip up the whole thing all at once," he said. "Because that's very daunting."
In most cases, that would cost a lot of money, and you might want a contractor.
"You can kill the lawn in smaller pieces and do planting islands that over a couple of years will merge into a bigger island," he said, "until eventually you'll have stone and gravel paths and no grass at all."
Quigley said there are a couple ways to kill a lawn. He doesn't recommend killing a lawn by tearing it up, both because it is a lot of work and because it could kill good worms and insects.
One method: Cover the entire lawn, or a smaller area, with plastic, cardboard or mulch for a couple of months during the summer, killing it.
"So if you just smother the lawn, you can do it with cardboard or newspaper and leaf mulch, you can just shade it out," he said. "It only takes a couple of weeks to cook that lawn under cardboard."
How do you decide what to plant?
Deciding what to plant in your yard depends on quite a few factors, but perhaps most important is where you live in the county.
Santa Cruz County sits in one of the world's five zones with a Mediterranean climate (the other four zones include regions of North Africa and Spain, southwest Australia, South Africa and parts of Chile), and it's the home of many microenvironments. Among them: oak woodland, mixed evergreen forest, coastal terrace and redwood forest. Highly shady redwoods offer a big challenge, necessitating plants that can deal with both drought and lack of sunlight. Each of those microclimates differs in frost tolerance and how much moisture drops from the skies, with the Santa Cruz Mountains often seeing double the rainfall of the cities.
Sierra Ryan, water resources manager for Santa Cruz County, offers a couple of commonsense ideas. First, take a neighborhood walk and look around.
"This is what I did when we were planning our yard — just walk around the neighborhood and see what people are growing," she said. "I saw that a bunch of people in my neighborhood have persimmon trees that are thriving, so we planted a persimmon tree."
While you're checking out the plants that are growing well, also check what kind of irrigation systems are in place.
If you'd rather get ideas for your microenvironment from a template, Ryan suggests visiting an online resource put together by the Water Conservation Coalition of Santa Cruz County at WaterSavingTips.org. Go to the resources tab and click on "Yard and Garden Resources." There is a wealth of information, including ready-made landscape designs for the different microenvironments found in Santa Cruz County.
Another important factor to consider when deciding what to plant: What is the purpose of what you want to plant? Do you want plants to create a barrier around your property or do you want plants that create ground cover? Or do you just want plants that bloom for a longer period of the year?
Some plants will serve multiple purposes. Quigley says if you want a drought-tolerant plant that serves well as ground cover, a good plant to start with is the grevillea.
"They're beautiful. They're long-lasting," he said. "It's fireproof. There are grevillea ground cover that bloom up to 11 months of the year."
And when you start watering, make sure to water your drought-tolerant plants deeply when you first plant them. While that might seem counterintuitive, these drought-tolerant plants need to be watered deeply for the first six months or so.
After they've had a chance to grow their roots, they'll become more tolerant of less watering. For basic watering tips, click here.
What are among the most popular plants?
Jennings, the Dig Gardens manager, and Quigley both said that besides the obviously popular succulents, other drought-tolerant plants that have grown in popularity in recent years include the many species of the salvia and protea plants.
One of the most in demand at Dig, according to Jennings, is the pincushion flower.
"There isn't much more spectacular than a protea, or a pincushion flower," said Jennings. "Almost as fast as we bring them in here, they sell out again."
But the salvias aren't too far behind.
"I would say probably our most popular category would be salvias, because they come in a huge range of colors," she said. "There are lots of drought-tolerant species. They bloom almost all year in our climate. So that's a very popular drought-tolerant plant."
She estimates that in the past 10 years, the amount of square footage at the Dig Gardens nursery dedicated to plants in the protea and succulent groups has doubled.
"Over time, we have definitely increased the square footage that's going to more drought-tolerant plants," she said.
Original Article – https://www.smdp.com/planning-commission-advances-gas-less-future/219835
The City of Santa Monica is considering an electric future with a series of proposed code revisions that would eliminate natural gas from homes and encourage adoption of electric vehicles.
Staff presented options to the Planning Commission last week recommending the city adopt and in some cases, surpass, the 2022 California Green Building Code. The proposed Zero Emission Building Code and EV Charger Reach Code were presented to Commissioners for feedback before City Council is expected to make final decisions in the near future.
The proposed changes to the building code would prohibit gas infrastructure in new construction projects and require projects that demolish more than 50 percent of the existing buildings to rebuild without natural gas to help to the City achieve the goals of implementing Carbon Neutral Construction Codes, 20% fuel gas reduction by 2030 and carbon neutrality by 2050 or sooner.
Staff said removing gas appliances from buildings has health, safety, environmental, monetary, comfort and amenity benefits. Homes would rely on electrically powered water heaters that can double as storage systems in an emergency, solar panels with batteries that integrate into an evolving electrical system and induction/radiant stoves that do not emit harmful gases.
Some of the options are required already by the state and upcoming state codes either make electric options the standard or require construction decisions allow for electrification. Almost 60 cities adopted similar ordinances with others pursuing electrification rules.
Applicants may apply for several exemptions, including in commercial kitchens, medical buildings, laboratory equipment or clean-rooms and when there are no alternative technologies available or the impact of a switch would negatively impact the health/safety/welfare of the public.
Proposed changes to EV charging requirements would mandate charging units be installed in all residential-multifamily projects (not just projects with more than 20 units) and to mandate an increase in the number of charging stations that make use of new, more efficient low power technology.
Commissioners were supportive of both proposals with some caveats as the discussion occurred in the immediate aftermath of a significant power outage covering a large part of the city.
"I am just going through and getting through this outage, and its aftermath," said Sam Tolkin. "I'm concerned about Edison's capability if we go all electric. I'm wanting that but I'm really concerned that they can service it and they are honest about what they're telling us about their system. If it's been upgraded, or they're upgrading it."
Senior Sustainability Analyst Drew Johnstone said the city has also experienced significant outages and leaks from its natural gas system in recent years and while utility providers are contractually obligated to provide the resources required by the city, problems do occur. However, he said the proposed revisions might help prevent future outages by reducing demand.
"I think the benefit of new buildings being all electric or be highly efficient and grid interactive is to, I guess, relieve some of the strain on the grid during peak times," he said. "And obviously, with solar and battery storage, as well."
The proposals will return for official adoption by City Council at a future meeting.
Show your home at its very best
Original Article – https://www.loveproperty.com/gallerylist/103059/secret-style-tricks-that-will-sell-your-house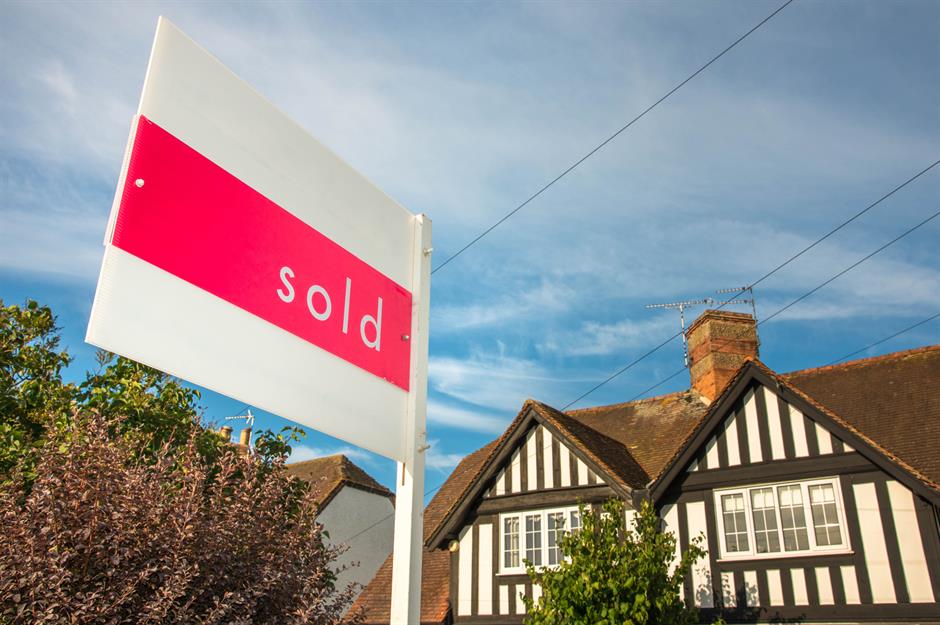 Alicia G. Monedero / Shutterstock
Thinking of putting your house on the market? You don't have to get knee-deep in DIY to get your house ready for valuations and viewings. From tidying up the garden and putting potted plants on the doorstep to what colours to paint your home, these expert home styling ideas will help you create a fantasy that will seduce potential buyers. Home stage your house right and you could sell quickly and, most importantly, for the best possible price.
Upgrade the exterior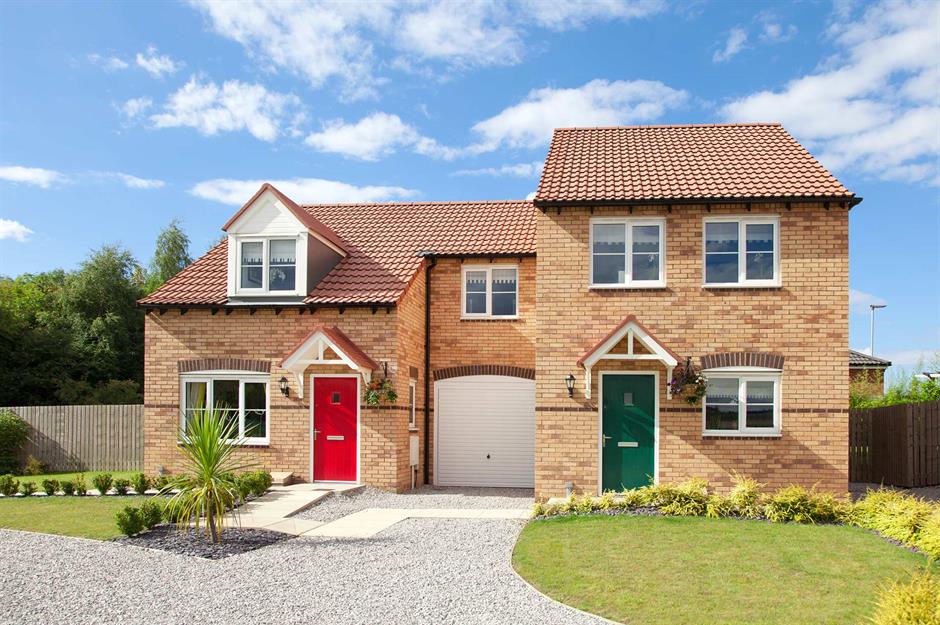 Ewelina Wachala / Shutterstock
The exterior of your property is probably the most important aspect to consider when preparing your home to sell. Buyers may take a 'drive-by' before they even arrange to view it. Online estate agents Strike explains: "Kerb appeal is one of the key selling points for potential house buyers, as their minds can be made up in a matter of seconds". Jet wash the driveway, trim hedges, paint exterior window frames and front gates to make a smart first impression.
Paint or replace the front door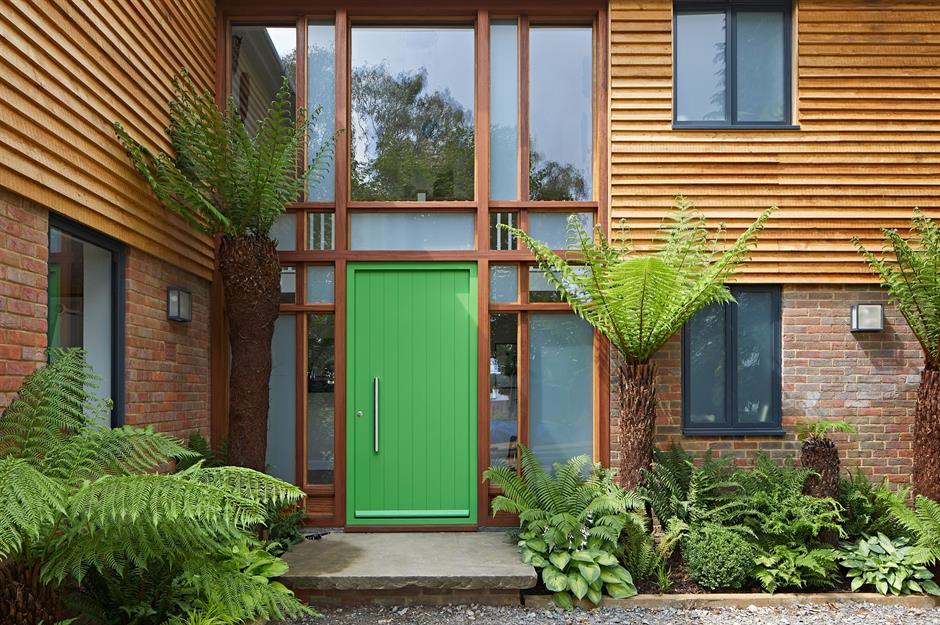 Urban Front
Pay special attention to the presentation of your front door – after all, this is the gateway to your home's interior and offers an instant impression of what lies behind it. If your door is in good condition, consider giving it a fresh coat of paint and changing up the hardware. Alternatively, a brand new door could give the front of your house the facelift it needs. Remember to clean any door furniture and add a potted plant and doormat to the front step, for a lovely welcome.
Light it up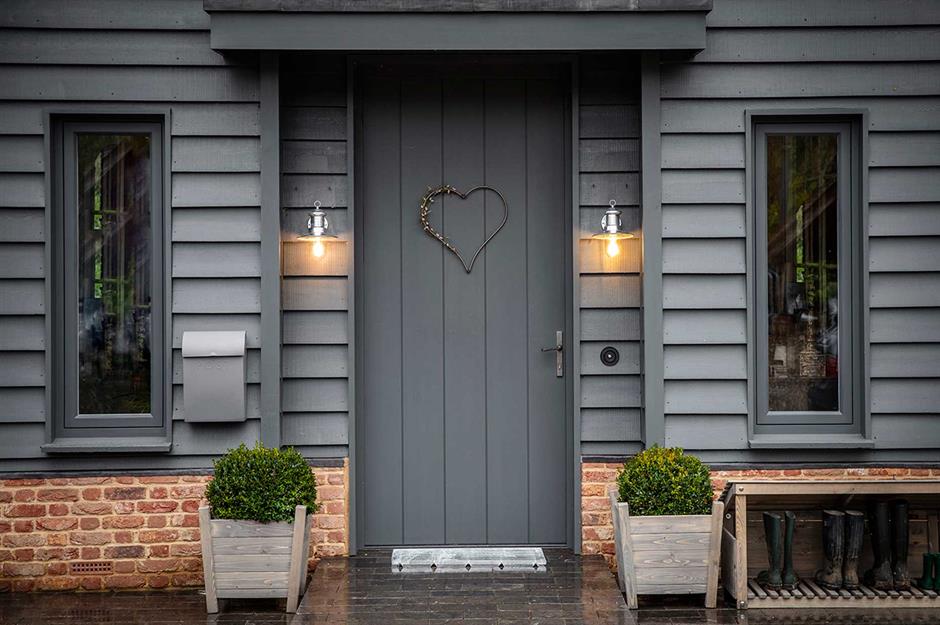 Garden Trading
Once you've perfected the front door, ensure it's illuminated in the right way. If you have a porch light, put in a new bulb and make sure it's working as it should be. Entrance lighting can do more than help you find the lock at night – it can also set the stage for what lies inside. Forget harsh security lighting and think outside the box when it comes to lighting up your entrance. Consider hanging lanterns or statement wall-mounted pieces that also act as decorative elements.
Make an entrance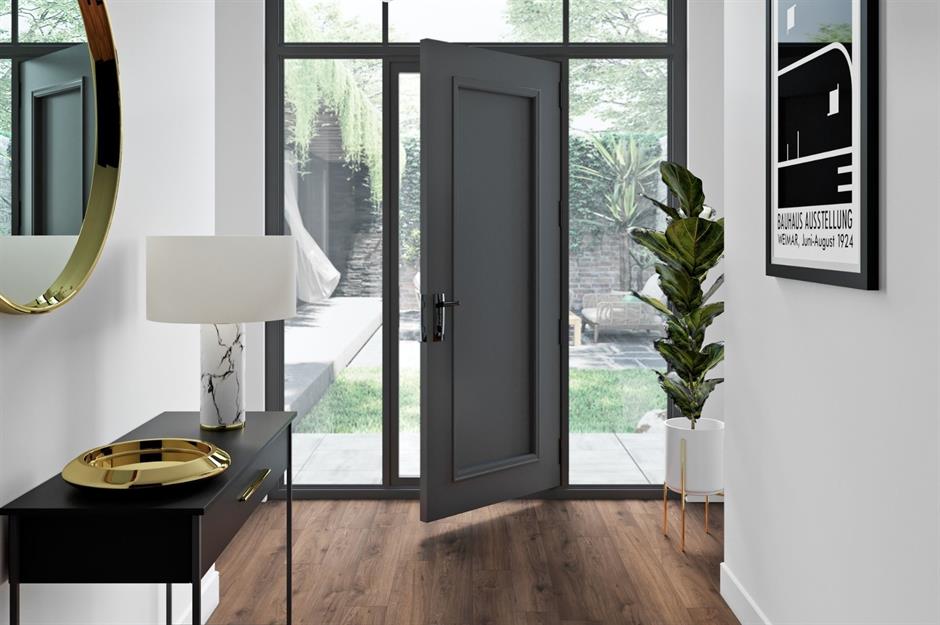 Flooring Superstore
Once a potential buyer steps through the front door, your entrance hall will offer them an instant impression of your home – an opinion that could be difficult to change once it's been made. So, it's essential to ensure your hallway is a light-filled and inviting space that really says 'home'. Make sure the space is easy to manoeuvre around, and if possible, offers a line of sight to the garden. Mirrors can enhance the impression of space, while a clutter-free layout will set a relaxed tone.
Enlarge spaces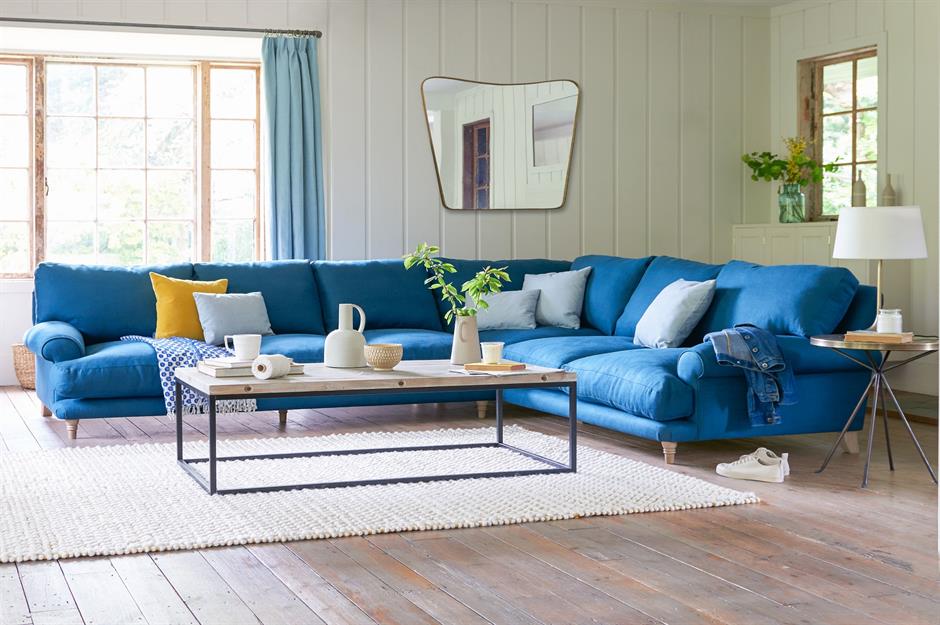 Loaf
Make rooms seem bigger than they are where you can. Clear out unnecessary belongings and clutter, and keep furnishings to a minimum, so as not to overwhelm spaces. Again, the right lighting and a few carefully positioned mirrors can enhance the impression of space, while a lick of paint and some houseplants will ensure your rooms feel light, fresh and inviting.
Decorate neutrally
IKEA
Try not to impose personal taste onto buyers by keeping all décor as neutral as possible. Not only will this allow them to envisage making their mark on the property, it will also make the most of natural light and maximise space. Researchers at sellhousefast.co.uk discovered that grey, off-white or beige are the most popular paint colours for walls when using Google's search. But don't be afraid to add the odd feature wall to accent your rooms.
Create a focal point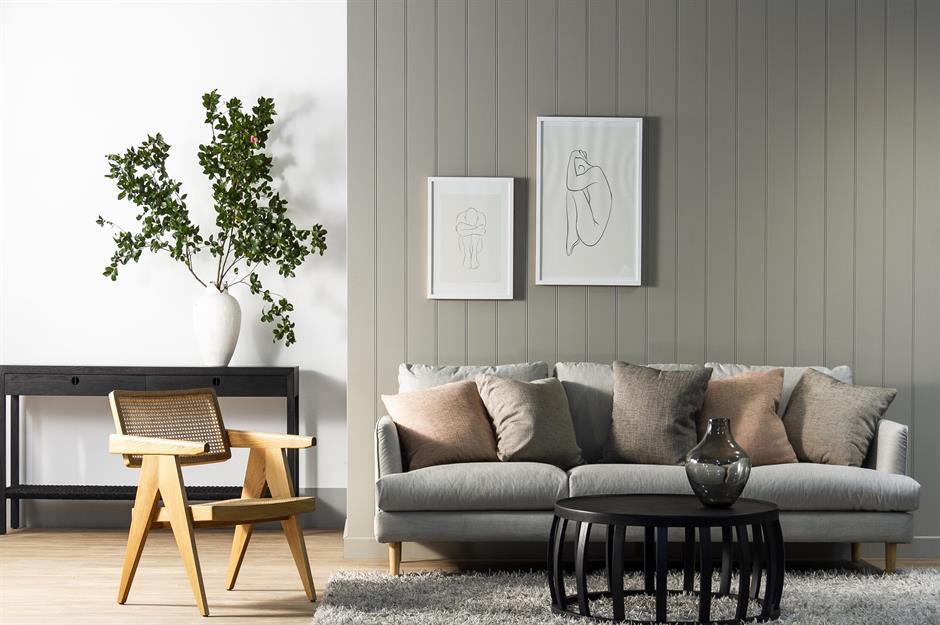 Satara Australia
Creating a focal point is a fantastic way to draw buyers' eyes into a space and make your home memorable. Buyers prefer living rooms that aren't dominated by a huge TV, so instead use furnishings and décor to do the job. A focal point can be a statement sofa, a well-placed mirror, wall art or a well-chosen rug. Walk into your living room and note the first thing you notice. What draws the eye? If it's something unattractive, remove it.
Coordinate soft furnishings
George Home
The general rule of thumb is to decorate neutrally; but a few subtle accent shades will help create interest and personality. Inject colour temporarily using soft furnishings such as cushions or rugs and be sure they are complementary and consistent throughout each room. Remove any tatty throws and arrange cushions neatly on seating.
Declutter everywhere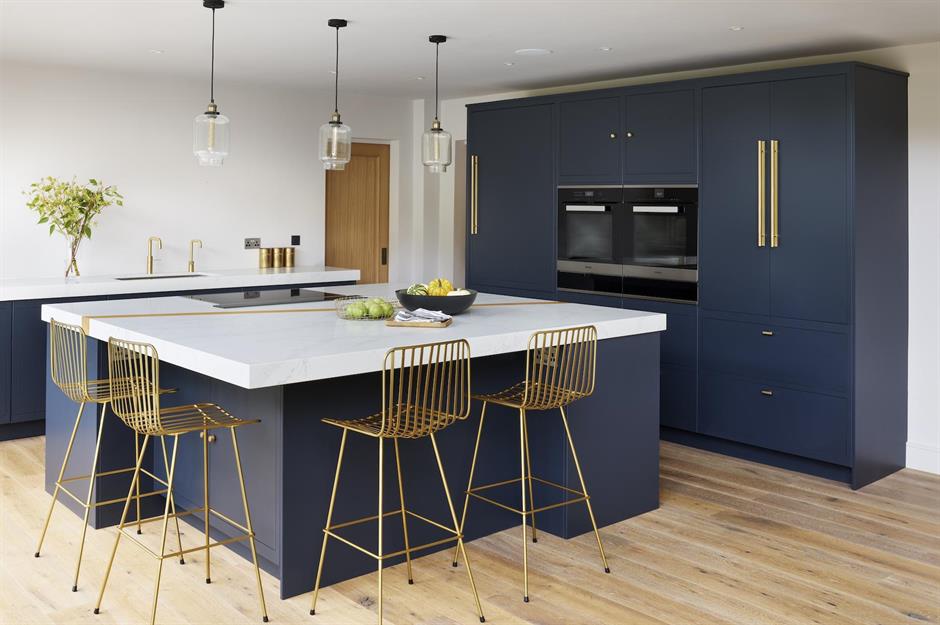 Harvey Jones
Get the balance right between clutter-free and sparse. Estate agent Liz Humphreys at Yopa suggests "Declutter as much as possible, remove all small ornaments and personal items to show as much clear floor and surface space as you can." In the kitchen remove the bin and but don't hide away generic items that help make the room look usable. Stylishly arranged chopping boards add warmth and texture, while potted herbs offer colour and fragrance. And when it comes to cabinetry… here's a tip. In the kitchen it pays to be brave with colour. In a poll of 2,000 homeowners carried out by Magnet blue came out on top, with 41% voting it as the most attractive and expensive-looking.
Style your surfaces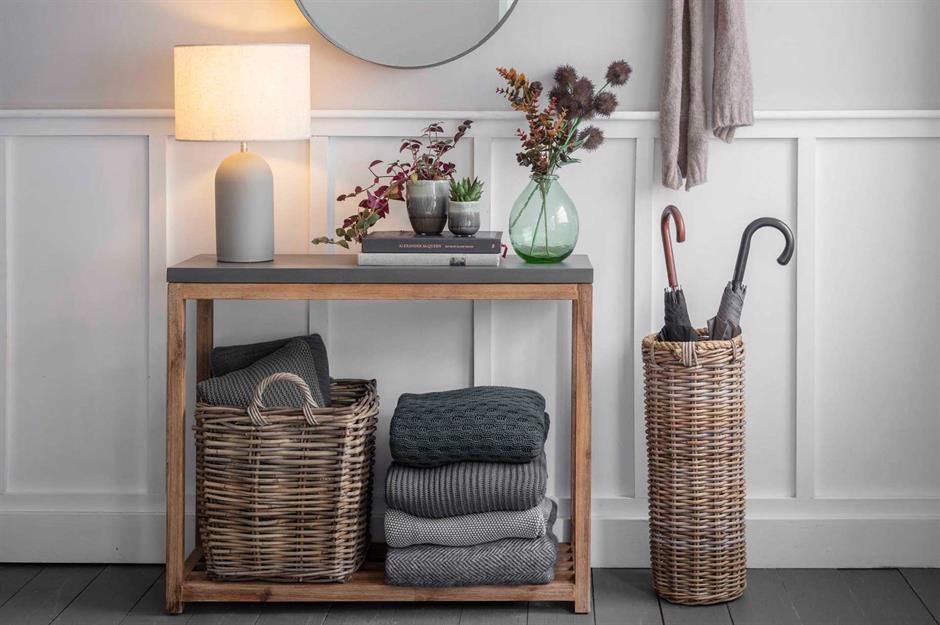 Garden Trading
Decluttering is crucial but keeping surfaces well-styled will create visual interest without sentiment. Group accessories in odd numbers; candles, vases of flowers and coffee table books are objects that are attractive but will not seem personal to you, the vendor. Continue the same formula with any shelves and bedside tables. The rule of three is always a good place to start.
Set the scene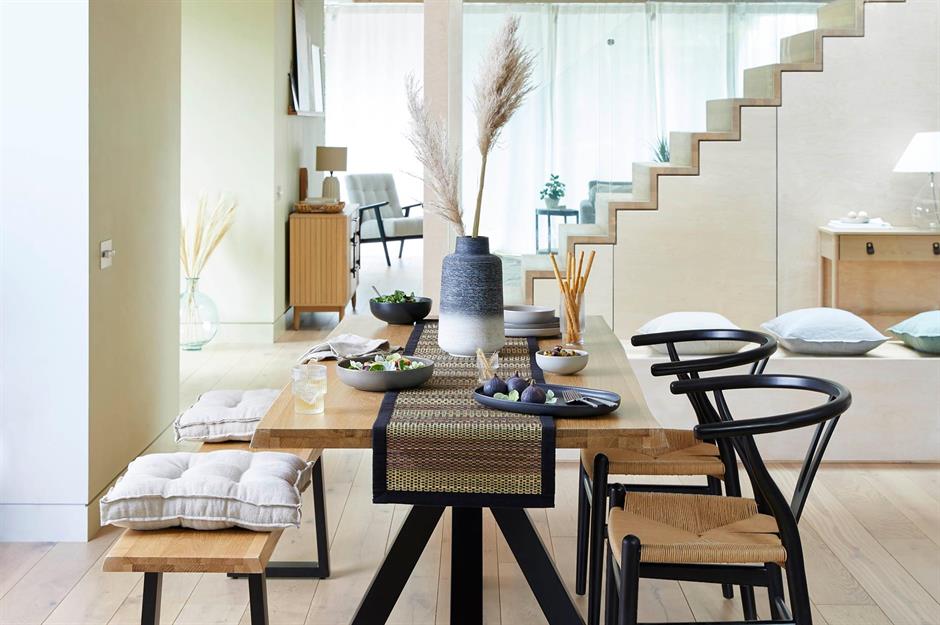 Dunelm
As well as styling your surfaces, it's important to create a homely space that others can envision using. The dining room is a great place to do this, as it allows potential buyers to picture themselves hosting friends and family for gatherings and annual holidays. Lay the table as if you were about to host a dinner party and if you don't have a designated dining room, ensure your home offers an obvious area for eating, even if it's the kitchen island.
Create defined zones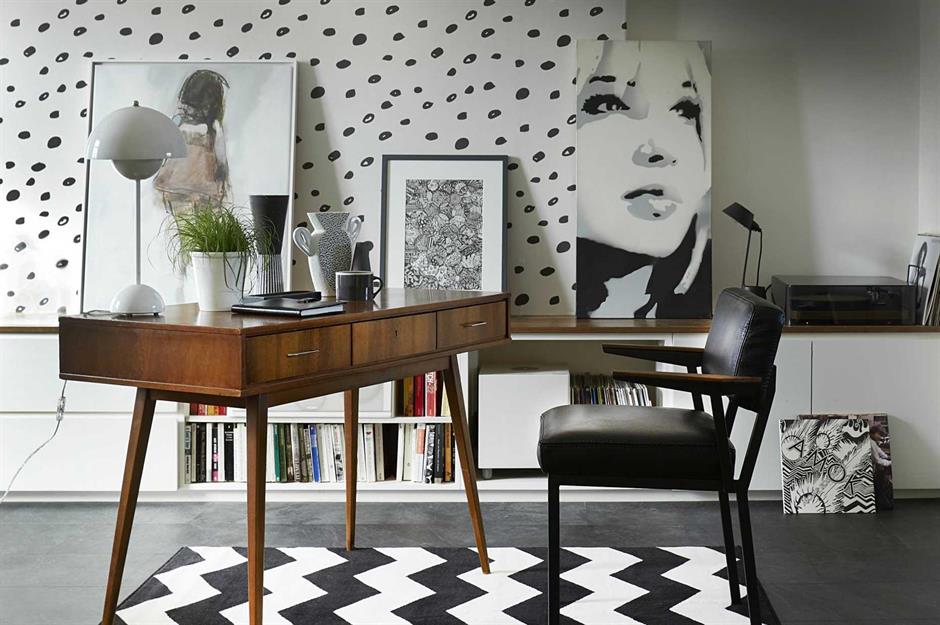 Carpetright
When selling your home, it's important not to confuse potential buyers. Ensure your rooms clearly show their purpose. If your dining room usually doubles as your home office, consider removing your desk during viewings, to enable spaces to feel comfortable and not overused. By assigning each room or zone with its own purpose, you can give buyers the impression that there's a space for every task.
Freshen up paintwork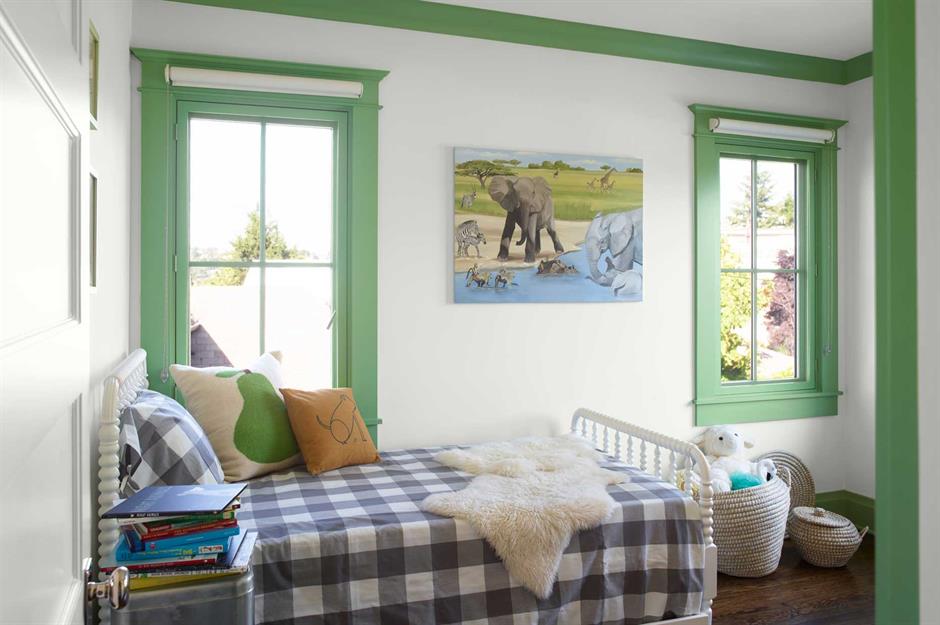 Benjamin Moore
A move-in ready home is attractive to buyers, so give any scuffed walls a lick of paint. Unattended woodwork can be a clear sign of neglected décor, as knocks and scuff marks are commonplace and show easily. So, freshen up door frames, coving and skirting boards with a sand-down and fresh coat of paint to make them look cared for and as good as new.
Have carpets professionally cleaned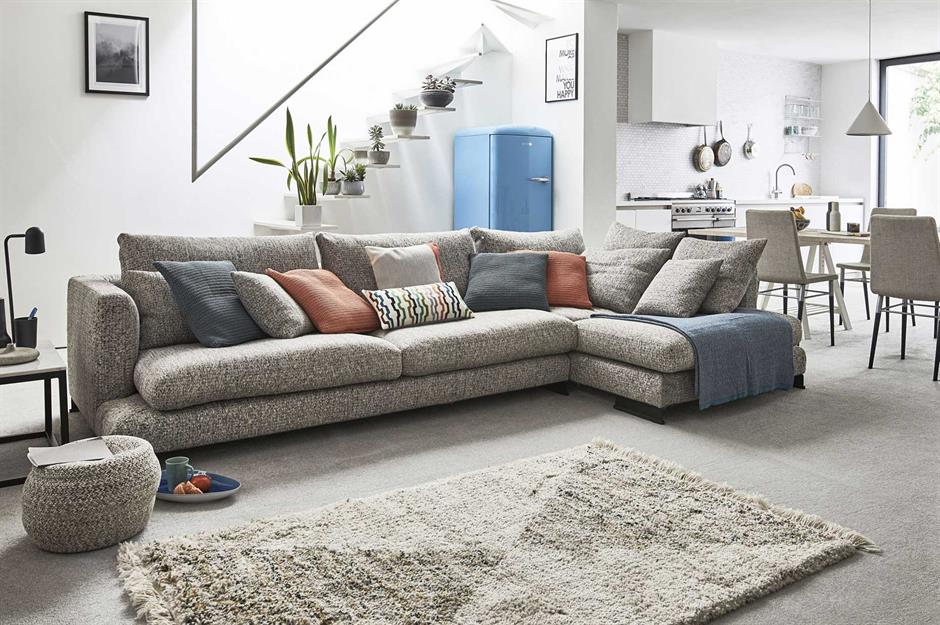 Carpetright
Invest in cleaning tasks that can transform the look and feel of a room. A professional carpet clean has so many benefits; it will eradicate embedded dust, stains, discolouration as well as bacteria, which can all make your floor coverings look dull and lead to musty smells. A professional sofa and oven clean is well worth it too.
Rearrange furniture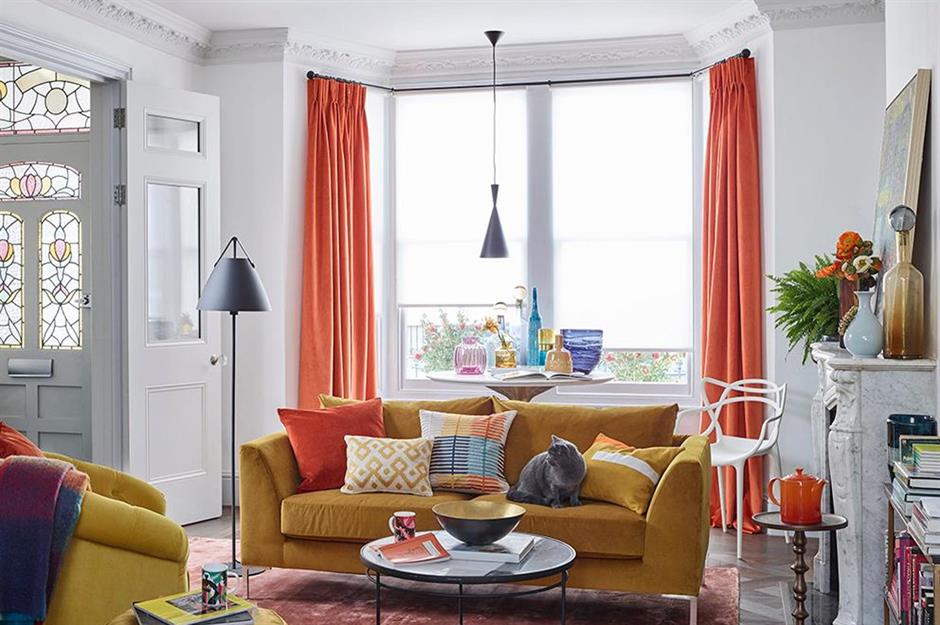 Make living spaces as open as possible. This might mean pulling a sofa away from a wall so buyers can walk around a space. If a room is compact think about renting storage space to remove larger pieces and then rearrange key furniture to look and feel as spacious as possible.
Organise the garage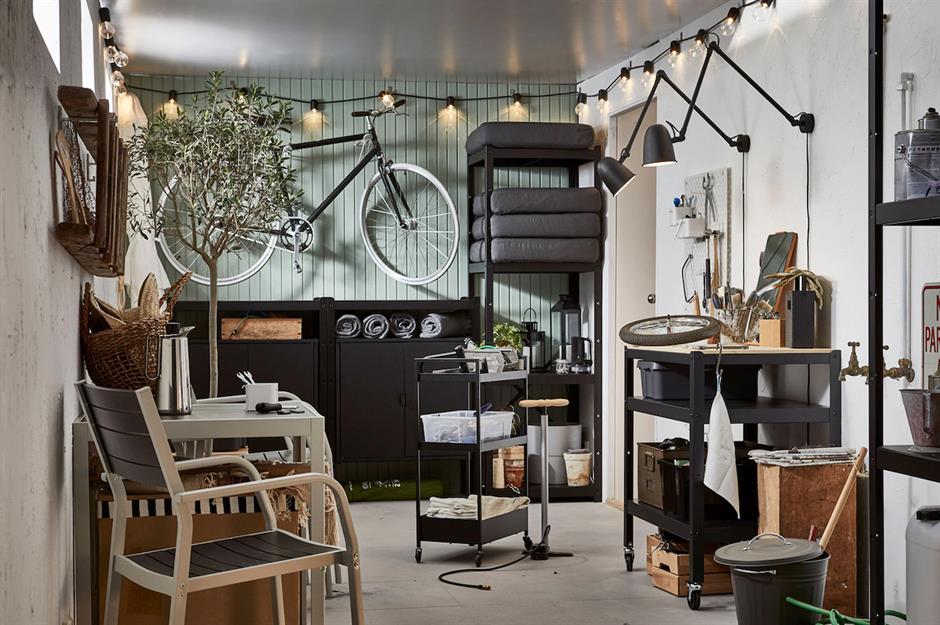 IKEA
Parking spaces are in high demand, so an organised garage that is clear and decluttered will make a valuable asset to your property. Have a good clear out and add in some sturdy storage solutions to lift as many possessions off the floor as possible. If there is no natural light think about installing lighting solutions such as wall lamps. Battery operated LED strip lights or string lights will make a dramatic difference if there is no direct electricity supply.
Tidy the garden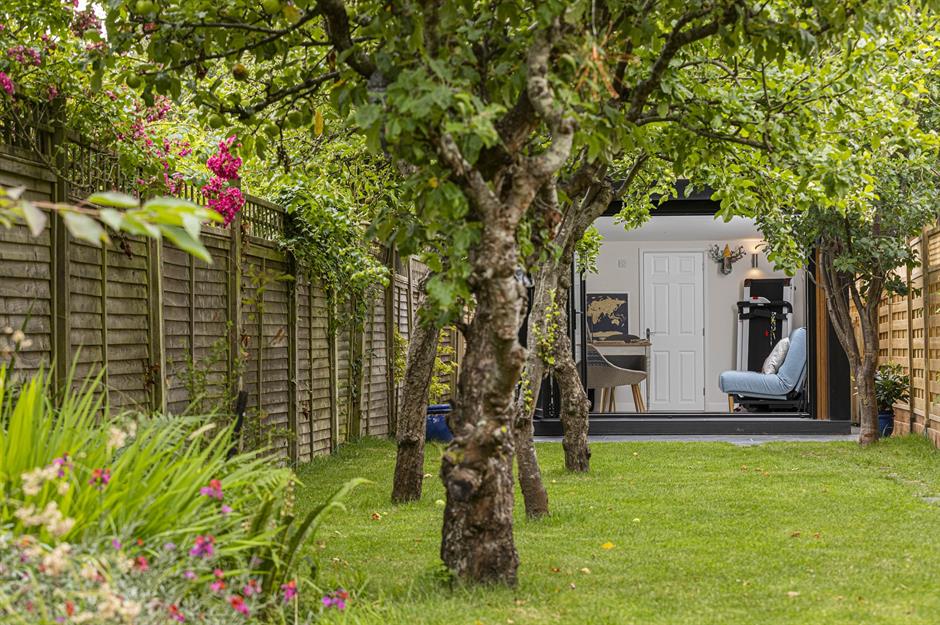 Green Retreats
An outdoor space is often high on most buyers' wish lists, so making sure the garden is tidy and attractive should be a priority when preparing your house for viewings. Even if your garden space is small, mow the lawn, clear leaves, tidy and weed beds, and clean or repaint decked areas. Declutter sheds and summer houses too.
Create the right aroma
Sophie Allport
Make sure your house smells clean and fresh by removing the bin, any pet food bowls or smelly shoes by the door. Make sure the laundry bin is empty, toilets are clean and the seats are down. Then bring in sweet-smelling fruit for the kitchen, flowers for living areas and scented candles for the bathroom. It is said that the smell of freshly baked bread or roasted coffee aromas can conjure up the cosy feeling of home, too.
Clean kitchen tiles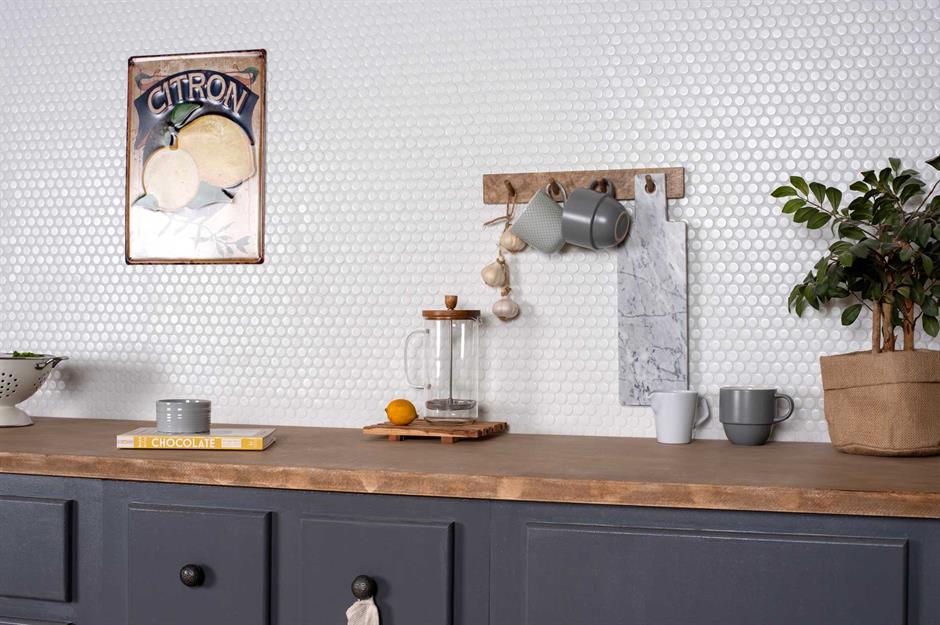 Walls and Floors
Make it seem like you've recently had your bathroom or kitchen tiled by transforming old grout. Water stains, mildew and mould will make the most stylish tile jobs look grubby and old. As well as chemical-based products you can clean tarnished grout with steam or a toothbrush, white vinegar and elbow grease. A grout pen is also a handy tool to brighten stained borders.
Replace the shower screen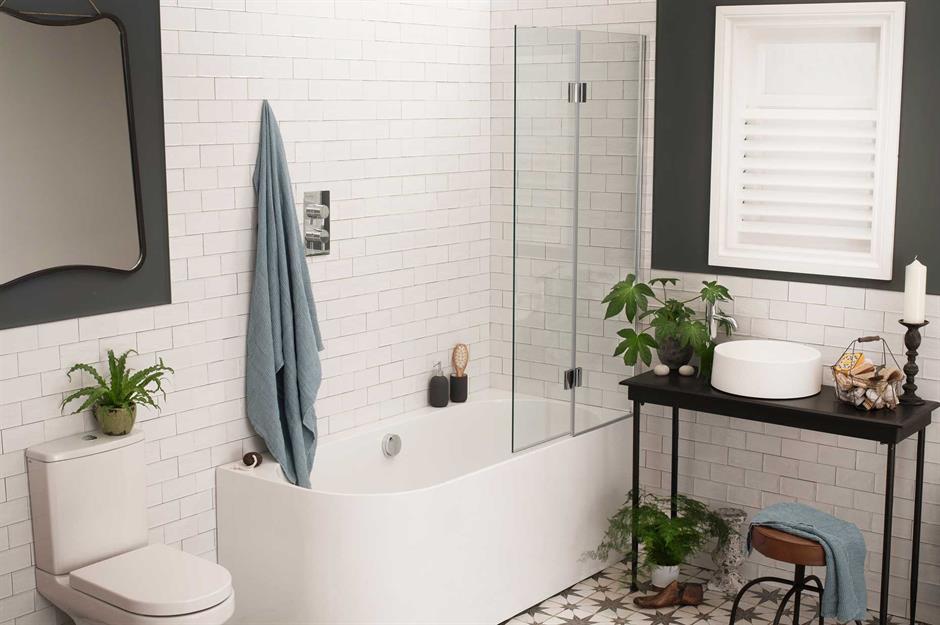 Walls and Floors
The shower screen is an easy update that can instantly transform a bathroom to make it look new. The plastic water seal can become discoloured and mouldy like grout and is budget-friendly to replace. In the same frame, a new shower curtain can also inject a pop of colour and pattern to a plain bathroom.
Tidy children's bedrooms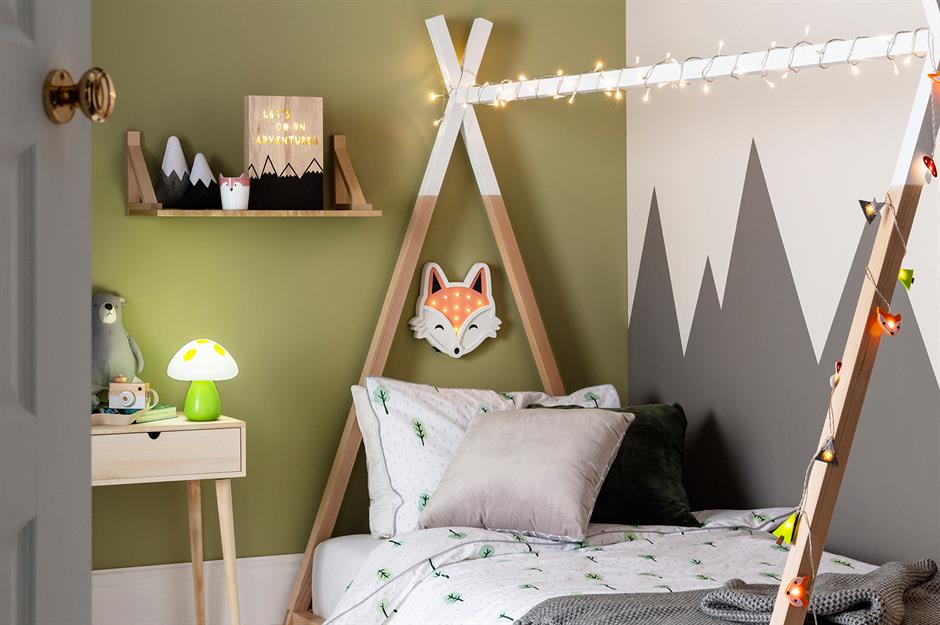 Lights4fun
Usually, children's bedrooms are a treasure trove of toys, colour and fun but when it comes to preparing the space for buyers to view a good clear out is vital. Pack and store away as many toys as possible using clever storage ideas, leaving just a few favourites for interest. Try to remove any toys that are red as this shade stands out in property photographs. Toys stored under the bed should be kept out of sight.
Clean the windows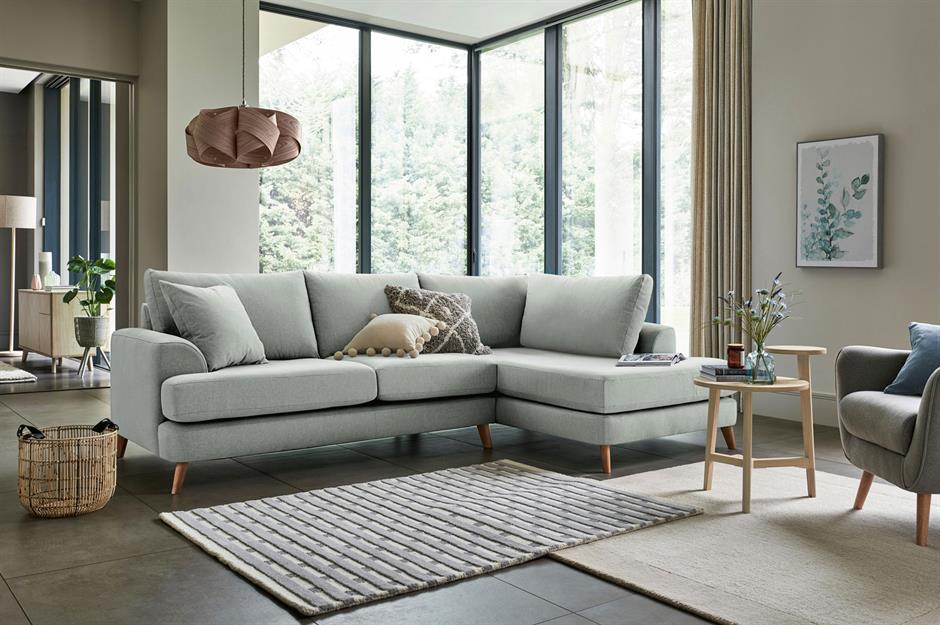 Next
Sparkling clean windows can make an impressive transformation. Whether you go for some soapy water or glass cleaner, the spotless finish and increase in natural light flooding into rooms will be invaluable.
Home stage with greenery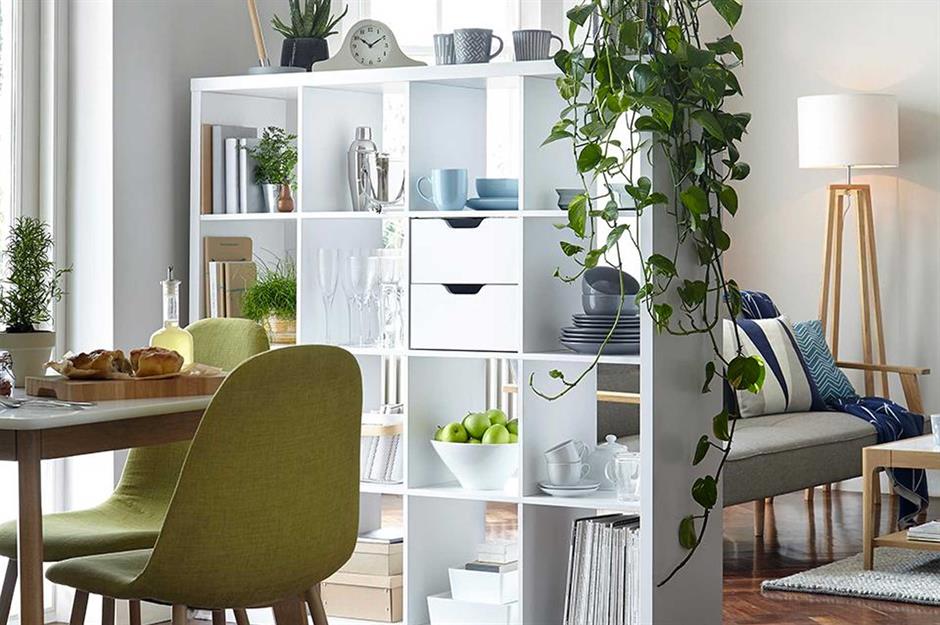 Argos
Clinch the deal with an injection of air-purifying houseplants to make your home vibrant and fresh. An aloe vera placed on a sunny windowsill in the kitchen or a lush fiddle-leaf fig tree in a dark hallway corner will add colour and character without being too personal.
Add hotel style to bedrooms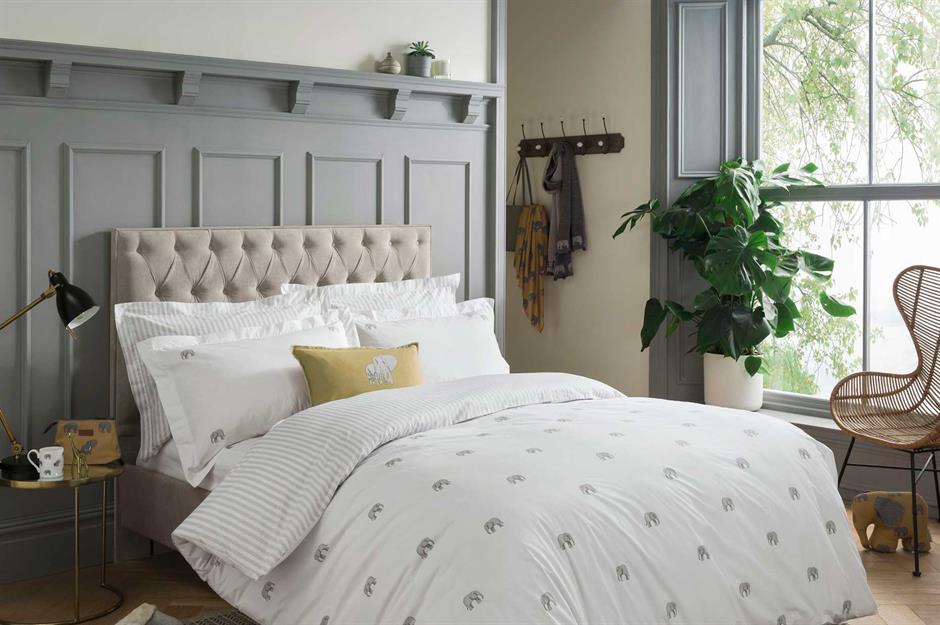 Sophie Allport
Make your bedroom appealing by stealing some style tips from top hotels. Invest in new crisp white or subtle print bedding. Plump up pillows and cushions and layer with a throw to make the room inviting. Buyers may want to look in fitted wardrobes so make sure these are cleared and orderly too!
Update window treatments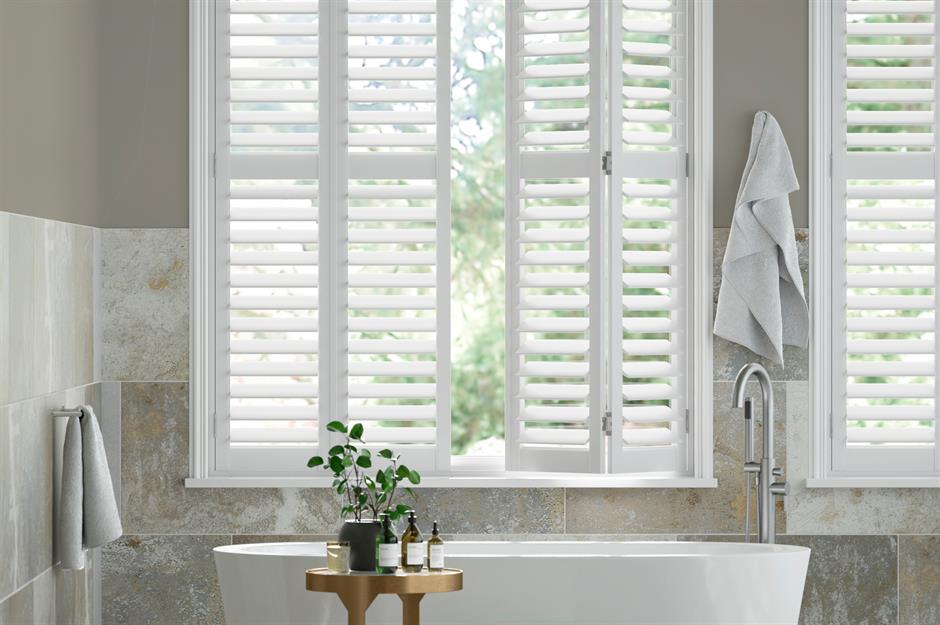 Blinds2go
Tired curtains and grubby blinds can make a room look dark, dirty and cluttered but without them, windows can look threadbare and unattractive. Wash down roller blinds, dust Venetians and vacuum heavy drapes. As natural light is so valuable it might be time to think about a window dressing refresh before you open up your property; shutters are a neutral investment that prospective buyers can see as a huge asset.
Use walls to your advantage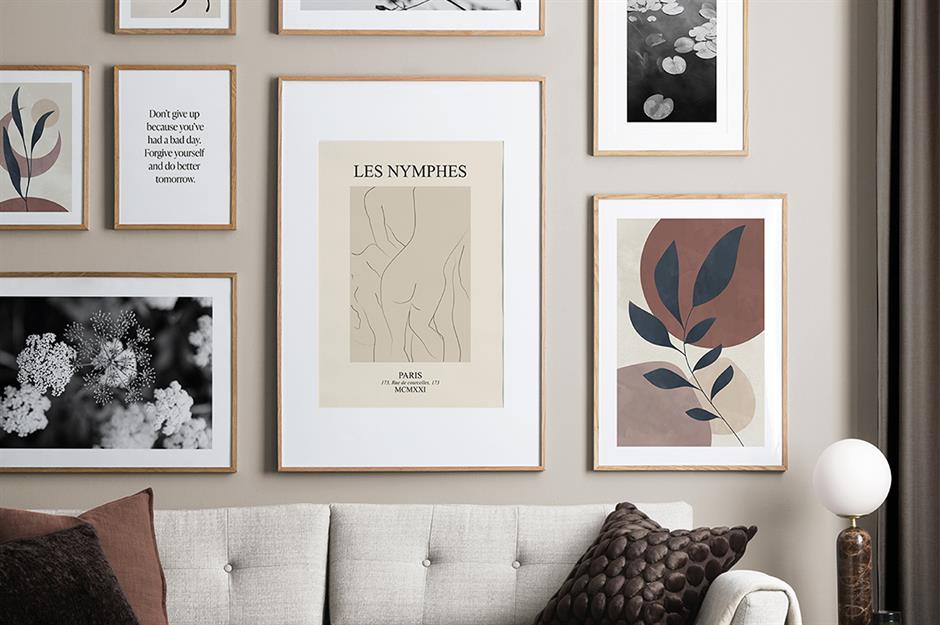 Desenio
Wall art and gallery wall displays can add colour and personality without the need to repaint walls. Stick with just a few frames and choose a consistent theme such as florals or cityscapes. Do not add any family photos, although special to you, buyers do not want reminders of who already lives in their possible future home. Go through the house and remove all family photos where you can.
Flood with natural light
English Blinds
Ensure your home isn't too dark. Try to book viewings during daylight hours, open curtains and blinds fully and remove nets if you have them. Privacy blinds should be opened halfway if possible. Keep your house at a comfortable temperature. If it's too hot or too cold buyers might be quicker to leave and have negative associations.
Make it cosy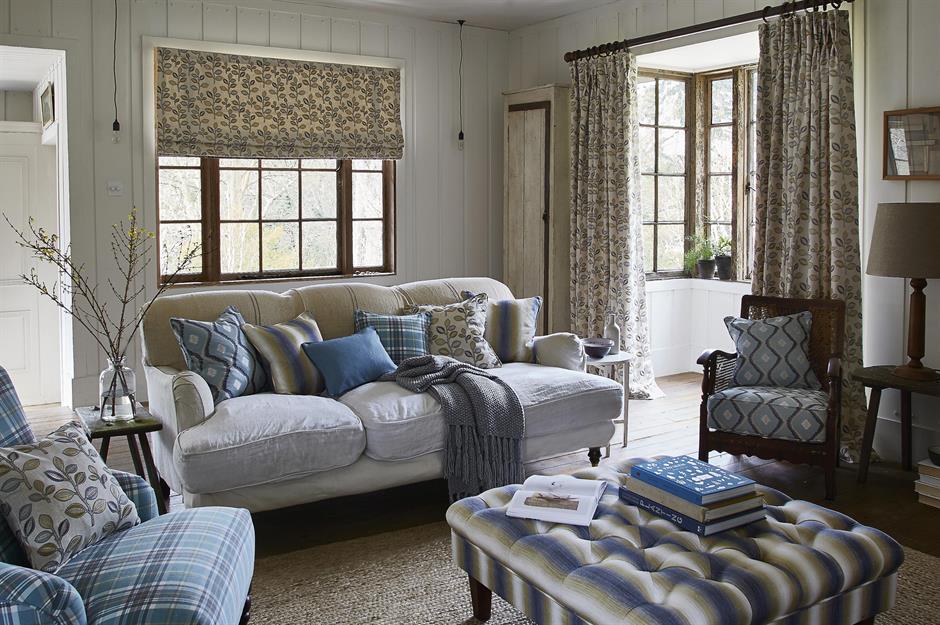 English Blinds
If you are selling your property during colder months, make it cosy with lamps, mirrors and soft furnishings. Not only will this make the atmosphere inviting inside the house, but it will also add kerb appeal with a homely glow from outside. Buyers take notice of lighting, so some choice pendant designs can also elevate your interiors.
Add fluffy towels to bathrooms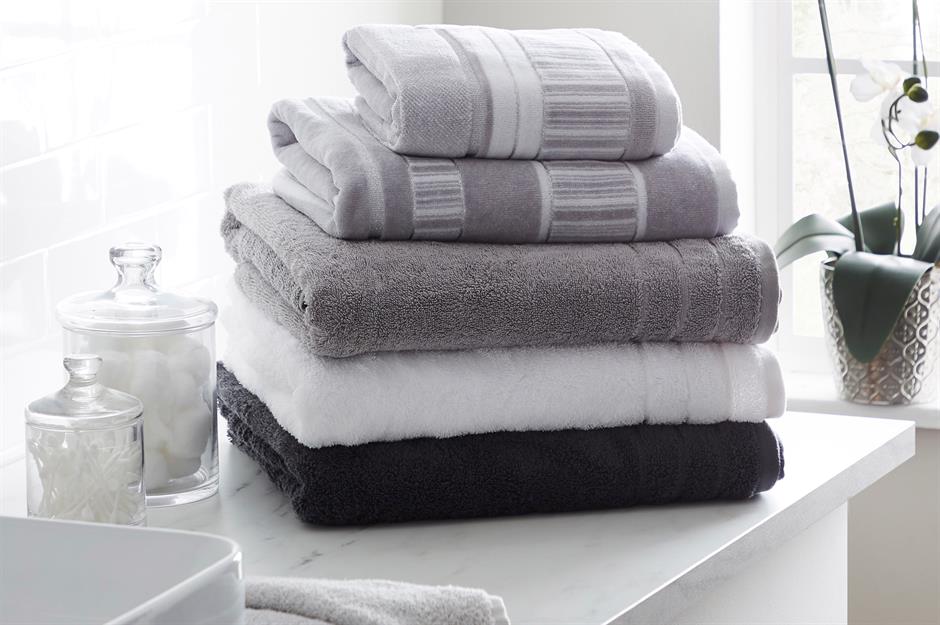 Dunelm
Classic white bath suite? Instantly improve the look of your bathroom by displaying fresh fluffy towels. Robert Lancaster of Tielle Love Luxury says: "Beautiful white towels are timeless, always look stylish and will match any sort of décor or colour scheme. They're sure to transport your prospective buyers to their favourite luxury hotel". Towels should be neatly arranged and folded and chosen to complement the room.
Refresh old sockets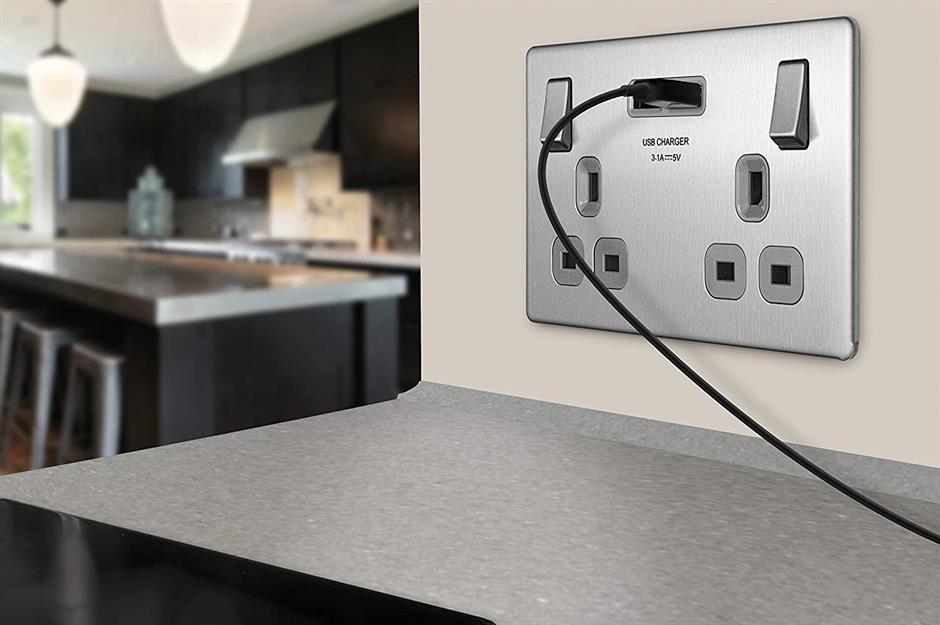 BG Electrical / Amazon
Update old and unfashionable electrical wall and light sockets. Buyers take attention-to-detail seriously and a well-finished property will stand out from others. Connectivity and energy efficiency are big factors for modern buyers so up-to-date sockets with USB points for technology are advantageous. Also, with more people now working from home think about updating your WI-FI service as they may ask about streaming speeds.