60 beers from across California coming to Brennan's in Marina del Rey
By Dolores Quintana – Original Article – https://yovenice.com/2022/04/20/la-ipa-fest-returns-to-brennans/
LA IPA Festival is returning on May 21 after two years of inactivity due to the pandemic, as reported by The Los Angeles Times.
This will be the eighth year that IPA Fest has brought a selection of 60 beers from all over California to vie for the title of Best California IPA. The differences this year are that the IPA Festival is being held in Marina Del Rey at Brennan's which is located at 4089 Lincoln Blvd. The festival has moved from its former location at Mohawk Bend starting this year.
General admission costs $38 and entry begins at noon, it comes with five beer tokens and an IPA Festival branded glass. The VIP or "shadow judge" ticket includes earlier entry to the festival at 10:00 a.m., a brunch buffet, the opportunity to watch the judging at 11:00 a.m., and the branded glass and five beer tokens.
All attendees can purchase additional beer tokens in groups of five for $35.
The two prize-winning breweries from 2020, North Park Beer Company, which won the title of Best California IPA that year, and Tarantula Hill Brewing, which won the people's choice award in 2020 will return to the festival this year.
Original Article: https://www.newscientist.com/article/mg25433823-000-how-interior-design-choices-can-boost-your-mental-and-physical-health/#ixzz7SohqudhI
Neuroscientists have figured out what interior design choices, from flooring to lighting, can help create homes that improve our mental health, decrease stress and fatigue, and even spark creativity
YOU might recognize the sensation from visits to a friend's house – the feeling that a space is good for you. Perhaps it is a sense of profound relaxation as if you left your worries at the door. Or you may have found the perfect office space that leaves you buzzing with creative ideas. Yet try to explain why you felt that way, or recreate those effects at home, and you fall short.
According to the ancient Chinese practice of feng shui, there are rules of harmonious living that affect the flow of energy through your body, and many modern design gurus take a similar line, dishing out guidance in lifestyle magazines and Instagram accounts. They advise on the shape of rooms, materials in furnishings, colors on walls, and organization of books – it may make your home look good, but does it make you feel good?
While there is nothing wrong with going with your gut when it comes to decor, there could be a better way to make design choices. A growing number of neuroscientists are collaborating with architects and interior designers. With carefully controlled experiments using objective physiological and psychological measures, they are starting to systematically test the influence of design elements on the brain and body.
The work couldn't be timelier. The rise of remote working has meant more time at home for many. Whether you want to boost your mood, lower your blood pressure, decrease your bad habits or ease the burden of dementia, this research can provide evidence-based strategies to optimize your living space for your physical and mental health.
Original Article -https://www.cnbc.com/2022/04/16/heres-how-much-the-same-mortgage-costs-now-compared-to-last-year.html
Fewer people are shopping for homes, a sign that homebuyers are getting priced out of the market due to surging mortgage rates, which spiked to an average of 5% this week for 30-year fixed-rate mortgages.
The fixed-rate mortgage rate jumped 0.28% in the last week alone, reaching a high not seen since February 2011, according to government-mortgage company Freddie Mac. A year ago, the 30-year rate averaged 3.04%, which is nearly 2% lower than the rate now.
That 2% difference can add hundreds of dollars to the monthly cost of financing a home, making it unaffordable for some potential buyers.
For a home worth $408,100 — the median home price in the U.S. — with a 20% down payment, 30-year fixed mortgage and a 5% interest rate, monthly mortgage costs would come to $1,752.62, according to CNBC calculations.
But for the same home purchased last year, when interest rates were 3.04%, monthly mortgage payments would only come to $1,383.51, according to CNBC calculations. That's nearly $400 less per month, and more than $4,400 less per year.
There are signs the market is cooling somewhat
While home prices remain elevated, there are some indications that increased mortgage rates are starting to level out the white-hot housing market.
Mortgage purchase applications were down 6% from a year earlier, for the four-week period ending April 10, according to a recent Redfin study.
Redfin's Homebuyer Demand Index, which measures home tour requests for properties listed for sale, has also declined 3% in the past four weeks, compared to a 5% increase during the same period last year. This suggests that there are fewer buyers in the market, which could lead to an easing of home price increases if the trend continues.
"There really is a limit to homebuyer demand, even though the market over the past few years has made it seem endless," says Redfin's chief economist Daryl Fairweather. She expects that price growth will continue to level out in 2022.
Original Article – https://www.smdp.com/samohi-surfers-smash-expectations/216562
The Santa Monica High School surf team does not have an easy ride.
As they are technically a club and not an official sport team, they lack privileges afforded to other Samohi teams or regional surf teams like a salaried coach or the ability to alter their class schedule for competitions or practice. They further are disadvantaged by the consistently poor waves available locally and, when compared to rival teams' home cities of Manhattan Beach or Palos Verdes, the lack of a distinct surf culture to generate a wide talent pool of surfers.
In team members' own words, it feels like the study body doesn't know they exist.
Yet despite this, the Samohi Surf Team is producing powerhouse surfers, who are racking up competitive victories, including an impressive team win against the historically dominant Palos Verdes surf team.
"It's a big victory because there's a bunch of schools with surf teams that have surfing as their first period. They're from beach towns and all that and Santa Monica never really had that. This was kind of a breakthrough win for us," said Ethan Foley, Senior Co-Captain.
The competition was a nail-biter and came down to the scoring in the final heat with Samohi clinching a 77-72 win against Palos Verdes High School.
The Samohi team is also blazing the way for women in surfing. It has the only female coach in the South Bay Scholastic Surfing Association and is the only team to put female surfers into boys heats.
Girls competing in boys heats is almost unheard of and only came into being through many years of persistent effort from Samohi coach Marion Clark, who has long been frustrated by the fewer competition spots open to female surfers. Although the Samohi competition team has a 50/50 gender split, competitions typically have three times as many boys heats as girls heats.
"Any guy heat I participate in, if I get third or above, I'm stoked for that, because it shows like even though I am a woman and there's so many things trying to exclude me in the top surfing world, when I'm matched up against guys it shows my skill level just as a surfer and it's not relating to whether I'm a woman or whether I'm a dude," said Junior Co-Captain Genevieve Nevius.
Nevius like Clark is frustrated with the way that the women's competitions are deprioritized by organizers. She once drove an hour to arrive at a competition at 7 a.m. only to be told that the first women's heat wouldn't run until 1 p.m. Not feeling up to waiting for six hours to surf in the windier and less optimal conditions, she simply turned around and went home.
According to Clark, the main reason competitions offer less spots for women is because there is a smaller pool of female competitive surfers, but she doesn't think this is the way competitions have to be run. She spent years trying to get the Scholastic Surf Series to open more spaces for women, until ultimately giving up and forming her own Ohana Nalu local surf series.
"Every year we would ask (the Scholastic Surf Series) can we get more spots for girls and every year they'd be like sure and nothing ever happened, and after five years of listening to this, it became clear that they were never going to do anything; they were never going to make a difference," said Clark.
When her Samohi surfers were yearning to compete against surfers from a broader geographic area, she brought them into the South Bay Scholastic Surfing Association, but only on the condition that she could enter her team members into any heat regardless of their gender. To her shock, the association agreed.
"I consider a team a team. I'm not really looking at gender. I'm putting team people in spots," said Clark. "That's how I think about surfing because the waves in the ocean have no idea if you're advanced or beginner, if you're really wealthy or if you're not, where you live relative to the ocean or how you (gender) identify."
There are several factors behind the underrepresentation of female surfers. Traditionally, it has been a male dominated sport, which can create an unwelcoming environment for girls to paddle out into. Advanced surfing also demands a high level of physical strength and bravery.
"I think that girls don't get into surfing because it's such a testosterone driven sport," said Nevius. "A lot of girls from the beginning of when they're even like born are steered away from any type of high level sport. It's also just hard for us to be the only girl out there; like a lot of the times that I'm in the lineup I am one of the only girls."
There is also a cultural factor as the sport is sometimes not considered appropriate for girls and parents won't often encourage their girls to pursue it.
"I'll never forget there's this father at Samo(hi)… I said is your daughter interested in surfing and being on the surf team?' And he looked at me and said 'you know, mamas don't let their boys grow up to be cowboys and fathers shouldn't let their daughters grow up to be surfers," said Sarah Wauters, who is Genevieve Nevius's mother.
Even while Wauters is incredibly proud of what Nevius has accomplished as a surfer, she said that there are challenges that come with her being a female in the sport. For example, as a mother, it is less than ideal to have her teenage daughter disappear for hours at a time on the weekends to go surf with her surf buddies in Orange County. Paulis noted that this lack of supervision would never be the norm in a sport like soccer or volleyball and added that there are some rough characters who surf.
"When I go to any spot it's mainly just male dominated and I only kind of feel very comfortable when I'm surfing when I have a friend with me or like obviously when I'm with the team," said Sofia White, who is Junior Co-Captain with Nevius. "You kind of want to have a better community of girls so that you feel more secure and it doesn't feel kind of like you're just singled out."
The Samohi Surf Team is an anomaly in the league when it comes to its high rate of female participation. This is in no small part due to the leadership of Clark, who follows in the footsteps of her mother who helped establish the Women's International Surfing Association, which has now merged with the World Surf League.
"The main reason why my dad really pushed me to do it (join the team) is because Marion is a female coach and he really wanted me to be influenced by her because he knew how male dominated surfing is," said White.
White also said that Clark is an excellent coach for both boys and girls and has witnessed some less than ideal male coaching of female surfers at competitions, including a coach verbally berating a girl for lacking the strength to paddle out in rough conditions.
Nevius and White have achieved remarkable feats under Clark's coaching, including placing third and fourth respectively in the open women's division at a recent South Bay Boardriders Club contest in El Porto. Samohi Senior Co-Captains Ethan Foley and Beau Werger also performed impressively, clinching second and fifth place respectively in the juniors division.
"Marion is literally like my second mom," said Nevius, adding that Clark has a long list of skills including excellent knowledge of how to maintain her team's physical health and knowledge of every team members' strengths and weaknesses in their respective surfing techniques.
It is this skill set and level of care that has enabled Clark to bring her underdog team to notable victories. She also initiated away practices where she takes surfers to better breaks outside of Santa Monica.
"Santa Monica is not the best of waves when you want to learn how to do new things and get good waves, and so we started doing Saturday practices where we'd go to spots where the contest would be and I think that's really helped out the team," said Senior Co-Captain Beau Werger.
On top of this, Clark's most determined surfers are putting in extra sessions as much as they can, traveling up and down the coast to sleuth out the best surf.
"Anytime I have a chance to get a ride somewhere, I'm taking it; like any sacrifices on the weekend or whatever it has to be to go travel to better waves, because that's really where the improvement comes from," said Sophomore Captain Graham Slater.
The Samohi team is working to create a new reputation for Santa Monica, which is not known for producing competitive surfers. The team has also welcomed many new surfers and is working to train them to competition excellence. For example, freshman Arden Hittner has been a rising star at practice and competition and Graham Slater is already shredding on a shortboard after only starting surfing during the pandemic.
"If you go out anywhere and you say you're from Santa Monica that's not the most respected place, because there hasn't been generations of surfers there that raise each other," said Slater. "It's kind of a new thing arising."
Original Article – https://www.bloomberg.com/news/articles/2022-03-18/green-energy-business-focuses-on-home-renovation
Donnel Baird's BlocPower hopes to reduce emissions by helping underserved Americans.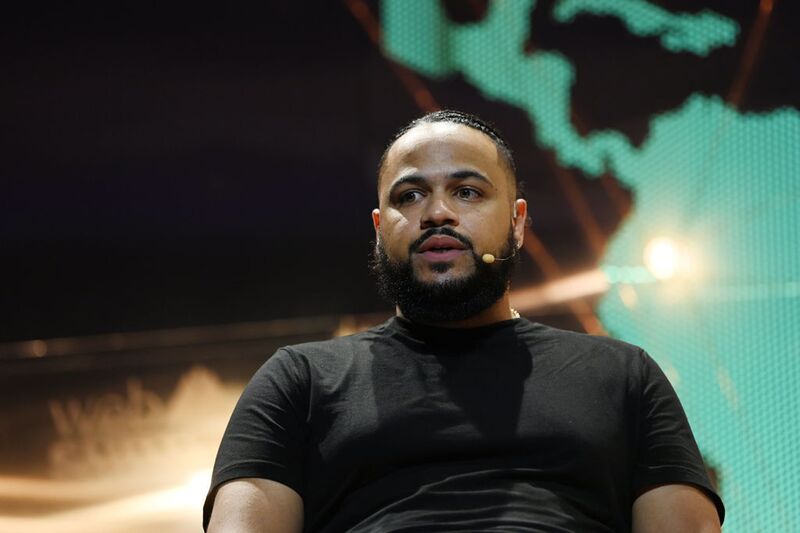 By
Sojourner EllebyMarch 18, 2022, 4:30 AM PDT
BlocPower's goal is the greening of 125 million buildings in the U.S.—homes, offices, schools, and more. And Baird aims to do it in an equitable and inclusive way, ensuring that poor communities get as much attention—and as many jobs—as wealthier areas.
How does BlocPower work?
We rip out the fossil fuel heating, cooling, and hot water equipment and replace it with modern electric equipment that makes buildings greener, healthier, and smarter. Buildings contribute more than 30% of U.S. greenhouse gas emissions, so even if every American were given an electric vehicle, we still wouldn't be able to reduce emissions as much as if they all decarbonized their homes.
What kind of government assistance would make that happen faster?
What we really need is inspiration. John F. Kennedy said, "We're going to put a man on the moon," and he mobilized a generation to achieve that. We're facing an extinction-level crisis in climate change. We need multiple generations of Americans to work hand in hand to address the crisis.
Where have you concentrated your efforts?
BlocPower focuses on America's urban core. We really want to get into neglected, old, hard-to-reach buildings like the brownstone in Brooklyn where I grew up. It was built a hundred years ago and didn't even have a working heating system. There are millions of buildings like that across the country—older, financially underserved, and unable to afford green engineering.
You once suggested that hiring 1,000 George Floyds could help save the planet. Can you explain what you meant?
What if George Floyd, instead of floating between jobs as a bouncer, had a career in green construction? We have to unlock the massive talent in our generation to address climate change. That talent is diverse, because genius is evenly distributed throughout the population. So of course the solutions to climate change are going to come from a diverse group.
For Original Article – https://www.loveproperty.com/gallerylist/130852/industrial-decorating-ideas-for-2022
Embrace factory-style décor with industrial design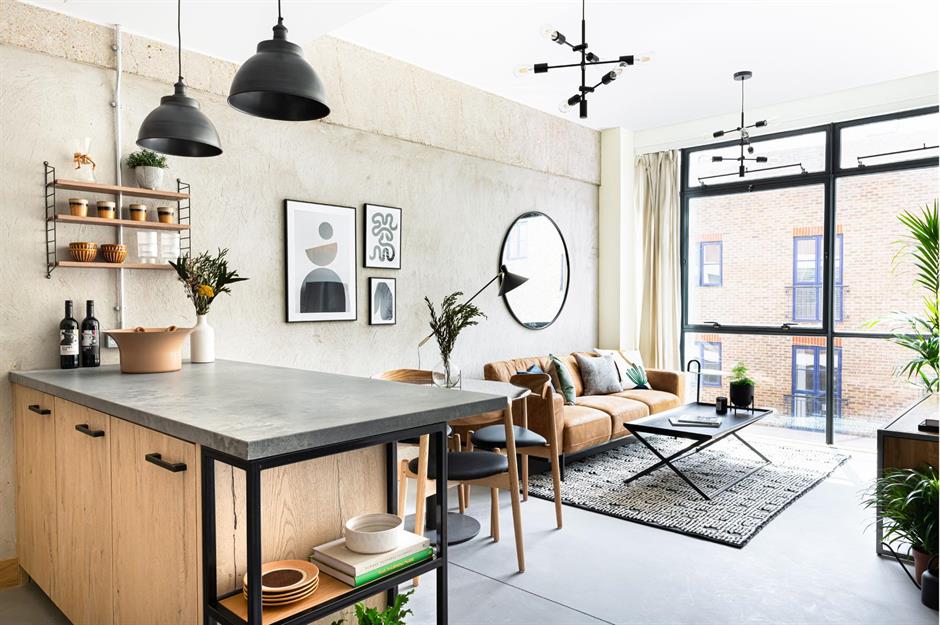 Industville
Converting former factories and disused warehouses into residential homes is a sure-fire way to create a jaw-dropping space with a distinctively cool style. Particularly associated with trendsetting New York City, who can blame us for wanting to inject that Manhattan loft-look into our own homes even if we're not living in the meat-packing district? It's chic, edgy and urban! From exposed piping and utilitarian furniture finds to Critall windows and bare brick, take a look at these industrial decorating ideas that pass our production line test.
Stick with open-plan living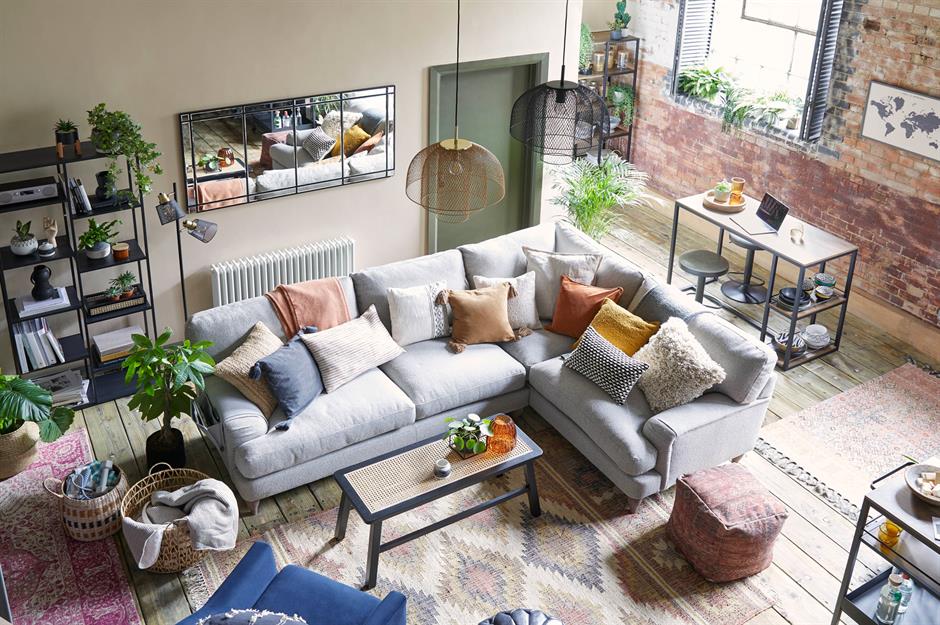 Dunelm
Factory floors are usually wide open spaces so the first rule of thumb is to choose open-plan living. Add relaxed comfort with a large central sofa. Worn leather is the ideal material, but fabric will work for a more up-to-date feel. Choose a natural colour such as brown, beige or grey to set the scene.
Divide with open shelving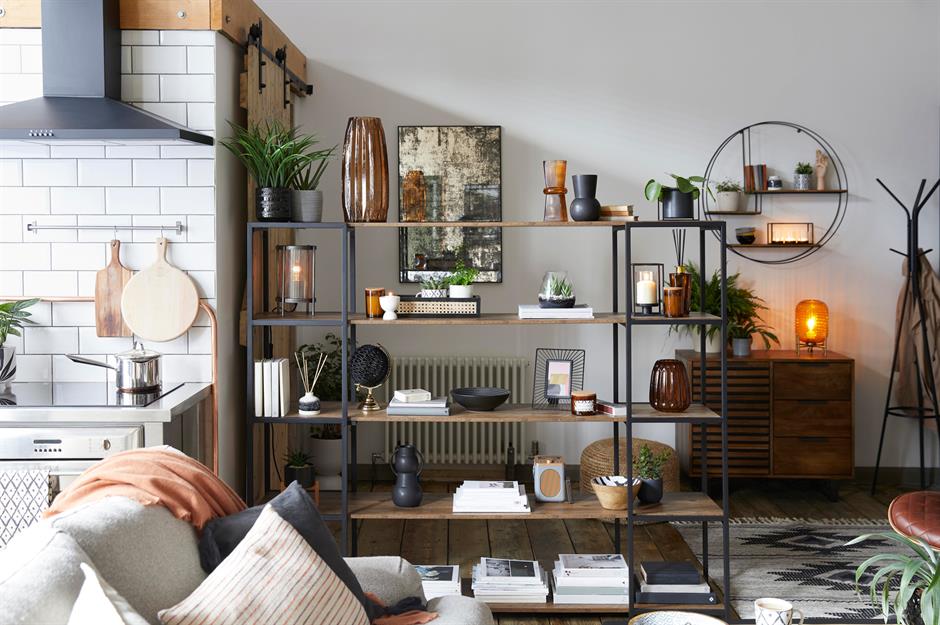 Dunelm
Typical industrial-style storage is usually made with black metal frames and wooden open shelves. The narrow open design makes them perfect room dividers. Amy Sargent, Designer at Dunelm explains: "Our own modular shelving system gives everyone more flexibility in how they can arrange and use their space. One option could be to use the system as a divider between areas – ideal for defining entranceways."
Style up a hardworking office
Argos
A home office with an industrial twist makes an ideal pairing as warehouses were made for work. Take inspiration from what a floor manager's desk would have looked like with a black metal writing desk, locker-style filing storage and a swing arm or spotlight. An office chair on wheels will finish the look. This royal blue swivel design adds a shot of fun colour.
Go back to basics in the bathroom
The Baked Tile Co
Creature comforts are not a priority in commercial properties so fixtures that seem elemental are crucial for an authentic impression. Die-hard renovators source genuine taps from salvage yards. Or, it's easy to get the look (and have a leak-free guarantee) with new replica versions available in steel, copper or brass.
Warm up with natural materials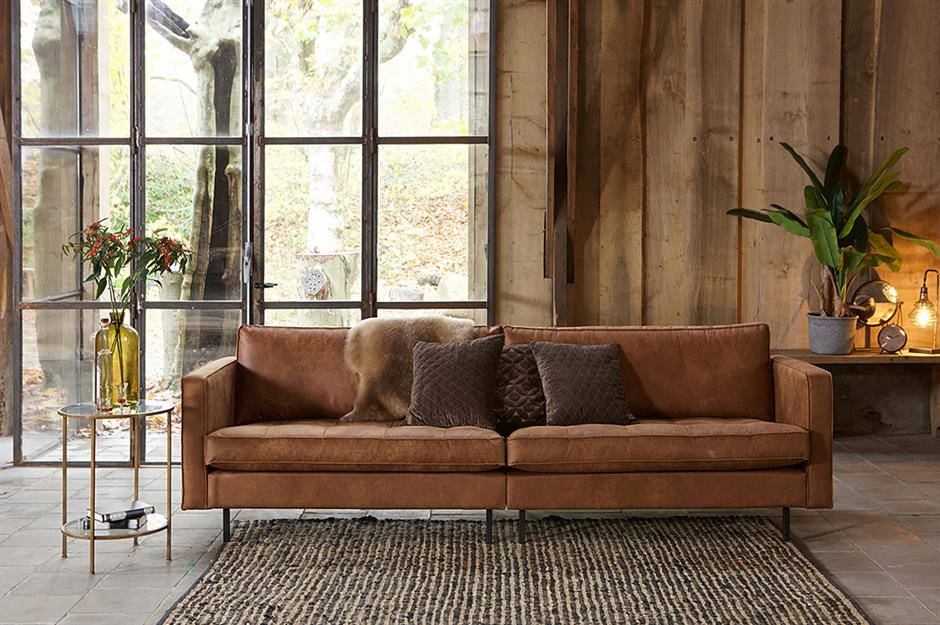 Cuckooland
Industrial design relies heavily on natural raw materials so this year's love of new neutrals gives the look a warming twist that works. To get this look layer more earthy tones than usual; a leather sofa set in front of rustic wood panel walls keeps concrete floors and Crittall-style windows from feeling cold.
Embrace some colour
@dovecotebarns / Instagram
Industrial schemes are often associated with monochrome palettes but don't rule out colour to add a homely twist. This bathroom at @dovecotebarns includes the usual suspects such as metro tiles, Crittall-style shower doors and black framed mirrors. Then, bright yellow paint offsets the stark style like warm sunshine.
Fake exposed walls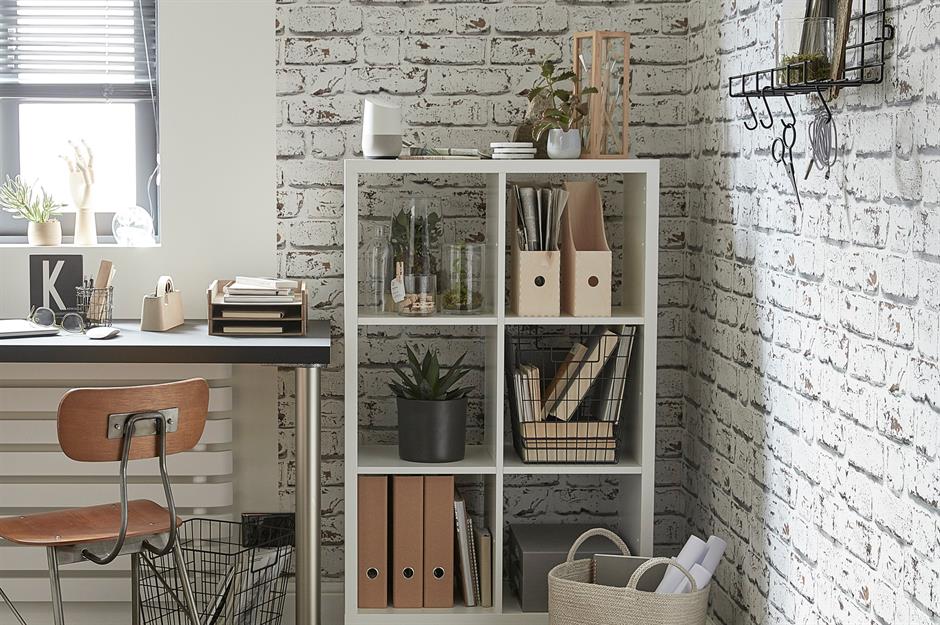 B&Q
An exposed wall is the canvas upon which every good industrial style decorating scheme is built. Brick, cement and raw plaster all looks the part. But if the thought of hours spent chipping off a perfectly smooth surface the look can be easily faked too. Wallpaper, brickslips and paint effects can achieve the look without the mess and in less time!
Opt for a dark kitchen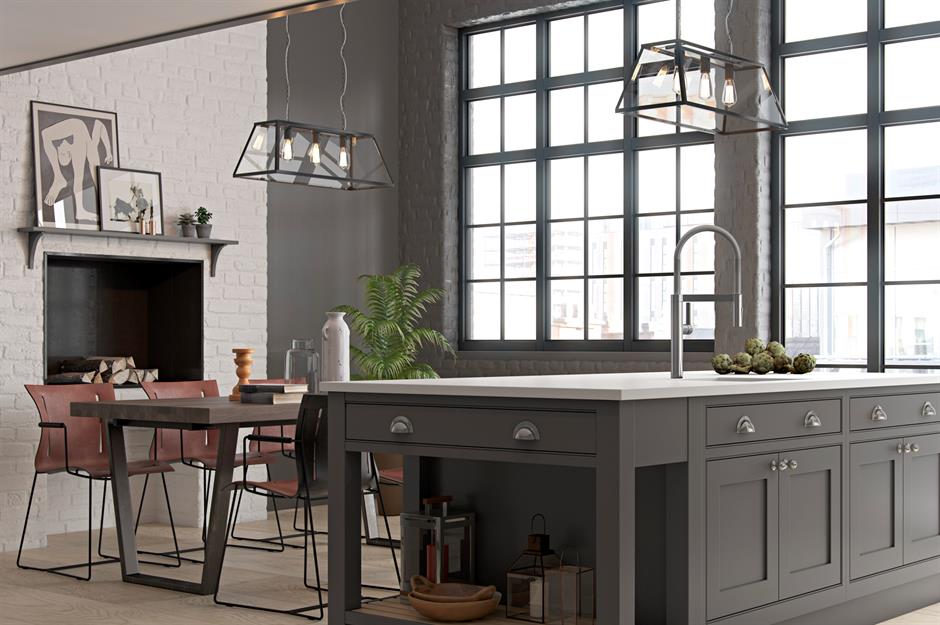 Mereway
Dark kitchen colours offer a timeless look. When teamed with factory-style windows, caged lighting and vintage-look canteen-style dining furniture it's an industrial match made in heaven. Stick to a basic colour palette and add depth with exposed brick walls If possible.
Expose your lighting
Industville
The right lighting is another essential element of industrial style. It brings a factory touch to the look and when lit can soften the raw edges of the room. Choose lights with exposed Edison bulbs and matt black caged designs. Twist cables around suspended wood or look for wall-mounted options that would usually be more at home in the garden.
Hang large metal lights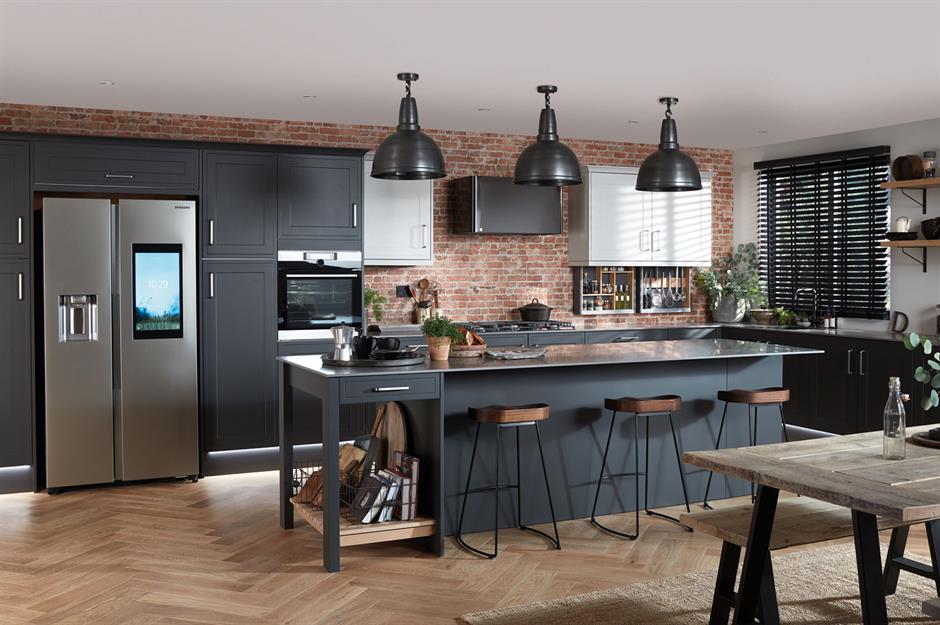 Magnet
Large metal pendant lights are an industrial kitchen staple. In larger kitchens bigger is better; a set of three structural metal pendant lights will make a fabulous focal point set above a high-shine chrome topped kitchen island.
Faux a Crittall door design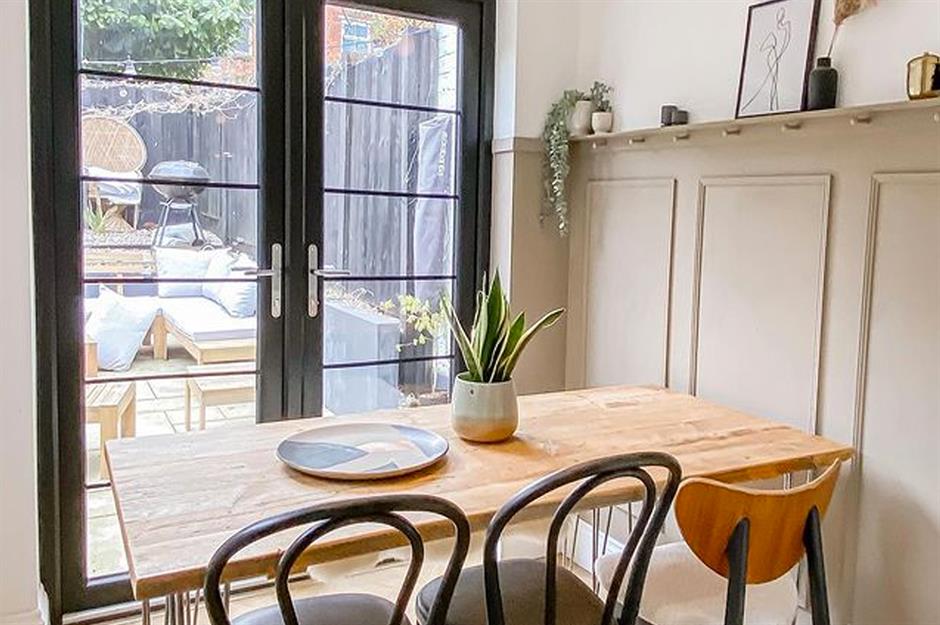 @Negi.at.home / Instagram
Large factory windows and doors make industrial schemes look chic but can be expensive to install. Fake the look like @negi.at.home. She has cleverly measured out and marked faux metal panels with black masking tape. If your doors are white to start with black uPVC paint will match the frames up to the tape for a flawless fabrication.
Frame the bath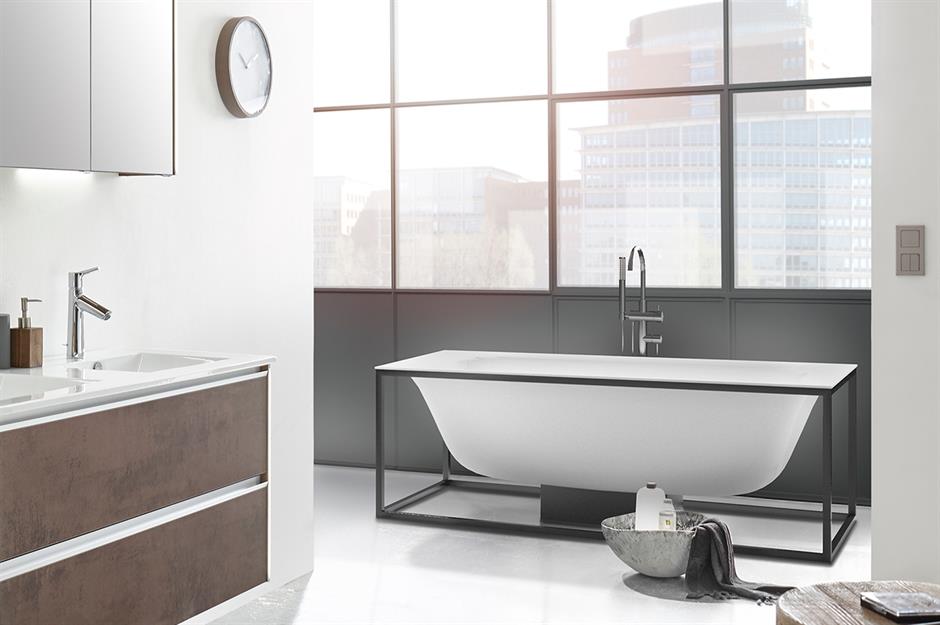 Pelipal
Looking for the ultimate industrial-style bath? We've seen plenty of metal-framed furniture but how about enhancing the tub? This statement bath is a super stylish mix of contemporary and vintage with its slim black steel frame supporting the white curved bathtub. A metal copper or bronze metal-effect vanity makes a fitting addition.
Go for dark wood in the bedroom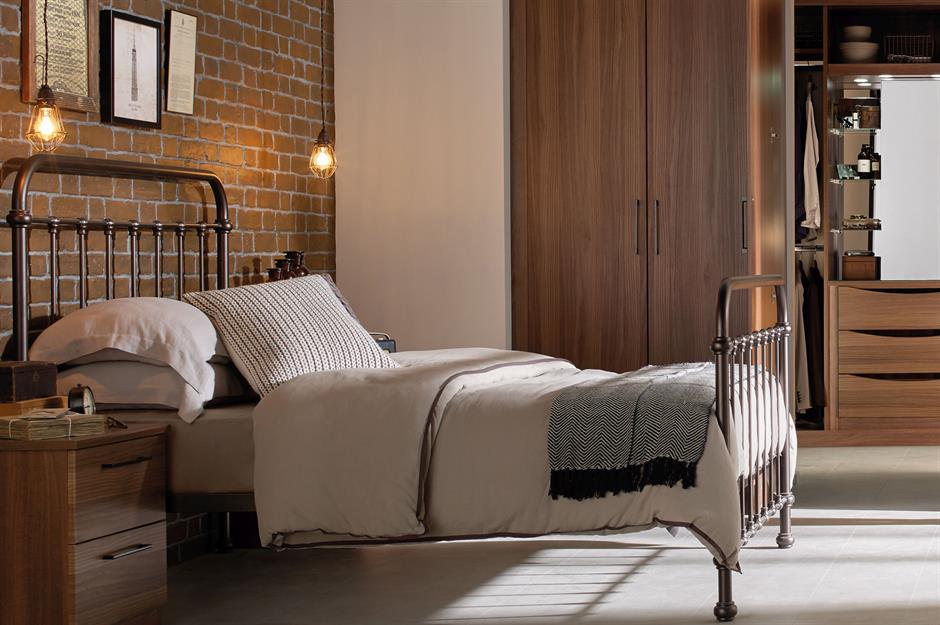 Sharps Bedrooms
In the bedroom, it's important to make the bed fit the industrial scheme so a bronze metal bed with rusty elements will anchor the look. Fitted wardrobes in walnut with black handles will layer natural textures and bring a contemporary look to old pieces. Dorina D'Amroisio, creative director of Sharps bedrooms says: "My advice would be to layer (the bedroom) with every single texture and don't be scared of mixing it with woods and metals, with brick and concretes. Use the natural elements."
Love locker style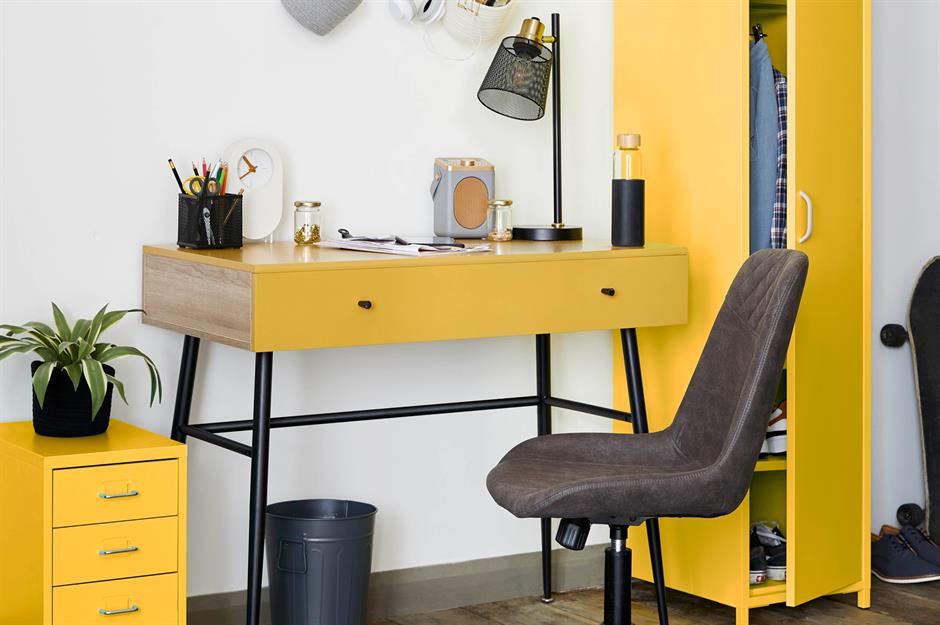 Dunelm
Locker-style office furniture makes a great addition to teen bedrooms that are after an edgy industrial vibe. Stick with tradition and choose gunmetal grey or black finishes. Or, opt for something fun – bright colours will pop against dark metal frames and bring a scheme up-to-date.
Choose wall art wisely
IKEA
Accessories and wall art will complete an industrial style scheme. A large office-style clock makes a good starting point which can then be enhanced with other decorative hangings such as disused printing press letters, vintage frames and black and white typography.
Add concrete effects to walls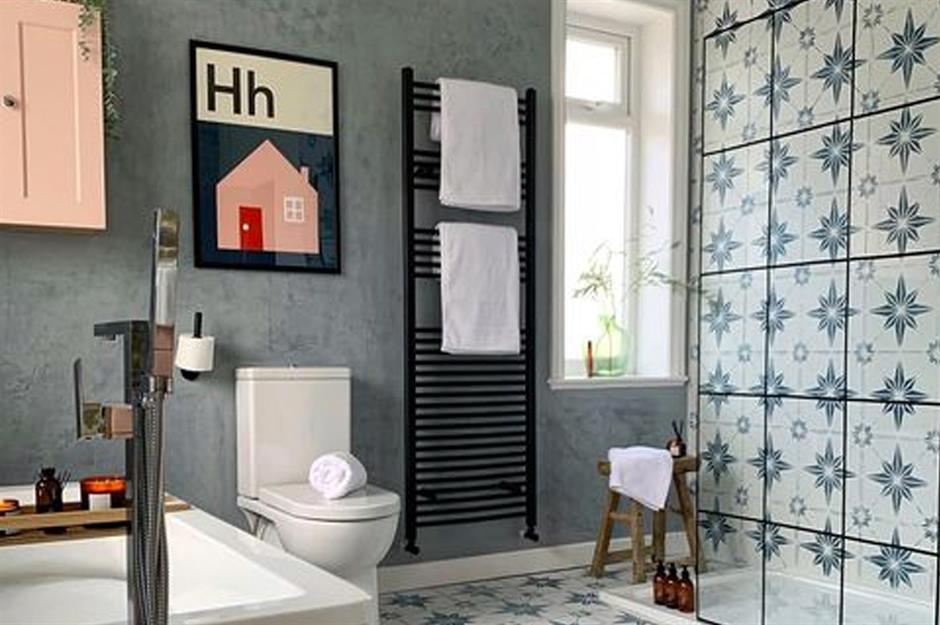 @crack_the_shutters / Instagram
Just like exposed brickwork, concrete walls make a convincing industrial backdrop. But the porous material won't last long in a moist environment. Here, @crack_the_shutters has copied a concrete look in her bathroom using Craig & Rose Artisan Concrete Effect paint. A matt sealant protects the paint in this high-humidity room. Check out the process here.
Use reclaimed wood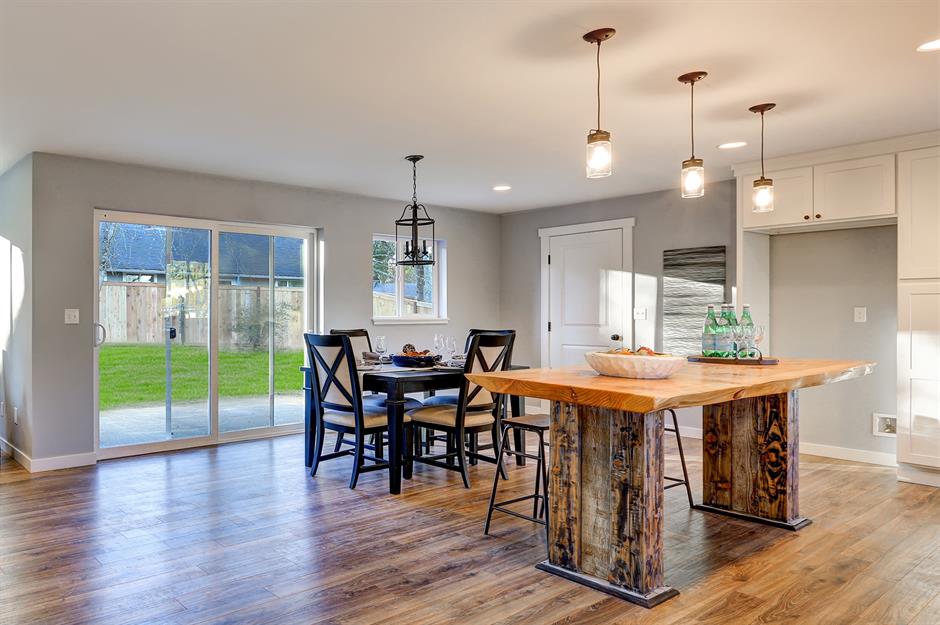 Artazum / Shutterstock
Wood and metals are the bricks and mortar of industrial design and the more distressed the better! That's why untreated wood works so well. Used in large format the natural textured and grainy material can create architecturally stunning results without a hefty price tag. This centre island, created from reclaimed wood, makes a style statement.
Spray on metal effects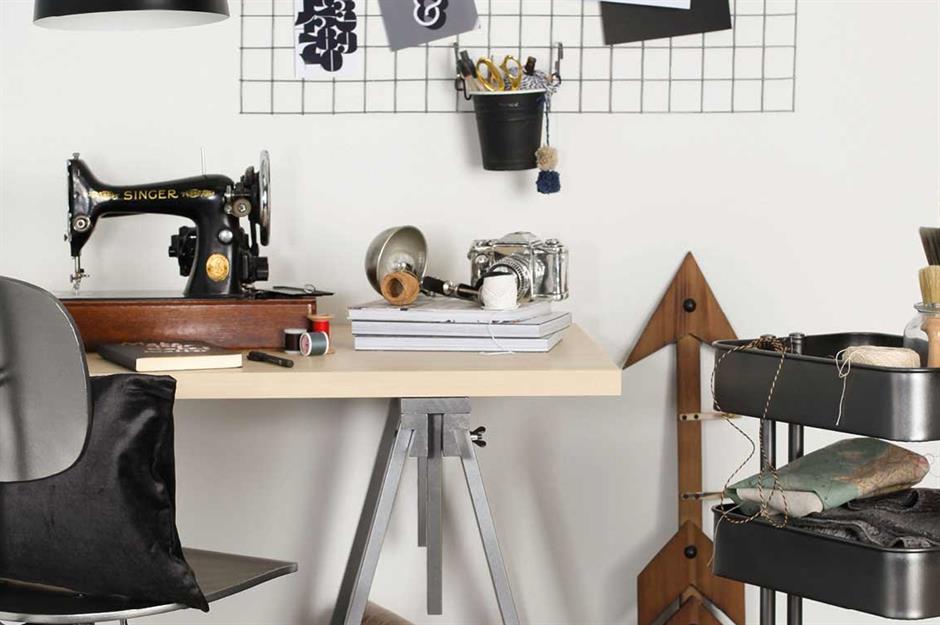 Make It Yours / Rust-Oleum
Metal is probably the epitome of industrial style so spraying existing furniture with a metal finish is a budget-friendly of getting the factory feel in your home. Team tones such as black steel, gunmetal grey and burnished bronze to up the vintage factor. DIY experts at Rust-Oleum say, "We styled our Gun Metal stationery trolley, chair and wire board with dark wood accents to give a rich, earthy feel." You can check out the full DIY here.
Highlight with steel beams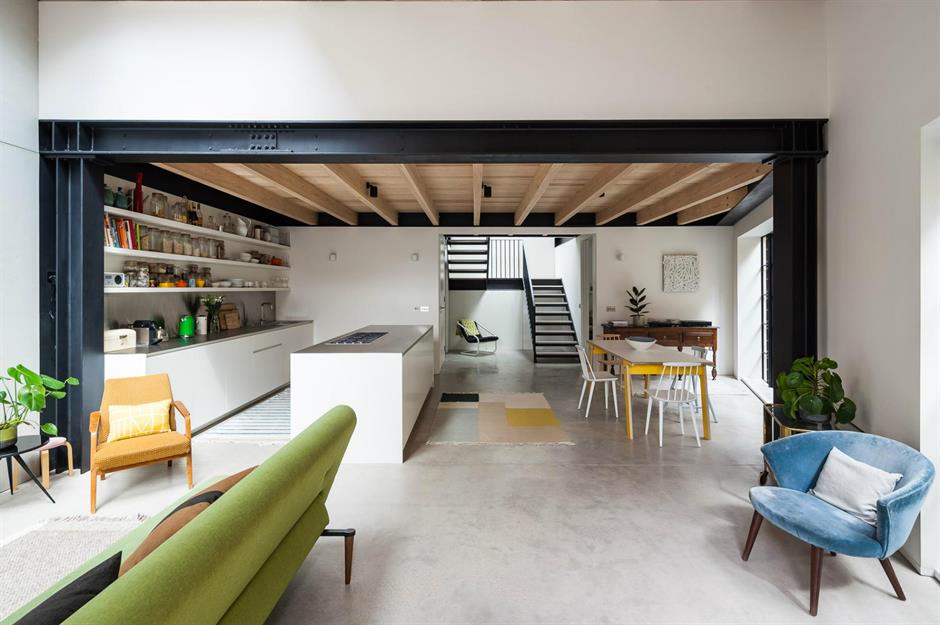 David Butler / Open Practice Architecture
Steel beams and box frames are often required structurally for house extensions but are not often admired. However, used to your advantage they can make an architectural and striking feature as part of an industrial-style scheme. Open Practice Architecture deliberately left beams exposed in this project to define living zones.
Experiment with industrial glam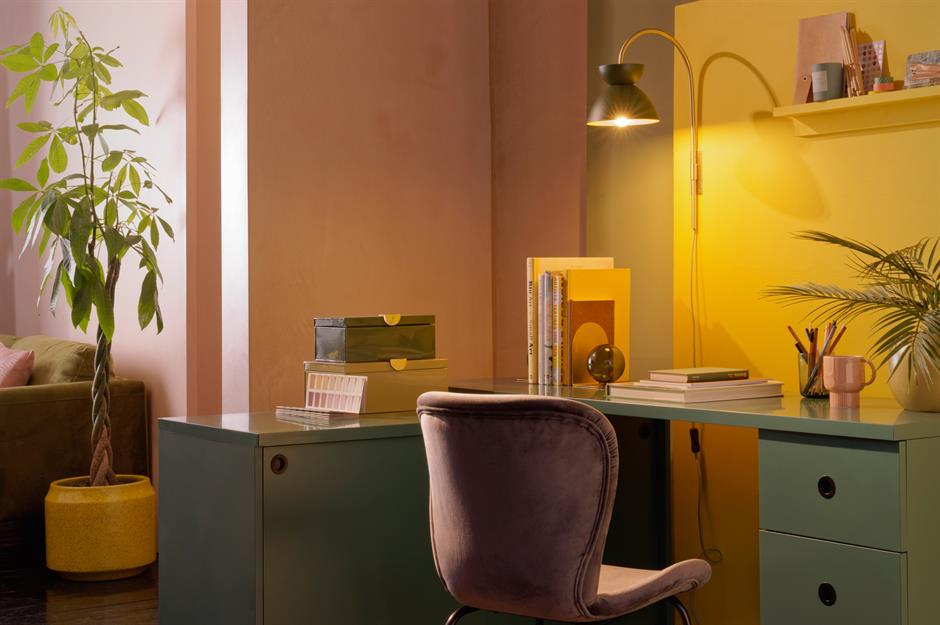 Habitat
Glamour and industrial style are two schemes that don't usually mix. However, by blending 2022 trends with industrial roots designers are coming up with elegant yet edgy spaces that work. This home office looks pretty with an edge. The functional design of the desk has a distinctly industrial feel yet its soft green colour paired with gold metal lighting is opulent and soft. Think fashion house rather than disused warehouse for this look.
Drop in workshop details
Maisons du Monde
Furniture with distinctive factory features will make prime industrial additions to any room. Rustic beds on iron wheels and wardrobes with sliding door mechanisms add quirky interest and attention to detail in this industrial-style bedroom.
Add plenty of black accents
Sklum
Once you've stripped your backdrop bare introduce black elements that are unpretentious. Simple black stools with wooden seats, wire-framed shelves and a trolley will transform a neutral kitchen into a cool yet homely canteen.
Upcycle as much as possible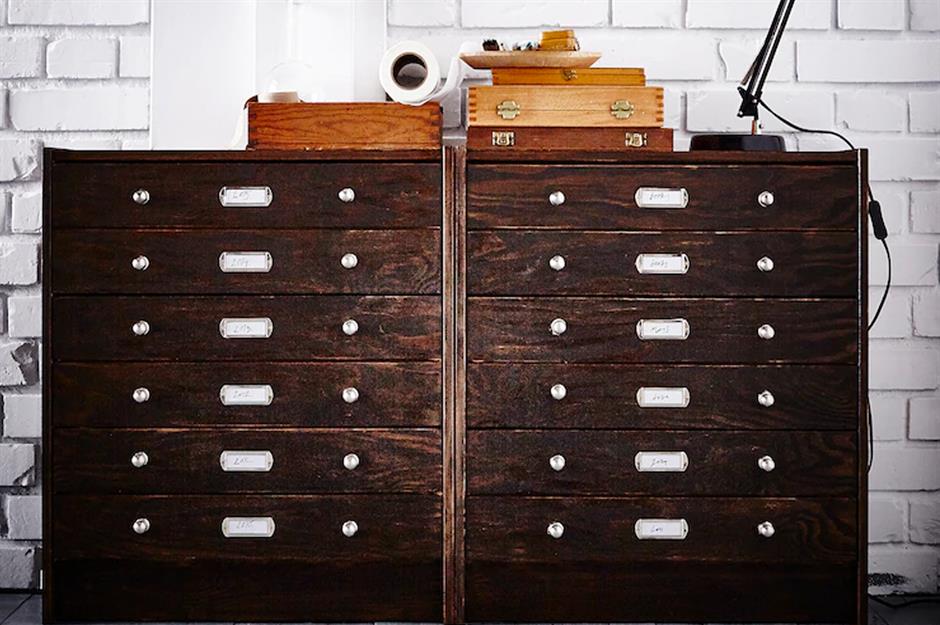 IKEA
Industrial design is about mixing old and new so look for vintage furniture to give your home heritage and personality. Or, make the most of what you have by transforming basic and boring furniture. These filing cabinet-style drawers used to be a basic pine set, but an IKEA hack has turned them into vintage-look statement storage.
Keep fabrics simple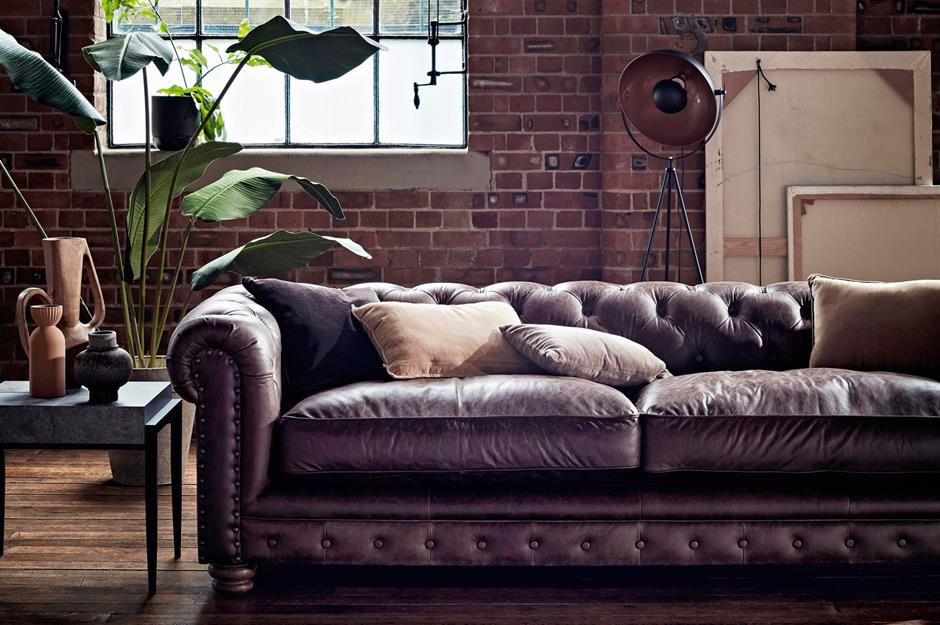 Furniture Village
Keep in mind that an exposed backdrop with texture will already be busy. So, when it comes to soft furnishing less is more. Smooth leather sofas can be dressed with simple cushions in similar earthy tones or choose grain sack ticking for a rustic touch.
Embrace mini loft living
Industville
You don't need a huge open space to work the converted warehouse look. A small apartment can look just as industrial with bare black framed windows, dark metal lighting and a comfortable but eclectic mix of furniture.
Photo: Facebook (@finandfeathersla).
Fin & Feathers opened across from Costco on Washington Boulevard
By Dolores Quintana
Original Article – https://yovenice.com/2022/02/23/atlanta-based-restaurant-lounge-now-up-and-running-in-marina-del-rey/
An Atlanta-based nightclub and restaurant is now up and running across from Costco on Washington Boulevard.
Fin & Feathers has opened in Marina Del Rey. A restaurant chain from Atlanta, Georgia that advertises itself as a place "where professionals come to dine and socialize", their website continues that description by saying, "More than just a restaurant, Fin & Feathers is an experience – a place to kick-back and meet up with friends.
A Vibe that started in the heart of, Atlanta, Edgewood area, we are a foodie's delight and a socialite's playground. Operated under the philosophy of owner Damon A. Johnson Sr., Fin & Feathers is a much loved staple of the culinary and nightlife scene. Our menu boasts "Nu American Soul" flair and inventive cocktails served in a vibrant and sophisticated atmosphere."
The restaurant is located at 13484 Washington Boulevard and serves dishes like grilled New Zealand lamb chops with a balsamic ginger glaze, hibachi grilled marinated Malibu ribeye, seafood and grits, Southern fried chicken and a chicken and waffles entree.
During the week, they are open from 5:00 p.m. to midnight Monday through Thursday and until 2:00 a.m. on Friday. On Saturday the restaurant is open from 10:00 a.m. to 2:00 a.m. and serves a brunch menu, On Sunday, they are open from 10:00 p.m. to 2:00 a.m. Fin &
Feathers does have a smart casual dress code and specifically states that no weapons are allowed on site and that masks are required.
Original Article – https://www.uscannenbergmedia.com/2022/02/24/los-angeles-pet-boom-hounds-already-struggling-pet-care-industry/
Many pet hospitals and vets are struggling to catch up after the pandemic. (Photo by Alexandra Applegate)
By Alexandra ApplegateFebruary 24, 2022 at 6:48 pm PST
Veterinarian technicians, masked and covered in personal protective equipment, rush in and out of the pet hospitals across LA County, carrying pets from their owner's cars to the hospital on both arms. They work as fast as they can, and yet long lines still form outside with humans and their restless pets' colorful leashes dotting the sidewalk. The hospital's phone seems to never stop ringing and veterinarians' case loads stack higher and higher.
Despite nearly two years having passed since the beginning of the COVID-19 pandemic, if your dog starts drastically limping or your cat is suddenly experiencing shallow breathing, you may have to call more than a dozen pet hospitals to find one who is willing to see you.
When the pandemic shut down the world in 2020, many pet rescues celebrated empty cages because all their animals had found homes with the lonely Los Angelenos who desired companionship while locked up in their homes. The "pet boom" saw 12.6 million U.S. households adopt a new pet last year after March 2020, according to a study by the American Pet Products Association.
So, when pet hospitals wait lists' filled up and some veterinarians refused to take new patients in 2021, many people assumed it's because vets were treating more pets. Pet hospitals across LA County cited wait times of more than eight hours, multiple days or even weeks, without the option for a walk-in appointment. Unless a pet is in critical condition, many hospitals are still refusing to take new patients because of their backlog of waiting clients.
However, the pet care industry believes the "boom" may not have been as explosive as initial news reports suggested. Veterinary publication DVM360 found that the total number of pets adopted from shelters in 2020 was the lowest in the last five years. Largely because of the pandemic, less animals were brought into shelters by animal control, less people relinquished their pets and shelters received less pets from other countries, resulting in less adopted animals.
Yet despite these low adoption statistics, at pet hospitals, there seems to be a never-ending stream of furry patients in and out and the line outside never gets shorter.
Peter Weinstein, former executive director of the Southern California Veterinary Medical Association (SCVMA), said SCVMA saw the revenue for pet care practices increase but the actual number of transactions did not go up at the same rate. To Weinstein, this indicated many hospitals were seeing the same number of pets, but people were bringing in their pets more often. COVID-related restrictions also forced vet staff to tend to their patients in inefficient manners to accommodate social distancing rules.
County social distancing regulations forced veterinarians to perform "curbside pick-up" and meet clients outside in their cars or only allow one customer indoors at a time. Many hospitals also split their staff between work areas or separated their work schedules to keep workers healthy, but slowed down regular processes.
With fewer employees manning the offices, the few on shift would have to pick up the slack. Strict lockdown directives also forced many vets to throw out their normal, in-person communication with staff and clients, forcing them to completely rethink the best way to get information to people through online chats, emails, phone calls and automated texts.
Fewer vet techs spent more time making multiple phone calls with one client, running back and forth between cars and the hospital all while ensuring they stayed six feet away from each other.
"So many different rules and regulation changes made it harder for us to be as efficient as we used to be," said Melissa Tompkins, veterinary practice consultant at South Coast Veterinary Management Solutions. "Anytime it changed, we slowed down."
People also had to cancel preventative and regular check-up appointments during the beginning of the pandemic because vets were declared essential businesses and only saw urgent cases. Weinstein said this often meant pets were sicker or in need of more intensive care when they were finally treated, "which slows the process down even further."
All of this resulted in a less efficient industry. The American Veterinary Medical Association (AVMA) reported that veterinarians saw fewer patients per hour and average productivity declined by almost a quarter in 2020. If a practice treated 100 patients per week in 2019, they'd only be able to see 75 per week in 2020 — causing the practice to be behind by at least 25 pets.
Tompkins also said more people were being hyper-vigilant about their pet's health since they were working from home.
"People saw their dog scratching all the time or noticed a lump they otherwise may not have noticed," said Tompkins. "You're more likely to notice there's something wrong with your dog [when you're home more]."
As all of these factors compounded for more than a year and the cases quickly backed up, causing long waits and refusals to see new patients.
"Even once things started opening up, it's been hard to catch up," said executive director of SCVMA Jennifer Hawkins.
But, according to Weinstein, the pet care industry was already riddled with inefficiencies and the pandemic unearthed them in an "imperfect storm."
A leashed industry
Even before the pandemic, Tompkins said the pet care industry was struggling to hire and retain employees. With an already understaffed industry, the pandemic exacerbated the unfilled gaps.
"Our current staff is having to work a lot of overtime or extra hours in order to compensate for the needed service," said Hawkins.
Between January 2019 and May 2021, the AVMA reported there were 18 open positions for every one veterinarian seeking a job. On top of that, there were six open positions for every technician and vet assistant as well as 12 open for other pet care-related positions.
"We just weren't prepared, on a global level, for the case management that we've had to deal with," said Weinstein.
While veterinary school applications are up a whopping 19% for the 2021-22 school year, it's a four year program and it will take time for students to start working at full capacity with animals.
"When somebody says to me, 'Well why don't we just make more veterinarians?'" said Weinstein. "I have to say, 'What am I supposed to do? Crack some eggs, put them in a pan and make more vets?'"
Additionally, the staff the pet health care industry does have is increasingly female. For the 2021-2022 school year, 10 of the top vet schools in the country admitted more than 1,500 women into their programs but only 313 men. Even in 2021, women are more likely to have shorter career life spans because they play a greater role in raising children or supporting their families, according to the Center for American Progress. Some women, on average, take more part-time jobs, jobs with less time commitment or quit their careers once they have children.
"It's not that women doctors aren't good — they're fantastic — but when universities do follow up studies, there's shorter career lifespans for female vets," said Alan Schulman, a veterinary surgeon at the Animal Medical Center of Southern California.
Schulman also believes the younger generations of vets are not as likely to prioritize their careers over other aspects of their lives and are therefore less willing to work extra hours, take on greater responsibilities and even take over practices from retiring vets.
Ruff working conditions
Unfortunately, veterinary medicine is notorious for its staff burning out and leaving. The field has always experienced high turnover rates, especially compared with other health care professions. Veterinarians leave the field around twice as often as physicians in the medical world and vet techs have one of the highest turnover rates of all health care positions.
Compassion fatigue, or the physical, emotional and psychological impact of caring for others, has always existed in the pet health care world. One big difference between human and pet health care is that veterinarians have the ability to euthanize animals when necessary — a responsibility that can take a toll on pet care professionals.
"Our field has suffered from compassion fatigue for a long time," said Tompkins. "We see abuse and neglect cases just like someone who works in social services. And that burnout from not only watching the animals suffer but also dealing with the human emotion side of that can really wear on you."
Many people get into pet health because of their love for animals, according to Tompkins, but they may not realize that most interactions with the animals may be under negative circumstances like cases with terminal illnesses.
A Centers for Disease Control (CDC) study found that female veterinarians were 3.5 times more likely than the general U.S. population to commit suicide and male vets are 2.1 times more likely. Additionally, vet techs are five times more likely to commit suicide.
While the reasons for this issue may vary, pet care industry professionals acknowledge how difficult it can be to remain positive in their jobs, sometimes heightened by the necessary interactions with the animal's owner.
"A lot of people in our field love animals a ton but they don't necessarily love people in the same way," said Tompkins. "And I don't think that everybody realizes when they get into this field that this is a very people-centered field."
As pandemic-related restrictions were loosened in LA County and available appointments at pet hospitals were still hard to find, Tompkins observed that pet owners did not always handle it well.
Tompkins said she has seen a client pull a gun on a hospital's staff because he was waiting for 45 minutes. A colleague witnessed a client threaten to kill every staff member in that hospital because he was upset with the wait times.
"These are extreme cases, but these are the types of situations that are happening every day in animal hospitals," said Tompkins. "People are threatening staff either physically or screaming at them, cussing at them and treating them horribly."
Elizabeth Vleck, a vet tech at a Banfield Hospital in Seal Beach, noted the significant attentiveness of many pet owners can also contribute to staff's worsening mental health.
"Hyper-vigilance can lead to jumping to conclusions that we're not taking care of their pet properly," Vleck said. "They're a little bit more aggressive and that's one of the major points of burnout."
Paw-sible ways forward
Though many pet owners are frustrated with the long waits and inconsistent communication from their vets, this problem may not last. The pet care industry is slowly catching up on the routine appointments and client check-ups that were postponed during the pandemic.
While there are still many open positions in the pet industry, some large hospitals are hiring in record numbers. Joseph Campbell, external affairs director at VCA Hospitals — a national network of pet hospitals with more than 2,000 locations — noted in an email that VCA hired more than 5,400 associates to work in its hospitals in 2021, 400 more than they hired in 2020.
However, long-time vet Schulman is not sure if simply hiring more people will solve the problem.
"I truly believe that the answer to this is way more complicated and way deeper," said Schulman. "If [the younger generation] doesn't want to have any upward mobility, you're going to see they're not as dedicated and won't work as hard. I don't see them changing their outlook anytime soon and we're going to see that."
Another point of inefficiency is that vet techs are often under-utilized. Vet techs are qualified to handle routine blood draws, weighing, bandaging or other less intensive tasks but don't always put this into practice, forcing the majority of the labor onto busy veterinarians.
"In human health care, we've become very dependent upon staff to deliver for the doctors but in veterinary medicine, we still have a very doctor-dependent business," said Weinstein. "But I think the practice is starting to perfect its delivery model and better utilize their nursing staff."
Many larger hospitals are investing in text messaging services or online live chats to help decrease in-person appointments. VCA noted their hospitals saw an 144% increase in live chat users in 2020, indicating more patients took advantage of online help in the face of lockdowns. Banfield also reported their live chat service volume more than doubled last year.
Though the pet care industry has problems to address internally, many pet care professionals believe their ability to properly care for their pets has not weakened in the face of these challenges.
"I know how people are in our field and they're likely to run in front of a car to stop an animal from getting hit," said Tompkins. "I know a lot of people feel they're kind of diehard to help animals. So it would not be a conscious decision to not treat a pet or to not take care of them just because they're overwhelmed."
Pet care professionals simply request that pet owners try to be understanding during this stressful time for the industry.
"Veterinarians are doing the best that they can," said Weinstein. "Just be patient because they really do care and they really do want to make a difference."
For Original Article – https://www.bhg.com/gardening/houseplants/projects/sage-green-plant-trend/
Following the latest color trend couldn't be easier for houseplant aficionados and newbies to the indoor garden scene alike. Sage green is popping up as a featured color from several paint companies in 2022. The gray-green hue is loved for its connection to the earth, and creating a sense of calm for all in its presence. Aside from painting your walls, plenty of houseplants provide a natural source of this mind-quieting color. Place varieties with sage green leaves wherever you'd like to enjoy their fresh, calming effect. Just make sure to pair the light conditions of your space with the plant that thrives there.
Related Items
1. Air Plant
Growing in unique, whimsical shapes and rich in texture, air plants add instant interest to a room. Perch a trio of them on a tabletop as a centerpiece or place them in clear glass globes that are suspended from a window frame. Air plants don't require soil, but bright, indirect light is essential.
Size: 6 to 8 inches
Light: Bright light
Watering: Soak plants in water every week or every other week.
2. Arrowhead Vine
Grow this lush houseplant on a tabletop or let it ramble up a trellis. Look for variegated selections of arrowhead vine in shades of white, cream, and silver to get the just-right shade of sage green you want. This plant thrives in low light and is perfect for infusing a bedroom or office with a little life.
Size: 8 to 10 inches, or taller if allowed to climb
Light: Medium or low light, such as a north- or east-facing window
Watering: Water when the soil surface just begins to dry; plant likes to be moist, but not wet.
Related: How to Water Houseplants (and How to Know if You're Overwatering)
CREDIT: COURTESY OF BLOOMSCAPE
3. Bromeliad 'Aechmea Pink'
Bold and stylish, 'Aechmea Pink' bromeliad has strappy silver-green leaves. Once this statement-making plant produces its showy pink blooms, the foliage will slowly decline. Grow bromeliads as short-lived houseplants.
Size: 1 to 3 feet
Light: Bright to medium light
Watering: Water when the soil surface just begins to dry; plant likes to be moist, but not wet.
4. Chinese Evergreen
Tough yet beautiful Chinese evergreen tolerates low light and long periods of drought. Young plants are slow-growing and well-suited for growing on a tabletop, while older, larger potted plants thrive as accent pieces in a room. 'Cecilia,' 'Golden Bay,' and 'Silver Bay' all have gorgeous sage green foliage.
Size: 1 to 3 feet
Light: Bright to low light
Watering: Water when the soil surface is dry.
CREDIT: COURTESY OF THEANXIOUSGARDENER/ETSY
5. Echeveria
A popular and easy-to-grow succulent, echeveria forms a rosette of tidy leaves that come in a range of colors and shapes. 'Deranosa' has exceptional sage green foliage. 'Compton Carousel' shown here, also has sage green leaves set off by white edges. Because these plants are low-growing, they work well as tabletop centerpieces or on a windowsill.
Size: 6 to 8 inches
Light: Bright light
Watering: Water only when the top several inches of soil is dry.
6. Inch Plant
The fast-growing, trailing stems of inch plant make it a perfect houseplant for hanging baskets. Allow it to cascade down a shelf for a living curtain effect. 'Nanouk' has gorgeous leaves streaked with sage green and white, with stunning magenta undersides.
Size: 10 inches or more; trailing habit
Light: Bright to medium light
Watering: Keep soil moist, but not wet.
7. English Ivy
Though it's a classic houseplant, English ivy is far from mundane. Varieties come in a range of hues and fascinating shapes. For that trendy sage green tone, try 'Silver Bells' or 'Silver Dollar'. Let the vigorous vines scramble across a tabletop, or suspend your plant in a hanging basket for a curtain of foliage.
Size: 8 inches, and climbs or trails indefinitely
Light: Medium light; east or northwest window
Watering: Water when the soil surface is dry.
Related: 9 Essential Tips for Keeping Your Houseplants Healthy
8. Rex Begonia
Spruce up a drab tabletop or desk with a rex begonia. Its variegated leaves give this short-lived houseplant an exotic flair. 'Flamenco,' 'Ballet,' and 'Salsa' varieties all sport trendy sage green tones.
Size: 4 to 10 inches
Light: Bright to medium light, such as a south- or west-facing window
Watering: Water when the soil surface is dry.
9. Sage
Add culinary sage to your kitchen and enjoy the color it infuses into the space, along with the flavor of freshly-harvested leaves. A bright, sunny window and grow lights are often needed for sage to flourish indoors. Snip leaves as needed, and the plant will unfurl fresh foliage.
Size: 6 to 12 inches
Light: Bright, direct light
Watering: Water when the soil surface is dry.
CREDIT: COURTESY OF COSTA FARMS
10. Scindapsus
An elegant tropical plant native to Southeast Asia, scindapsus is closely-related to pothos and philodendron. Scindapsus, also known as silver pothos, has heart-shape green leaves with silvery, sage green variegation. Like its relatives, scindapsus can be grown as a climbing vine or treated as a trailing houseplant.
Size: Can climb 6 feet or more, but easy to keep smaller with trimming
Light: Medium to bright light
Watering: Water when soil is dry.
11. Snake Plant
The stiff, upright, sword-like leaves of snake plant give it an architectural appearance, which perfectly complements modern, contemporary spaces. Grow it as a tabletop plant, or purchase a large snake plant to anchor the corner of a room. 'Whitney' is a dwarf variety with sage green leaves.
Size: 8 inches to 4 feet
Light: Bright to low light
Watering: Water when the soil surface is dry.
By Santa Monica Mayor Sue Himmelrich – https://smmirror.com/2022/02/santa-monica-embraces-safe-sidewalk-vending/
Sidewalk vending has been in the spotlight recently and, with livelihoods at the forefront, it's understandable why. For more than 30 years, Santa Monica has supported vending and has had vending programs in place to create viable pathways for small business owners to thrive through food trucks, licensed carts on the Pier and Third Street Promenade, and stalls at our famous farmers markets.
In 2019, the State of California decriminalized sidewalk vending through SB 946 and we quickly went to work building a program that incentivized sidewalk vending through a low-cost program that eliminated some of the common barriers to permitting, including an insurance waiver. We engaged with vending advocates and sidewalk vendors, soliciting their feedback to help shape the program and develop bilingual outreach aimed at supporting sidewalk vendors through our permitting process.
It has been nearly three years since we launched that program and we have more than 100 permitted sidewalk vendors operating in our city–a number on par with the much larger City of Los Angeles. Since the program's inception, our code enforcement officers have shared thousands of bilingual fliers, always leading with education and outreach, contributing to an accessible and inclusive program that has been acknowledged as such by both advocates and permitted sidewalk vendors.
Santa Monica continues to expand economic opportunity for all. We are a community that has prioritized equitable economic recovery from the pandemic. We invest in programs that ensure that historically marginalized communities have real pathways to entrepreneurship. In addition to our licensed cart vending, sidewalk vending, and food truck programs, we are building out a community kitchen at Virginia Avenue Park in 2022, a shared commercial kitchen space designed to help residents break into the costly food industry.
Yet, we cannot overlook the real risks playing out in our community every day, particularly when it comes to the safety of the public. This is the fundamental challenge we face at the Santa Monica Pier. Our historic Pier is a wooden structure that is flammable. On any given day, unpermitted vendors flock to the bustling location, creating an unsafe environment for themselves and the public by cooking with open flames and unpermitted combustible fuels. The Pier also has limited emergency access and capacity limits, particularly on warm days when the beach is full. For these reasons, it is not legal to vend on or within 100 feet of the Pier. Despite this, many vendors have been unwilling to work with us on moving to ample and safe alternative locations.
Though our staff continues to lead with educating vendors about our permit program and seeking voluntary compliance with our local health and safety laws, when necessary, enforcement remains an important tool given the real dangers to public safety and health. Our enforcement efforts are an effective collaboration between our Fire Department, Code Enforcement, Police Department and the Los Angeles County Department of Public Health, the lead agency on proper food handling and permitting. Advisals far exceed enforcement actions.
Beyond safety, there are other challenges that add complexity and create confusion for sidewalk vendors and the public. The State Retail Food Code has cumbersome requirements that present barriers to entry, particularly for food vendors. We strongly support modernizing these rules and identifying opportunities to streamline access to safe, permitted food vending, and look forward to partnering with vendor advocates in this effort over the coming months.
We welcome the interest in Santa Monica's approach to sidewalk vending and are eager to channel the energy and activism toward our shared goal of getting more vendors into our program in support of their success as small business owners. By working with vendors to become permitted, encouraging safe locations off the Pier, and advocating for changes to State law that will make permitting easier, we are confident we are moving in the right direction toward a shared goal of accessible and inclusive entrepreneurship in our public spaces.