Original Article – https://www.loveproperty.com/gallerylist/69698/living-room-ideas-for-every-style-and-budget
Transform your living space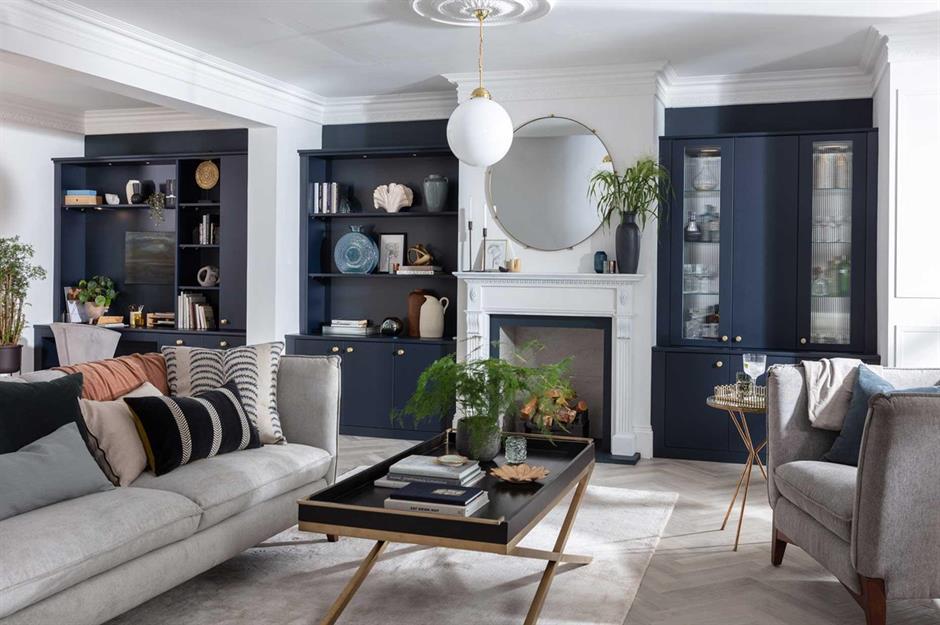 Sharps
Looking for ideas to makeover your living room? Whether you prefer modern Scandi, daring dark schemes or traditional florals we've got the best interior design tips and decorating trends to help you choose your next style update. Check out these living room ideas that are sure to inspire you whatever your budget…
Mix and match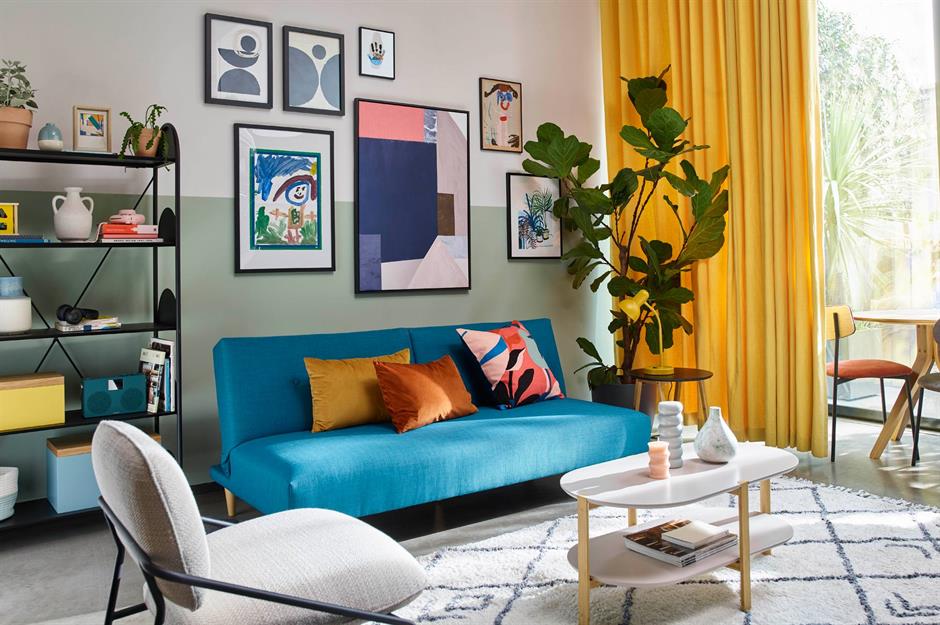 Create a relaxing living room space that's easy to live with. Start with a modern two-tone backdrop to enlarge the sense of space, then add colour with a bright yet simple sofa and warming floor skimming-curtains. Complete the chilled-out character with a quirky gallery wall.
Set up a loft-style living room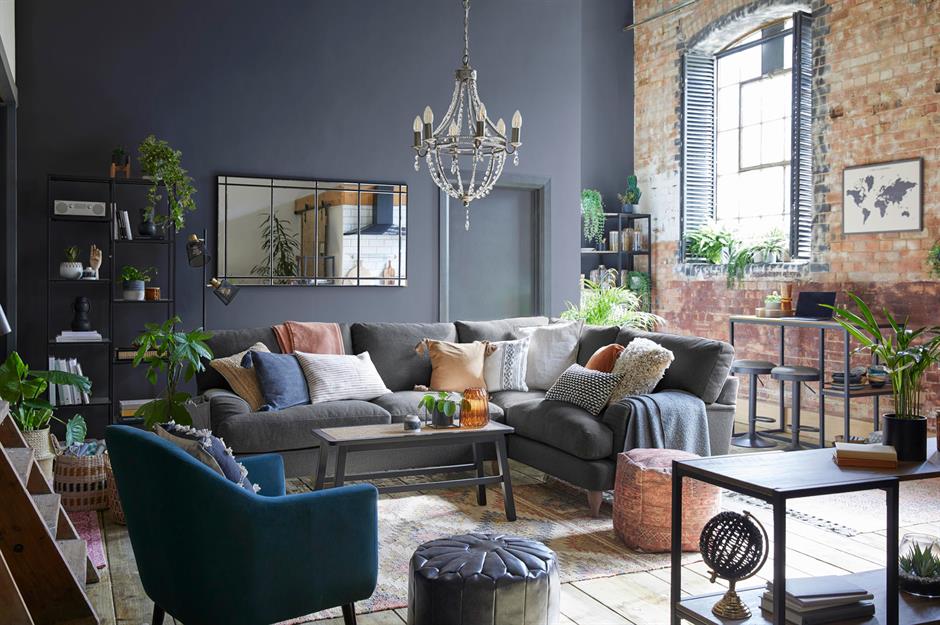 Dunelm
If you're lucky enough to have beautiful bricks behind your plastered walls, expose them to make a dramatic industrial-style feature. Soften the look for the living room by only exposing one wall and add plenty of comfort with cushions.
Be bold with wallpaper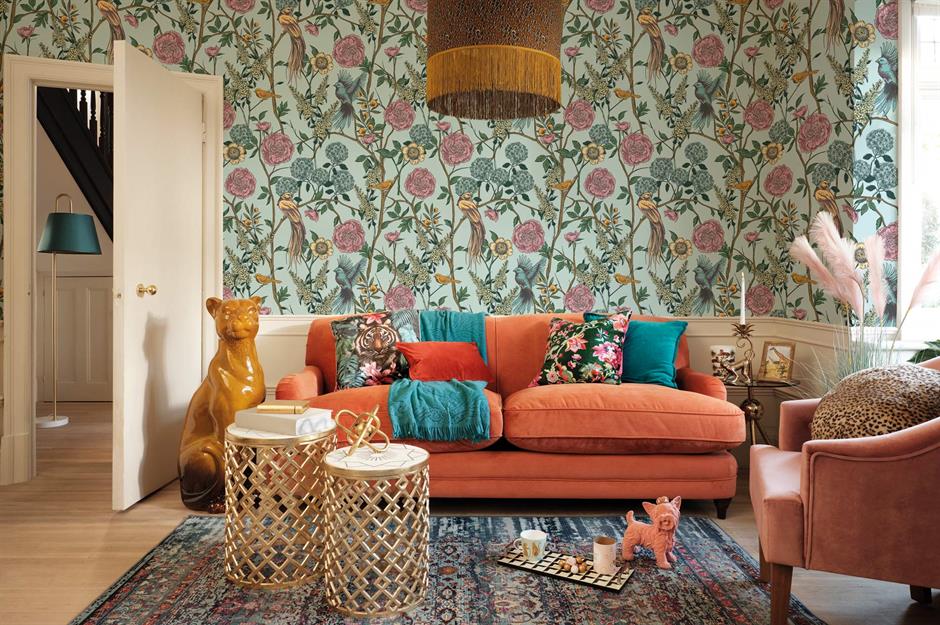 HomeSense
Turn up the retro feel to the max with a 1970s inspired look that's all about bold pattern, luxe finishes, golden tones and out-there shapes. Fringed accessories add a touch of kitsch and animal ceramics complete the look.
Nail the biophilic trend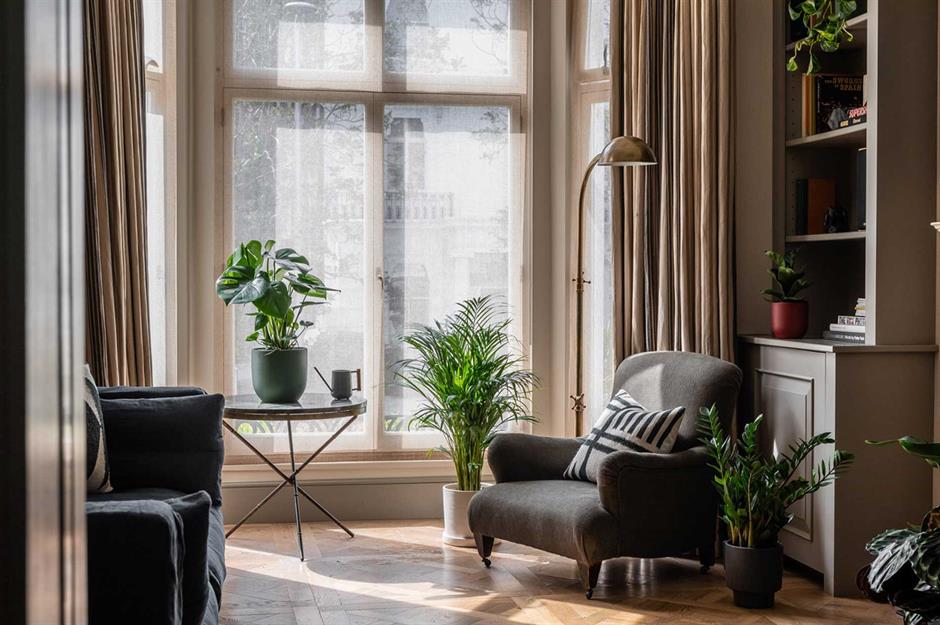 Leaf Envy
Bring the outside in and give your period room a natural look using earthy neutral and botanical elements that add warmth to the space. Combined with a charcoal sofa and windows framed with full-length curtains, this space looks ultra-chic and refined. Finish the look with layers of plush cushions as well as houseplants aplenty.
Think au naturel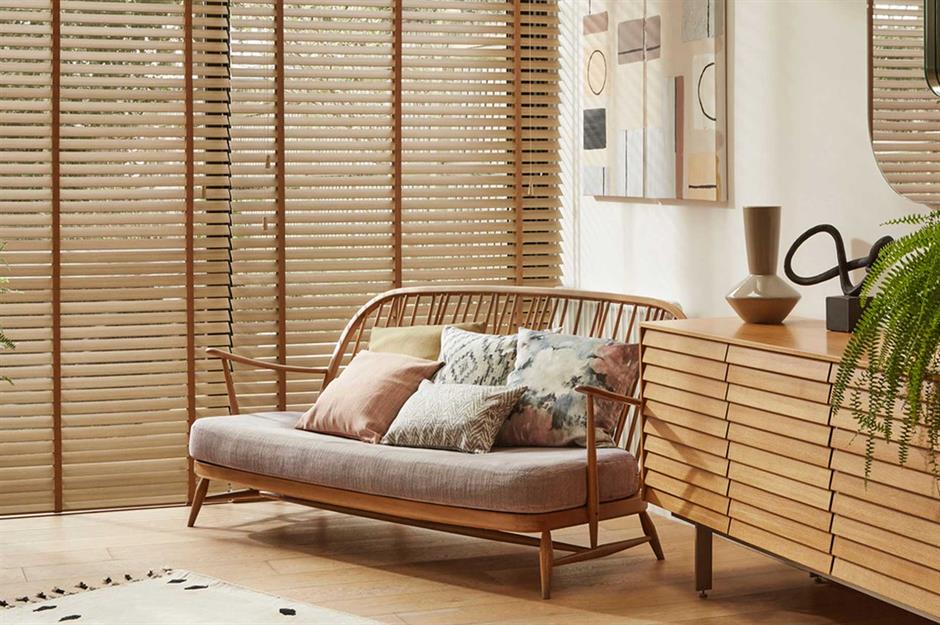 Hillarys
Mix organic textures and wood materials to create a refreshing natural space that's modern and grounded. Stone, wood wicker and rattan will warm up neutral walls and connect with our love of nature. Continue the look of life with potted plants and cushions with leaf prints.
Perfect the positioning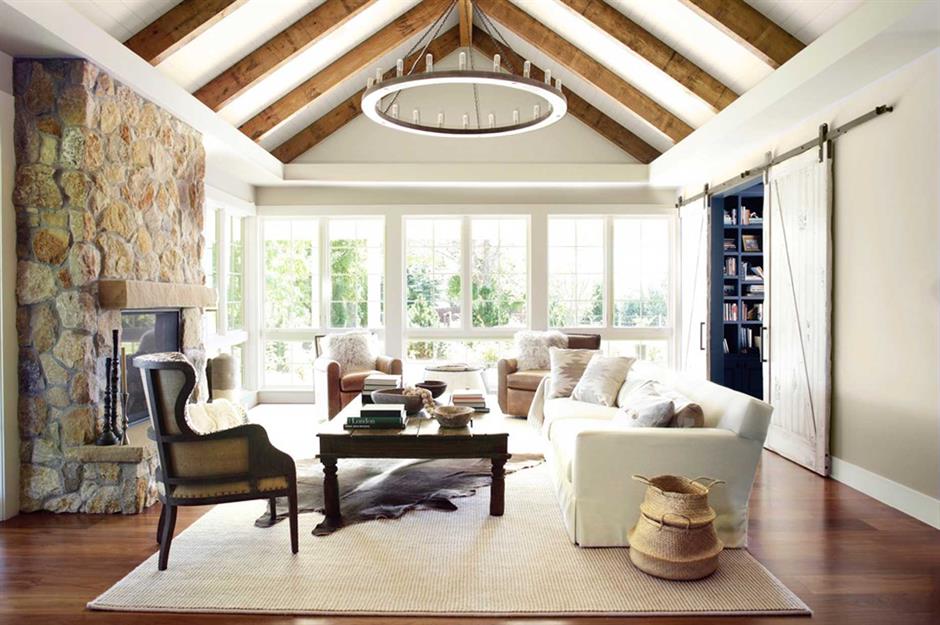 Benjamin Moore
Once you've chosen the right backdrop, and chosen your furniture take some time to consider and experiment with where to position everything. If formal is your thing arrange seating towards each other and away from walls. Or, for a more relaxed family setting place comfortable seating in a cosy living room layout set towards the TV.
Step up the storage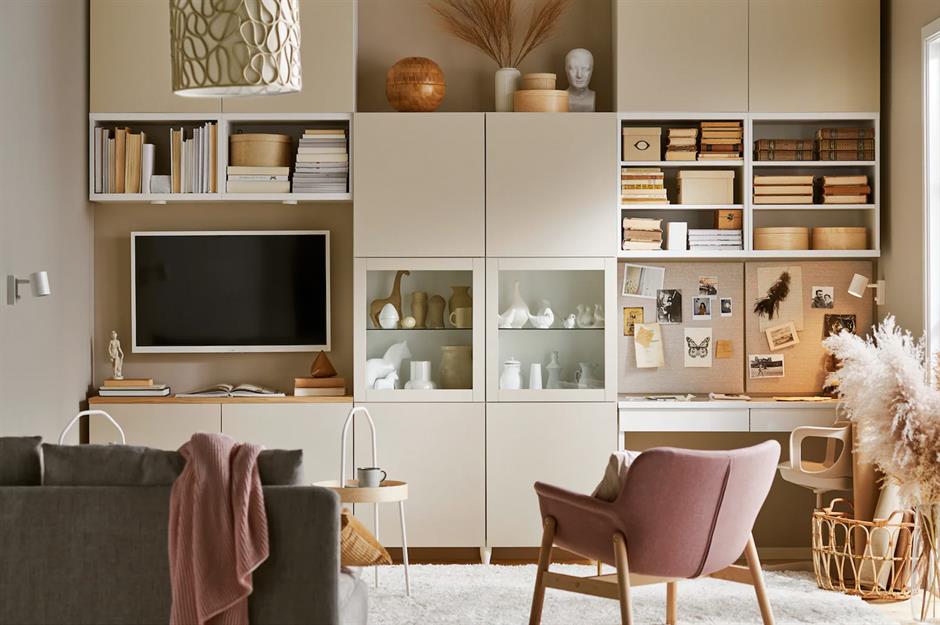 IKEA
Organise and showcase your favourite belongs with wall-to-floor storage. Furniture stores famous for flatpack systems like IKEA are a perfect place to start. Opt for combinations that allow you to mix options and closed fronts to balance the function and style that suits the living room size.
Layer one colour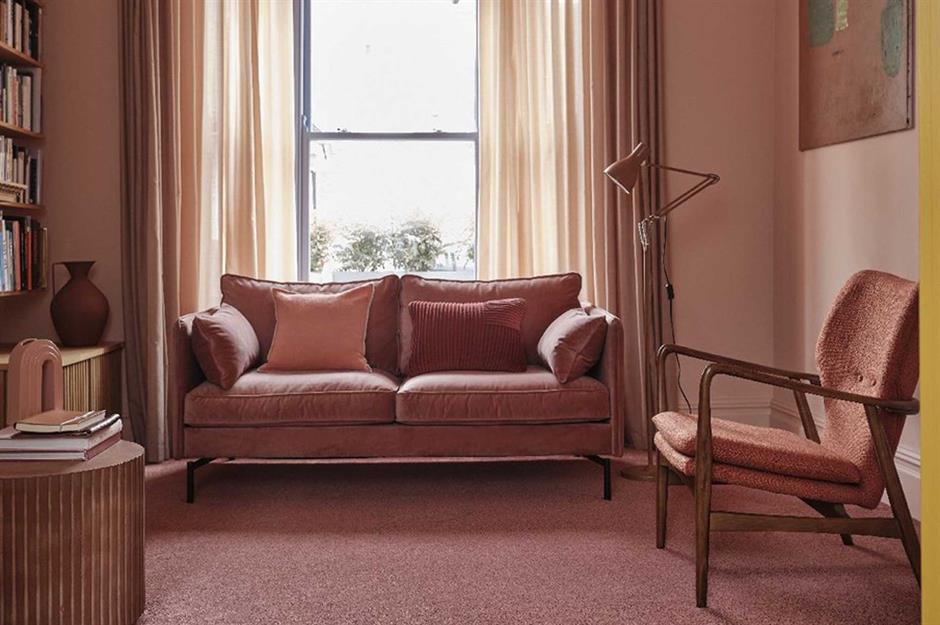 Carpetright
A monochromatic scheme means decorating your space with just one colour in varying shades and hues. It's most commonly created with a neutral tone but we love this take on pink that transformed a small box room into a warm rose-toned living space full of romantic character.
Make the most of alcoves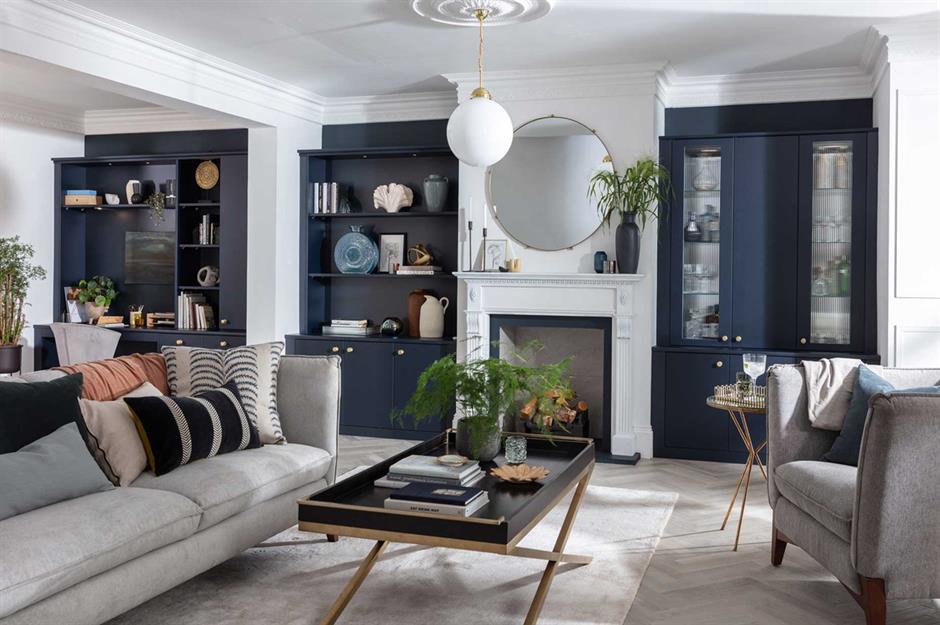 Sharps
Period properties with living room fireplaces mean there are alcoves to be utilised. There are plenty of ways to streamline or highlight the recess spaces to provide storage space and character. These built-in in shelves and bookcases look timeless and striking painted smart navy blue.
Enhance the TV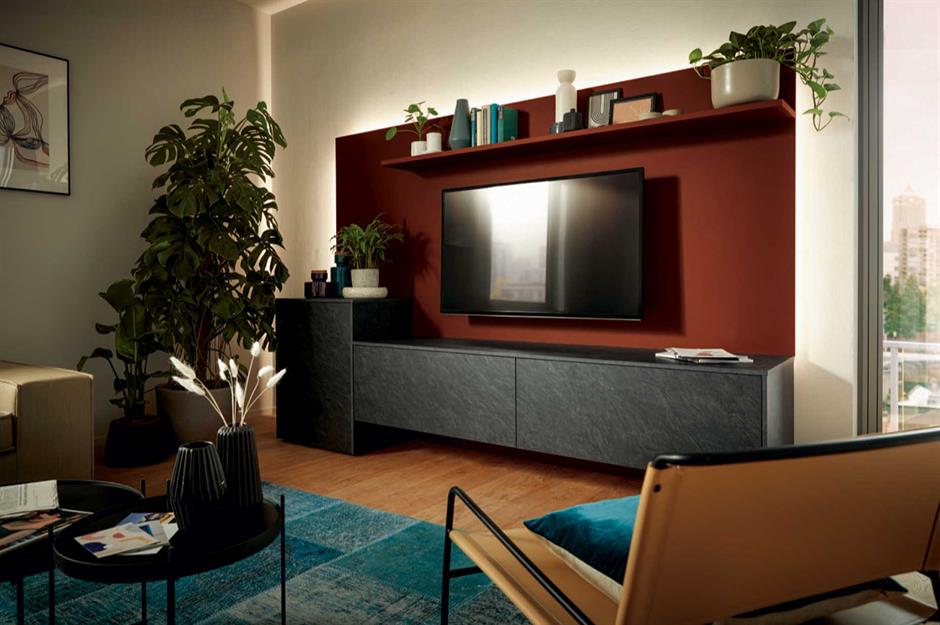 InHouse
Instead of hiding the TV why not make it a main focal point? Almost every living room includes one so bring your television into the forefront of the room in style. We love this back-lit panel that not only hides wires from the mounted TV but brings with it a rich colour and creative character. The matching shelf with well-positioned accessories completes the innovative look.
Nod to Nordic life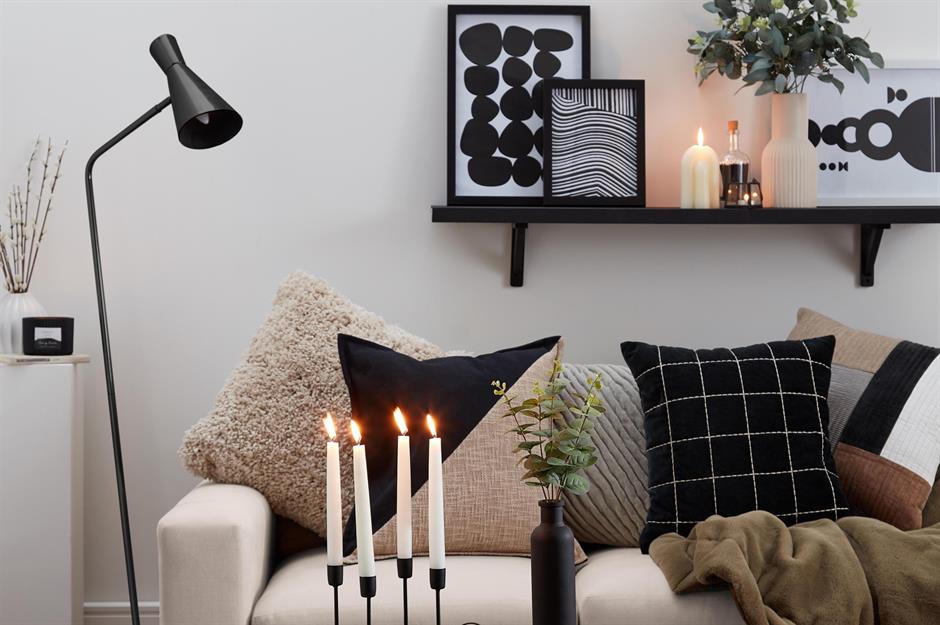 B&M Stores
Keep your small living room grounded in the Scandi way with a simple colour palette that suits modern living. Start with a neutral backdrop and sofa and then layer up a clean yet warm accent colour combination of taupe and black. The great thing about this look is that it can be easily updated with fresh accents later.
Look for affordable icons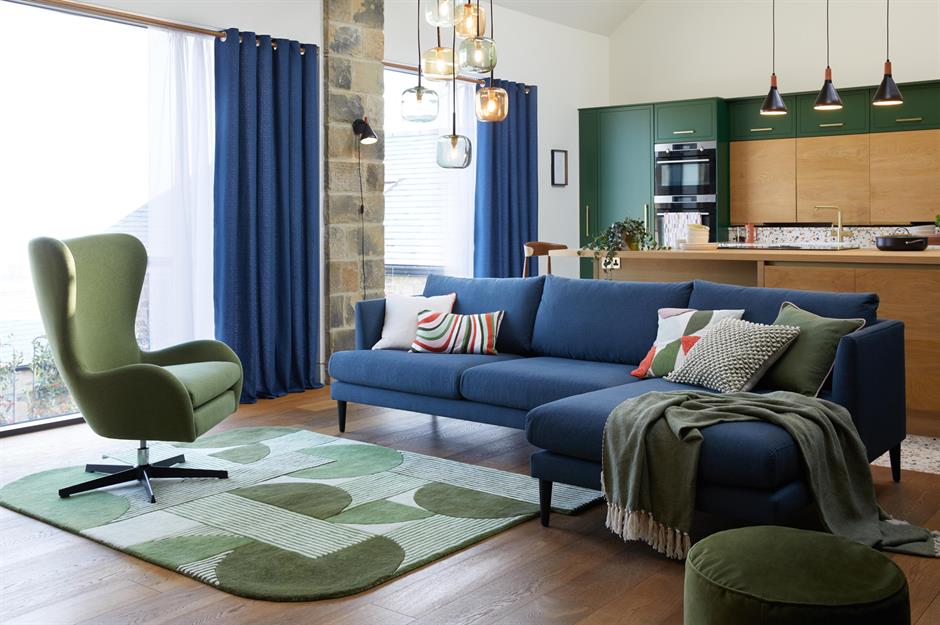 Dunelm
Inject contemporary style within an affordable price bracket by choosing modern furniture that's practical for everyone. This corner chaise with slim arms is perfect for compact open-plan living. Quick and easy personality can be added with playful and colourful cushions. The green arm-chair makes a budget-friendly statement echoing a famous Fritz Hansen design.
Add in Americano vibes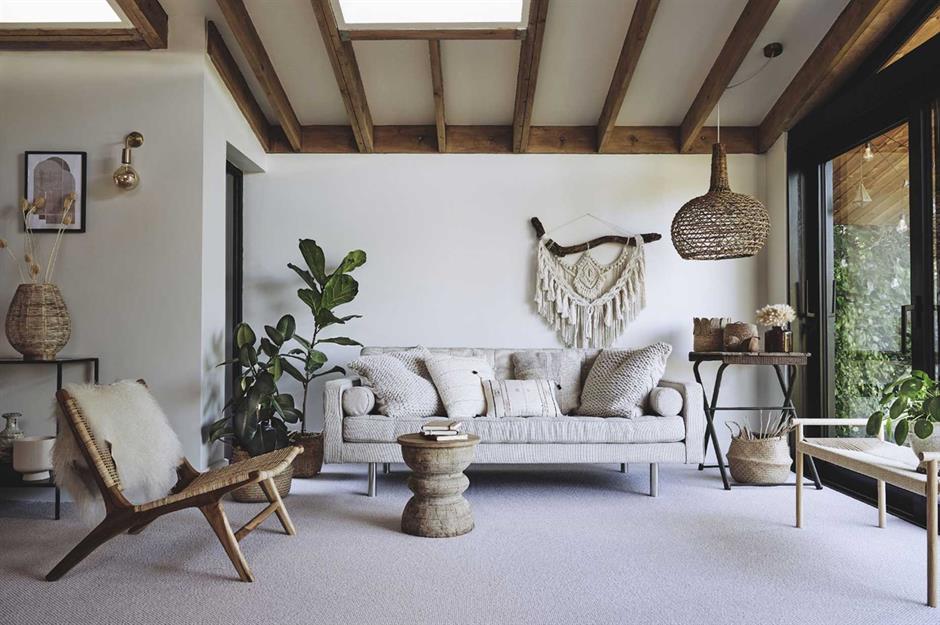 Carpetright
Make moves in the living room with a spectrum of pale neutrals, earthy browns and coffee accents. Natural wood and leather fabrics mixed with Kilim print cushions, macrame wall hangings and oversized plants will conjure up a laid-back and eclectic look that's filled with All-American character.
Dream up a blue scheme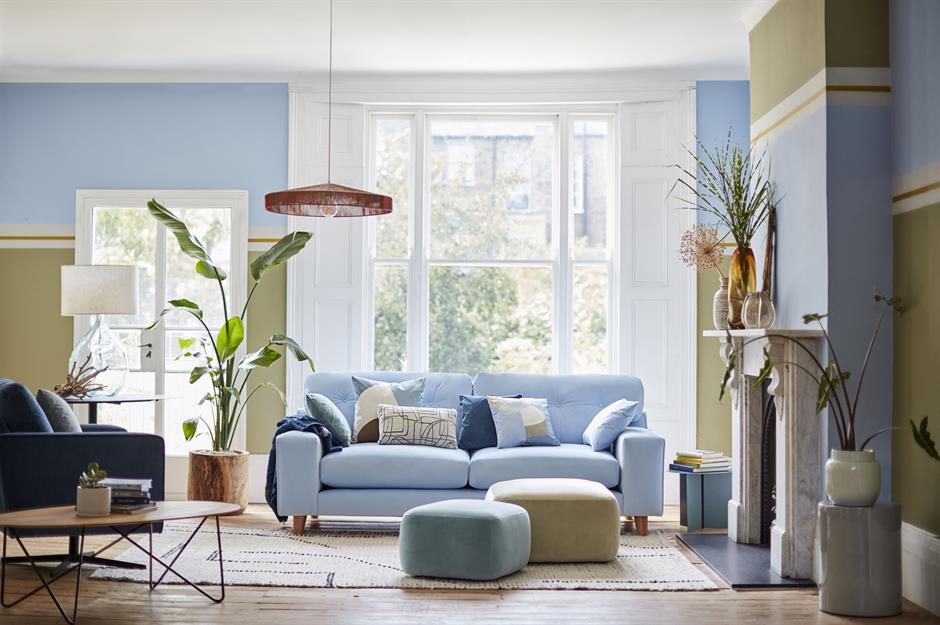 DFS
Dulux Colour of the Year 2022 is named 'Bright Skies' and is intended to breath a breathe of fresh air into schemes. Start with a pale blue sofa and pair the positive paint tone with a versatile green to add an energetic and organic twist to your living room.
Keep it casual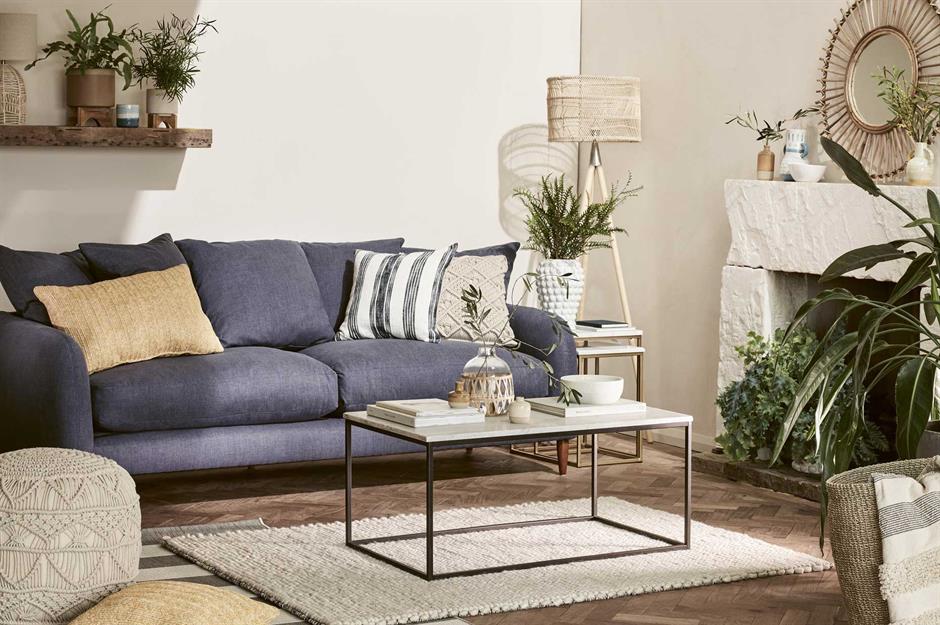 M&S
Give your living room a Savannah sky vibe with embroidered textures and fun motifs like colourful pom-poms and macrame. A monochrome palette will keep the scheme contemporary and sharp. Bring in warming elements with rattan accessories and lush green plants in clay pots. This look works well in bright living rooms, so could also suit a stylish conservatory.
Stay with grey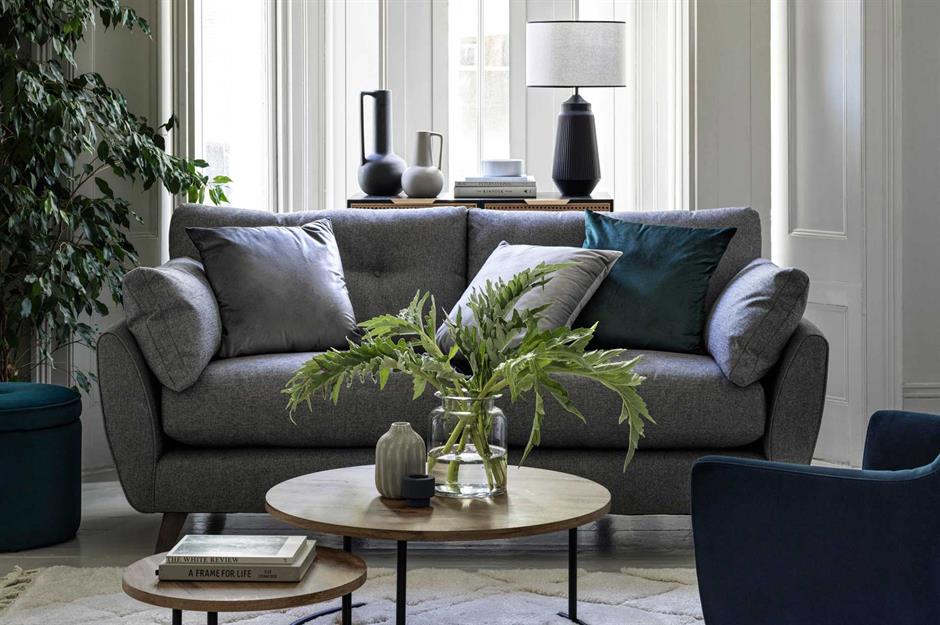 M&S
Still the favourite neutral, grey is a modern and versatile colour scheme for laid-back living rooms. Layering different shades will give off a calm and sophisticated look that is not only easy on the eye but just as simple to update for every season with new accent colours.
Play with pinks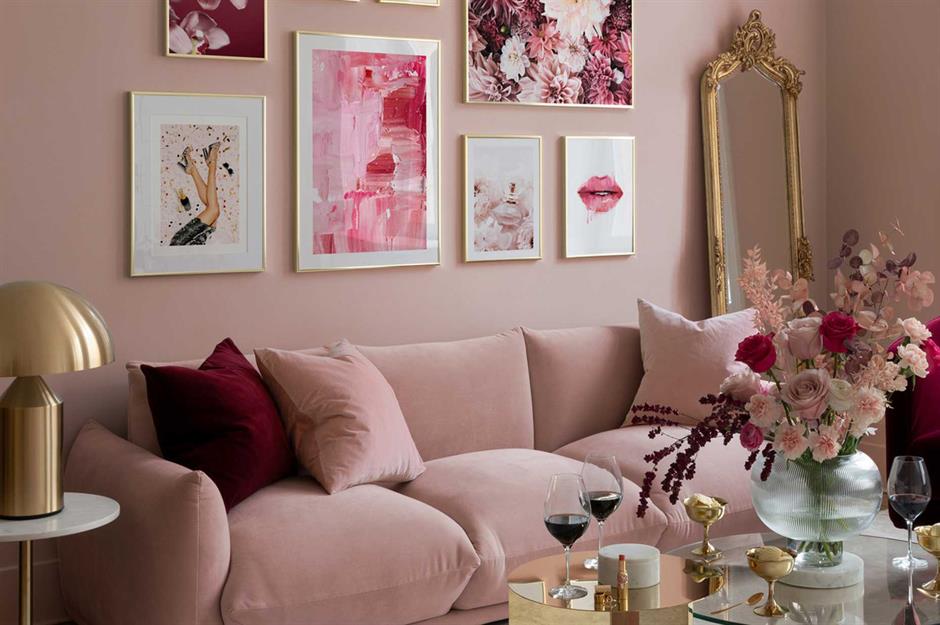 The Poster Store
Combine the colour of the moment, blush pink with gold furniture for a living room that's on trend and luxe. The soft rose tone looks grown-up and sophisticated, especially when set against ornate features.
Lengthen the curtains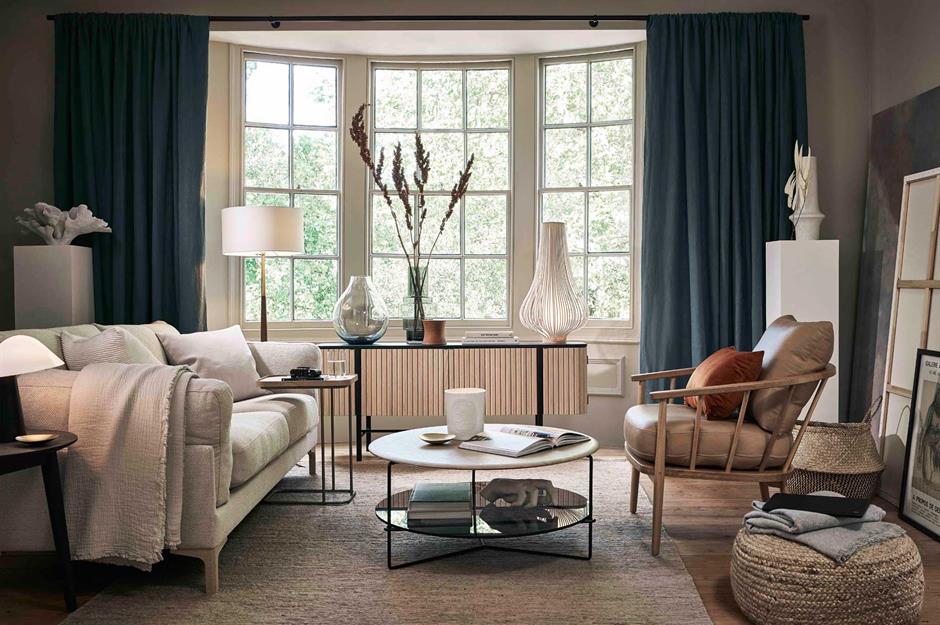 If you're choosing new curtains opt for floor-skimming ones, even if your window stops halfway down the wall. Just as a long evening dress looks much more luxurious than a knee-length number, floor-length window treatments will make your whole room look and feel much more special. On a practical level, they will be very effective at keeping out draughts, which will make the room warmer and reduce your winter heating bills too.
Take on terracotta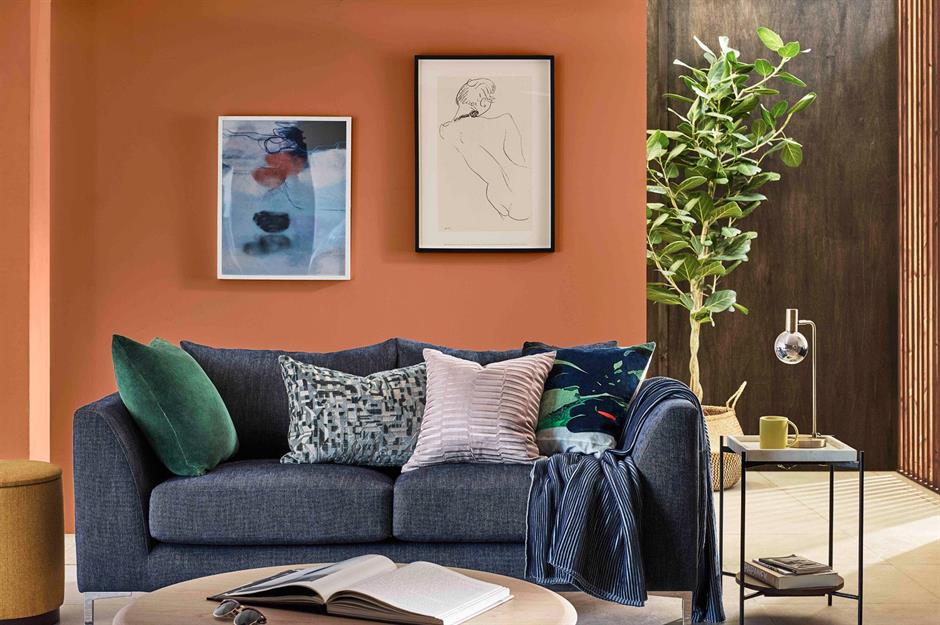 Earthy tones such as terracotta, sand or beige are a key colour trend, allowing us to create living room schemes we want to settle into after a busy day. Team with natural wood, greenery and layered textures.
Take on retro vibes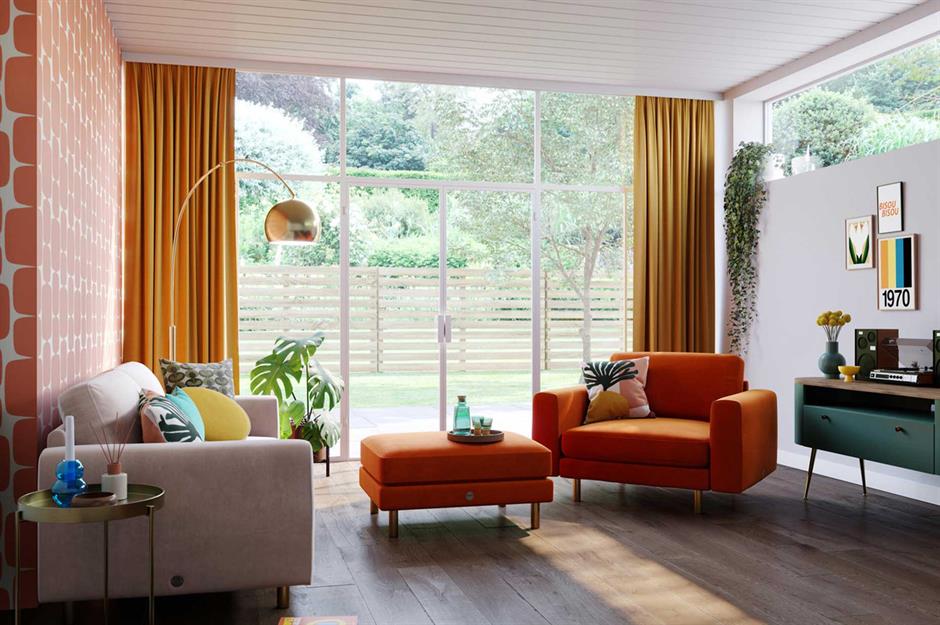 Snug Sofa
Get a retro movie set feel with 70s inspired colours, patterns and furnishings. Think clashing shades – like this knockout ochre and teal and tangerine colour combination. Furniture should have distinctive mid-century looks and the more pattern the better, especially on walls or floors, through framed prints, rugs and soft furnishings.
Mix up maximalist style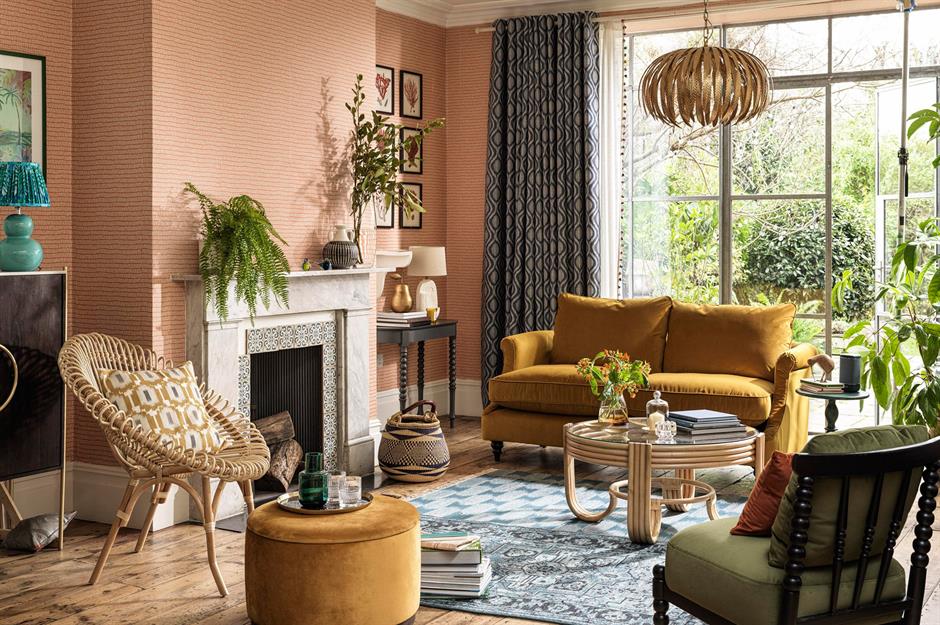 Take a tip from the maximalists (inspired originally by the Victorians!) and layer up opulent colour and pattern on furniture, fabrics and wallpaper. Not for the faint-hearted decorator, it's a simple technique for creating an unforgettable look that's rich, fashion-forward and very bold.
Layer up texture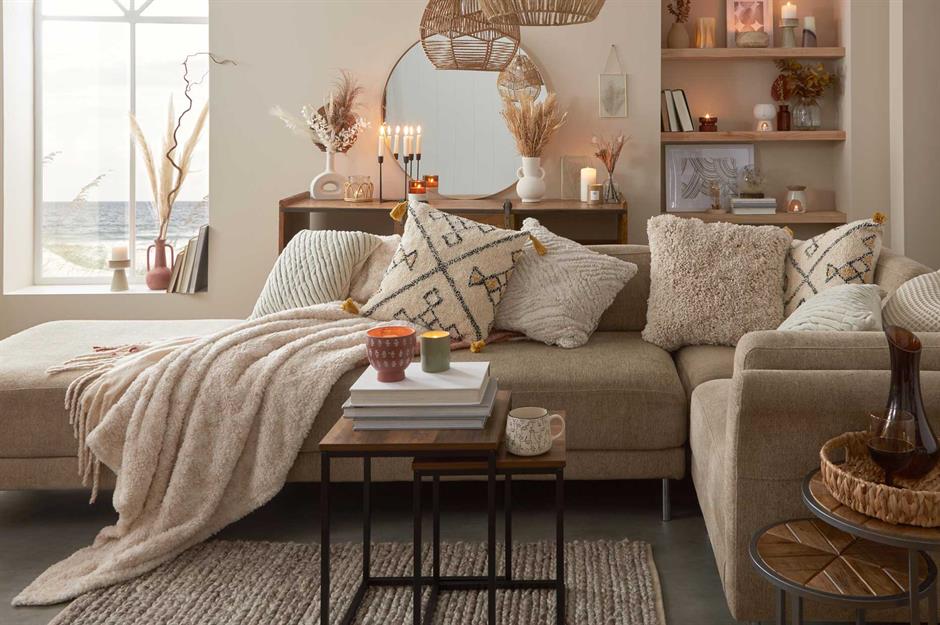 B&M Stores
Go for the boho look with a mix of materials including rattan, wool and decorative metals. This budget friendly modular sofa is layered to the max with cushions and textiles to create a cosy and inviting atmosphere.
Choose glamorous furniture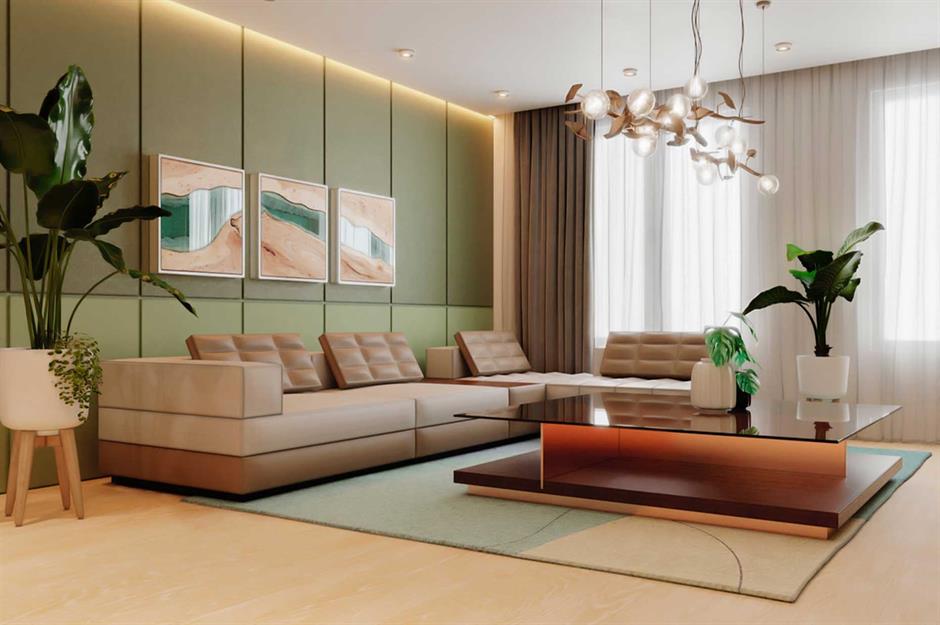 Cafe Latte
Inject the energy and style of a cool LA condo with a refreshing green and taupe palette teamed with a contemporary modular sofa. Accessorise your up Santa Monica-style retreat with Art Deco-style lighting and accessories in a gold metallic finish to take the glamour through the roof.
Display a mural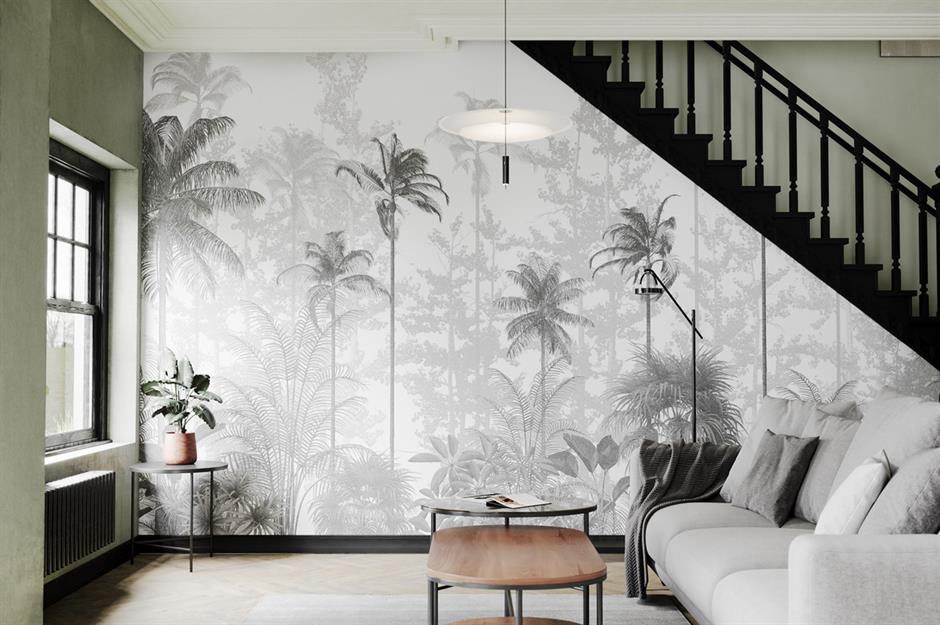 Bobbi Beck
Dramatic wallpaper can look stunning, especially when a feature wall becomes a full pictorial mural. Perfect for both modern and period settings, it has that high-end feel. This muted and whimsical design transports you to exotic jungles and envelopes the living room in luxury and serenity.
Jump into Janpandi-style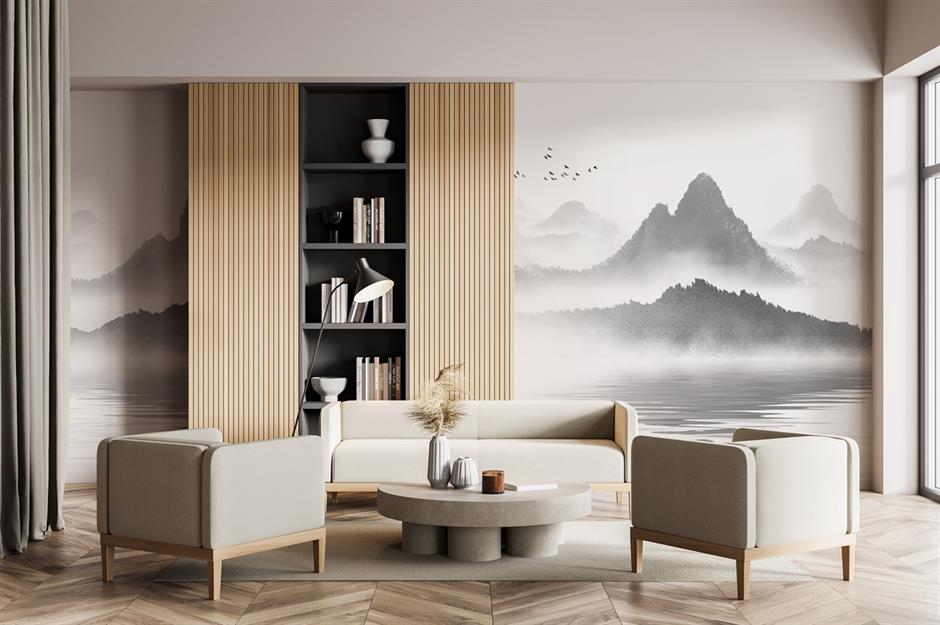 Bobbi Beck
Japandi is a hot trend that blends Oriental zen with Scandi minimalism and is taking the interiors world by storm. To get the look in your living room choose soft tones like ivory, sand and buff and team with strong lines and natural textures for a Japanese-style living room that's pale and interesting.
Work in wallpaper
Wallsauce
You can add pattern and interest with a wow-factor wallpaper, without overwhelming a room as this lovely Full Bloom Chinoiserie scene wallpaper proves only too well. This mural-style repeat pattern looks serene and harmonious on just one wall as shown here; its subtle colour tones are picked out perfectly with the soothing blue furniture and accessories.
Curate an art gallery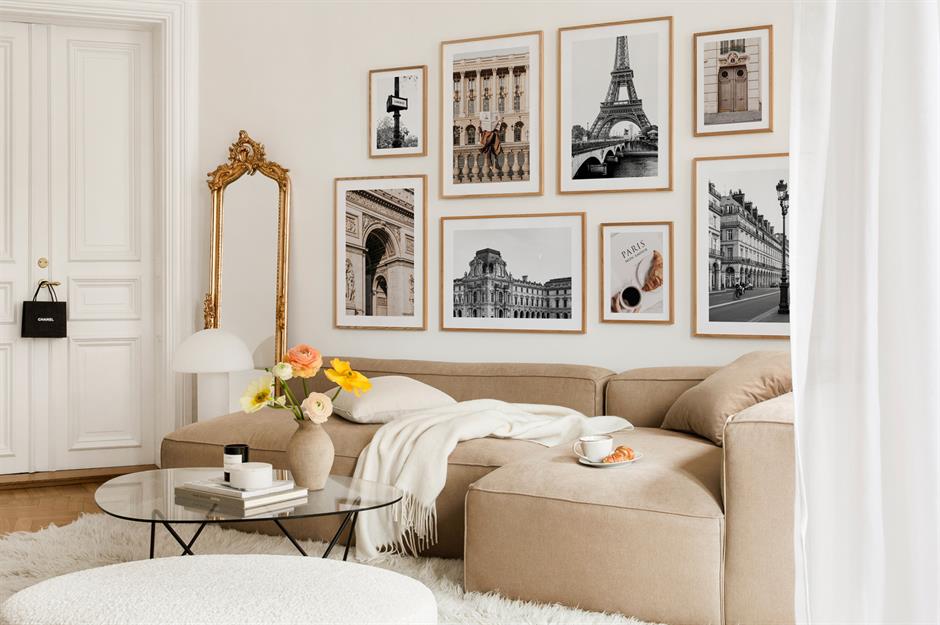 Desenio
Thoughtfully displayed artwork will instantly inject an air of understated opulence into your living room. A lot of thought does need to be put into how the art is arranged, however. A mix of sizes and types of artworks and frames is fine, just make sure that they are all equally spaced and look balanced on the wall. Arrange the pieces on the floor first, then use a spirit level and measuring tape to ensure that they are perfectly positioned. This small living room looks chic with Parisian-apartment style.
Focus on ditsy florals
Next
If you prefer a pretty floral look, why not bring the pattern in with a twist? Floor-length curtains such as these with lavender and dusky pinks set on a black fabric will inject a Roma-style that's striking and pretty. Pale furniture will balance the look and is in keeping with the classic country house scheme.
Bring in a hero pattern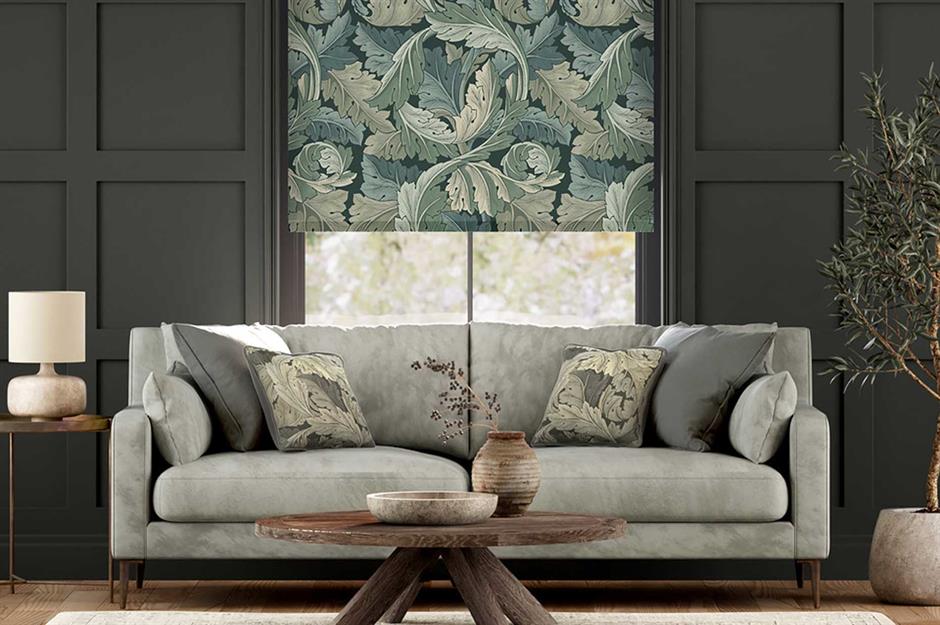 Blinds 2go
Add pattern, colour and a put-together feel with a statement blind in complementary colours. This classic leaf design from William Morris adds instant cool points to a dark backdrop and ties the grey sofa, green cushions and dramatic seaweed green walls into a scheme that's traditional yet comfortable.
Double up on function
HomeSense
Nowadays living rooms serve more than one purpose. Blur the boundaries between work and play by adding a chic home office to your living area that's seamless. A soothing colour palette and open storage maximise the sense of space and keep the look coherent.
Style it dark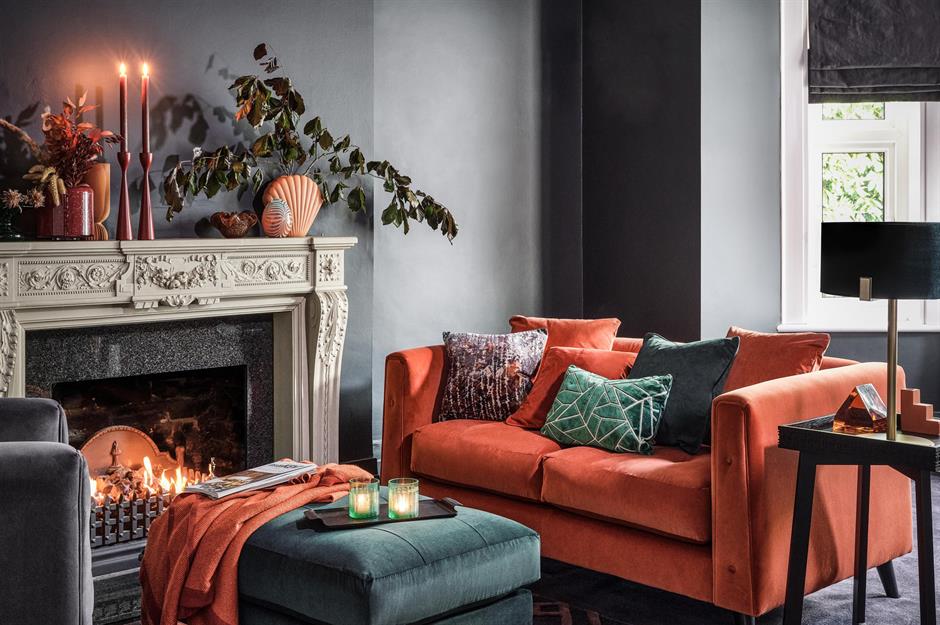 DFS
You have to be brave to paint walls black but it works so well when teamed with colourful furniture. Burnt orange and autumnal shades will tone the darkness down, while metallic finishes add to the luxe style of this striking living room look. Go on, we dare you…
Add panelling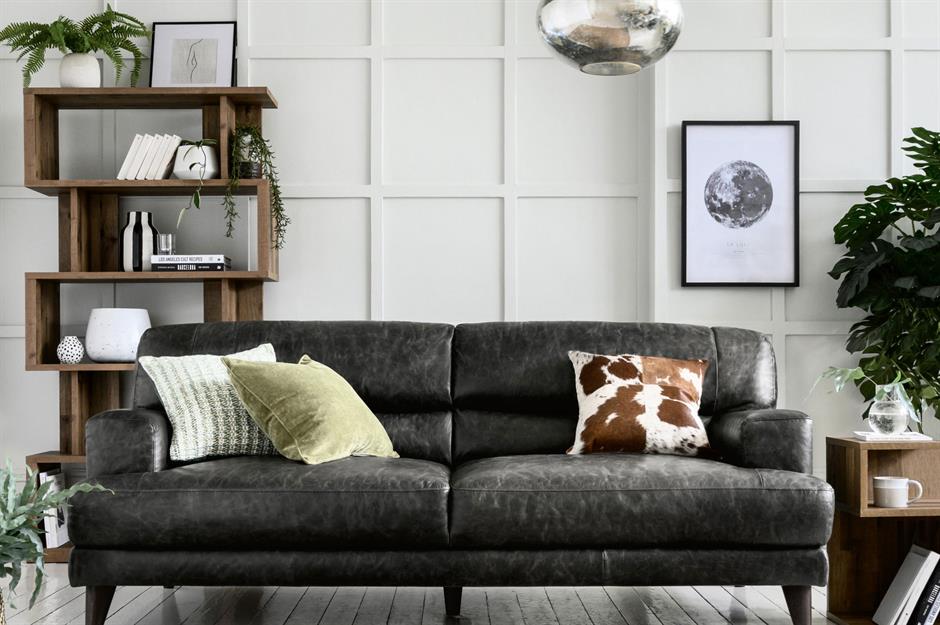 Next
Wood panelling mounted on walls gives a shortcut to elegance – it's no surprise DIY versions are all over our Instagram feeds! Modernise its stately reputation by painting it an uplifting and refreshing colour. We love the idea of teaming refined panelling with modern metallics and cowhide prints for a punchy space cowboy vibe.
Bring in rattan
Ella James
Wicker and rattan furniture is naturally chic and everywhere right now! Making its way in from the garden into our living rooms the natural cane material is hot, not just in seating but mirrors, light shades, coffee tables and planters. Use to add artistic texture to a stark background or team with an earthy palette and plenty of plants for a homely scheme.
Colour block the walls
B&Q
Get creative by painting your living room with interesting shapes and patterns. This type of paint effect takes the popular two-tone trend to another striking level. Mask out different shapes and angles and paint in the blocks with contrasting and vivid colours for a fun and updated look. Finish the feature with a contemporary gallery wall of funky prints.
Lust after linen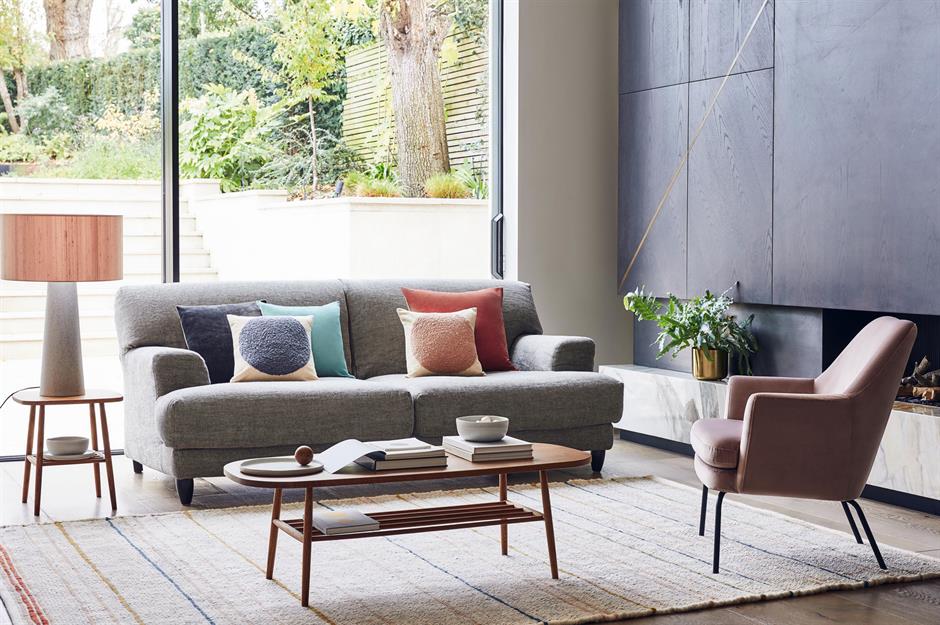 Habitat
The vibrant velvet trend is giving way to more relaxed and informal colours and textures such as calming linen in modern living rooms. Continue the cocooning yet stylish look with oversized furniture and soothing colours.
Immerse yourself in wood
IKEA
As natural elements consume interior trends right now, of course, wood is a timeless favourite for living room schemes that never fails to warm a space. This small living room has been injected with stylish 'cabin fever' by layering wooden walls, flooring and storage furniture. The look is perfectly balanced with muted but cosy soft furnishings
Hang a rug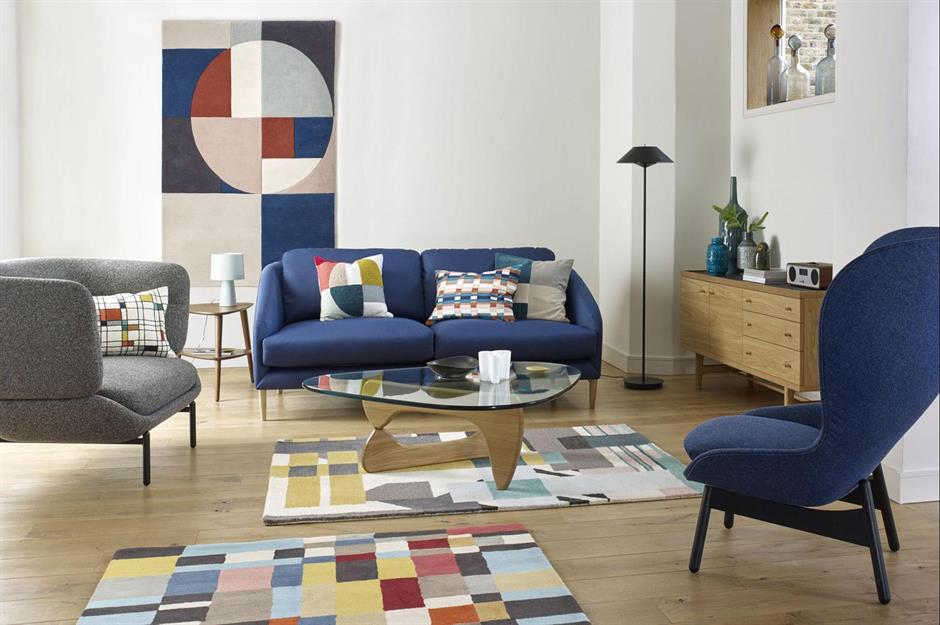 Rugs in bold colours teamed with mid-century style furniture give this living room a retro elegance. Take inspiration from the primary colours and simple forms of Bauhaus patterns on soft furnishings and bring the look bang up to date by mounting floor coverings on the wall to create a striking feature.
Swing around in style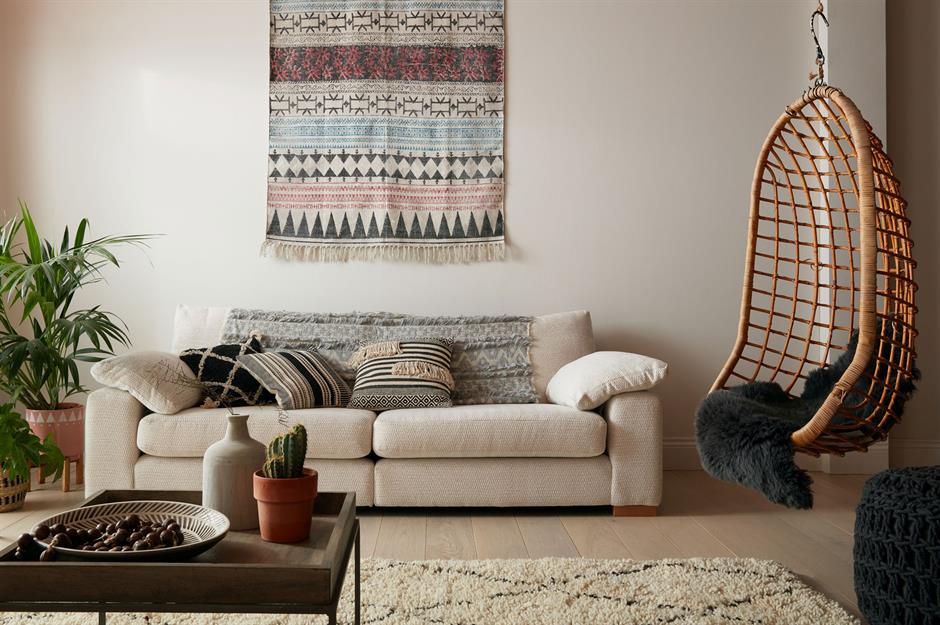 Sofology
Create a social space for lounging that's as stylish as it is practical with a statement chair to turn heads. Here, a wicker egg chair swings perfectly in this casual living room full of layered texture and boho vibes.
Delight in Danish style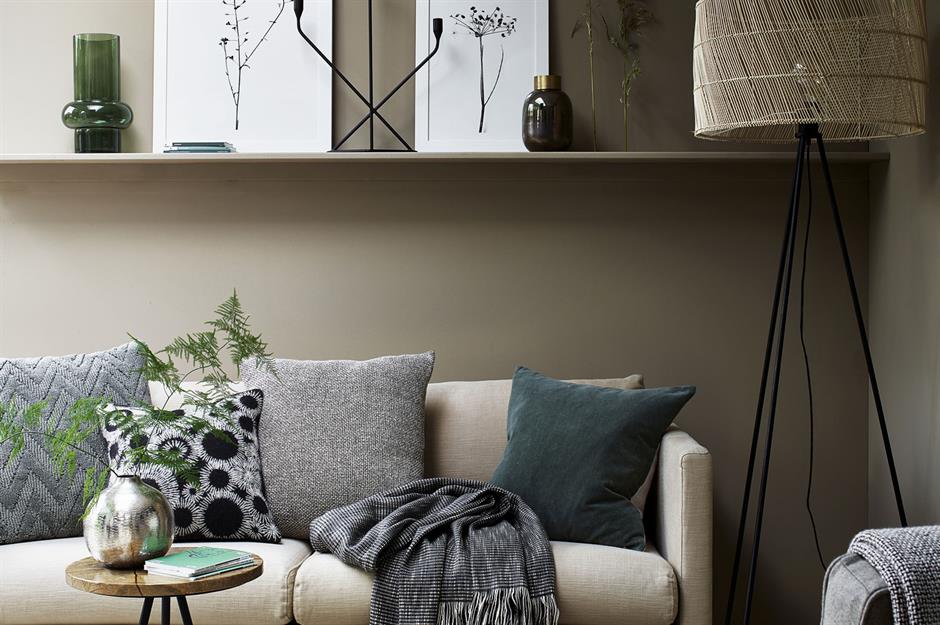 Debenhams
Warm up a beige living room hygge style with muted colours and natural materials. Add visual interest, by placing a low shelf above the sofa to display stylish prints and accessories that enhance the cosy and relaxing space.
Go for a global vibe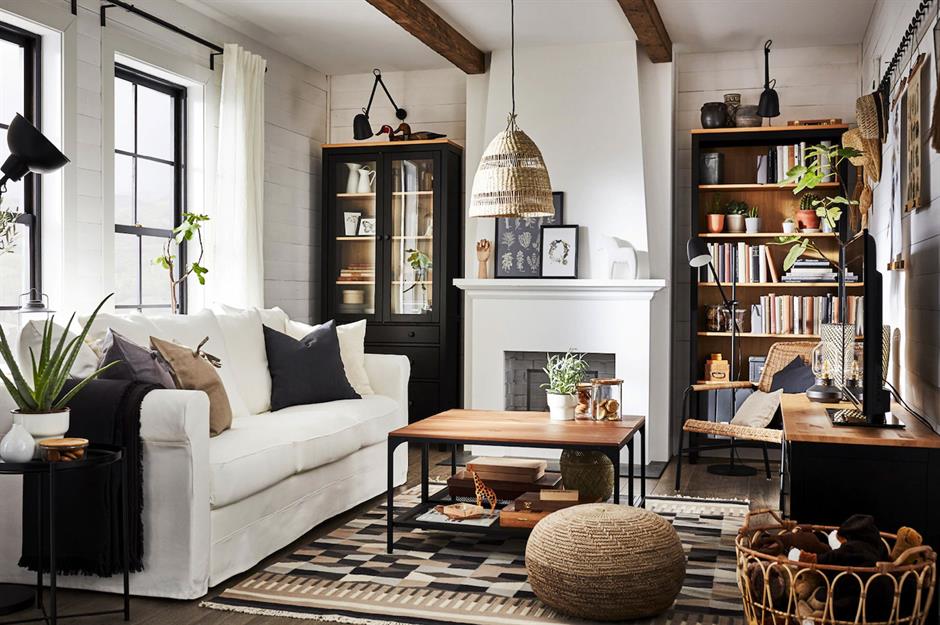 IKEA
Add something personal and unique to a space to make it your own or even use it as a starting point to a decorating scheme. Whether that's an old wall clock that's been handed down through the family or an upcycled brass lamp that you found on your travels, these treasures can transform a plain living room with their decorative charm.
Fall into velvet
Oliver Bonas
Velvet sofas do have their place as a living room luxury – and we can see why. The plush fabric brings sophistication no matter what shade you choose. If you can, layer up with two or three bright shades of the plush fabric for a grown-up and vibrant seating area.
Change up the colour hues
Matalan
Contrasting soft furnishings are an easy way to inject character into a living room without touching the walls. The perfect solution for renters, soften and balance the space with classic furniture in warm wood. And, if you can't leave those walls, why not try your hand at a muted paint effect? This cool concrete look pulls abstract pattern together.
Inject modern florals
DFS
If you like flowers but not the traditional, ditsy styles then this is the floral scheme for you. Combine large abstract blooms with zingy shades for a contemporary look that is still elegant. Floral upholstered furniture will add an unusual focal point with uplifting results.
Feature leather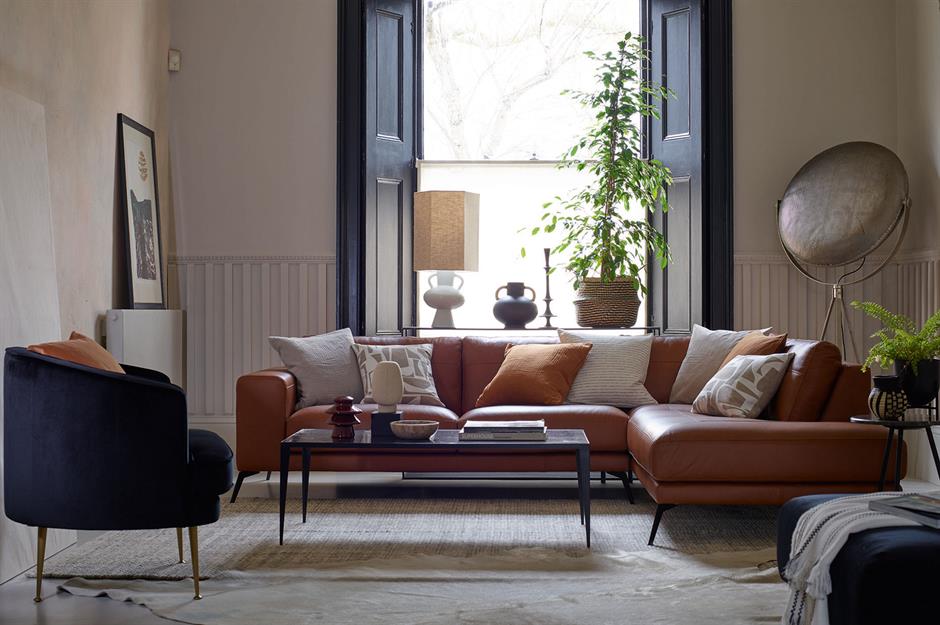 DFS
Leather has the rare advantage of only looking better with age, so a leather sofa is a wise investment if you aren't planning on updating your look for a long time. From pale tan to rich chocolate tones, the material sits perfectly within modern neutral schemes. For a worldly twist; think Berber-style rugs, basketweave accessories and lush greenery.
Follow the seasons
Matalan
Be influenced by the seasons by giving a neutral living room summery warmth. Accent colours of sunshine yellow and coastal blue instantly warm up this pared-back canvas and work beautifully with the natural touches in the coffee table and storage.
Go big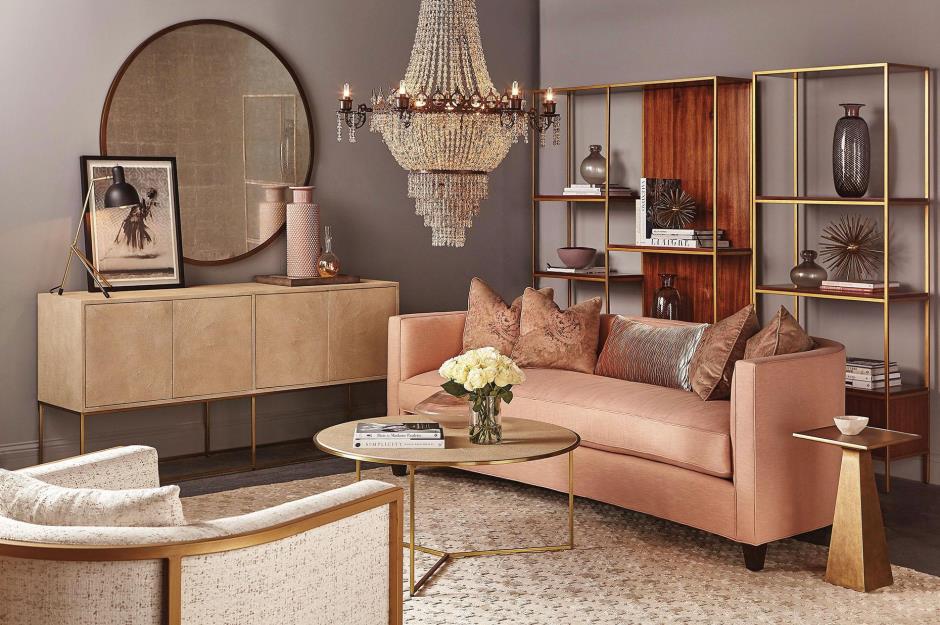 Houseology
…or go home! An oversized anything makes an instant impact, pulling the room's décor together and providing an interesting focal point. Here, a large shell chandelier is hung off-centre and purposefully low to become the focus of attention in an opulent rose-toned living room. Talk about statement lighting!
Add original art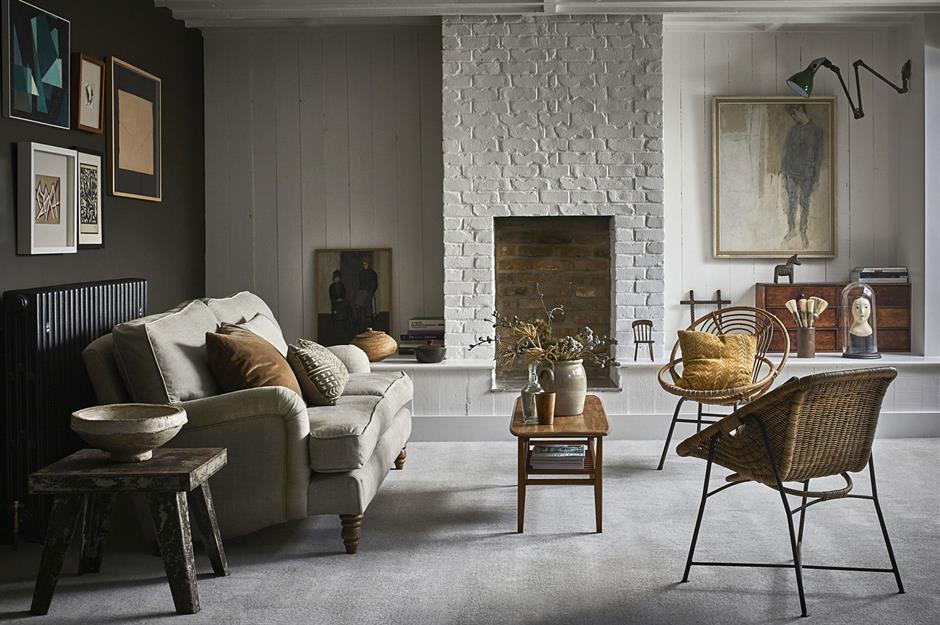 Carpetright
Spending money on a piece of artwork that you genuinely love is an investment of the very best kind. Even if you never sell it, it will bring you happiness for years to come. When it comes to choosing artwork, there really are no rules. Don't try to match it to a room – just choose something that speaks to you – and frame and hang it properly.
Enhance the light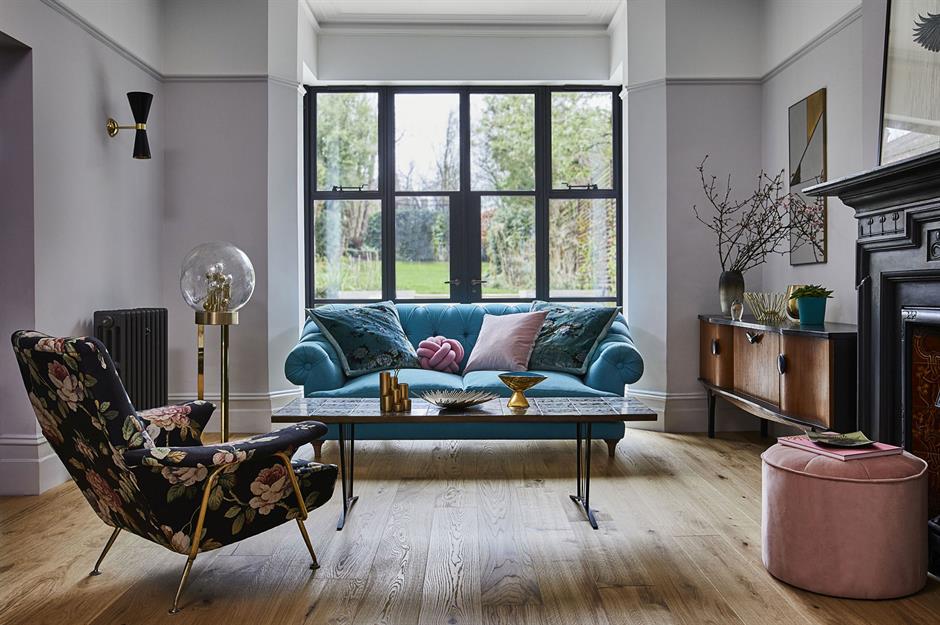 Carpetright
Make the most of what natural light you have by keeping walls light and floors pale. This stylish and airy living room takes on a minimalist elegance which is perfect for small spaces. The blank canvas is enhanced with seating that is pulled away from the walls to maximise the sense of space.
Pep up pastels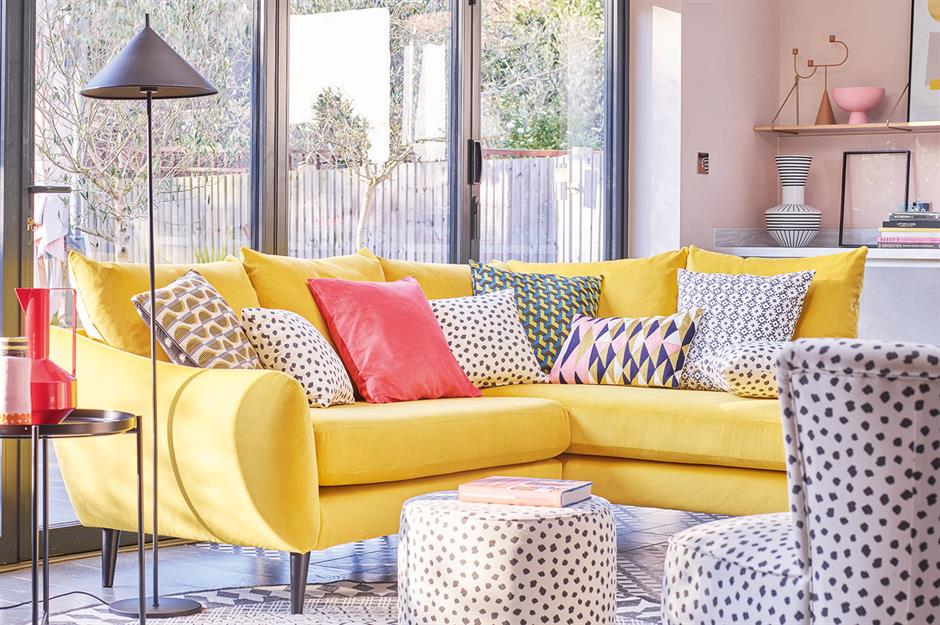 DFS
Muted pastels have been popular for a few years, but now these delicate shades have been taken up a notch to make them more vibrant. Shake up a pale backdrop with neon furniture and accessories in peach, zesty lemon and calming soft taupes for a modern update to these fresh flavours. Team the fun tones with a perky pattern: this monochrome dalmatian print is a perfect balance.
Go nude
Nest
Fresh and warm nude is a neutral shade that's having a fashion moment, yet it will always remain timeless. If fully undressed is too bland for you, opt for a barely-there backdrop and lift with stronger furniture and accessories. You can also choose one statement piece in a pink skin tone for a pared-back focal point, such as this sumptuous sofa.
Opt for accent chairs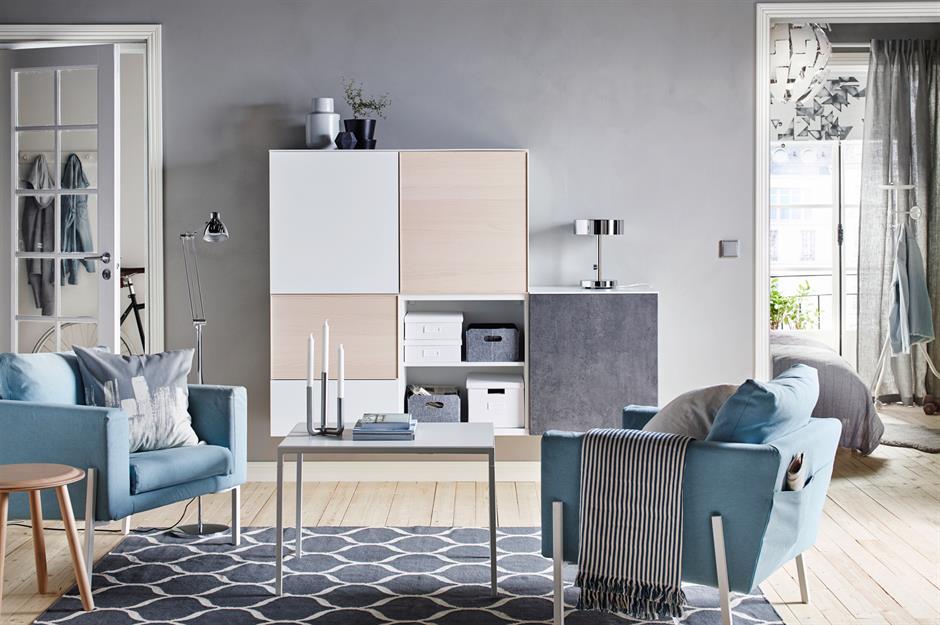 IKEA
If space is tight why not remove the sofa altogether and maximise space with stylish matching or clashing accent armchairs instead? Arrange a sociable layout and choose lighter shades for an open and laid-back feel such as soft blues and greys.
Sail into the blue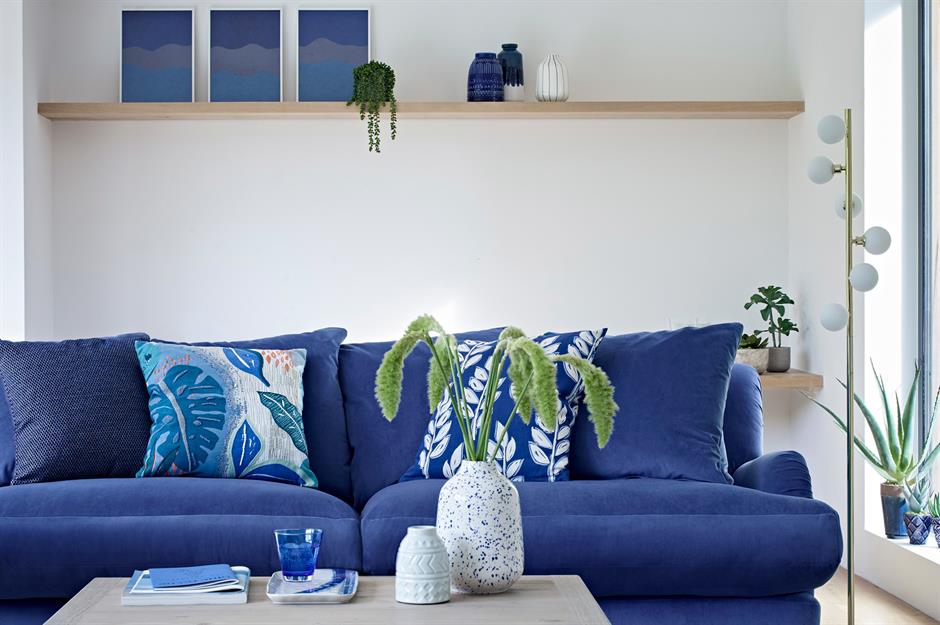 M&S
Get a fabulously fresh and modern living room with cobalt blue. You don't need much to make this colour scheme sing. Keep the look classic with white or neutral walls and create a holiday feel with a bright blue sofa, palm patterned cushions and seascape pictures set high on a pale wood picture shelf.
Dress grey with greenery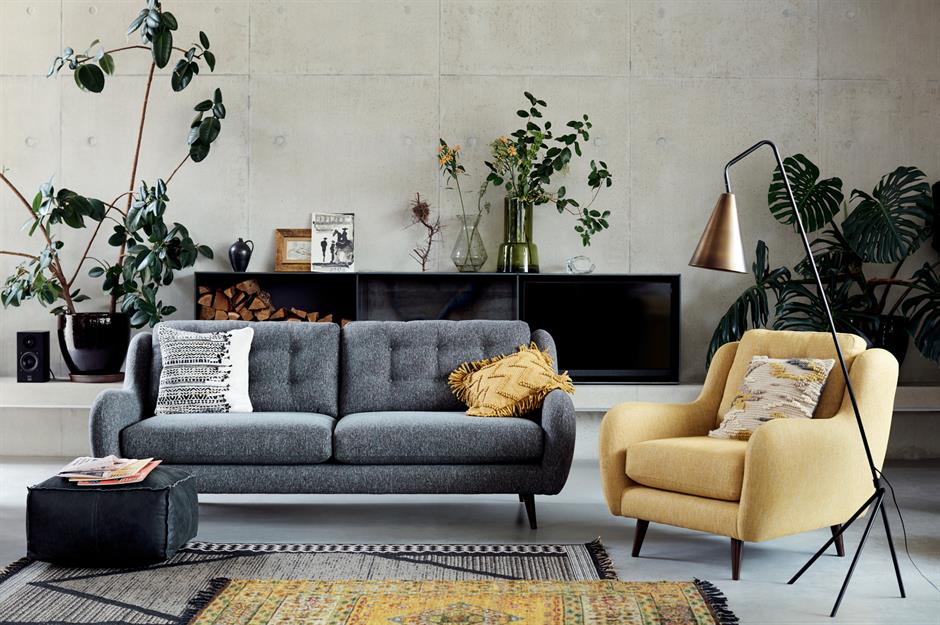 DFS
Decorating living rooms with houseplants was fashionable in the 1980s and the trend has returned full force! Paint walls a neutral tone to let the lush greenery pop out and choose structural plants that add visual interest such as spider plants, tropical palms and tall, rich fig leaves. If you don't have green fingers fake it with good quality faux versions.
Two-tone the walls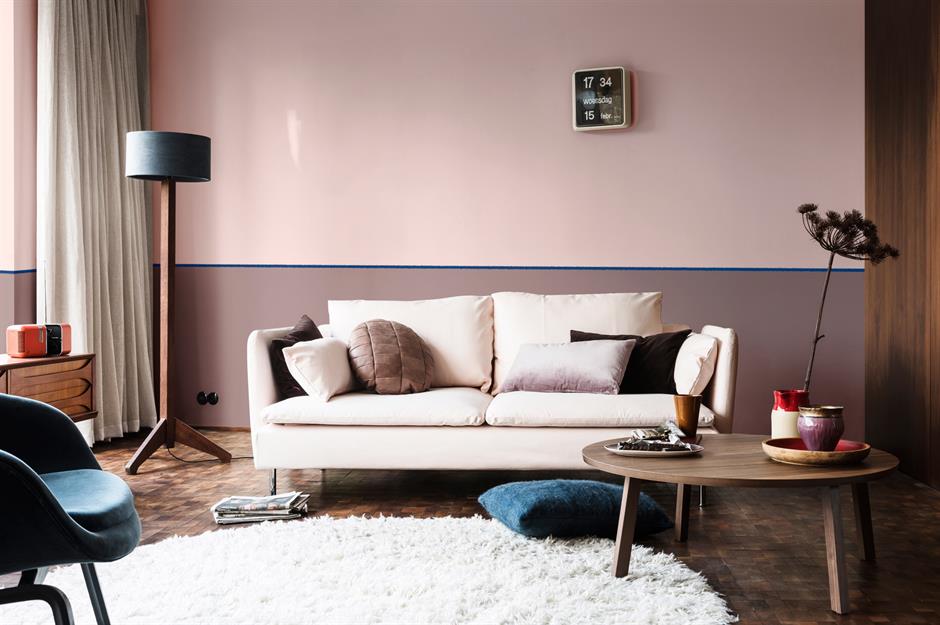 Dulux
Get that period living room feel by dividing walls horizontally and paint the sections two shades of the same or different colours. Complementary tones will make the room soothing and calm while more diverse colours will be striking and vibrant. Separate the two shades with a dado rail or a band of contrasting colour for impact.
Open it up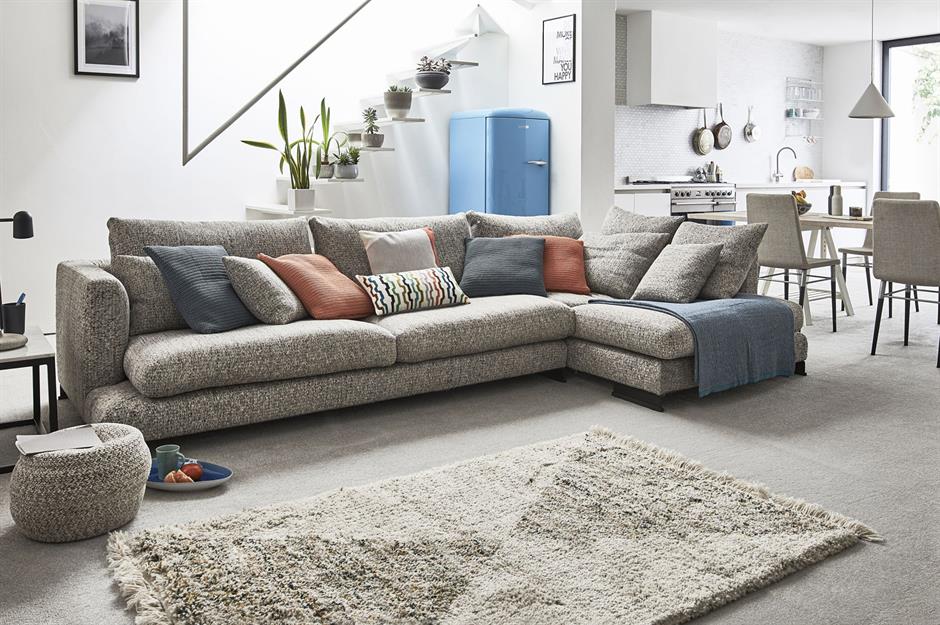 Carpetright
A white, bright and airy room, especially open-plan, creates a distinctly Scandinavian feel. Add a large, modern corner sofa, preferably in soft grey, and you've nailed the look. Textural accessories such as a neutral shaggy rug and lots of soft cushions will make the space comfortable rather than cold.
Hang pendant lighting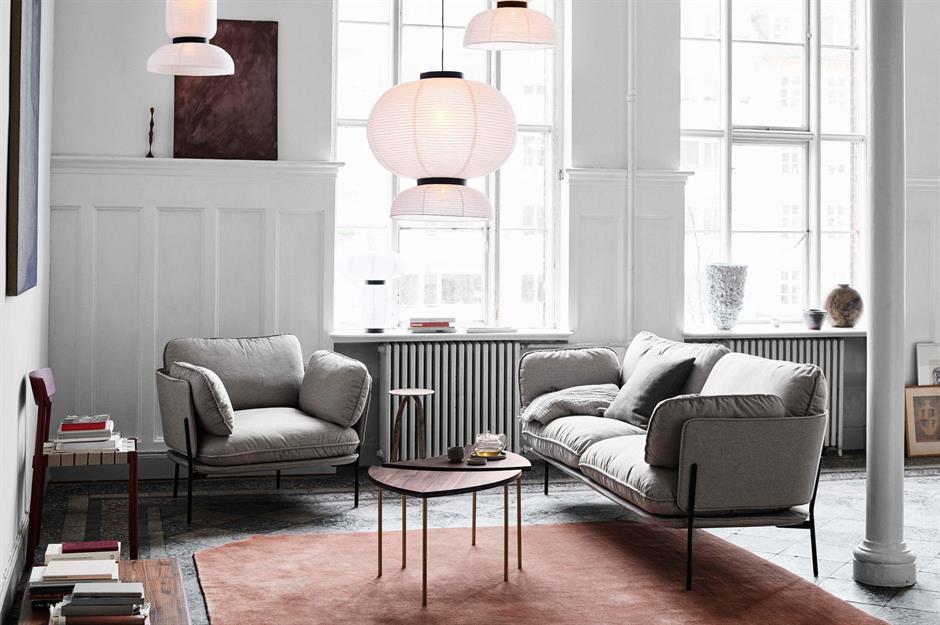 Nest
The latest smart home technology allows you to change the brightness, hue and even colour of your lighting from your phone or tablet. Employ it so that during the day the living room can be filled with bright daylight, even in deepest winter, but come dusk it can be changed to throw a more cosy intimate light over the whole scene with focal pendant lighting. All that is required is a switch to wireless-enabled light bulbs.
Pretty up pastels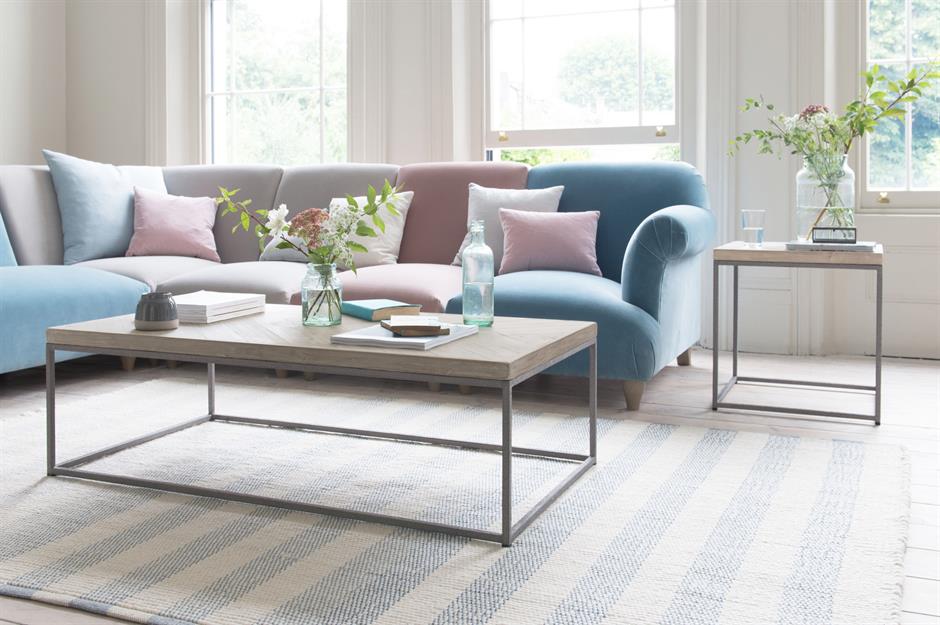 Loaf
Gentle pastel shades are perfect for patchwork schemes as the complementary tones will not overpower each other or look brash. A large sofa makes the perfect focal point to mix and match ice-cream colours – if possible use them on the same sofa like this delightful concoction of powder blue and baby pink from Loaf.
Work around a wood burner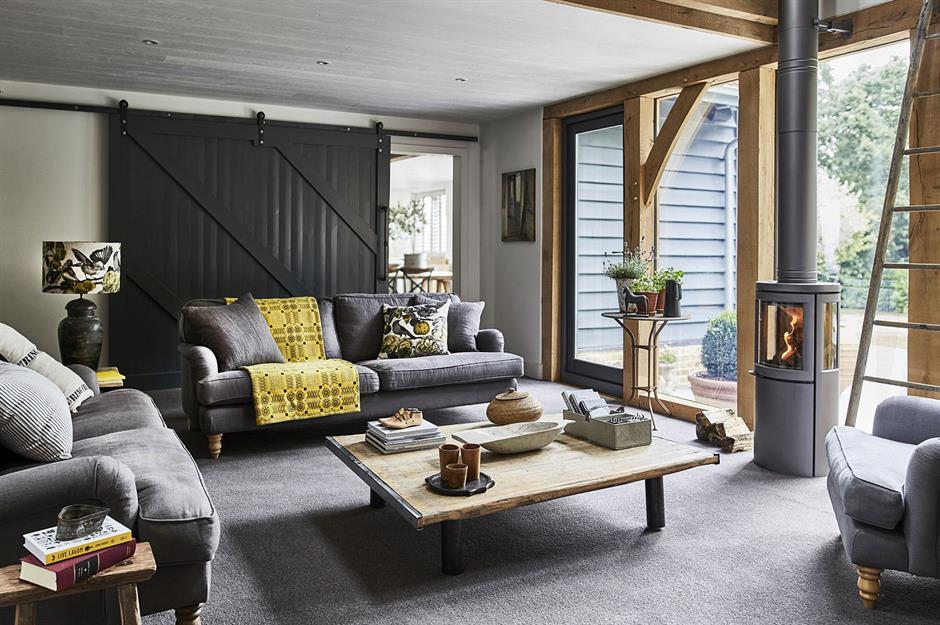 Carpetright
You don't necessarily need a working fireplace to add the warmth of real fire to your living room. A stylish wood burner can be installed anywhere with the right output for the smoke. This country barn-style living room looks modern and cosy thanks to the contemporary wood burner positioned in front of the beamed window. The matching reclaimed barn door defines the look and is also a great space-saving choice.
Make it family friendly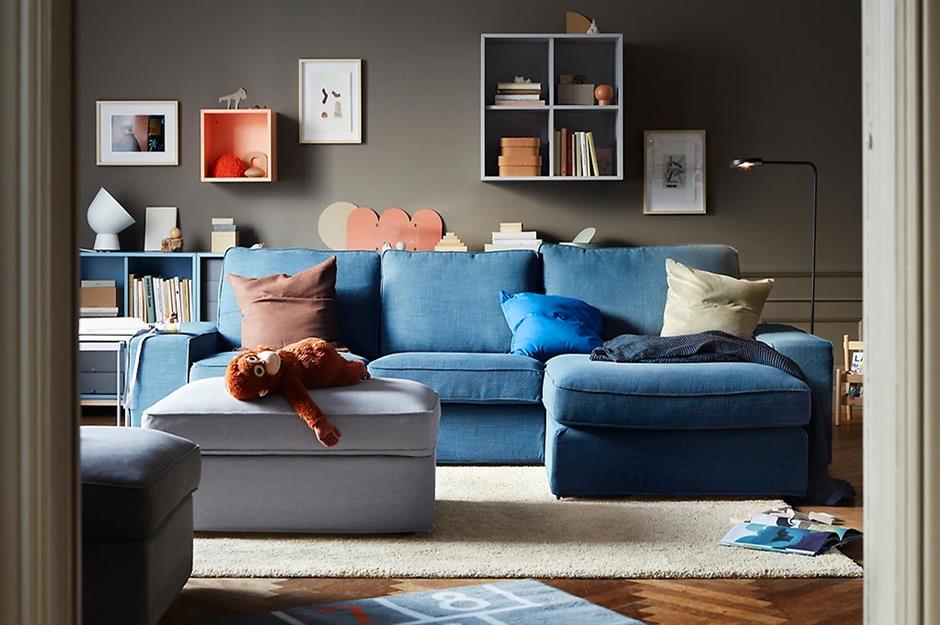 IKEA
Family living rooms need a little more thought to make them stylish as well as practical. A large comfy sofa with room for everyone is perhaps best upholstered in a forgiving fabric and colour that can disguise stains. Factor in plenty of storage to hide away toys at the end of the day and a restful palette will help parents recharge and relax.
Zone areas well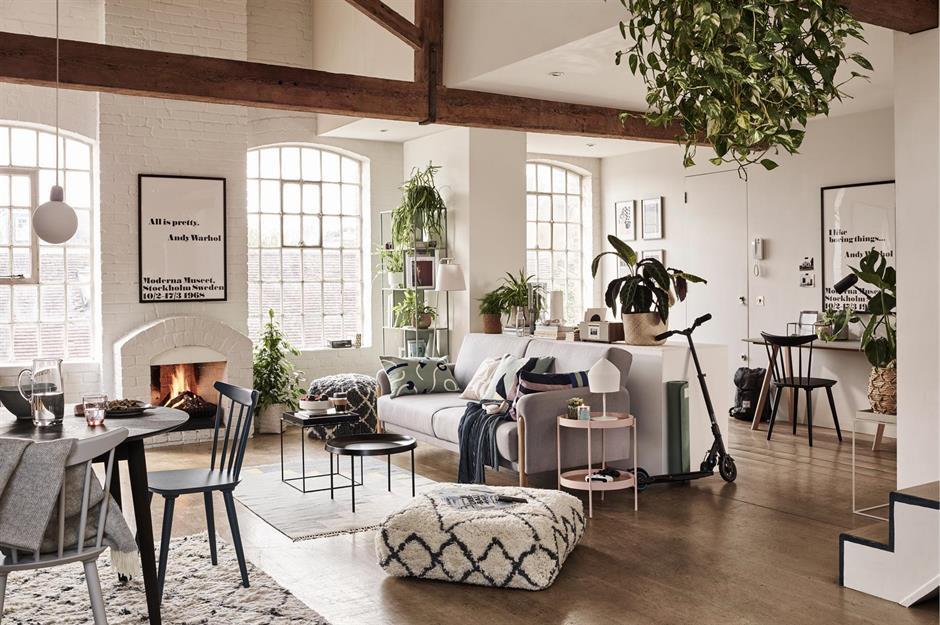 Zone your open-plan living room to create a warm and relaxing family area for spending time together. Make sure you have enough seats for everyone. Here, textured rugs subtly anchor each area. Go for graphic cushions to add interest to the scheme.
Freshen up with spring tones
If you have a neutral scheme that feels a little bit lacklustre, natural touches will invigorate the space without overpowering it. Give your living room a spring clean with shades of green, chalky whites and add natural wooden accessories to create a calm and relaxing garden-retreat look.
Spice up the walls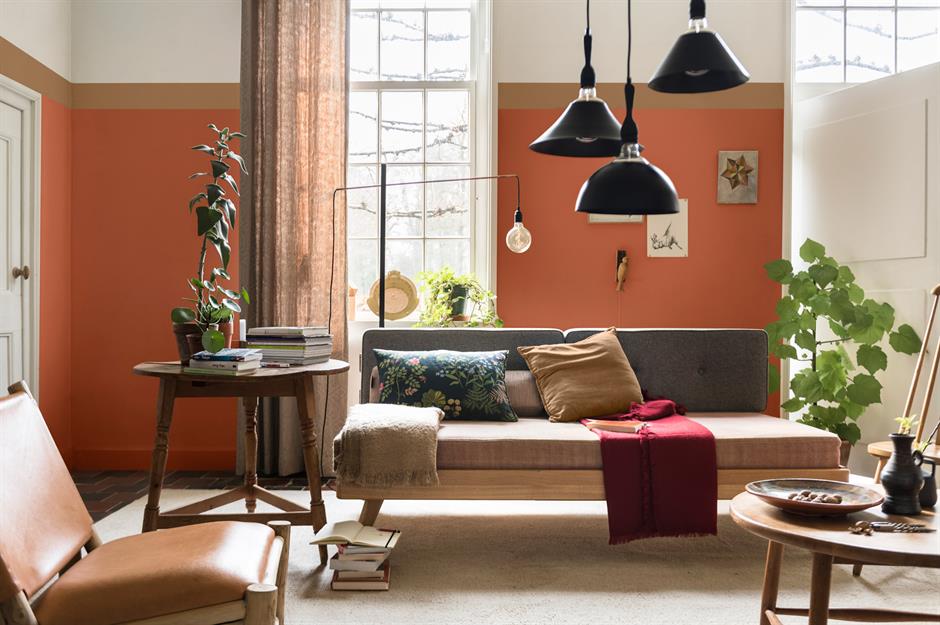 Dulux
Create a warm and positive mood with easy-to-live-with earthy tones on your living room walls. This is Dulux's Spiced Honey, a rich amber tone, it is said to be inspired by the beauty and versatility of honey itself. Amplify the sense of comfort by adding furniture in earthy tones of brown and black.
Warm up Scandi white
Furniture Village
This upmarket Scandinavian scheme looks effortlessly chic without compromising on comfort thanks to the simple and timeless corner sofa, dressed with pebble-toned textured cushions and throws. An olive tree might be a unique addition, but its hardy silver leaves fit in perfectly and provide a glamorous take on indoor greenery.
Carve in concrete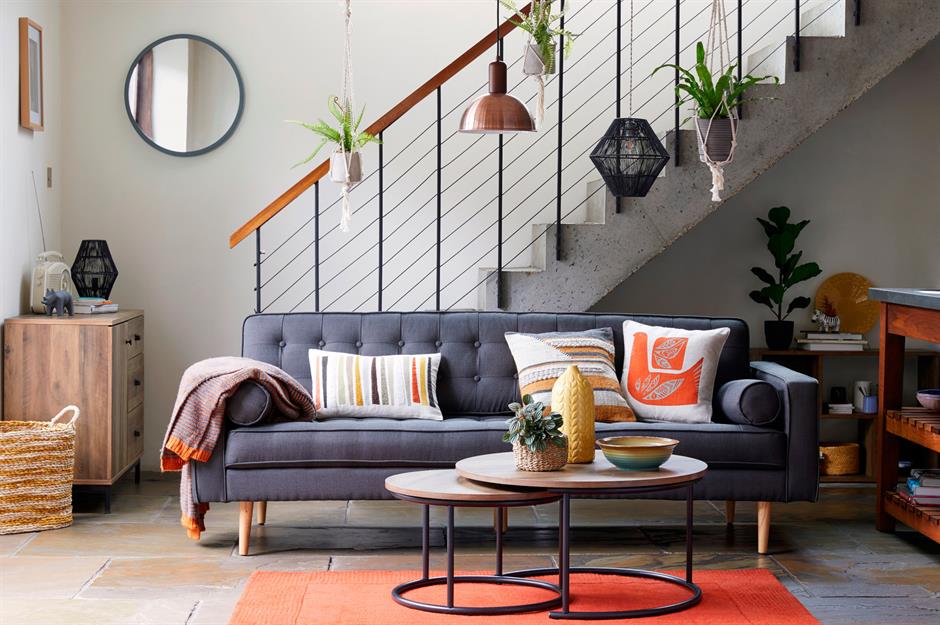 Dunelm
Stand out with concrete in your living room to get that urban industrial look. Whether it's full architectural features like a bespoke staircase and a poured concrete floor or perhaps just simple additions like light fittings and one or two vases displayed on the sideboard, concrete creates a look that is industrial, modern and cool.
Move to the country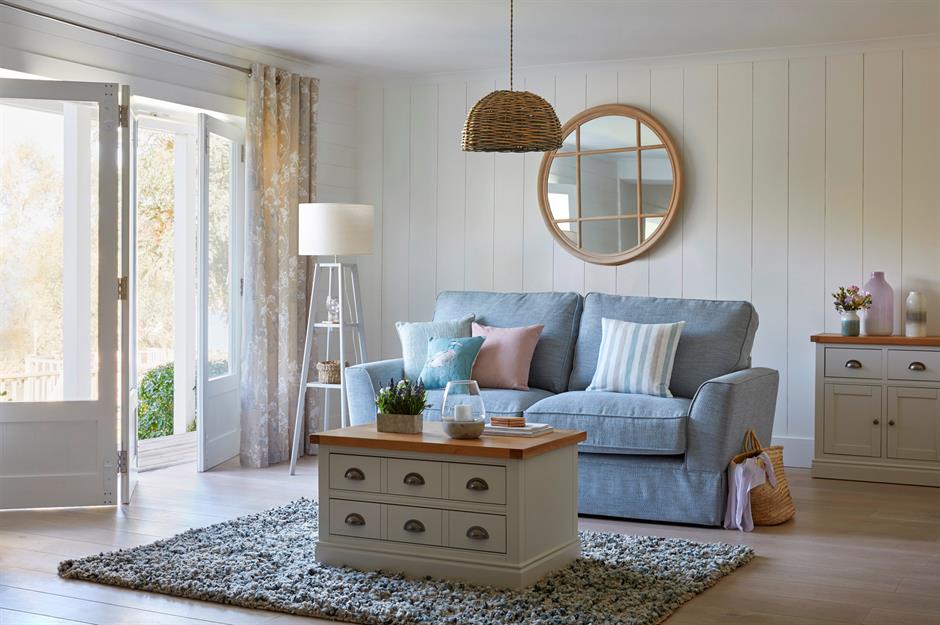 Dunelm
Tongue-and-groove panelling and white painted furniture create a country feel fit for a stylish farmhouse. A subtle palette of soft blue and pink is comforting and pretty. Surround the room in natural texture with soft rugs and wicker basket storage to complete the ultimate cosy and rustic room.
Create a cocktail lounge
DFS
Dark colours teamed with cool statement neon lighting will set the mood for gin o'clock; just make sure you stock up the drinks trolley to set the scene. Keep the lighting low, for a lounge perfect for cocktail hour.
Think about flooring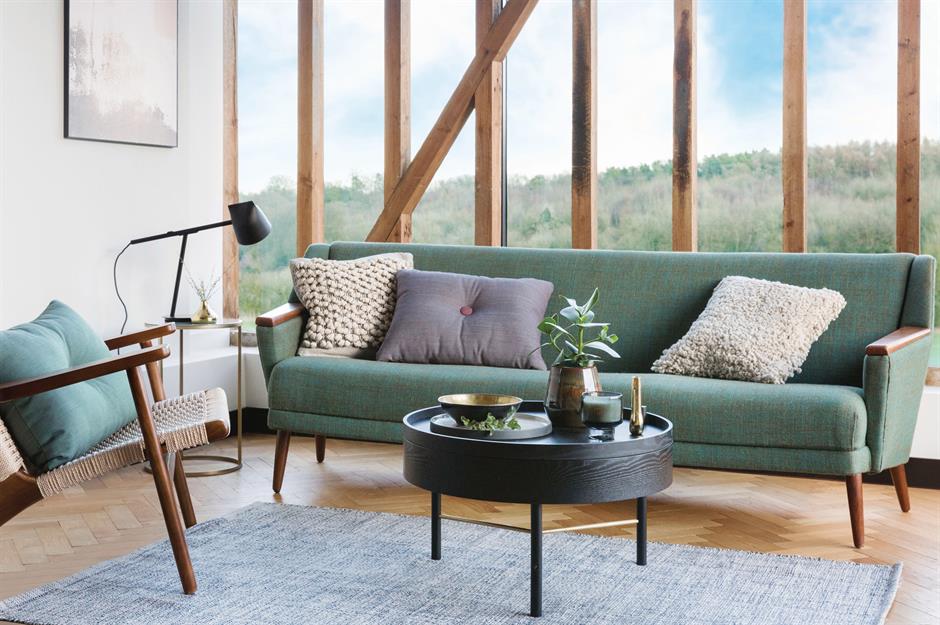 Amara
Fabulous flooring can really make a room. Not everyone is lucky enough to move into a home complete with original parquet flooring. Authentic parquet is pricey because the wood is expensive and each little block has to be laid individually by hand, but the latest digital technology means that parquet-effect vinyl flooring looks as good as the real thing. What's more, it costs about half as much, it's less susceptible to staining than wood and is much easier to clean and maintain.
Clear the clutter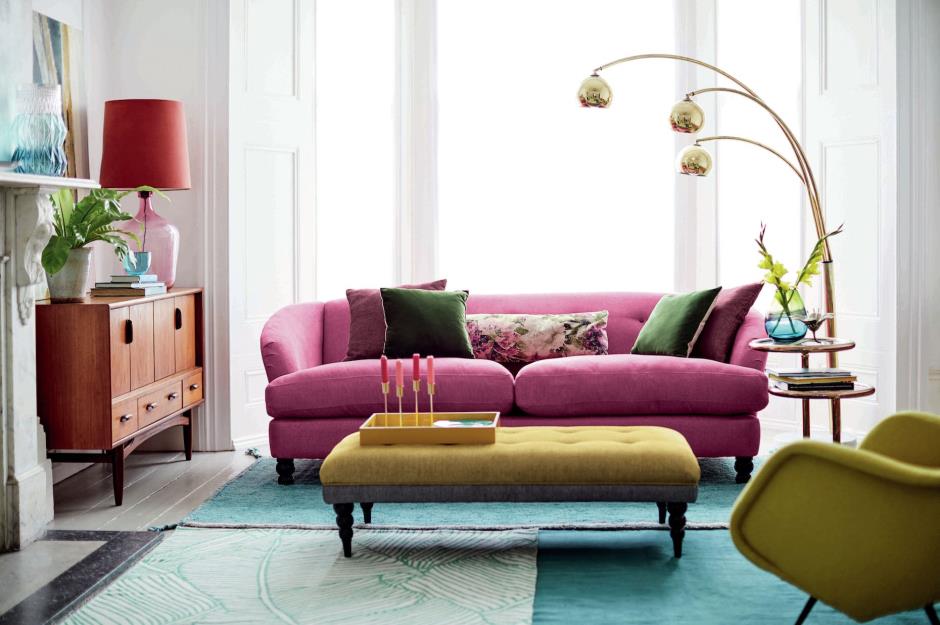 DFS
No one wants to walk into a messy room and relaxation and clutter don't mix. This doesn't mean that your living room should permanently look like something out of a show home, but simply that you should have a place for everything. A sideboard, bookcase and pouffe with storage space can all be used to keep paperwork, toys, games and tablets hidden away when not in use.
Go for a theme
DFS
Create a look that's unified and design-led with a theme. Coastal style is one of the easiest trends to try and looks fresh and clean in smaller spaces. Use a palette of blue and white with nautical accessories and natural finishes for a laid-back beach vibe.
Grounded art gallery
Covet House
Looking for a way to add a feature without ruining your walls and upsetting your landlord? Stacking framed pictures on the floor against a wall does away with all the fuss of nails and screws and creates a cool loft-living vibe too.
Display your books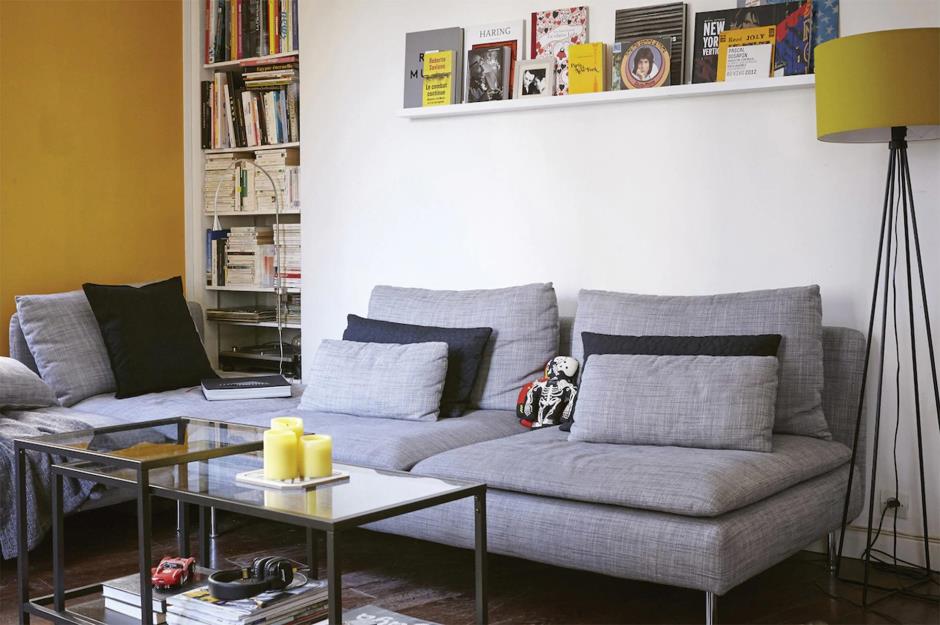 IKEA
Create a feature from your favourite reads with a display of books, records, photos and pictures on picture ledges. Try to vary the height of the objects you choose and stick to a three-colour palette to create a stylish shelfie.
Get a luxury feel on a budget
Willow & Hall
If your taste is bigger than your budget, don't despair. With some cleverly chosen cost-cutting lookalikes and the deployment of a few simple hacks, your living room can look top of the range for a fraction of the price you'd expect. Stick to grey, taupes and a soft neutral palette for an expensive look. Use fabrics with a soft sheen and keep the style simple and elegant. Fresh flowers will also up the luxe look for next to nothing.
Conceal that TV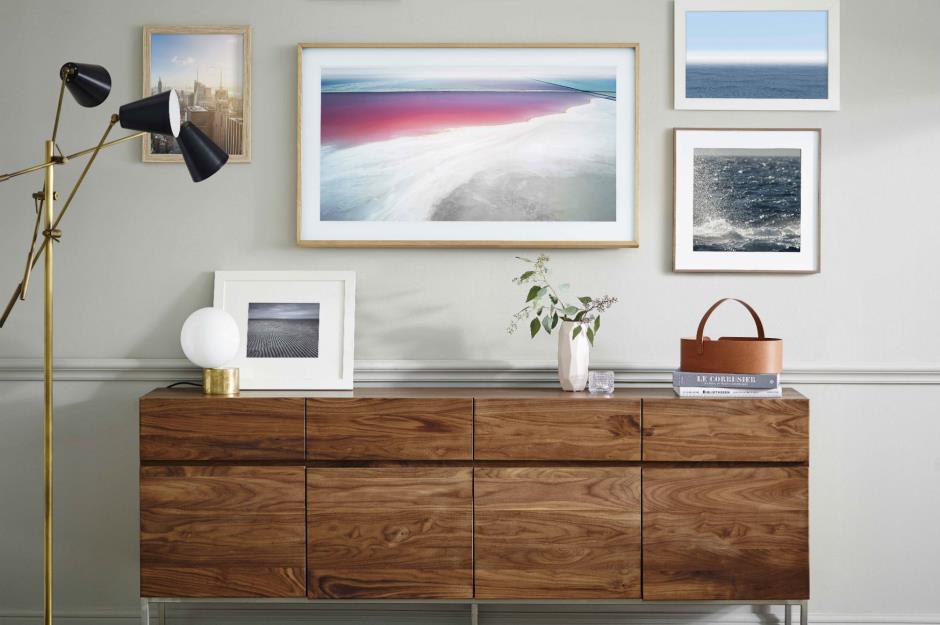 Samsung
If you can hide or disguise your television do, it will give your room a much more serene feel. You can now get TVs that look like pieces of artwork when not in use – like The Frame (pictured) by Samsung – or turn into mirrors when switched off. Alternatively, there are media units that will allow a TV to pop in and out of the top of a sideboard, or you could conceal the screen behind cabinet doors when not in use.
Make the ordinary extraordinary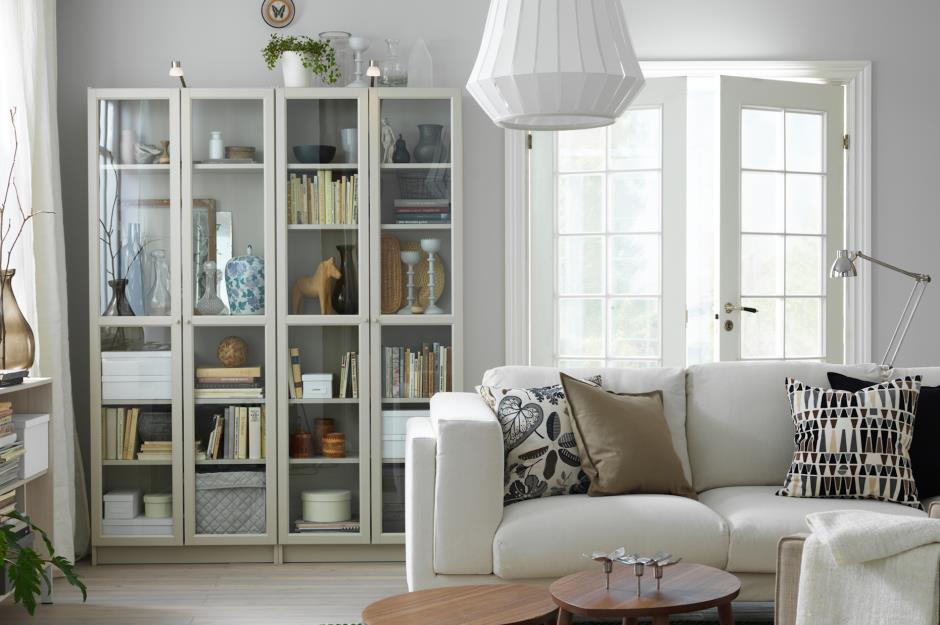 IKEA
You may not be able to afford ultra high-end furniture, but a few simple hacks can transform your flatpack pieces into wonderful one-offs. Paint them in an on-trend dark inky hue; use a metallic spray paint to turn them rose gold; or, for a more vintage feel, cover them in a white chalk paint. Finally switch the door handles for something new and you have uniquely beautiful pieces.
Go for gold
Covet House
Gold has always been associated with luxury and opulence, but when you're using gold in an interior scheme the rule is always less is more. Overuse it and you'll turn your living room into something akin to a kitsch fairytale palace. Opt for one or two simple pieces of furniture or a lamp, however, and you should get the balance just right. As long as it's not real, it won't cost the earth either!
Match that paint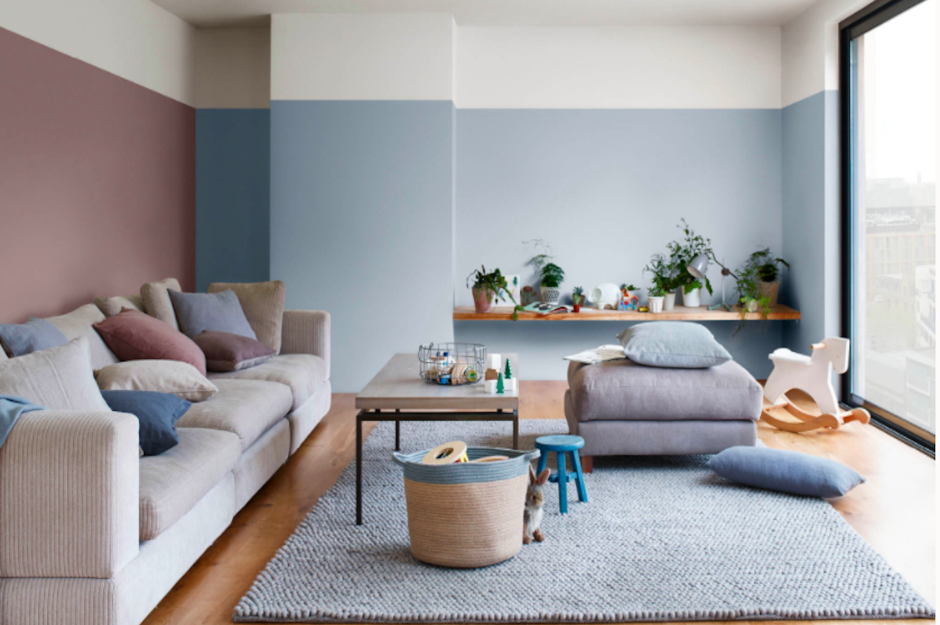 DuluxA quick cruise down the aisles of your local hardware store will reveal not only a fantastic arrange of paint colours, but also a huge difference in paint price. If you fall in love with one of the 'haute couture' hues of the paint world but balk at the price, there's a fix for that. Simply show the desired colour on the fancy paint colour chart to an in-store paint-mixing service and have them mix up an imitation so good you'll find it hard to spot the difference.
Style your surfaces
Debenhams
A luxurious yet inviting setting features interesting pieces that capture the eye at every turn. Place a few neat piles of coffee table books on the coffee table, group small ornaments or frames of photos in pleasing groups of three on the top of the console table or atop a nest of tables. Any large surface should have something placed on it, but don't cover the whole top, the room should feel lived in, but not crowded.
Add period features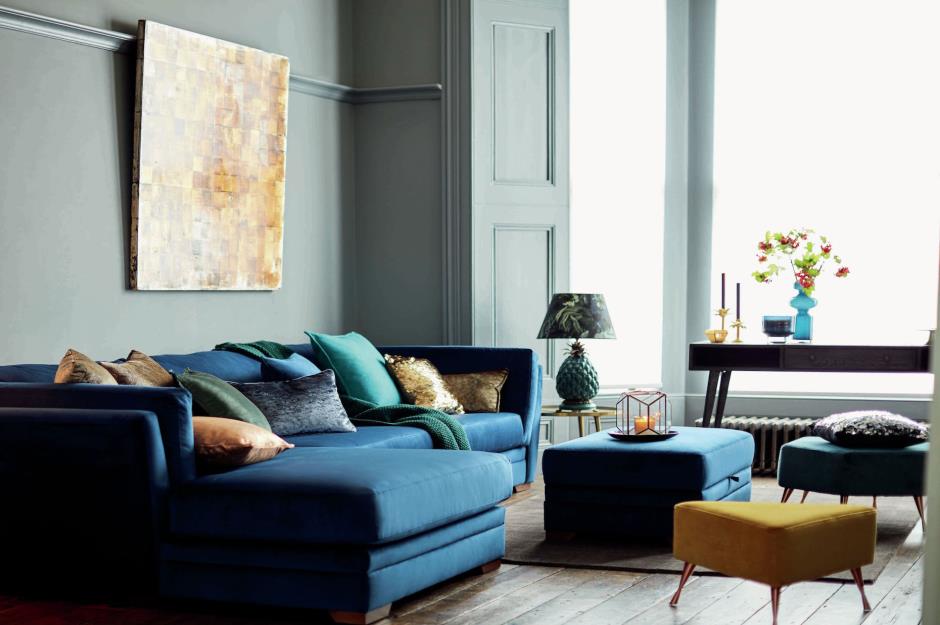 DFS
It's all in the details when it comes to that luxury look and you will find that particularly beautiful rooms have additional thought paid to the skirting boards, ceiling rose, picture rail, dado rail and architraves. Commissioning a carpenter or plasterer to create these for you will be pricey, but you can find a selection of inexpensive period- and contemporary-style ready-made mouldings online or at the hardware store.
Stack up the books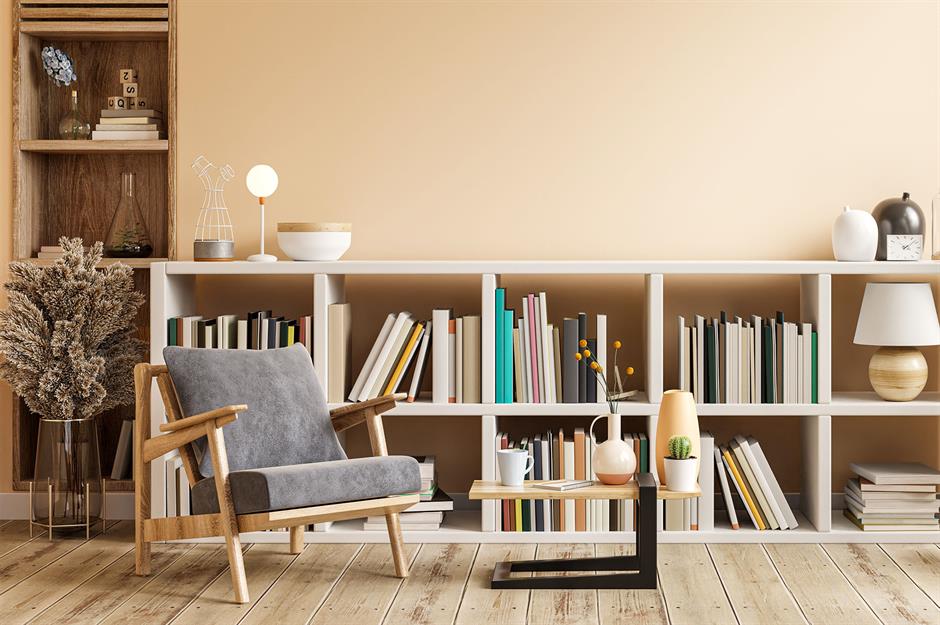 vanitjan / Shutterstock
Good old traditional books of the hardback and paperback variety don't just look lovely, they say so much about the owners of the room and provide that intellectual element that is so often associated with luxury. You don't need to buy an expensive bookcase to store your well thumbed tomes in either, a few smart shelves are all that is required to create a library. Place the books on neatly and leave some spaces to allow them to breathe.
Tone down coastal colour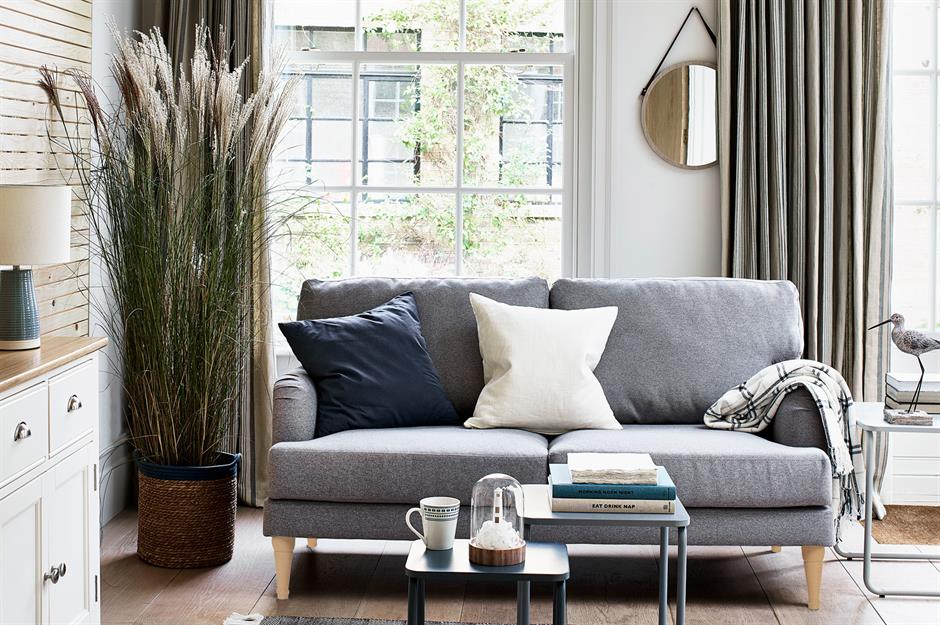 Argos
Coastal decorating is a scheme that will never go out of fashion and is easy to live with. Give your beach haven living room an original twist by using a more atmospheric palette of stormy greys and sandy neutrals. The rugged tones and textures make the look a little smarter and sophisticated, especially with industrial additions like metal side tables and sand dune-style grasses.
Loved this? Check out 58 beautiful bedroom ideas